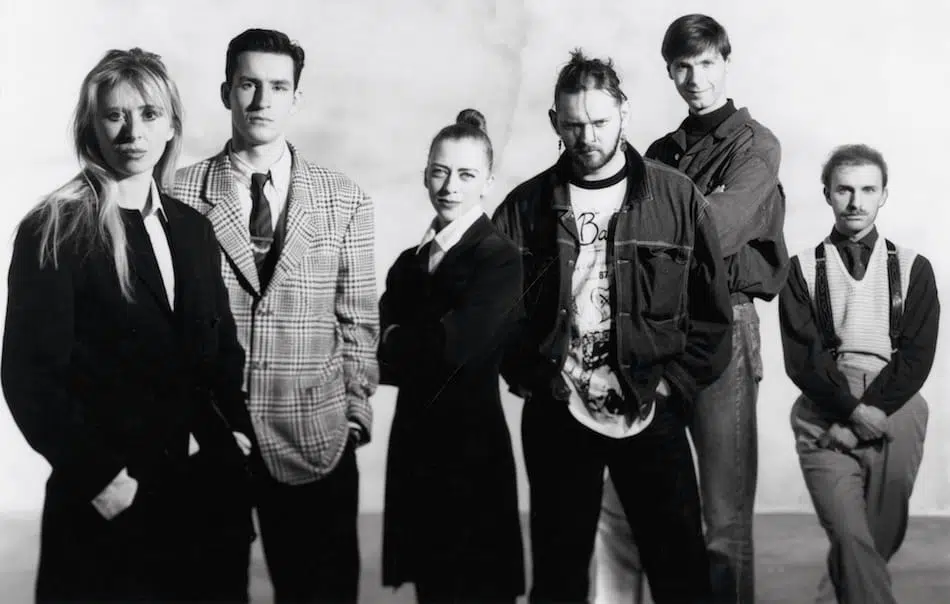 Paris, London, New York and Milan will no doubt come to mind when you think of world fashion capitals. Antwerp probably won't. Located in Belgium's northeastern province of Flanders, the city of roughly half a million is not particularly cosmopolitan. However, Antwerp is home to the world's oldest stock-exchange building and has long been a major import-export center, dominating the world's diamond trade since the 15th century.

But it's not the diamond market that keeps hopeful young couturiers flocking to the city. A now-iconic group of designers dubbed the Antwerp Six emerged there in the early 1980s, when the words "fashion" and "Belgium" were far from congruous. They are Dries Van Noten, Walter Van Beirendonck, Ann Demeulemeester, Marina Yee, Dirk Bikkembergs and Dirk Van Saene.

After graduating from the Royal Academy of Fine Arts between 1980 and '81, under the tutelage of Linda Loppa, the designers ignited something of a movement in 1986, when they loaded the back of a rental van with their designs and drove to London. The creators, each with a distinct approach to fashion, caught the attention of the British press with their collections of unusual garments, considered radical and avant garde for the time. Their designs were a hit, and since the press had difficulty pronouncing their names, the group became known as the Antwerp Six.

Together, their work helped broaden the industry's focus — which centered on Parisian and luxury houses like Chanel, Louis Vuitton and Hermès — and established Antwerp as a hub for fashion design.

---
Dries Van Noten
After the Antwerp Six's debut in London, Barneys was quick to bring Dries Van Noten's designs stateside, initially stocking his men's suits in small sizes and selling them as womenswear.

Today, he presents his collections twice a year in Paris, but he does not deal in couture — all of his pieces are made ready-to-wear. After leading the long-independent brand as founder-designer since its institution in the '80s, Van Noten announced in June the sale of a majority share in the company to Barcelona-based luxury group Puig, which also owns Carolina Herrera and Nina Ricci brands. Maintaining a minority share, Van Noten will stay on as chief creative officer and a chairman of the board.
Given the success of his eponymous label, Van Noten is perhaps the most famous of the six. With a Van Noten collection, you can expect classic tailoring and dynamic prints.
---
Ann Demeulemeester
Citing singer Patti Smith as an inspiration, Ann Demeulemeester draws upon themes from goth and punk to create structural garments tinged with a rock-and-roll, bohemian spirit. Her stark silhouettes, frequently styled in a monochromatic color palette, are instantly recognizable, and she often incorporates asymmetrical cuts and supple fabrics to play with form and movement.

Demeulemeester arrived at fashion design after studying fine art, and it was in a Parisian art gallery that she hosted her first runway show in 1992. Though she stepped down from her eponymous brand in 2013, designer Sébastien Meunier continues to celebrate the brand's iconic forms.

---
Dirk Van Saene
Compared to his more experimental contemporaries Van Noten and Van Beirendonck, Dirk Van Saene's designs are elegantly subdued. He began selling his pieces in his Antwerp boutique, Beauties and Heroes, after graduating from the Royal Academy in 1981. Two years later, he won Belgium's prestigious Golden Spool contest.

Today, Van Saene continues to produce garments at a small scale, distributed internationally through select stores, and he maintains the boutique DVS in collaboration with Walter Van Beirendonck. In addition to designing clothing, he paints and molds ceramics, and he teaches fashion design at his alma mater, the Royal Academy of Fine Arts.

---
Walter Van Beirendonck
Walter Van Beirendonck's creations are often sexually charged with references to fetish culture. (Vogue described his Fall 2018 menswear collection as "sexy pagan hazmat attire.") The Brecht-born designer started his eponymous label in 1983, creating garments characterized by bold graphics, disparate color combinations and strong, boxy shapes.

Now heading the Royal Academy's fashion department, Van Beirendonck has nurtured many of today's top designers, including fellow Belgians Raf Simons, now chief creative officer of Calvin Klein, and Kris van Assche, former head of Dior Homme. He designed costumes for U2's 1997 PopMart tour, and he founded the fashion publication A Magazine Curated By.
---
Dirk Bikkembergs
Born in Cologne, Germany, Dirk Bikkembergs mined his upbringing for inspiration. His father was a member of the Belgian Army, and much of Bikkembergs's early work referenced military dress, using clean-cut lines for a masculine look.
Prior to the Antwerp Six's London debut, Bikkembergs had already won the Cannette d'Or Award for best young fashion designer, which enabled him to launch his men's shoe collection. Early on, he strictly designed menswear, and in fact, his first womenswear collection was identical to his men's line — just sized down a tad.
His later work was influenced by soccer, focused primarily on footwear and knits, and he was the first designer allowed to host a fashion show in a soccer stadium. In 2013, Bikkembergs' label was purchased by Italian company Zeis Excelsa, and today it is headed by creative director Lee Wood, a British-born designer who arrived at the brand after 16 years at Versace.

---
Marina Yee
Marina Yee worked closely with Dirk Bikkembergs on various collections as he expanded his own line. Though she left the fashion business in 1990, she made a brief return between 1998 and the early 2000s, creating new garments from kitschy flea-market finds as an answer to fashion's consumerist nature. She currently has a workshop in Brussels and teaches at the Royal Academy of Arts in Ghent and The Hague.