Yves Saint Laurent has been a French couture powerhouse since its inception in 1962. With sartorial bigwigs like Tom Ford and Hedi Slimane heading various departments over the years, YSL has produced some of the most iconic clothing, handbags and purses on the market. It's no surprise that its bags, both new and preowned, are in high demand by the fashionably inclined. Unfortunately, that makes the brand a prime target for counterfeiters.
How do you avoid laying down a hefty sum of money for what turns out to be a fake YSL? First, become familiar with the brand and what makes it so special. Then, learn the telltale signs of a knockoff and carefully examine any potential purchase for them.
This guide is an excellent starting point for evaluating the authenticity of a YSL bag. Bear in mind, though, that an item that appears to be fake based on a single issue might actually be the real deal. Consider each component individually, as well as the whole — and if you're in doubt, seek the opinion of a professional.
---
The History of YSL
Fashion prodigy Yves Saint Laurent was born in Oran, Algeria, in 1936. "Yves was always interested in fashion. When he was three years old, he cried because he didn't like my dress," his mother, Lucienne Saint Laurent, once said. In 1953, at the age of 17, he enrolled in the École de la chambre syndicale de la couture parisienne, where his designs quickly garnered attention in the fashion industry.
Haute couture magnate Christian Dior hired him immediately and, by 1957, had named Saint Laurent his successor. When Dior died unexpectedly later that year, Saint Laurent became head of the legendary house.
Saint Laurent's Spring 1958 collection, well received by consumers and critics alike, is credited with saving Dior from financial ruin. In the 1960s, he launched the house Yves Saint Laurent and by the 1970s, he was considered the foremost designer in the world. In 1983, he became the first living designer to have an exhibition at the Metropolitan Museum of Art.
Yves Saint Laurent died in 2008, leaving behind a formidable legacy, including two museums erected in his name and a provocative body of work that changed how women dress and continues to influence the fashion industry today.
---
Signs That a YSL Bag May Be Fake
YSL bags are luxury items that bespeak elevated social status among the brand's connoisseurs. It's no wonder that counterfeits are a perennial nuisance, as knock-off manufacturers seek to capitalize on YSL's elite status by conning those who don't know how to spot fakes. Below are a few key components to inspect when shopping for a new or preowned YSL bag.
Serial Number and Label
Unlike other couture brands, YSL has used serial numbers for several decades, making it easy to spot vintage fakes. The serial number on an authentic bag is usually located on a leather tag inside, which should be the same color as the liner.
The serial numbers on vintage YSL bags are composed of 12 digits divided into two equal series by a dot. Newer bags have serial numbers consisting of three letters followed by 10 numerals divided into two series, of six and four digits, representing the style number and the production month and year, respectively.
A fake could have a serial number, so its presence doesn't mean a bag is genuine. Google the number on the bag you're considering to see if it matches bags with the same serial number being offered by trusted sellers, such as those on 1stDibs.
Genuine YSL bags usually have "made in Italy" engraved below the serial number in all lower-case or all upper-case letters. The engraving and stitching around a tag on the real thing should be crisp and clean. Blurry or crooked letters are signs that the bag is suspect. Other indicators of a counterfeit bag are the corners of the label itself. Are they dog-eared? On real YSL bags, all four corners of the tag lie completely flat.
Materials
Over the years, YSL has crafted its bags using a variety of materials, from velvet and wool to woven raffia and leathers like calfskin, lambskin and snakeskin — always of exceptional quality. The leather of an authentic YSL bag, like the lettering and craftsmanship, will be impeccable. It won't have a chemical smell and will be supple and soft to the touch — never stiff like plastic.
The inner lining of authentic YSL bags is seamlessly attached to the bag. If you're buying online, ask for detailed pictures of the inside of any bag you're considering.
Stitching
Regardless of the year the bag was made and the type of materials used, the stitching on real YSL bags is flawless. If the bag uses matelassé stitching for a quilted effect, the rows should be perfectly aligned and evenly spaced. Double stitching, uneven stitches, stitches in random places and loose threads are major red flags. Quilted YSL handbags are especially hard to fake.
Pay special attention to the seams where the handles are sewn into the bag. Counterfeiters often skimp on quality in these areas, hoping you'll be so dazzled by the logo you'll forget to check the details.
Hardware
Zippers, chains, clasps, grommets and the logo itself are also excellent indicators of authenticity. The famous YSL logo, created in 1963 by French artist Adolphe Mouron Cassandre, should have one nail on each branch of the Y, a third at the tail end of the S and a fourth at the end of the L's bottom line.
In 2012, YSL creative director Hedi Slimane controversially changed the name of the ready-to-wear collection to Saint Laurent Paris, dropping the "Yves" with no explanation to the press or public, although many handbags retained the iconic YSL logo. Check that the logo is centered on the bag and attached securely. YSL uses gold and silver metals for its hardware, which shouldn't be dull or chipped. All the hardware on the bag should have the same color and finish.
The chain on a genuine YSL bag is strong and heavy. Chains that feel light, are inconsistent in color or have flaking paint are signs of a counterfeit. The grommets the chain runs through aren't always stamped with the YSL name, but if they are, the letters should be crisply defined and consistent.
All components of a genuine YSL bag are of the highest quality, right down to the zipper. The zipper of the bag you're considering should work smoothly, be sewn into the bag flawlessly and have a leather or metal zipper pull stamped clearly with the logo in the correct font for the bag's era. Leather zipper pulls should be neatly stitched.
Accessories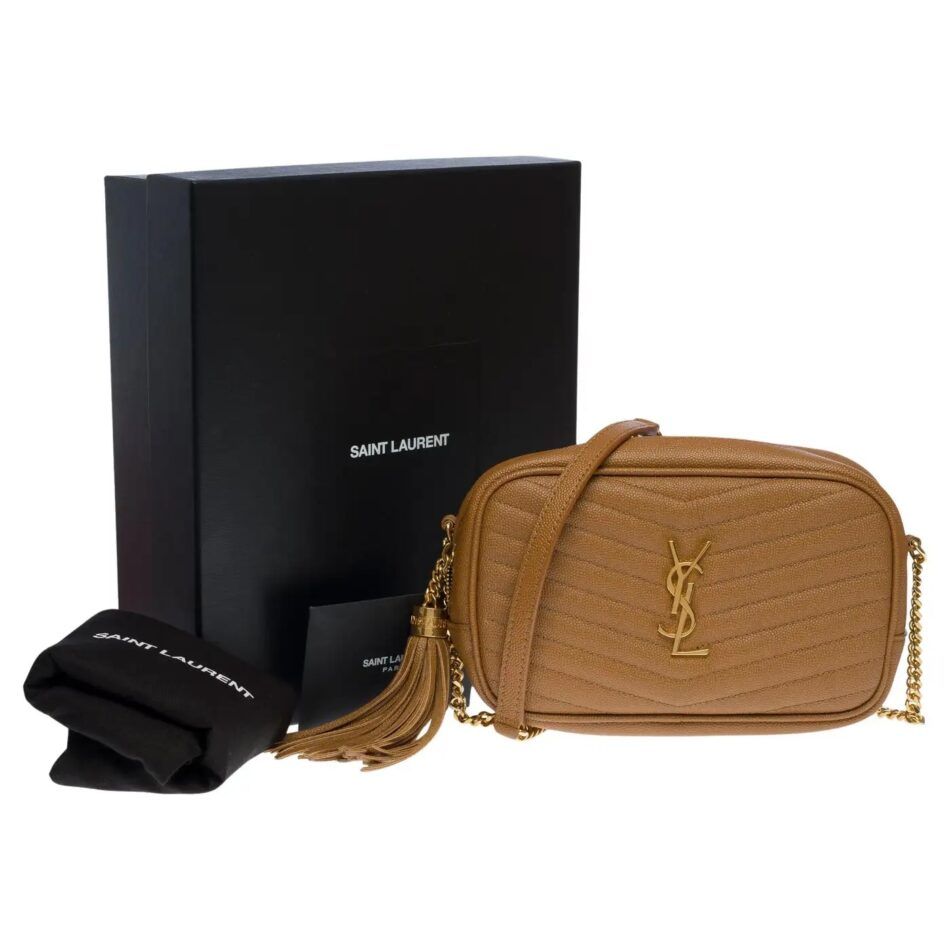 Legitimate YSL bags have authenticity cards and protective dust bags, both made in Italy. A vintage or other previously owned bag may not come with either of these, but if your potential purchase does, examine the lettering on both and the dust bag's construction.
A genuine dust bag should have "Saint Laurent" or "Saint Laurent Paris" printed on the outside in the official font and a label indicating the place of origin on the inside label. The specifications on the authenticity card should match the handbag it accompanies. Knockoff dust-bag labels and authenticity cards often have the wrong information or shoddy printing in the wrong color or font.
---
Consider the Source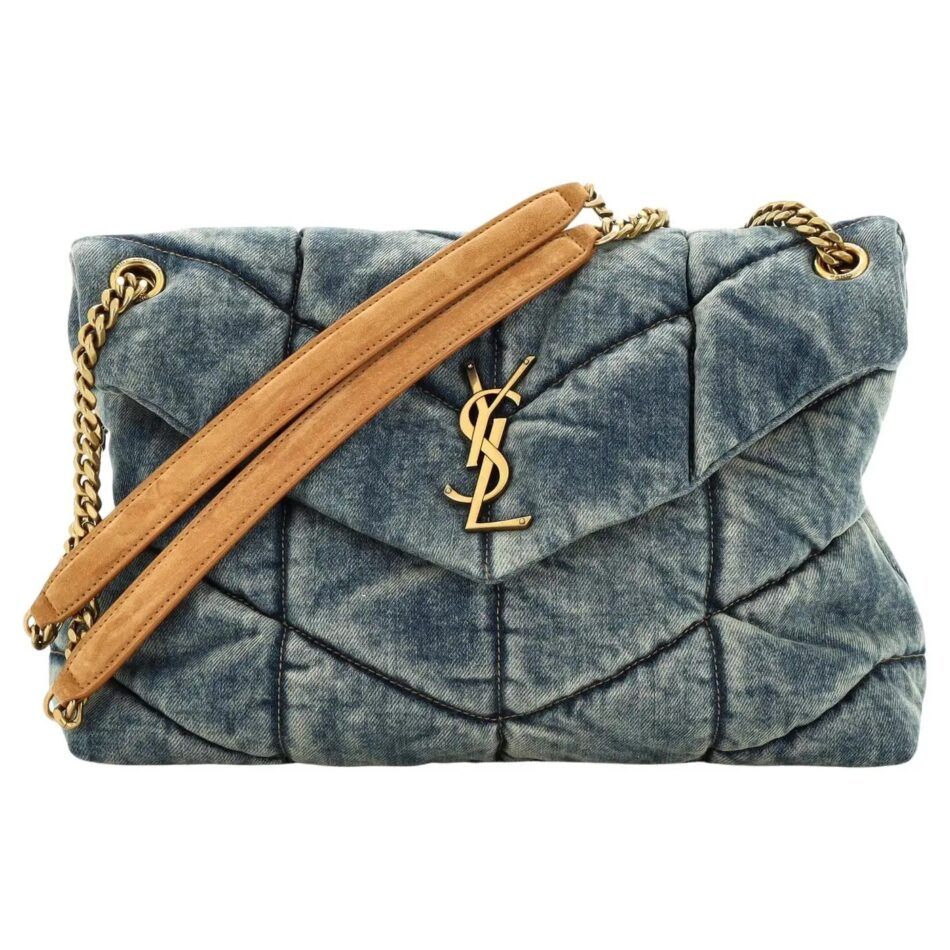 Online marketplaces that allow direct buyer-to-seller transactions, like eBay, Etsy and Poshmark, are risky for buyers. Sellers on these sites may not even realize their bags are counterfeit if they're high-quality. Opt instead for reputable online marketplaces like 1stDibs.
A YSL bag offered at a much lower price than retail is likely too good to be true. Secondhand YSLs retain their value: You probably won't find an authentic YSL Loulou bag, for instance, for $500. If a seller is listing bags at that price, do some serious due diligence before you buy.
---
All Roads Lead to Luxury
High-end designer handbags are portable works of art, and the excitement of owning one can overpower your judgment. Online sellers should be willing and able to provide detailed photos of their bags' construction, inside and out. If they're skittish, take it as a sign that they may be offering an inauthentic bag.
To avoid the risk of buying a knockoff altogether, place your trust in a respected platform like 1stDibs. We have stringent vetting practices and offer buyer protection so you can shop for an exquisitely crafted YSL bag with peace of mind.