While fashion is considered a form of self-expression, military garb is more about uniformity, anonymity and subordination of the self to the group. But if that's the case, how do you explain the enduring popularity of military-style fashion?
Of course, there are the obvious examples: anything camouflage, cargo or army green. Yet also rooted in military design are Burberry-inspired trench coats, boldly striped textiles and plain white t-shirts (à la Marlon Brando in A Streetcar Named Desire). As Alice Fisher, style correspondent for the Guardian's Observer Magazine, puts it, "Military influence on fashion is so pervasive that we are almost blind to it."
This is the same theme that former fashion — now interior — designer Timothy Godbold explores in his book Military Style Invades Fashion (Phaidon). In it, he breaks down the military look into seven subcategories — from Campaign to Legionnaire to Nautical — and exposes how influential military uniforms have been on mainstream civilian dress. It's also here to stay, Godbold states: "As long as there is war, conflict and political unrest in the world, I think military-style fashion will continue to be absorbed by popular culture."
Here, he walks us through seven recent ensembles and offers tidbits about the history of military style, one look at a time.
---
CEREMONY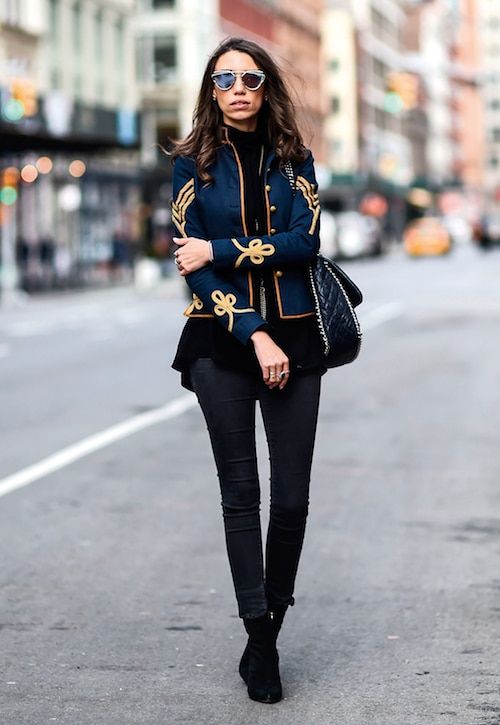 Blogger Thania Peck was seen on the streets of New York City wearing a Ralph Lauren blue and gold jacket and holding a navy Chanel leather bag during New York Fashion Week Fall/Winter 2016. The Hussar jacket — noted for its distinct braiding (technically known as frogging) — trickled down through popular culture in the 20th century via such rock-and-roll icons as the Beatles, Jimi Hendrix and Duran Duran, but its origins as 15th-century Hungarian army garb are less widely known.
"I love the strength and composition of this look," Godbold says. "By mixing the Hussar jacket with a pair of jeans, it makes the jacket look less theatrical and makes it contemporary and modern. The mix of silver accessories also shows that Thania is creating her own version of what military style is and not being dictated to."
Photo by Daniel Zuchnik/Getty Images
---
CAMPAIGN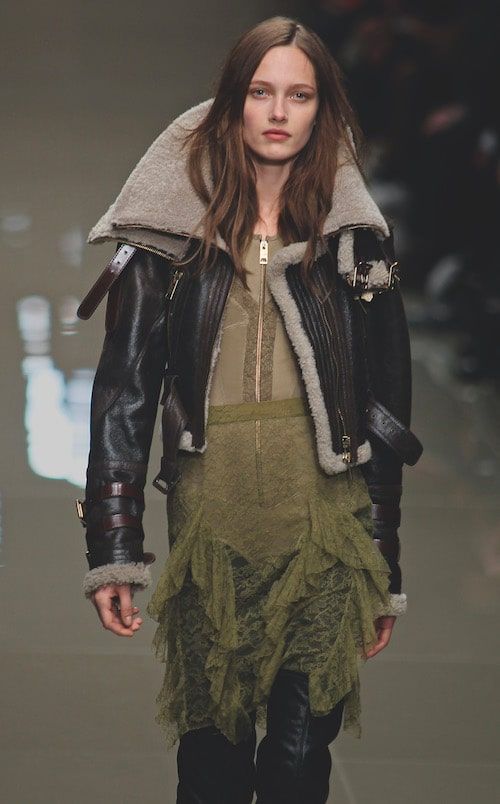 A model donned a shearling bomber jacket at the Burberry Prorsum show for London Fashion Week Autumn/Winter 2010. In contrast to the Ceremonial look, Campaign is all about clothing and accessories fit for military action. Think aviator glasses, parkas and trench coats, a style created in 1879 by English tailor Thomas Burberry and later glamorized by Humphrey Bogart in Casablanca.
"This is my all time favorite collection, Burberry Fall 2010. I remember when these jackets came out for both men and women," Godbold says. "Here, we see the aviator juxtaposed with soft feminine lace and lingerie styling over leather trousers."
Photo by Antonio de Moraes Barros Filho/WireImage
---
LEGIONNAIRE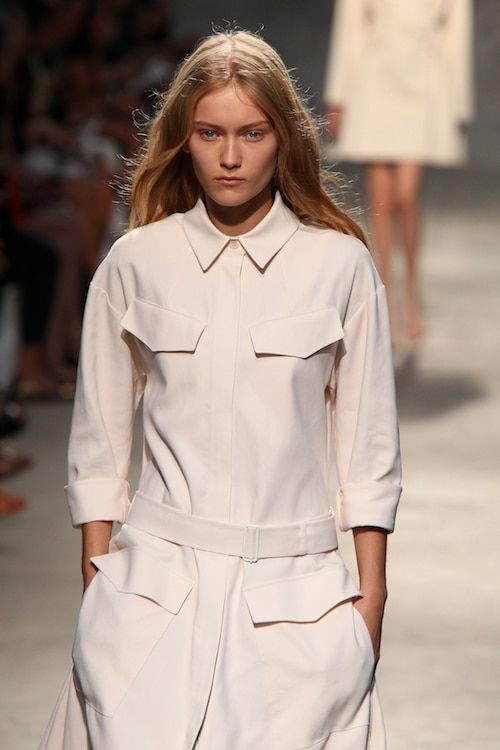 This crisp, tailored spin on the safari jacket was featured in Felipe Oliveira Baptista's Spring/Summer 2014 show in Paris. When Western nations were fervently conquering and colonizing exotic lands — from Napoleon in Egypt to the building of the British Raj in India to the French Foreign Legion conquest of Algeria — military garb went through a forced evolution to better suit the hot, arid environs, resulting in lightweight practical clothing in beige and khaki (an Urdu word for dust).
About the Legionnaire look, Godbold says, "The simplicity, modernism and execution of the cut, oversized bellows pockets on the hips and chest pockets — these are all traditional military elements, stripped down to their purest lines."
Photo by Antonio de Moraes Barros Filho/WireImage
---
DAZZLE
Outside of the Fendi Fall/Winter 2016–17 show in Milan, a guest sported a striped Acne Studios coat. This is not simply an abstract geometric take on nautical stripes. Dazzle is a category unto itself and was inspired by an ingenious camouflage tactic — meant to confuse rather than conceal — developed for World War I battleships. The task of painting the ships was commissioned to artist Edward Wadsworth, who dazzled well over 5,000 vessels during his career.
In reference to this street-fashion spin on Dazzle, Godbold says he loves the "graphic look of her style, the mix of multiple width stripes using the dazzle camouflage concept to disrupt the viewer's eye and to draw attention to her."
Photo by Vanni Bassetti/Getty Images
---
NAUTICAL
Nautical inspiration reigned on supreme on Lanvin's Spring/Summer 2014 menswear runway in Paris. Toughness and romance are the two fundamental elements of the Nautical look. The adventurous, self-reliant figure of the sailor, whose tough life aboard a ship requires the most utilitarian of garments, such as wide-legged trousers (meant to be rolled up while scrubbing the deck) or peacoats (designed with oversized buttons, the better to maneuver with frostbitten fingers).
"You can't beat a good peacoat with gold buttons," Godbold says. As for the Lanvin ensemble, he notes that it reflects the "romance of the high seas and the simplicity of the white t-shirt — first created by the U.S. Navy in 1898 and intended as an undergarment — redesigned into a luxury pieces. The whole look feels romantic with the slicked-back hair and wide-leg trouser with a sash."
Photo by Antonio de Moraes Barros Filho/WireImage
---
EAST MEETS WEST
A model walked this olive-green jacket and vest down the Etro menwear's runway during Milan Fashion Week Spring/Summer 2013. For centuries, the West has been enchanted by romantic notions of Orientalism, but fascination with Eastern and Indian uniforms is distinctly modern.
Coming to mind with this Etro look are late 19th-century French colonial culture in South East Asia and the no-fuss uniforms of the Chinese People's Revolution Army: "The classic Mao jacket reimagined with beautiful embroidery patterns infused from those of a traditional Hussar jacket," as the author puts it. "Here, you see a traditional military style turn into a fashion statement for men."
Photo by Stefania D'Alessandro/Getty Images
---
NOTORIOUS
A close up of a Jason Wu ensemble during his Fall 2012 show at New York Fashion Week. The Notorious category has less clear connections to official military garb than it has to expressions of power, menace and a hint of deviance.
"All black is the stereotype of the villain and the hitman. I first noticed how George Lucas styled the Empire costumes on Gestapo and Nazi uniforms in Star Wars. All-black leather military looks are quite sexual, I always go back to Helmut Newton and the taboo surrounding black leather and military," Godbold notes. "This image has an athletic-modern twist on a traditional silhouette."
Photo by Fernanda Calfat/Getty Images
---
Get the Military Look
A lover of Scandinavian furniture with a military aesthetic, Godbold says the concept for Military Style Invades Fashion came about while referencing images on 1stdibs for his interior design business. Here, he picks out his favorite military-inspired pieces on our site.