Gold is the feel-good metal, the serotonin of jewelry. Wear gold and you feel happy, you feel dressed, you feel, well, yourself. Gold, especially yellow gold, with its rich patina and ancient pedigree going back thousands of years, is the steady standby, the well-mannered metal of choice. Any discussion of this lustrous metal comes down to a basic truth: Gold is elementary, my dear.
Gold jewelry that couples the mystique of the metal with superb design and craftsmanship achieves the status of an enduring classic. Gus Davis, of Camilla Dietz Bergeron, believes that a gold bracelet "makes a statement. There is something about one that never goes out of style. It's the must-have in any woman's wardrobe. I've never had someone say she has too many gold bracelets." Ever since the prosperous post–World War II period, jewelry collectors and those drawn to gold have had a rich assortment to choose from. What follows is a guide to the houses that have given us some of our most treasured and lasting examples of gold jewelry.
In the U.S., a number of jewelers have produced memorable gold jewels over the years. Since its founding, in 1837, Tiffany & Co. has built its reputation on its company jewelry as well as its coterie of boutique designers, which has included Jean Schlumberger, Donald Claflin, Angela Cummings and Elsa Peretti. There are numerous gold Tiffany classics worth citing. Some are accented with gemstones, but all stand out for their design and the workmanship displayed.
For the woman who prefers a minimalist look, the Tiffany & Co. twist bangle (thin, slightly ovoid) is stylishly simple. For Cummings devotees, signature pieces feature hard stone inlay, such as a pair of gold ear clips offered by N. Green & Sons Inc. that are inlaid with black jade (a play on the classic Chanel black and tan), or a bangle, offered by Botier, whose design recalls ocean waves, with undulating lines of lapis lazuli and mother-of-pearl.
Just about any design by the great Jean Schlumberger is by definition a classic. Among his outstanding gold pieces are his renowned X rings, typically composed of three or more gold coils anchored with diamond-studded Xs. In the early 1960s, Schlumberger gave Art Deco–style enamel work a modern spin in his collection of gold and brightly colored paillonné enamel bracelets. Made in hues of red, orange, blue, green and basic black and white, the bangles were quickly taken up by the country's social set, including Babe Paley, Bunny Mellon and Jackie Kennedy. Indeed, the Croisillon variation — distinguished by gold cross stitches — became known as "the Jackie bracelet," giving it both iconic status and broad popularity.
Wit defined Texas-born Paul Flato's best-known work, which attracted New York society and Hollywood stars to his East and West Coast ateliers. Most popular then — and highly collectible now — were his many sign-language and hand brooches. The best are his Retro designs, from the 1930s and '40s. These are typically pairs of clip brooches, examples of which are offered by Macklowe Gallery and Hancocks. Fulco di Verdura, a talented protégé of Flato's, went on to even greater fame than his mentor. Society loved the Sicilian count, making his gold Ray brooches from the 1940s and gold compacts immediate collectibles. Also covetable are his bracelets, which rank high in terms of wearability and timeless elegance. Both qualities are evident in his curb-link bracelets, of which Neil Marrs has a gold rope-link variation on offer, and bracelet watches, one of which was memorably worn by Greta Garbo in the early 1940s. Today, vintage Verdura pieces derive their value from both his design brilliance and their potent provenance.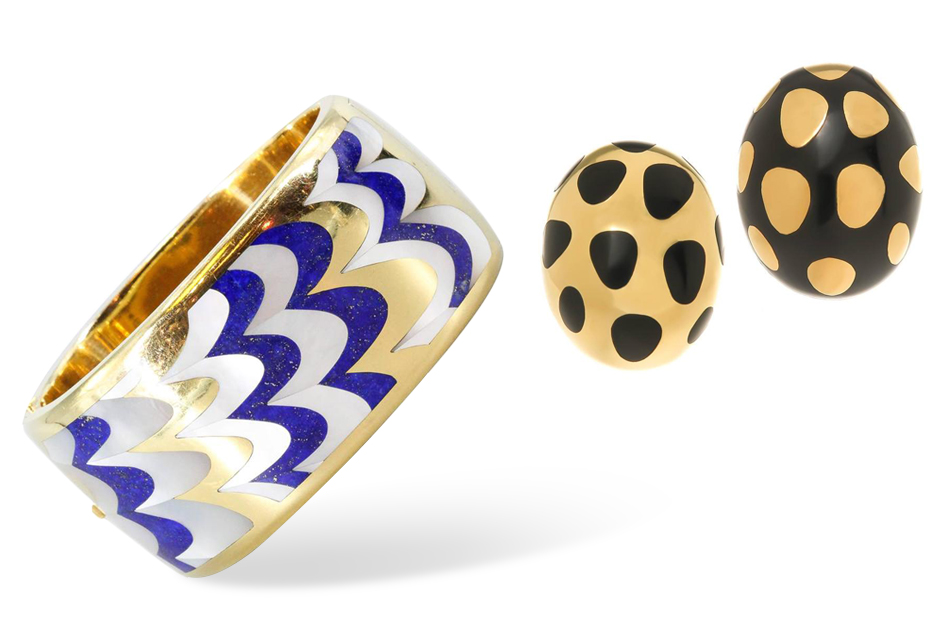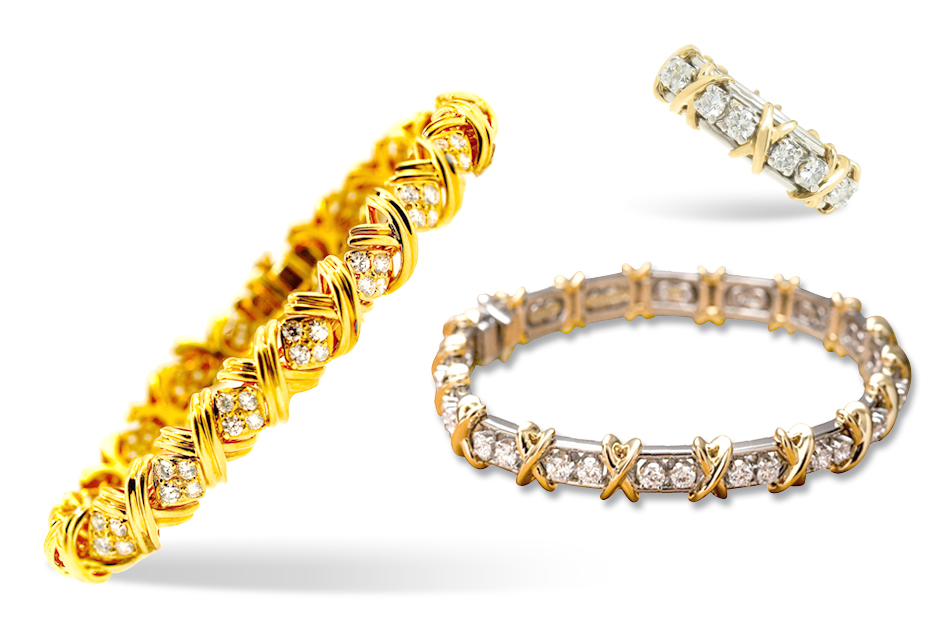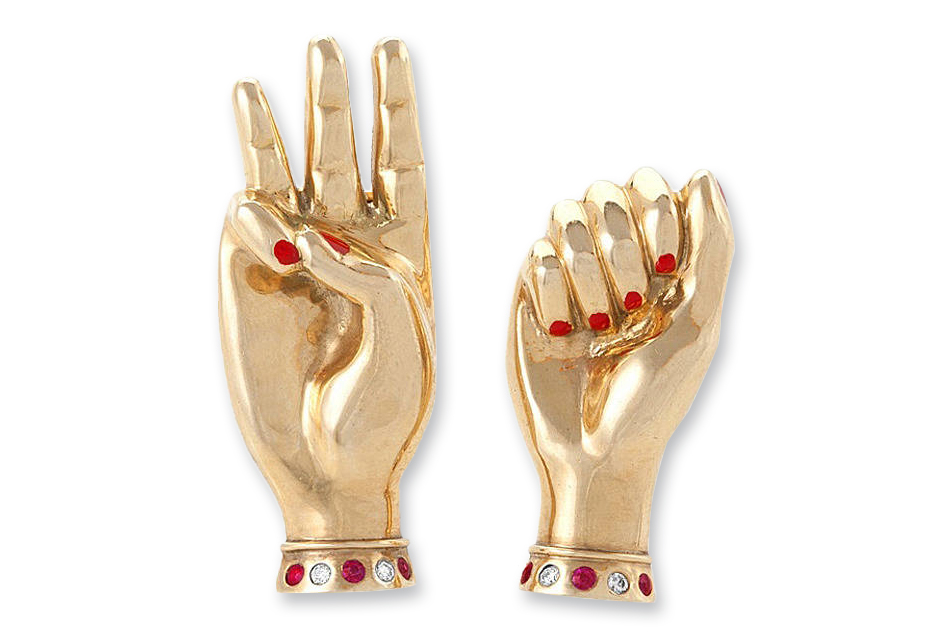 Even had he eschewed stones and diamonds, Southern-born David Webb would be hailed for the vast arsenal of heavy gold jewelry he designed. Gold, usually hammered or textured in some manner, defines great David Webb jewelry. The self-taught jeweler made very au courant pieces while drawing inspiration from ancient and out-of-the-way sources, as influential fashion journalist Eugenia Sheppard pointed out: "The chased [gold] designs are all taken from early Greek, Oriental and primitive African originals."
Indeed, East meets West in the commanding gold necklaces made by Webb in the early 1970s. The same could be said for his endlessly varied gold cuffs, which show influences from around the globe; an especially wide though tailored version is on offer at Nadine Krakov. Better known are the Webb gold animal bracelets. Still highly sought-after, they were popular when they were launched, in the early 1960s, particularly those in plain gold or ornamented with enamel and stones, such as those examples offered by Eleuteri and Shreve, Crump & Low.
Less prominent within the history of American jewelry but admired among the cognoscenti are pieces by the veteran designers Henry Dunay and Marianne Ostier. Dunay, a consummate craftsman, is known for his technical prowess. This is particularly evident in his Sabi line, with its distinctive brushed-gold finish, beautifully exemplified by a pair of gold and platinum ear clips offered by Eiseman. Ostier was the more traditional of the two, but as time went by she became more daring in her designs and use of materials. Collectors particularly value her seaweed brooches and ear clips, like those offered by Kimberly Klosterman.
In Europe, many houses have given us gold jewelry that sets the highest standard for excellence, pieces that were highly sought after when they were made and continue to be so. Who doesn't recognize the Cartier panther, the Bulgari Serpenti, the Van Cleef & Arpels ballerina?
Numerous designs from Cartier are homages to gold. There are the classic Trinity rings and bracelets, trifectas of yellow, white and rose gold, examples of which are offered by Lawrence Jeffrey and Alice Kwartler. The Cartier panther sprang to life at the end of the 1940s, when the Duke of Windsor commissioned the house to make a brooch for his wife. It created a yellow gold feline draped over a very large cabochon emerald. In 1949, Cartier brought out the better-known version: in white gold,  atop a sapphire ball. Over the years the panther has dangled from the earlobe, draped its slinky body around the wrist and curled itself around the finger. Examples are on offer at Luxury Bazaar, Jack Weir & Sons, and Vintage Malibu.
As a testament to the power of love, consider the endurance of the house's Love bracelet. Aldo Cipullo, Cartier's top in-house designer from the late 1960s into the the early '70s, made history in 1969 with the Love bracelet. Given to Elizabeth Taylor by Richard Burton, it was a favorite gift among many famous couples.
If gold is synonymous with money, then Bulgari and its coin jewelry, gemme nummarie, hit the jackpot. Since its launch in the 1960s, the line has been perennially popular. Bulgari coin jewelry features ancient Greek and Roman coins embedded in striking gold mounts, usually hung on thick link necklaces of varying lengths. The warm yellow gold chain creates a striking contrast with the silver, bronze and gold coins, many with a matte patina. Vendome has a necklace from 1985 with five ancient coins.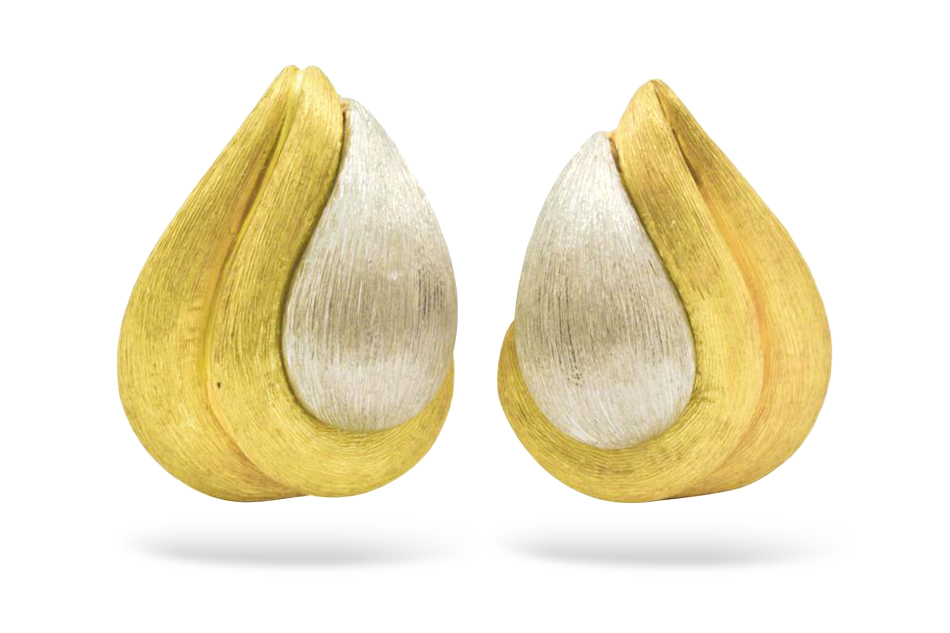 In the 1970s, Bulgari introduced the Tubogas line, most often made in yellow gold. The Tubogas watches are classics; examples in two- and three-colored gold are offered by Yafa and Aaron Faber, respectively. And then there is the Serpenti, Bulgari's outstanding snake-themed watches and bracelets. The pieces come in yellow or white gold, as well as combinations of the two, sometimes with rose gold added for a tri-color effect. Some pieces in the popular collection are ornamented with enameling and gem stones. Oak Gem and Yafa both have Serpenti bracelets, accented with onyx or mother-of-pearl and diamonds.
It is impossible to overstate the long arm of Van Cleef & Arpels: since the house opened its Place Vendôme doors in 1906, collection after collection of jewelry classics have enchanted the public. As predominantly expressed in a honeycomb of gold, there is the Ludo watch, circa the 1920s, and the golden Zip necklace, 1951, whose ingenious transformation of the traditional zipper was originally proposed by the Duchess of Windsor. Alhambra, with its Moroccan motif, was introduced in 1968 and from the start its popularity pivoted on royalty (Princess Grace of Monaco) and celebrity status (French musician and style icon Françoise Hardy). It remains one of VCA's most popular and collected styles. An all-gold pair of Alhambra chokers from the 1970s can be found at Greenwich Living. For a house committed to beauty and elegance, the VCA gold earring is in a class of its own. Robin Katz, whose VCA gold and diamond triple link ear pendants express '70s style, says gold earrings are "the equivalent of the little black dress. No wardrobe should exist without them. Simply put, gold earrings upgrade everything you're wearing."
Mention must be made of Buccellati, whose name is synonymous with gold so finely spun that it suggests tapestry. The house's many gold bracelets, typically embellished with a few or many diamonds, signified  taste and distinction and are always in favor on the secondary market. Other important mid-20th century houses known for their gold-themed jewelry include Hermès and Ilias Lalaounis. The Greek designer is known for ancient motifs made new, as in the Helen of Troy fringe earrings from the Mahnaz Collection. Hermès products have a special cachet, particularly its toggle-style bracelets, examples of which are offered by Botier and Bruno Pepin.
As these examples of gold jewelry demonstrate, enduring classics are never created by accident — they represent a perfect combination of reputation, design and craftsmanship. Trends come and go, but the best gold jewels have no expiration date and never show their age. Perhaps that is why women who love jewelry adore their gold pieces. For most of us, they're our secret weapon for looking forever young.