July 19, 2020Located on a quiet tree-lined street in Park Slope, Brooklyn, Ground Floor Gallery might be off the beaten path as far as gallery districts go, but the robust contemporary program developed by its founders, Krista Scenna and Jill Benson, has anchored it firmly within the city's emerging art scene. The heart of the gallery's mission is to connect underexposed creative talent with new collectors eager to find it.
Scenna, who studied Spanish and art history as an undergrad at the University of Pennsylvania, taught Spanish at a private school before realizing she wanted to work with artists. In 2004, she enrolled in grad school in New York University to get a master's degree in interdisciplinary arts. The summer before she finished, she worked as a curatorial intern at the Queens Museum, where she was eventually hired as press officer.
She owes much to that experience. "I learned about general operations and how to create and then promote and manage an exhibition," Scenna recounts. "And importantly, I started meeting artists who were working with curators there or involved with the education department. That's when I started building a language for curating, and I began organizing pop-up art shows in any space I could find!"
She worked for several arts-related nonprofits before starting Ground Floor, in 2013, with Benson, an independent curator. The pair have organized all kinds of benefit exhibitions over the years, and their deep-seated desire to give back to the community has grown even stronger in the Covid-19 era. "The pandemic and the Black Lives Matter movement have exposed so much inequity," says Scenna, who is African American. "There are so many causes to give to, so much work to be done."
Ground Floor's physical space has been closed since March, but Scenna hasn't slowed down. She spoke with Introspective about curating shows in an unprecedented era, working with new collectors and tackling racial inequality in the art world.
You don't have a stable of talents you represent, so you are free to curate all kinds of shows presenting work by dozens of different artists. Where do you find them all?
I've been meeting and working with artists since 2008, so my network at this point is pretty rich. And those artists introduce me to new artists. I spend a lot of time following their work, and I also go to tons of open studios — in Gowanus, Bushwick, Greenpoint, Dumbo — any chance I get. There's no better place to meet artists and talk to them than in their element!
You are passionate about both art and teaching, and you've figured out how to intertwine the two by nurturing new collectors — an objective at the heart of the gallery's mission. What are some of the lessons you try to impart?
I used to teach a course at Third Ward — a nonprofit in Bushwick — on how to navigate the New York art world. And at Ground Floor, I teach classes through Brooklyn Brainery on how to collect art.
The first thing I tell emerging collectors is to look at as much art as possible before they start on the journey of buying it. It's so important to develop a sense of what you like and don't like — what genre, medium, scale — anything to limit it so it's not so overwhelming when you start to make purchases.
I tell people to look online but also to go to museums and galleries, to public art installations and to the more approachable art fairs, like Spring/Break and Affordable Art Fair, which work with more emerging artists and smaller galleries.
You host a lot of exhibitions in collaboration with nonprofits, splitting sale proceeds among the organization, the artist and the gallery. Do you feel a particular sense of urgency to do so right now?
Yes, we are going into almost full benefit mode these days! There is so much inequity being exposed. Many artists feel especially moved to act. We have a long history of collaborating with nonprofits. It's a great way for an emerging collector to own and buy an artwork, often by a talented local artist, while supporting a worthy cause.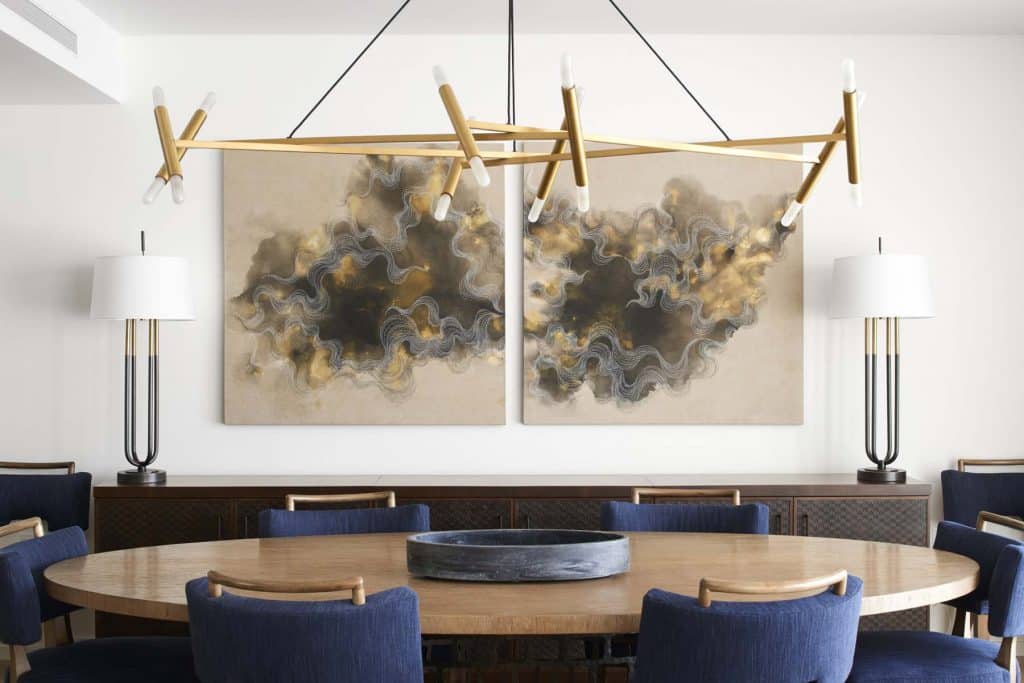 What should be on our radar this summer?
One of the many things we're excited about is "A Candle a Day," a project that has been on our Instagram feed since June and will run throughout the rest of the summer with a wonderful artist named Véronique Gambier, who's based in the Hudson Valley.
Every night since the beginning of the lockdown, she's been lighting a candle and painting it while it's burning. It's like a collective vigil, and they are so tender and beautiful, in acrylic on watercolor paper. She can say so much with so little. She blends her own pigment, so her paintings truly radiate.
At first, we were thinking about this solely as a therapeutic quarantine exercise, but it took on new significance with George Floyd's death and the national and global evolution of the Black Lives Movement. For Véronique, as a white French mom raising two biracial black teenage daughters who've confronted racial injustice in rural New York, the project took on a new urgency and meaning.
As a black mother myself, married to a white man with whom I'm also raising two black children under the age of five, I share her urgency and passion about this exquisite project.
We're donating one hundred dollars from each sale from "A Candle a Day" on 1stDibs to the organization Free Arts NYC [a mentoring and arts education program for underserved kids and teens]. And people can make a comment or a dedication or leave a wish for each candle posted on Instagram.
I'm struck by how culturally relevant and visually compelling Ronald Hall's paintings are. Can you tell us a bit about him? What is he working on these days?
I feel honored to have met Ronald Hall when he first moved to Brooklyn from Seattle. He had been working in tech and decided to move to New York City to try to make a name for himself as an artist. Jill and I showed Ronald's work immediately after visiting his Brooklyn studio at the NARS Foundation in 2014 and have been drawn to it ever since.
His paintings are arresting, textured and deeply connected to his own personal history, America's divisive racial history, popular culture, graffiti and current affairs — a rich blend of influences! I love the way he envelops his figures in detailed, symbolic landscapes, and how he uses saturated, unorthodox colors that seem incongruous yet somehow work.
Ronald's paintings always provide more questions than answers, which makes them so exciting to look at and get lost in! His "characters" are often fictional representations of Black people blended with historical Black figures from iconic magazines, newspapers and photos. He's currently working on a major commission for a private collector, a series of figurative paintings pertaining, in part, to George Wallace [the Alabama governor who famously chanted, "Segregation now. Segregation tomorrow. And segregation forever" at his 1963 inaugural address.]
As an African American gallerist, do you think we are looking at a moment of real change, at least within the art world? What do you think needs to happen?
Black people in the art world are here and we're qualified. Get to know us, interview us, hire us, mentor us, write about us, buy art from our artists and galleries, connect us with your influential networks — networks that many of us don't historically have access to, especially when we are just starting out in this notoriously opaque and murky field. If you don't pander and come from an authentic and curious place, it will be much appreciated and recognized.
I also think that undergraduate and graduate art history and art programs need to embed practical, concrete lessons about working in the art world as an integral part of the curriculum. Alumni outreach programs should actively connect Black art history and art students with graduates in the field who can help them navigate the treacherous art world waters and also connect them to viable job and mentorship opportunities.
I was fortunate enough to have those practical opportunities as an undergrad through two hands-on, intensive courses, but I struggled to find guidance and community once I left the safe academic bubble. As an art professional who's found "her people" and now has a platform, I've learned that the art world is small and truly relies on its networks!
---
Krista Scenna's Talking Points