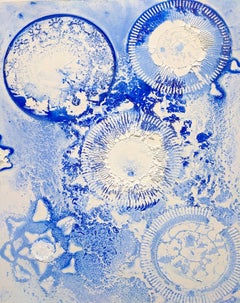 Seeking the Sound of Cobalt Blue: Pinwheels
Design Credit: Kacy Ellis, Photo Credit: Wynn Myers.

Dimensions: H 14 in. x W 11 in.

Design Credit: Jeremiah Brent Design, Photo Credit: Nicole Franzen.

Dimensions: H 14 in. x W 11 in.

Design Credit: Sarah Shetter, Photo Credit: Boris Breuer.

Dimensions: H 14 in. x W 11 in.
1 of 13
Ellen Hackl Fagan

Seeking the Sound of Cobalt Blue: Pinwheels

2020
About
Seeking the Sound of Cobalt Blue_Blue Pinwheels Image size: 11 x 9 inches Paper size: 14 x 11 inches Museum Quality Archival Pigment Print on 100% rag textured paper. 2020 We are thrilled to announce the official print release of artist Ellen Hackl Fagan's "Seeking the Sound of Cobalt Blue: Pinwheels" in partnership with Prevent Child Abuse America. Conceived in tandem with, "Deep Blue See: an Exhibition for Child Abuse Prevention," during CAP Month in April 2020, the gallery commissioned New York City-based artist, Ellen Hackl Fagan, to create an original, limited-edition "blue print" for child abuse prevention informed by PCA America's renowned Pinwheels for Prevention initiative. Since 2008, the organization has recognized the pinwheel as a powerful symbol of the whimsy and joy of a healthy childhood experience. Embracing that message, Fagan experimented with myriad, everyday objects found in her home and studio to create patterns reminiscent of the pinwheel against a rich cobalt blue setting. Originating as a painting, this textured, photogram-inspired composition was painstakingly translated to a limited-edition, fine art print that will be accessible to more art lovers who are passionate about supporting #greatchildhoods and protecting our youth. Be one of our "50 for 50"! Fagan's unique, commemorative print is a limited-edition of 50 for the first 50 collectors who step up to support. Each print is signed and editioned by the artist and accompanied by a certificate of authenticity. They are affordably priced at $250 each and 50% of each sale ($125) benefits PCA America. Place your order now and be one of the 50 collectors who will help us raise $5,000 for this essential organization and the underserved families and young people they support!
Details
Creator

Creation Year

Dimensions

Height: 14 in (35.56 cm)

Width: 11 in (27.94 cm)

Medium

Movement & Style

Period

Condition

Gallery Location

Reference Number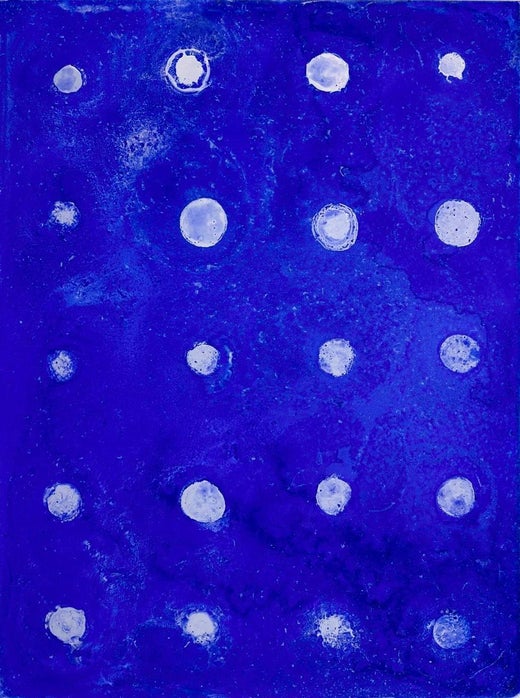 Shop All Ellen Hackl Fagan
About the Artist
Ellen Hackl Fagan
Ellen Hackl Fagan builds connections between color and sound using installations, interactive games, and collaborative projects that combine color-and-texture saturated paintings with music and digital technologies. Each installation invites viewers an opportunity to explore synaesthesia for themselves.
Balanced between randomness and intention, like jazz music, Fagan's art continues to reveal limitless possibilities for improvisation. Saturation, accident, and the nature of the materials impose their own voice. Color seduces.
Blue is an invitation to get reckless.
Rich, powdery, dangerous, The Void.
Jumping off generates new information. Painting opens the door to life's patterns. Echoing life's chaotic beauty, her sources can be linked to pop music, Rimbault, Jungian psychology, the theory of correspondences, Minimalist and decorative art.
Fagan is the inventor of the Reverse Color Organ and the ColorSoundGrammar Game, two projects that enable viewers to interact aurally with color. In collaboration with web architect Joshie Fishbein, the Reverse Color Organ is a web app, downloadable to a smartphone, thus placing this synaesthetic tool into peoples' hands to be used, not only to expand the language of color, but also as a crowd-sourced musical instrument.
Fagan exhibits her work extensively throughout New England and New York City. In 2014 she expanded her independent curatorial practice into a full-time business and is now the owner of ODETTA Gallery in Bushwick, Brooklyn. There, she maintains her painting studio and is an active member of this vibrant arts community.
Find original Ellen Hackl Fagan paintings and drawings on 1stDibs.
(Biography provided by ODETTA Gallery)