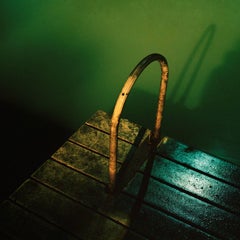 Moon Dock
Design Credit: Kacy Ellis, Photo Credit: Wynn Myers.

Dimensions: H 12 in. x W 12 in.

Design Credit: Jeremiah Brent Design, Photo Credit: Nicole Franzen.

Dimensions: H 12 in. x W 12 in.

Design Credit: Sarah Shetter, Photo Credit: Boris Breuer.

Dimensions: H 12 in. x W 12 in.
1 of 6
About
**Prints are available in larger sizes as well as prints in the "Gowanus Wild" series that aren't seen here. Please inquire. Artist Miska Draskoczy's "Gowanus Wild" made its New York City debut at our gallery in 2014: the artist's first solo show featuring the now iconic series. Since then, work from the series has been acquired by the Brooklyn Public Library and the MoMA Library. Description: Miska Draskoczy's "Gowanus Wild" series is a photographic exploration of nature and wilderness in the contaminated industrial neighborhood of Gowanus, Brooklyn. As the Gowanus Canal has been declared a federal Superfund site and seen over 150 years of industrial abuse, the images reveal just how tenacious nature can be when faced with grave environmental destruction. In the artist's words: My vision for Gowanus Wild is to illustrate a personal exploration of nature and wilderness in the paradoxical setting of a contaminated industrial environment. As the Gowanus Canal in Brooklyn has been declared a federal Superfund cleanup site and seen over 150 years of continuous industrial use, one of my aims with the series is to show just how tenacious nature can be in the face of such grave environmental destruction. Set entirely at night when the area empties of people and activity, the mood is one of stillness, reflection, and discovery. I've lived on the border of Gowanus and Park Slope since 2008, and walking home through the deserted streets, I was always struck by how odd and atmospheric the place felt. At first I photographed the area because it inspired interesting images. Later I started to ask myself more consciously what it was that drew me to it. While an indictment of man's abuse of the environment is perhaps inevitable, my goal is to not just celebrate nature's resilience but to also show how it is paralleled by the human ability to seek and find the balm of nature in the most unlikely of places. I believe wilderness and adventure are natural longings and that satisfying these urges is perhaps less about far flung travel and more about altering our perception and awakening to our surroundings, however ugly or distraught they may be. Artist Bio: As an avid outdoorsman living in the big city, Miska Draskoczy's photography often investigates the overlap between the man-made and natural worlds. His photography has been widely exhibited in the US and abroad and is the recipient of numerous awards. His urban wilderness series, Gowanus Wild, was published as a photobook in conjunction with the Gowanus Canal Conservancy and has been exhibited as a solo show at The Brooklyn Public Library, Davis Orton Gallery, the Vermont Center for Photography and Ground Floor Gallery in Brooklyn, NY as well as in group shows such as THE FENCE at PHOTOVILLE. His work has been featured in the press by The New York Times, The New Yorker, The Atlantic, Time Out, KATALOG, Hyperallergic, Brooklyn Magazine, PDN, Featureshoot, and many others as well as collected by institutions such as the Brooklyn Public Library, MoMA Library, Tufts University, and the Fitchburg Art Museum. Miska's career has also included diverse projects such as co-founding a conceptual arts organization, directing surreal sci-fi shorts, writing and developing a Slamdance shortlisted horror feature, and creating a documentary web series about objects in people's homes. In addition to his personal projects Miska works as a director, editor, and animator through his production company snow23.
Details
Creator

Creation Year

Dimensions

Height: 12 in (30.48 cm)

Width: 12 in (30.48 cm)

Medium

Movement & Style

Period

Condition

Gallery Location

Reference Number