May 30, 2021Vintage-fashion expert Mila Evertz claims she didn't find Chanel — Chanel found her. After a few years selling vintage clothes online, she chanced upon a Chanel bag that changed not only her business but her life. In 2013, she launched House of Carver, specializing in vintage Chanel handbags as well as pre-owned contemporary styles by the iconic Parisian label.
"It was a niche proposition, but I've always maintained that Chanel handbags and accessories rise above trends, and they do so with lots of personality," says the Miami native. "They can be chic, edgy, fun and daring, but they never lose their relevance."
As a cash-strapped student pursuing a sociology degree at the University of Maryland in the mid-2000s, Evertz would buy and sell clothes to support herself, dealing in everything from McQueen dresses to end-of-line lingerie. "I was pretty indiscriminate!" she says, laughing. "I would often queue at the break of dawn to get the best items at outlet stores."
While her means were modest, her approach was glossy. "I would organize these big outdoor shoots with my friends, so my photographs had an editorial edge," she says. At the time, a half decade before Instagram made influencer photos ubiquitous, her approach was fresh and novel, and her creative verve paid off — by graduation the ambitious student had developed a loyal following.
One day in 2008, while trying unsuccessfully to consign a cache of '90s Gucci bags at a second-hand boutique, something in the store caught Evertz's eye: a Chanel bag in black caviar leather with wooden handles. She ended up buying it on credit. "It was love at first sight," she says. "I took it home and just stared at it."
Reluctantly, she listed the bag online — her rent was due after all. A bidding war ensued, with Evertz pocketing twice the amount she had paid for the piece. She describes the sale as a lightbulb moment. "That bag opened the gateway to a whole new world," she enthuses.
Evertz became fascinated by the couture flourishes of the Chanel designs and the meticulous effort invested in creating them, from the crisscross stitching of the house's signature leather quilting, known as matelassage, to the luxuriant leather woven through the famous chain straps.
Leaving sociology behind, she went all in on fashion. "I enrolled at FIT [New York's Fashion Institute of Technology] to learn about museum storage techniques, which have proved to be invaluable as a retailer," she says.
Building on this solid foundation, Evertz created a handbag archive, becoming an authority on Chanel's history since the early 1990s, with extensive knowledge of the themes behind its six annual collections.
For its spectacular seasonal runway shows, Chanel designs special bags that are typically produced in smaller editions, making them all the more desirable and prompting long waiting lists for the most flamboyant creations. Many of the ones much sought after today are objects of pure fantasy conjured up by the late couturier Karl Lagerfeld, whose prolific tenure at the helm of Chanel lasted from 1983 to 2019.
House of Carver's deep inventory demonstrates the scope of Chanel's exuberant creativity, with bags available in myriad flavors: swathed in tweed, festooned with sequins and studs, embellished with lacework, fashioned from denim or canvas, cast from resin and loaded with charms.
And that's before you consider the silhouettes, which range from classic boxy styles and flap bags — such as the iconic 2.55 and 11.12 models — to Duchampian wearables, including clutches shaped like perfume bottles and totes inspired by grocery baskets. A rare Chanel supermarket piece, created for the label's Fall 2014 ready-to-wear show, was recently snapped up by Kylie Jenner, one of the House of Carver's many celebrity clients.
"Prior to the pandemic, I held pop-ups at Art Basel, because Chanel bags really are like portable sculptures," says Evertz. "There's always something fascinating to discover, and it's that element of surprise that's so addictive."
Here, the Chanel-loving entrepreneur tells Introspective about some of her phenomenal finds and explains the enduring appeal of these beguiling investment pieces.
---
What do you look for when you're on a Chanel treasure hunt?
First of all, items have to be pristine. I rarely have anything repaired because all these models have hardly been used. On occasion, I have had a piece of hardware, such as a clasp, professionally tightened, but otherwise they are in mint condition.
I especially love pieces from the nineteen nineties, because they're so inventive. For example, I had a cylindrical hard carrier that held a two-liter bottle of water — a little Chanel cage with a long chain strap. It was so ahead of its time, when you think of how we all tend to carry reusable water bottles now.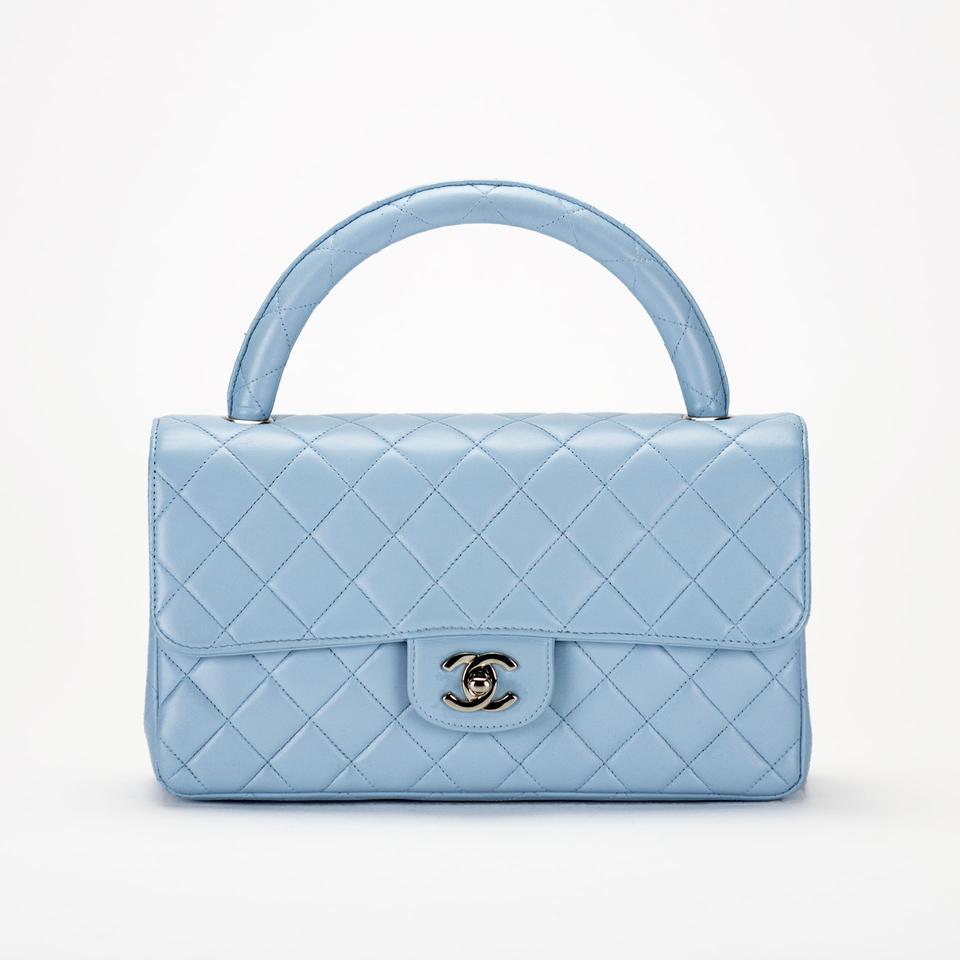 I also have a baby-blue lambskin flap bag from this era with a top handle. It originally came with a matching mini-me clip-on bag. Again, this tiny-twin style is so popular at the moment, proving how daring the brand was and still is. Sadly, I don't have the matching attachment. In its complete form, this bag is worth up to $30,000.
Has there ever been a craze for a particular Chanel style? A bag that you just could not stock enough of?
Actually there was, and this craze is the very reason I joined 1stDibs three years ago. I noticed that celebrity stylist Monica Rose — who was a big influence on the Kardashians, the Jenners and the Hadids — was outfitting her stars with Chanel fanny packs.
At the time, Chanel did not have a modern version of this bag — they were all vintage models and almost impossible to find. I had my own collection that I had gathered over the years because I've always thought they were so cool, much to the disapproval of my friends, who just couldn't see the allure.
Sure enough, the style circled around. I contacted 1stDibs to see if I could become a seller, and when I did, my fanny packs just flew out the door! Monica Rose directly sourced several vintage styles from House of Carver and placed them on Sofia Richie and Shay Mitchell. In fact, this model remains hugely popular because it complements our modern lifestyles, especially with the rise of athleisure.
You also have a selection of Chanel accessories, such as sunglasses and belts. What's your criteria for choosing these pieces?
I cherry-pick items that elevate an outfit, that sync with the looks that shoppers are experimenting with right now. For example, most of the sunglasses are from the nineties. They're so fun and unique, with some frames contoured with pearls, by chains or by the Chanel logo.
You must have had some amazing adventures sourcing these items. What was your most unusual encounter or acquisition?
A loyal customer of mine requested a very particular piece: a rare Chanel clutch in the shape of a gold bar. I was scrolling through Instagram one day and saw that the fashion blogger Chiara Ferragni had posted a picture of herself trying on an oversize vintage Chanel bag in a Milan boutique. I happened to spot the gold-bar clutch in the background of her shot! At the time, I was in Paris visiting family, so the treasure seemed within reach.
After many failed attempts to call the store, I decided to head out to Italy. I arrived on a Sunday, and on Monday morning, I dutifully waited for the boutique to open. Luckily, the bag was still in the vitrine, so I was able to grant my client her wish.
Could you share some of your storage tips?
One of the most important things is to keep all your original packaging. So, hold on to the box, the dust bag and the tissue paper that came with your bag. When you're storing it, replicate the way it was originally presented. Chanel is very specific about packaging because chains can leave an imprint on the leather, so study how the straps are tucked into or wound within the main compartment of the bag.
Another point to remember is that bags do better in the dark. If your bags are anywhere near a window, where there is sunlight or heat, this can alter the original color of the leather or material.
And the sun may not be your only enemy: Having AC ventilation in your closet is a good thing, but some areas may be more humid than others, and vents can drip, so check on your items regularly. Be mindful of water pipes behind your storage space too. I've heard a few horror stories from people whose bathroom pipes had small leaks, resulting in mold that spread to clothes and bags.
What's the best way to maintain your handbags?
When it comes to keeping your bags clean, use a lint-free cloth and a little bit of water to remove any excess dust on caviar leather or patent leather bags. Don't let your bags touch if they're not in their dust bags, because colors can easily transfer.
Lastly, never put your bag on the floor. For me this is the stuff of nightmares. Not only is it unsafe, especially if you are out at night, but it damages bases and corners. In fact, in some cultures, it's bad luck to put your bag on the floor. I like this superstition, and it could save you money!
Are there any pieces that you'll be sad to see go?
The long Chanel clutch is one of my favorites. It's not necessarily practical but so glamorous and the perfect bag to wear to a red-carpet event. I may have to buy a box of tissues when that goes.