For the Hudson River school artists of the 19th century, location was paramount; a Thomas Cole painting captures every detail of a carefully selected Catskills mountainside. But the architecture of the day was far less site-specific. Mansions on the Hudson River were generally Greek Revival or neo-Gothic piles, perhaps angled to get the best views, but otherwise barely impacted by their spectacular surroundings.
The opposite is true today. The newest architecture of the Hudson Valley is very much rooted in place, as David Sokol demonstrates in his book Hudson Modern (Monacelli). It provides a look at the area's contemporary houses, most of them designed to take advantage of spectacular vistas. If you can't hang a Cole on your wall, you can see one through your floor-to-ceiling windows.
Only one of the residences overlooks the Hudson itself: the aptly named River House, by architect Steve Mensch. It stands a few hundred feet from Wyndclyffe, the neo-Gothic mansion of Elizabeth Schermerhorn Jones, built in 1853 and abandoned a century later (and now crumbling). Jones's house made no concessions to location. By contrast, Mensch explains in the book, "I take my cues from the site, and in this case, it was very clear I wanted the main spaces to hang over the water as much as possible." The living room, in particular, feels like an aerie. Its glass walls, Sokol writes, "can retract fully into pockets, to heighten the sense of soaring among treetops." Mensch took advantage not just of the views but also of the light, placing a large array of photovoltaic panels on the roof over the living room and, over the adjacent studio, a solar-hot-water rig (something that should be on millions of American homes but isn't).
Even the houses that are far from the Hudson River are in an Upstate New York state of mind. That means they aren't shingle style (the prevailing mode in the Hamptons) or saltbox–inflected (à la New England). Some, like architect Joel Sanders's Bedford residence, show the influence of Frank Lloyd Wright, with ample overhangs and giant hearths. Most are glass boxes, derived from Ludwig Mies van der Rohe by way of Philip Johnson but with countless variations, including walls of weathered boards or rubble stone to root them in the rugged landscape.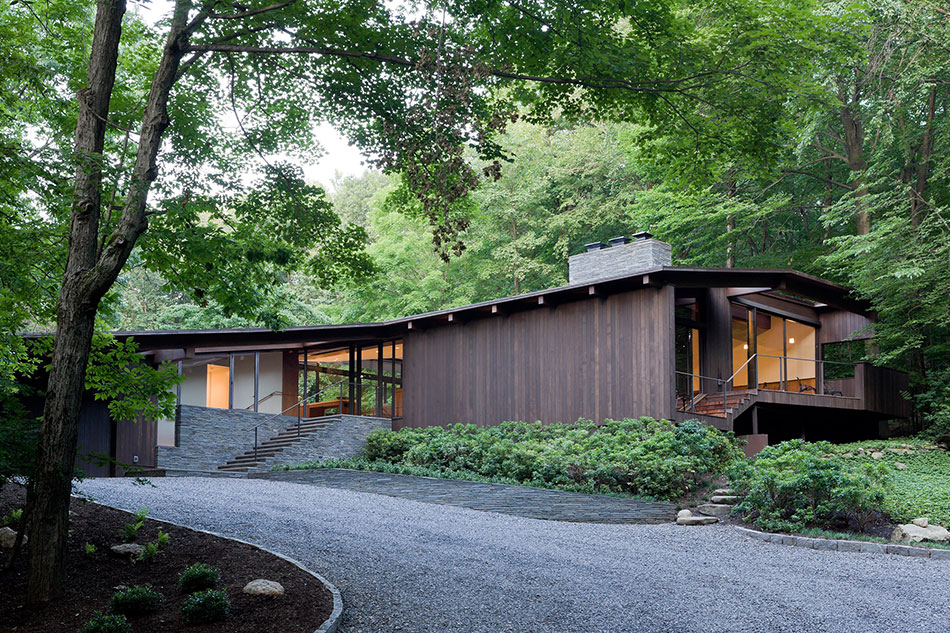 Desai Chia Architecture's rigorously detailed LM guest house, in Dutchess County, pays homage to Mies but makes extensive use of wood to avoid the Farnsworth House's fishbowl effect. In its Pound Ridge residence, the Philadelphia firm KieranTimberlake deployed a high-tech facade of brushed and polished stainless steel, lead-coated copper panels and glass, providing an almost psychedelic backdrop to the site's Brobdingnagian boulders. On Mount Merino, Hal Goldstein created a modest guest house of extraordinary elegance: a 1,000-square-foot box of transparent and translucent glass and charcoal-colored cedar siding, the architectural equivalent of a little black dress with pearls.
Some structures save the best for last, with blank street fronts hiding their "big reveals." The 900-square-foot home that Sharon Davis built for her family in Garrison presents a facade of salvaged Douglas fir in front, while the back is composed of retractable glass doors. As one walks around the house, it "reveals itself like a cracked-open geode," Sokol observes. The most extreme example may be the residence architect William Reue designed for a site in Ulster County. Its front is a windowless, 125-foot-long wall of corten steel, while the back incorporates a 65-foot-wide, quadruple-paned expanse of glass. Even the architects who primarily employ natural materials create precise geometries with them, as in architect Robert Siegel's own home in Katonah, which uses rubble stone in a tight rectangular formation to spectacular effect.
Sokol doesn't make a case for a cohesive Hudson River school of architecture. But he does demonstrate that the dozen or so counties north of New York City are fertile ground for innovation. Most of the architects featured in the book work in Manhattan, and the Hudson Valley has given them a chance to show what they can do in neighborhoods with more mountains and streams than people. For the most part, by creating discrete volumes that are the opposite of sprawl, they have left the land in a state that even Thomas Cole could celebrate.
---
or support your local bookstore