When no less an authority than Robert A.M. Stern says that an architectural firm is capable of a "deeper, more resonant investigation of the past" than most, attention must be paid.
John Ike, Thomas Kligerman and Joel Barkley — the three principals of the New York–based Ike Kligerman Barkley, or IKB, which Stern praises in his foreword to their latest book — have a knack for incorporating into their cannily constructed projects into their residential and institutional projects some of the smartest design ideas and motifs from previous eras without ever devolving into pastiche.
Chatting with them in the library portion of their office, which is stuffed with 3,500 books on art and design, you get the feeling that architectural history is profoundly important to this trio, but somehow they're able to wear their affection for it lightly.
"It's sort of like mixing a cocktail, balancing between different ingredients," says Kligerman, who founded the predecessor firm with Ike in 1988. Barkley joined in 1999, and most recently the firm opened a San Francisco office to keep up with demand for its services. Now, they employ 30 people.
To make that breezy, cocktail-mixing attitude work, the architectural underpinnings have to be solid indeed. All three of the principals honed their skills at Stern's firm, known for a certain modern traditionalism, before striking out on their own. As Barkley puts it, "We actually like to look at how things are put together. So we make real buildings, not images of real buildings." Postmodernists, take note.
For this firm, ability facilitates versatility. Almost none of the IKB houses look alike — and that makes a certain amount of sense, since the only guarantee in architecture is that each project is difficult in an entirely new way. "That's actually a blessing and a curse," says Ike of their shape-shifting. "When people hire Richard Meier, they know pretty much what they're going to get. We're really responding to their wishes and the context."
Sheer variation is a large part of the pleasure found in the 2010 Monacelli Press offering Ike Kligerman Barkley: Houses. Start with a "Norman house on the Sound," which puts a narrow waterfront site in Greenwich, Connecticut, to clever use. The stone house took its cues from the clients' most beloved wine region, Burgundy, especially the ancient Cistercian abbeys.
The gently sloping slate roof and cathedral-shaped windows belie an open, loft-like plan. Inside, the first floor is almost all one room that's styled in a modern palette of neutral colors and clean-lined furniture. The tall house, which uses its height to make up for the site's constrictions, even has a barrel-vaulted basement. But instead of monks laboring over vats of grapes, there is an indoor pool.
IKB is relentless about getting clients what they want. But sometimes, clients don't agree among themselves. What then? For a Cape Cod compound tucked into the dunes, the husband favored a traditional path, and the wife wanted something more modern. The IKB solution, as detailed in one of the book's chapters, was to combine classic elements like unfinished floors, white wooden plank walls and white brick, but to apply them very sparely in the service of porous, light-filled contemporary spaces. The house's plan was stretched out, lengthwise, so that rooms would always be pierced by the sun. Triple-hung windows serve as a kind of "curtain wall" in the living room, says Ike. It's a modern gesture but also the provider of a good old-fashioned view.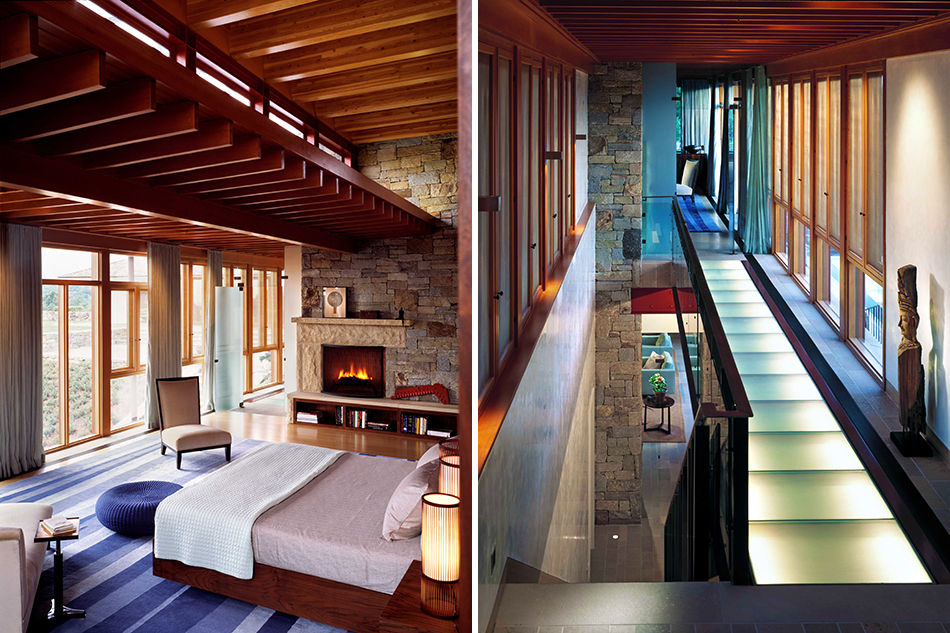 Frequently the IKB team pairs up with outside decorating firms: Cullman & Kravis, Thad Hayes, Brad Ford, Paul Wiseman, Geoffrey Bradfield and Monique Gibson, to name a few. That eclectic list is further proof that the firm can change its style to suit a project. "As collaborative people, we like other brands, and working with outside folks," says Barkley.
On each project, one of the three partners takes the lead, but their working process is loose and spontaneous. "We're all desperate for input and approval," says Kligerman. There's a palpable bonhomie in the offices, and a lot of looking over shoulders. "That's the advantage of having three minds," says Barkley. "We try to step on each others toes as much as possible."
Since the economic downturn, the commissioned have slowed to some degree, although the firm has seen an increase in its commercial work. (Three-quarters of their practice is still residential.) IKB just finished the Stanford Institute of Economic Policy Research for the California university that displays their typical reverence for older architectural idioms in a fresh way — delightful arches and a colonnade hiding a second-floor conference center.
Lately, IKB has been burnishing its sterling reputation with a 14,000-square-foot house commission on Martha's Vineyard and two new projects in the Hamptons. And the partners are also offering a kaleidoscopically colorful line of glass tables called the Chroma Collection, a collaboration with photographer Irene Mamiye.
Ultimately, it's a special ability to channel client personalities that has set IKB apart, and surely this is the only architectural firm that thinks in terms of a hypothetical quiz to prove it. Ike says: "If you were to meet five of our clients at a party and get to know them, would you be able to look at their houses and pick out which belonged to whom?" For their part, Ike, Kligerman and Barkley are all confident that the answer is yes.