July 31, 2022Antiquing is not an idle pastime for London- and New York–based architect and designer Bryan O'Sullivan — it has a far deeper resonance and has become a thread that weaves its way through his entire life and body of work, connecting him to his upbringing and roots in Ireland's County Kerry.
His parents "were shrewd with their investments in art and antiques," he recalls. "And my mum was always changing the house around and was really good at spotting things and mixing antiques with contemporary pieces. If we were driving to Dublin or anywhere, we'd always stop off at an antiques shop. My mum got the habit from my granddad. It's in our DNA."
Sketching toy houses with that grandfather, a builder, hotelier and self-taught draughtsman, may have also laid the foundations for his current success. Bryan O'Sullivan Studio is now a go-to destination for high-end private residential projects, as well as luxury hotel and restaurant spaces like the hugely Instagrammable Snug lounge at The Berkeley and the Red Room wine bar at The Connaught, both in London. But it's that inherited love for the thrill of the hunt, and the vintage and antique treasures unearthed in the search, that are most responsible for the character and charm that imbue O'Sullivan's interiors.
An initial dalliance with flea markets and thrift stores evolved into a more considered pursuit while O'Sullivan was working for architect Annabelle Selldorf in New York in the early aughts.
"Her interiors are perfectly minimal, with perhaps one amazing piece," he says. "Thanks to her, I started to understand provenance, that these pieces were by important designers from a certain period, and it opened up my mind. I started tuning in and researching. You don't learn that by studying architecture or interior design. You have to have an interest and be around these things."
He quickly developed a penchant for Italian and French furniture and lighting from the 1940s, '50s and '60s. There's an "elegance, design and flair" to objects from this period, he says, pointing to items like Venini glassware. "There's such a lovely line in those pieces." Today, O'Sullivan brings gravitas to his residential projects by combining covetable 20th-century collectibles like these with his own bespoke designs.
Exemplifying this approach is a late 1930s Chelsea townhouse whose interiors O'Sullivan created for a fashion-forward globetrotting client and her family. The homeowners already had an impressive inventory of contemporary, antique and vintage items — including mid-century designs — from previous homes in California, Paris and New York. They looked to O'Sullivan to add yet more gems.
In the living room, featured in this year's 1stDibs 50, standout pieces include a slender shelving unit by Franco Albini and a 1960s Paolo Buffa walnut cabinet. "We instantly fell in love with it and knew it would look like it was made for an alcove beside the fireplace that we'd redesigned," says O'Sullivan, who isn't afraid to add architectural details if a house lacks them.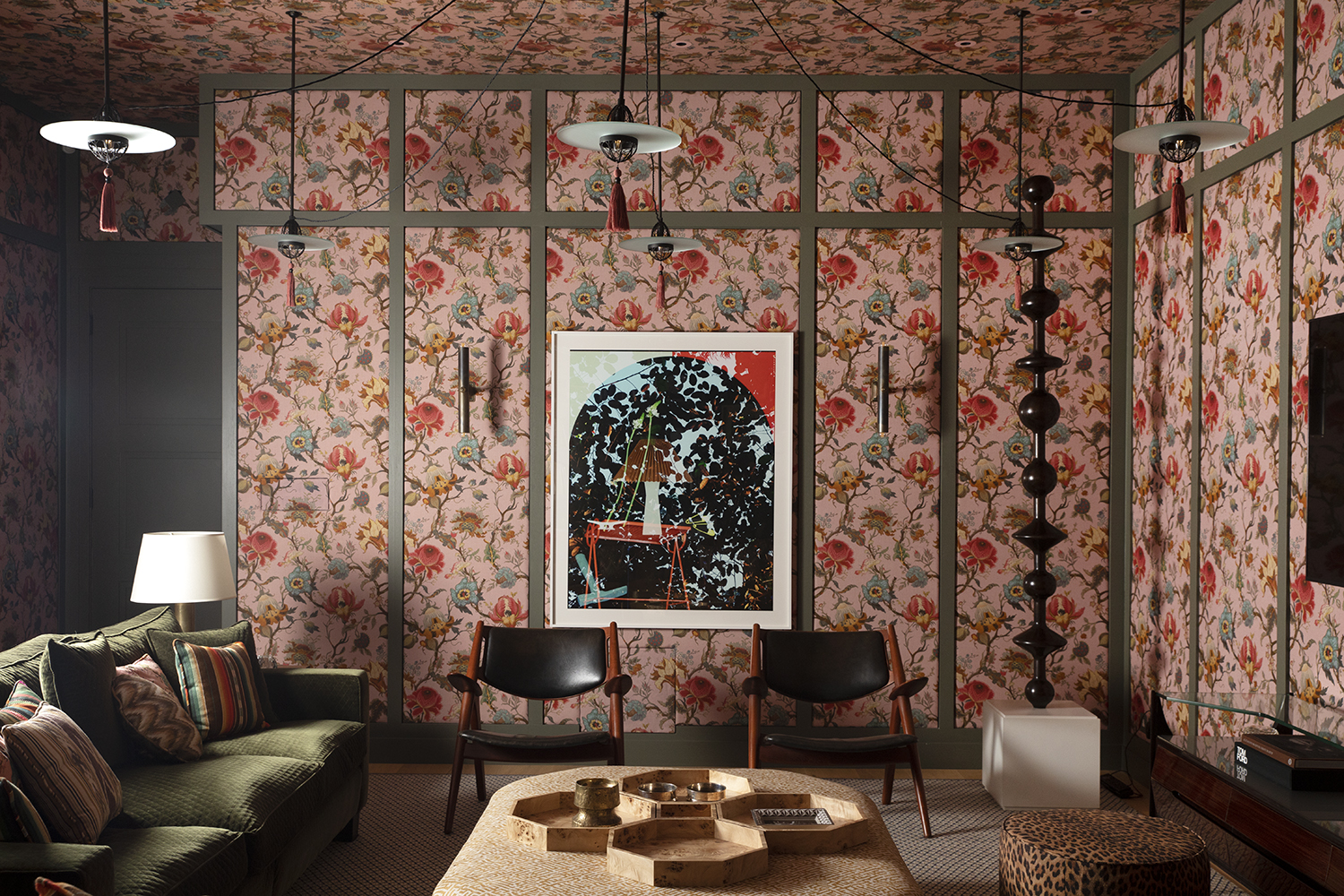 Although he drew largely from the mid-century-modern period for the project, he wisely curated a mix of eras, so that the decor looks as if it had evolved organically over time. Throughout the home, a light, neutral backdrop sets off the sculptural qualities of such pieces as a 1940s carved Ethiopian stool and a 1979 Metafora coffee table by Massimo and Lella Vignelli for Casigliani. A sweeping white bouclé-upholstered Jonas Wagell sofa softens the otherwise rather angular array of designs.
O'Sullivan generally avoids bold color and pattern unless a space demands it — which this house's subterranean TV room certainly did. Here, a 1950s rosewood sideboard by Silvio Cavatorta, Sawbuck lounge chairs by Hans Wegner and a bespoke sofa upholstered in a Schumacher fabric are surrounded by a flamboyant floral House of Hackney wallpaper and illuminated by tasseled ceiling pendants. Because the windowless space lacked natural light, O'Sullivan fully embraced the richness of darker, saturated colors — to dramatic effect.
As O'Sullivan's nine-year-old studio has evolved and its portfolio expanded, its clients have remained loyal. An international entrepreneur and his wife, a keen collector, are a case in point. O'Sullivan designed the couple's yacht 12 years ago, and since then, he has completed homes for them in Dublin, New York and London. The varied interiors of these residences demonstrate the breadth of the studio's capabilities.
For the Victorian-style Dublin property, which dates to the 1920s, the clients wanted the feel of a traditional country house. O'Sullivan admits that was a little "out of our comfort zone" at first, but he says he succeeded in pulling it off by adding his own signature "twist."
In the Great Room, he set a classical tone by selecting such grand pieces as marble fireplaces from Ryan & Smith, gilt overmantel mirrors, twin chandeliers from Cox London, Maison Jansen coffee tables and bespoke sofas accented with Fortuny-fabric cushions. To complete the look, the studio cherry-picked pieces from the couple's existing collection, incorporating works by Irish artists, a dining table set and a crescent side table.
As for the signature O'Sullivan twist, he added that in with fabrics and furnishings from Soane Britain. These, he says, "offer a contemporary take on a more traditional aesthetic." He also worked with a decorative artist to create wall finishes that put a modern spin on the old-fashioned art of hand-crafted wall decoration.
The couple's clean-lined mid-20th-century New York apartment, in contrast, is the furthest thing from traditional, while their 1830s Georgian-style townhouse, in London's Knightsbridge neighborhood, mixes classicism and modernism in both the original landmarked spaces and a new contemporary-style addition.
In the former, O'Sullivan conceived a moody but grand dining room, with klismos chairs set at an antique walnut T.H Robsjohn-Gibbings dining table, a 19th-century Irish marble mantelpiece from Jamb, leather-bound books and ikat rugs. The living room in the contemporary extension, meanwhile, features a cream-linen-upholstered Rose Uniacke sofa, a 1937 Jean Royère Tripod floor lamp and a glass-topped walnut coffee table once again by Robsjohn-Gibbings
"The architecture is different from the old house to the new extension, but the way we dressed the new spaces, the finishes we selected and the materials we used were consistent, linking the new to the old," says O'Sullivan.
O'Sullivan himself has very recently set up house in the Barbican Estate, a brutalist London icon. He's furnished his rooms with antique and vintage pieces he's amassed over the years, including a bar credited to Gio Ponti, as well as his own contemporary designs.
"I have a real passion for collecting pieces of furniture, art and objects from my travels, and so my collection spans all different periods," he says. "I think that is the basis of our studio's signature style, too — a balance of pieces from different places and eras that combine to build a montage of our lives."
Bryan O'Sullivan's Quick Picks