June 27, 2021Interior designer Jae Joo moved to New York from Korea at 16, determined to become an opera singer. She studied first at the Mannes School of Music, in Manhattan, and then at the Hartt School, a conservatory in Hartford. The opera career never happened, but she left Hartt with a Connecticut-native boyfriend who is now her husband.
Joo also came away with a love of New England history as reflected in its art and objects. (Until then, she says, "I wasn't really interested in old things. Singing opera as a teen felt old enough.") In college, she collected vintage furs and jewelry, to wear when she performed. Then, she added vintage textiles to her quarry. "That obsession still exists today," she says, "which is why we live on layers and layers of rugs."
About eight years ago, after a stint in Chicago, the couple moved to New York, moving into a townhouse in Brooklyn. The place needed a lot of work.
"It would have been great to be able to pay an architect to plan the whole thing," Joo says. But with limited funds, the couple managed the renovation themselves, in stages. Joo bought a lot of furniture and lighting, as well as "Turkish carpets and Moroccan rugs to minimize the one-hundred-year-old-brownstone squeaks," she explains.
Her husband, meanwhile, brought "an overwhelming number of books." Joo managed to make everything fit. "The process didn't feel like design — it just felt like putting our stuff away," she says. But she was hooked on the fun of mixing new and old pieces, if that's what it took to make a room feel cozy. "People would say, 'I love your style,' and I would say, 'My style is just lived-in.' "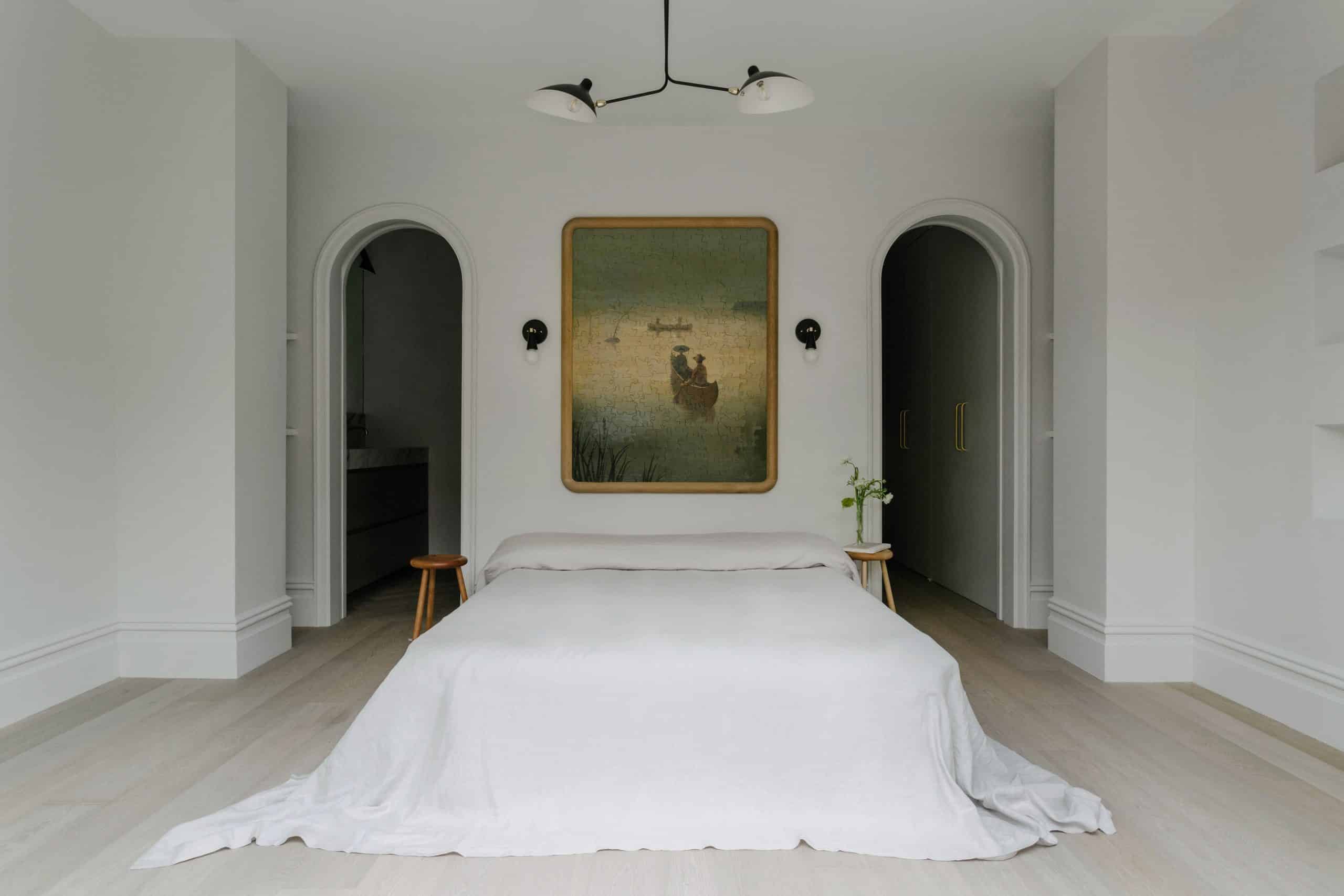 Lived-in is exactly what many homeowners want right now. That's why, today, six years after beginning her design career, Joo and her small team are working on half a dozen renovations at a time.
She also does some just-furniture projects, generally for clients who aren't in a hurry. "I'll have an idea for a space, and then I'll start hunting for pieces that make the idea real," she says. Progress tends to be incremental. "I'll say, 'Let's hang this painting there, and then we'll see what else we need.' It's one piece at a time." How does she know when a room is done? "You feel it."
Joo recently shared the stories behind five of her favorite projects, each one an object lesson in the artful, intuitive way she mixes old and new.
---
Tribeca Loft
Four years ago, Joo and her husband moved from the Brooklyn brownstone to a loft in a 1920s Tribeca building with great old details. Eventually, they'd like to perform a gut renovation, but in the meantime, they've been living with a shabby-chic mix of vintage and contemporary possessions. The living room reflects Joo's predilection for "putting everything I like in one room and then finding a way to make it all look good together."
The antique red-velvet chair and mid-century slouch-armed leather chair couldn't be more different — feminine ectomorph and masculine endomorph — but they mingle happily with an antique marble side table on one of Joo's old Moroccan rugs. What the designer calls "creating tension between pieces" is what makes her rooms intriguing.
One corner of the living room is Joo's home office, where she spent much of the past year sitting at the antique desk, a Connecticut find, or in the leather BDDW sling chair — a typical old-new pairing — on a vintage Moroccan Beni Ourain rug. The wall behind the two pieces is dotted with tiny portrait paintings in their original frames, which Joo bought on a long-ago trip to Florence. "Just because you have a big wall doesn't mean you have to hang something big," she says. "I like to play with scale."
Speaking of scale: "They're practically the same dog, just in different sizes," Joo says, referring to her Jack Russell and shih tzu mixes, Jack and Declan, who often rest on a vintage Indian kantha quilt pressed into duty as a slipcover. Joo, who loves "slouchy white sofas," had this one made to fit the Brooklyn brownstone. "When we moved to Tribeca, I had to call a 'couch surgeon' to cut it in half to get it in the elevator," she remarks.
A walnut pedestal covered in hammered brass sheets, which Joo bought in Barcelona ("I had to have it"), supports a bust with an opening on top. "I don't know if it's meant to be a planter, but I'm growing ivy in it," she reports.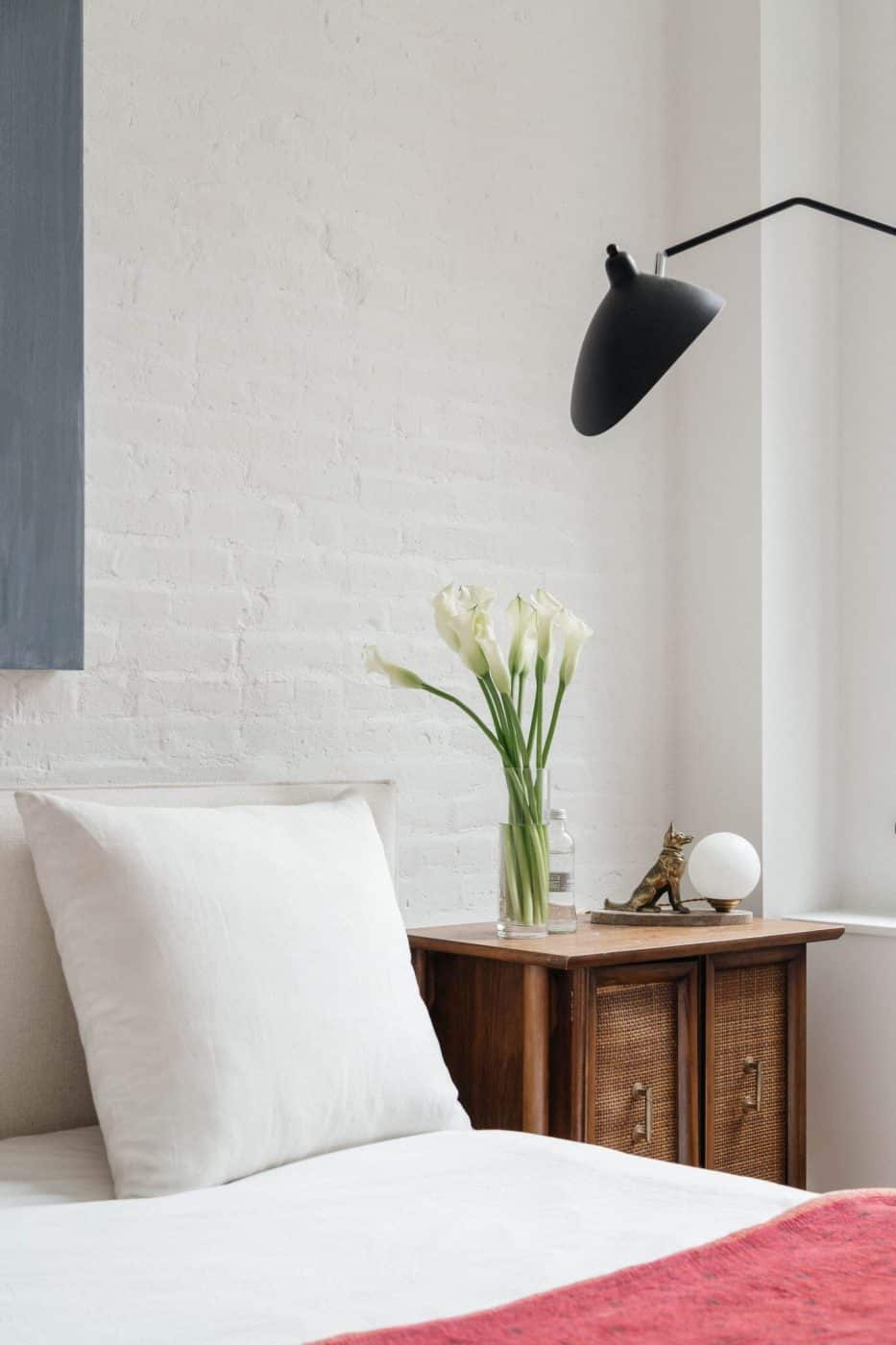 Joo wanted to keep her bedroom really simple, "with only the essentials. So, we needed pieces that would keep the room from being boring." The mid-century nightstand is from 1stDibs; the dog lamp is from a Paris market. Another vintage kantha quilt dresses up a low custom-made platform bed. Explaining the design of the room, Joo says, "I get inspired by imagining what kind of mood I want to create in the space." Here, the goal was to create "a feeling of serenity and calmness."
---
Flatiron Loft
Architect James Ramsey, of RAAD Studio, combined two lofts in Manhattan's Flatiron District, creating an industrial-style backdrop for Joo's finds. The client picked out the furniture with her, one piece at a time. For the main room, they chose vintage Galvanitas dining chairs from GALERIE MOOIESTUKKEN and a ceiling lamp from Apparatus. A brass and leather Hase BL floor lamp by Kalmar Werkstätten, bought on 1stDibs, leans toward a not-slouchy white sofa. Alongside a pair of Pierre Jeanneret chairs, a new Laurel side table from De La Espada seems almost frivolously round. Joo relishes contrasting shapes and sizes.
In an alcove off the main bedroom, Joo placed a pair of vintage Milo Baughman chairs and ottomans covered in a Pierre Frey mohair fabric in front of a Hiro Yokose painting. The Objects of Use side tables, by Anne Dorthe Vester and Maria Bruun, are from Etage Projects. The playful shapes of the furniture and the contemplative nature of the artwork create the kind of frisson Joo thrives on.
---
Lower East Side Apartment
Renovating a sprawling apartment for a tech entrepreneur, Joo went with a largely monochromatic palette, suggested by the owner's collection of black-and-white photos by Richard Avedon, Robert Mapplethorpe and others.
She kept the interiors from getting too sleek by adding vintage pieces, including an "odd counter-height table that I found on 1stDibs and shortened a bit," she says. It is now the focus of an unconventional breakfast nook beneath a light fixture by Thomas Chung and Jordan Murphy.
---
Back Bay Brownstone
Renovating a Boston townhouse for an older couple was a multiyear project. Joo wanted to make the home "moody and muted and seemingly candle-lit." The entry sets the tone — relaxed and vaguely traditional. A Gracie Studio wallpaper serves as backdrop for a scallop-bottomed wicker console, which echoes the lines of a gilt-edged mirror and an old leather umbrella stand.
In the living room, Joo placed a BDDW sectional sofa ("It seats a lot of people") on an antique rug in front of a Jean Royère–inspired walnut table designed by Joo and made by Jerry Nance. She used two big Jindrich Halabala armchairs from 1stDibs to create a separate seating area in the bay window. "It's the clients' favorite place to read," she notes.
Joo worked to make the couple's shared home office bright and functional — which was a good thing during the pandemic, when they worked there every day. Furnishings include a pair of Senate chairs by Pierre Jeanneret, bought on 1stDibs and reupholstered in a de Le Cuona fabric. They face another 1stDibs find — a vintage partners desk, with its original leather top — and a photo of the husband's great-grandfather. Joo says this is her favorite room in the house, because its mix of vintages speaks to the history of New England.
---
Brooklyn Loft
Five years ago, a young couple asked Joo to furnish their double-height loft in a former factory building in Brooklyn. Last year, the couple asked her to work with the architecture firm MeldNYC to enlarge the loft's mezzanine space. At both junctures, she says, "because the space is so big, I wanted to make it feel cozy." A low-backed white sectional sofa and a vintage Japanese boro blanket create the lived-in feeling she was going for. Dining chairs by BDDW surround a custom concrete-slab table. Vessels by New York ceramist Jenny Min turn what could have been a big, empty tabletop into a landscape of sensuous curves. Says Joo, "I tend to choose elements that invite people to take a closer look and to continue exploring."