February 26, 2023"At the level I'm lucky enough to work at, there's always a spectacular view," says Joe Nahem, a designer known for doing high-end, and often high-altitude, residences. "And almost all my clients collect art as well." Nahem considers it his job to avoid competing with the panoramas and the paintings. Luckily, the cofounder of New York's Fox-Nahem Associates isn't prone to grandiosity. But he doesn't want to go too far in the other direction, either. In the effort to be unobtrusive, he says, "you don't want to do just a bunch of bland, beige rooms."
The views are especially spectacular at 432 Park Avenue, one of Manhattan's new super-tall buildings. The Rafael Viñoly–designed tower's distinctive gridded facade translates into nine-foot-square windows in nearly every room. It would be easy to just surrender to the clouds and the stars and forget about the furniture. Adding to the challenge is that many apartments in the building have been published in magazines, and Nahem wanted to make sure this one didn't look like any of the others. "In a building where dozens of apartments have the same view and the same basic layout," Nahem says he wanted to provide "intimacy and individuality."
He had very little time — less than four months — in which to do that. Fortunately, Nahem explains, "we didn't need to make major architectural changes." The developer had installed a kitchen with white-marble everything that was good enough for the designer and his clients, who don't cook. Since they didn't want an open kitchen, Nahem didn't have to tear down any walls. On the other hand, the walls he wasn't tearing down were made of Sheetrock. He used a number of techniques to hide that unlovely material. 
At the perimeter of the apartment, Nahem had "a really good artisan" layer plaster on the walls around the room-size windows. The plaster, he notes, adds a lot of warmth. Elsewhere, he used fabric wallcoverings in various shades of gray, which is also the color of most of the apartment's rugs. The clients are fans of gray, Nahem explains, so he used it as a unifying element.
Before visitors see the views, of course, they see the elevator foyer. Nahem covered its walls with leather tiles. "A team comes out and custom makes the tiles out of wood, then wraps each wood tile in leather," he explains. Here, the pattern — a tessellation of squares and equilateral triangles — is like an abstraction of the pattern in the contemporary Egyptian rug, which is based on a Bakshaish boteh carpet.
Against the leather-tiled wall, Nahem, acting almost like a graphic designer, created a nearly symmetrical arrangement of eye-catching pieces. The bronze console is by Patrick Naggar from Ralph Pucci, the Fontana Arte chandelier by Max Ingrand from Bernd Goeckler and the mirror from Amorph Inc. — all via 1stDibs.
The next room visitors see is the gallery. This has its own precise arrangement of heirloom-quality pieces, including a cast-aluminum settee from DLV and a console of inlaid walnut with a super-thin marble top by Paolo Buffa from Gary Rubinstein. A pair of chromed-aluminum chandeliers are from Solo Modern.  
But enough preliminaries. The views are the apartment's raison d'être. Usually a fan of curtains, Nahem left these windows uncovered. Nobody is looking in, and roll-down shades control light as the sun moves through the sky.
The living/dining area is a single large space. To serve as a kind of room divider, Nahem designed a very-high-back sofa, with a bronze chassis and a horizontal slit to "lighten up the back and let the light pass through. Across a silk-and-wool rug is a very different sofa with a very different function. Designed by Vladimir Kagan and upholstered in Yves Klein blue, it is low to the ground, to avoid blocking the windows, and placed diagonally, which, Nahem says, makes it seem informal and inviting. A pair of rare circa 1959 Regent armchairs by Marco Zanuso for Arflex, in a handwoven cotton silk, complete the main furniture grouping. The metal cloud sculpture is by Tomás Saraceno.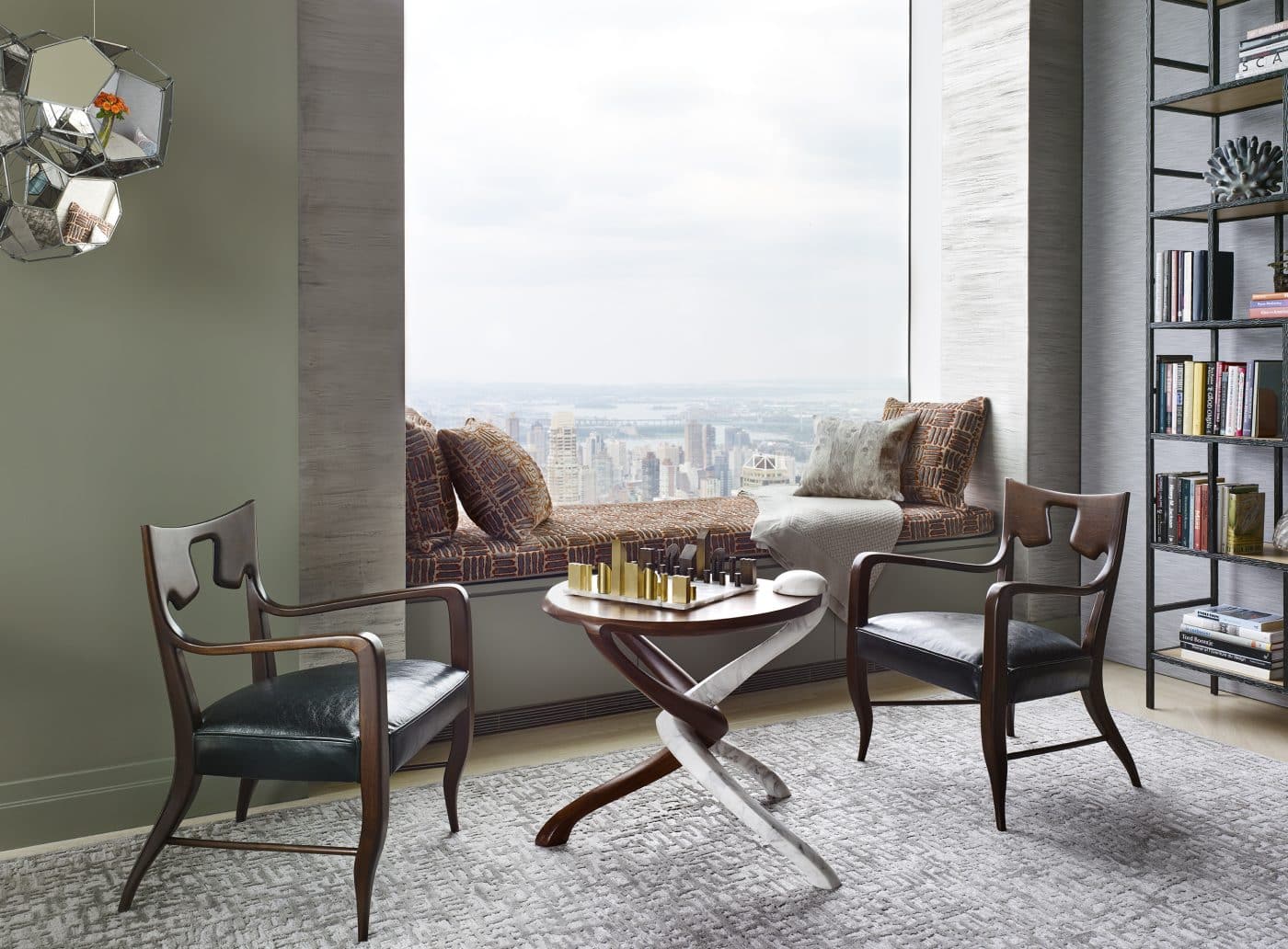 "The clients," Nahem says appreciatively, "weren't hung up on everything being from the same period. What we wanted was a curated collection of things that we thought would look good together." That collection includes a circa-1740 Baroque sofa, with its original painted-wood frame, from Lief . In front of this is an Art Deco–style pedestal table with marble top and fluted walnut base from Iliad Design Bespoke. "That's where they can sit with a laptop or a sandwich," Nahem notes. The sofa is surrounded by a pair of tall bookshelves and a quartet of photographs by Wolfgang Tillmans.
The couple wanted a chess table. Nahem found a showstopper: the Crossover table — named for its entwined marble and walnut base — by Markus Haase, through 1stDibs seller Todd Merrill. Designed in 2014, it was the first functional piece the German-born Haase made after decades as a sculptor. A pair of cutout chairs by Vladimir Kagan add what look like additional puzzle pieces to the games area.
On the dining room side of the sprawling space, Nahem replaced a superfluous closet with a mirrored niche exactly the size of one of the windows. Then he hung a large drawing by Robert Longo on the mirror, creating a dramatic layered effect. The live-edge table is by Sam Maloof — the California-born furniture maker who became the first craftsman to win a MacArthur genius grant — from Gary Rubinstein. The Vladimir Kagan sculpted-walnut Sling chairs surrounding the table are from Holly Hunt.
The most spectacular piece of furniture may be the mahogany buffet by Frank Kyle, with bronze and malachite handles by Pepe Mendoza. The candlesticks on the table are by Jeff Zimmerman from R & Company, while the chandelier is by Alison Berger from Holly Hunt. "It's substantial, but it doesn't block the view," Nahem says of the fixture, which at night helps the interior glisten as seductively as the Manhattan skyline outside.
The clients conduct business meetings here, so Nahem turned a spare bedroom into an office. Its dominant feature is a sofa that he "niched" into a bookcase. To make sure the room was soundproof, he had the walls quilted by Jouffre, a company that, he marvels, even knows how to quilt over moldings. (The carved broadloom carpet from Warp & Weft looks quilted, but it's not.) The free-form stainless-steel coffee table is by Karl Springer — a German émigré who got his start styling windows at New York's Lord & Taylor — from Lobel Modern. For conferences, there's a marble pedestal table with a pair of James Mont chairs. Mont, who was born in Turkey, became the designer of choice of New York Mafia dons and Hollywood bigwigs alike.
The couple sleep in a four-poster bed they already owned. Nahem accessorized the stolid piece with a couple of custom night tables, their cerused-wood drawers set into wall-mounted bronze frames. The blown-glass sconces are part of the BC collection from Blackman Cruz. In the corner of the bedroom where two windows meet, a Scandinavian modern chair turns its back on the views. It may be the only thing in the apartment that does.