When Jay Jeffers was a preteen back in Plano, Texas, he used the money he made working at Del's Burgers to buy subscriptions to Architectural Digest and GQ. By 14, he dreamed of becoming a painter or a Broadway song-and-dance man. Instead, he listened to his mother and pursued a dual degree in international business and marketing at the University of Texas. After college, intending to get into advertising, he moved to San Francisco. He waited tables at Zuni Cafe until, at 23, he got a job in the marketing department of the Gap, Inc.
That work left him creatively unsatisfied. Flipping through the UC Berkeley Extension catalogue, he found a selection of interior design classes, including one in the evening that still had an opening and was starting the following week. "I thought, 'Okay, let's try this,' " he says. At the session's end, Jeffers remembers feeling that "I could make a living doing this — and love it."
More classes followed. Hoping to gain some practical experience, Jeffers reached out to a friend, local designer Richard Witzel, who agreed to let him hang out around the office. That casual, free-form role quickly became something much more formal, involving client meetings, installations, showroom visits and fabric shopping.
In 1998, as the first dot-com boom began and tech entrepreneurs with newly minted fortunes where acquiring large homes that needed decorating, an article in the San Francisco Chronicle's then-robust "Home" section featured Jeffers as one of several interior designers to watch — with Witzel's blessing, he had taken on some clients on his own. The accompanying image featured Jeffers's own home. "I got a couple of calls right away," he says, "and that started my business." Today, the studio has a staff of 15 working out of a converted factory building on San Francisco's reluctantly gentrifying Post Street.
From the start, Jeffers emphasized designs that were tailored to the young, successful modern family, integrating layers of texture and pattern and, often, a bold palette. "These are not the clients who say, 'Let's wait for the kids to be gone before we design our dream house,' " Jeffers explains. "They haven't necessarily inherited their money. Often, they've worked really hard in tech, and they've made their way and bought their dream houses. They want to live their best lives now, and they intend to do it with their children. As a firm, we take this very seriously."
One such best-life-now project is an apartment that looks north from Nob Hill to enviable views of Alcatraz and the Golden Gate Bridge. Jeffers and his team turned it into a never-need-to-leave perch. In the living room, they placed two inviting sofas set at right angles around a jigsaw-puzzle-like steel cocktail table by Stephane Ducatteau (there is no such thing as a banal cocktail table in the Jeffers universe) and deployed bright throw pillows in shades of aqua and blue, reflecting the colors of San Francisco Bay seen through the windows.
Across the room are four curvaceous swivel armchairs from Viccarbe, upholstered in textured Rubelli fabric, and a Wired ottoman/coffee table with steel-tube base from Phase Design. The client enjoys entertaining large groups, so the team installed a 12-foot-long channel-tufted velvet banquette in sky-blue velvet that can accommodate half a dozen guests for cocktails, teaming it with a sculptural drinks tables that Jeffers designed as part of one of his three collections for Arteriors.
In the Bay Area, Jay Jeffers Designs Homes for Today's Tech Entrepreneurs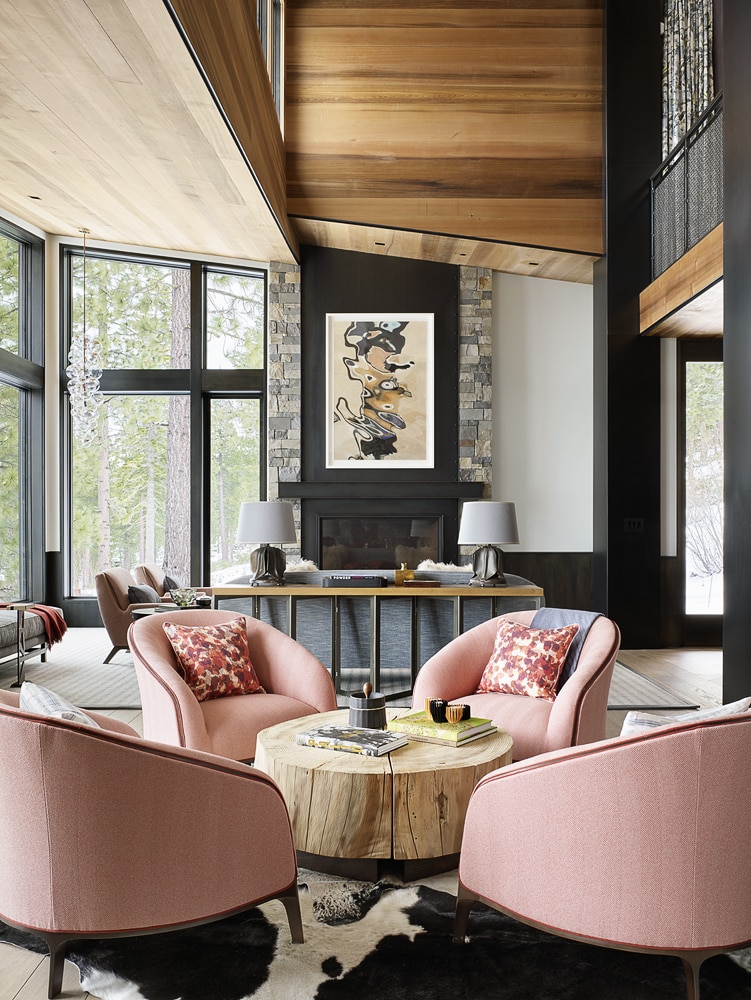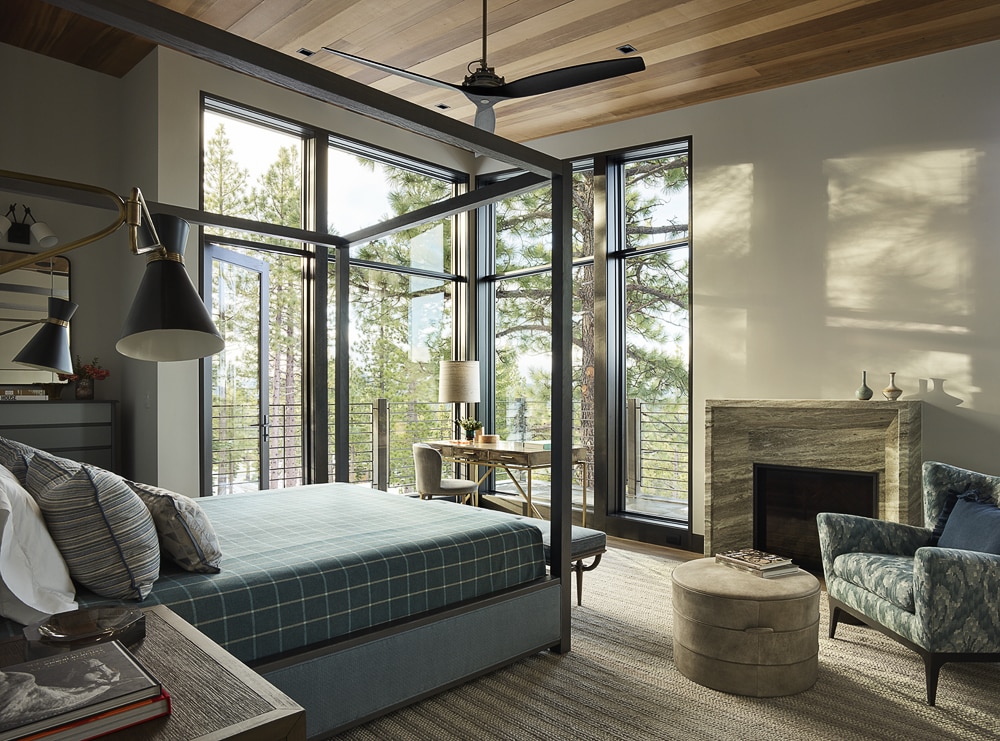 Because the firm's residential projects are mostly inhabited by young families, the interiors are not precious or museum-like. Jeffers gravitates toward metal surfaces, especially powder-coated or blackened steel, since they are both durable and beautiful. In a Lake Tahoe mountain house, for example, a custom sculptural light fixture of blackened steel, rope and brass, which Jeffers designed with Daikon Studio, cascades through all three floors of the central stair hall. In the dining room, vintage cane-back walnut chairs, designed by Richard Thompson for Glenn of California, surround a Powell & Bonnell Fuego table. In the living room, a trio of ottomans by Casamidy with Mexican cypress inserts is teamed with a chandelier from the Light Factory that resembles a luminous torrent of soap bubbles. Pillows of many different shapes and fabrics, with flanges in imaginative places, create a cozy and inviting feel. "We aim to make our homes luxurious but very liveable," Jeffers says, "so you don't have to worry that someone is going to put a drink on a table without a coaster."
Within minutes of meeting him, one recognizes that Jeffers is averse to putting on airs. "I think of myself as the catalyst, the person to bring out who my clients are, or who they are in the process of becoming," he says. "But I have no ego, and I'm not fancy. I tell them, 'At the end of the day, I don't live here. I want the house to reflect who you are.' "
By a project's end, every table top and every shelf is dressed to the nines, adorned with decorative objects — gleaming vases and sculptures, cocktail paraphernalia, serving trays, illustrated books, planters and eye-catching lamps, like the pair of striking KleinReid cloud-form fixtures with square shades that brings personality to the passage between the living room and entrance hall of a mostly glass house in San Francisco's Portola Valley. "I like there to be stuff," Jeffers says. "Stuff is the soul of the house."
Just as Jeffers embraces "stuff," he has never feared brilliant color. It's part of his mission to "fight blah," he says. Often, that means placing several bold statement pieces in a single room, as in the Portola Valley project, where Stefan Bishop's lumberjack's fantasia of a cocktail table shares the living room with a 1950s Italian wing chair upholstered in a nubby stripe. These are set off against a wall of striated plaster, which brings to mind a pattern cast by sunlight and was designed by Jeffers and applied by Willem Racke, an artist with whom the studio has worked for more than 20 years.
The way Jeffers sees it, he's creating a living history for the home — and its owners. This can entail selecting art with a certain resonance to hang on the walls. "Even though it's all newly acquired," he says, "it should feel as if the furniture and art has been collected over time, as if your grandmother gave you a chair you just had to find a way to include or you went online and bought some pieces you couldn't live without."
"I like to mix eras," he continues, "because it helps to create that story. If I'm doing a very modern house, I won't go completely contemporary, because that's sterile and one note." Instead, he'll introduce a vintage French Deco armchair or a Jacques Adnet table. Project manager Andy Reid, whom Jeffers calls his "vintage and antiques whisperer," handles the acquisition of such pieces, many of which are sourced from 1stdibs galleries.
By layering color, texture and pattern, Jeffers produces a richness that's both inviting and comfortable. "We strive to create the most incredible space for someone to live with their family and friends," he says. "It's as simple as that."
Jay Jeffers's Quick Picks