May 29, 2022"Chairs, to me, are totally overrated," announces Joel Chen, the revered Los Angeles furniture dealer. "Stools are just as important."
He endeavors to explain. "When all your chairs are full, you can always pull over a stool," he says, imagining a party in a furniture-filled living room. "A stool is an underrated necessity."
Moreover, "stools have been around longer than chairs," he continues, seeming to think out loud. "The first time someone in the prehistoric era sat on a rock, that was a stool." Chairs, which by definition have backs, came along later, he says, adding unnecessarily, "but I can't prove that."
Chen has been thinking about stools a lot. He owns hundreds of them, and recently, he asked the young Los Angeles curators Benjamin Critton and Heidi Korsavong, along with his daughter Bianca Chen, to choose among them for a show titled simply "Stools."
"It was joyful, like a scavenger hunt," says Critton, describing his expeditions with Korsavong into the packed storerooms of Chen's gallery, JF Chen.
The show opened May 5 in two separate spaces: Critton and Korsavong's Echo Park gallery, Marta, and the Chens' C-Project, one of their three venues on Highland Avenue, not far from where Joel Chen started his business in 1974. It runs until June 18.
The exhibition is accompanied by a book of the same name. As in the show, the stools are cleverly organized by the number of points at which they touch the ground. (Since about one fourth of the stools are by anonymous designers, "we couldn't run them alphabetically," Critton explains.)
The single-point-of-contact stools include Pierre Paulin's Mushroom pouf, Isamu Noguchi's iconic rocking stool and a piece by the brothers Achille and Pier Giacomo Castiglioni that is essentially a bicycle seat on a pole. A colorful totem that looks as if it could be from the Memphis group is by Michael Norris Graham, who lived and worked in Laguna Beach, California, beginning in the 1980s and was a star woodworker before he switched to metal.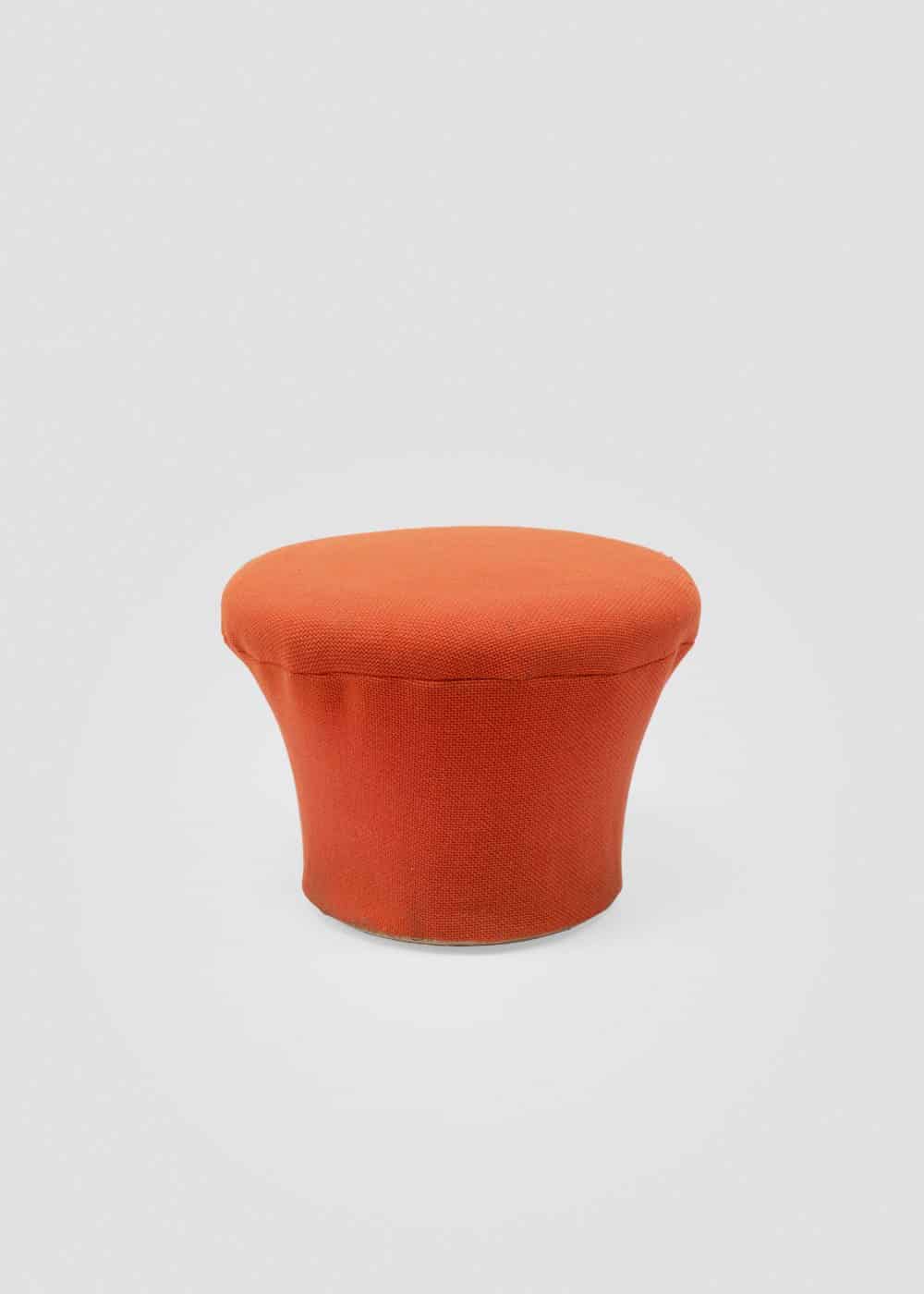 There's at least one icon in the two-legged category, Sori Yanagi's delicate Butterfly stool, along with familiar pieces by Marcel Breuer and Harry Bertoia. Roger Tallon, a French artist who worked in a variety of media, is represented by a pair of two-leggers that couldn't be more different: one a simple squiggle of aluminum, the other a wooden folding model.
Threes and fours are plentiful, but the latter seem almost bourgeois, an impression that isn't dispelled by Mies van der Rohe's 1929 scissor-legged Barcelona stool, which is positively regal, and a wood-and-leather stool in the same basic shape by T.H. Robsjohn-Gibbings. Also with four legs, the unattributed bent-seat stool made in Wisconsin by the Crocker Chair Company in 1930 "looks right out of early nineteen-fifties Scandinavia," says Critton.
In the small five-points-of-contact group is the molded-plastic Umbrella folding chair by the always inventive Gaetano Pesce, who was born in Italy in 1939 and now, at 82, with a studio in Brooklyn, is probably more successful than at any time in his life. Among the six-leggers, a wood-and-upholstery stool (sort of — it has one arm and a tiny bit of back) by an unknown maker suggests the work of Frank Lloyd Wright, Rudolph Schindler and Richard Neutra, depending on the angle.
Chen's eye for furniture goes along with an eye for talent. He brought in Critton and Korsavong "because they're knowledgeable, diligent and fresh," he says. "Their taste level is impeccable, as proven by the previous shows in their own gallery."
The team tapped design writer Dung Ngo to pen the catalogue essay. His words are accompanied by a spectacular photo essay in which Brian Guido situates some of the best stools in the show amid the chaos of Chen's storerooms.
In the text, Ngo opines that once the chair was invented, "stools and chairs went down separate evolutionary paths: chairs evolved into armed benches, sofas, recliners and the like, while stools became ottomans, poufs, tuffets and piano benches." He adds, just slightly tongue in cheek, that "the taxonomy of daybeds and bean bags is still in dispute."
Continuing to riff on the subject of stools, Ngo notes that among the Ashanti, in Ghana, "each stool is understood to be the depository of the owner's soul, and the stool is even depicted on the flag of the Ashanti people." Want to go further down the rabbit hole? "For a fascinating history of colonialism and the Ashanti seat," Ngo advises, "Google 'War of the Golden Stool.' "
The Golden Stool, you will find out, represents the authority of the Ashanti ruler, enshrines the soul of the nation and symbolizes the kingdom's unity. There's one Ashanti stool in the exhibition — it isn't golden, but its gently curved seat and base in the form of an elongated lion are certainly enticing.
Until now, stools have gotten little respect — what other pieces are defined by what they're lacking? But with this show, Joel Chen and company finally have their back.