September 27, 2020The New York designer Katie Ridder is known for rooms that are filled with color, pattern, texture, detail and juxtapositions of traditional and modern — and that always feel comfortable and inviting. "My goal," she says, "is to make a room unstudied and loose, but really interesting and a pleasure to be in." Ridder's creative process is on beautiful display in More Rooms (Vendome Press), a follow-up to her 2011 book, Rooms, also published by Vendome.
Rather than the usual grouping by project, More Rooms, which Ridder wrote with Jorge Arango, is organized, like its predecessor, according to room type — entrances and stair halls, living rooms, libraries and family rooms, dining rooms and kitchens, bedrooms, and bathrooms — an arrangement that allows her to discuss in depth how she approaches each one. She offers both practical and personal insights in the volume, which has an introduction by Dominique Browning and photographs by Eric Piasecki.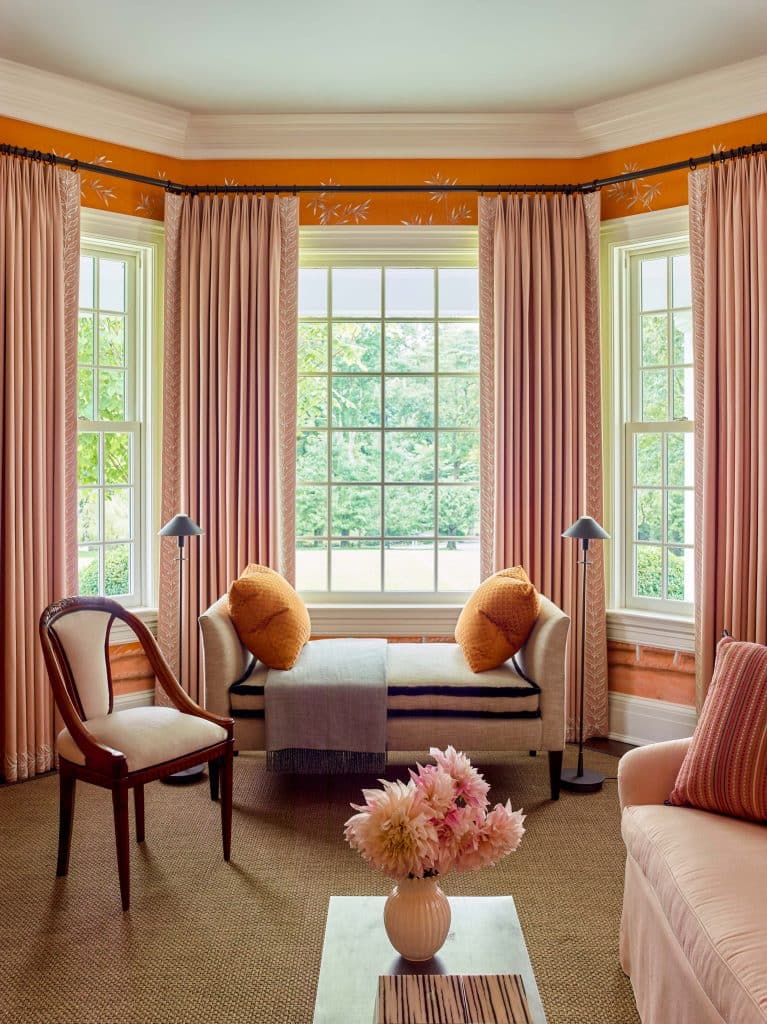 In the chapter on living rooms, for example, Ridder says her goal is "to turn even grand spaces into cozy, welcoming retreats" and "to give my clients as many reasons as possible to use" them. This means having comfortable seating areas (but not too much furniture, she cautions), adding details like embroidery or trim to fabrics, complementing antique with contemporary furniture and enhancing the room's proportions "to make the architecture sing."
Decor can be monochromatic, as in the Connecticut living room she outfitted with dusty pink curtains and upholstery set against orange de Gournay wallpaper. Or it can be heavily patterned, as in a Long Island house designed by Peter Pennoyer Architects, the firm founded by Ridder's husband. Here, walls covered in a Topkapi Palace–inspired wallpaper serve as backdrop for furniture upholstered in bright blue and curtains made of Leaf, a fabric Ridder designed.
When it comes to family rooms, Ridder writes that "visual exuberance is a must, as is comfort." For the family room of an Upper East Side townhouse, she took advantage of a window bay that runs its entire length by adding a comfortable sofa and framing the bay with portieres.
In a library designed by the architect John Murray, red-lacquered walls, a sofa covered in a patterned fabric and a carpet with a geometric design create a cozy setting for works by the artist Vanessa Bell and her circle. In the media room located in the two-story cupola topping a penthouse restored by Pennoyer, the curved blue walls made it difficult to hang art, so Ridder installed a collection of antique English carved-wood pigeon decoys that perch delicately on their brackets.
Ridder's dining rooms and kitchens are equally engaging. For the dining area of a New York loft, she designed red leather chairs with captivating scalloped borders embroidered by Penn & Fletcher, a frequent collaborator.
In a New York townhouse, a seating area with verre églomisé panels by Miriam Ellner adjoins a dining area outfitted with antique furniture and a large still-life painting by the contemporary artist Vik Muniz.
At the window in the dining area of a wood-paneled kitchen in Bridgehampton, New York, Ridder installed a long banquette covered in a colorful botanical-pattern fabric by Josef Frank, one of her favorite designers.
Particularly inviting are the bedroom designs in the book. Ridder writes that a bedroom should make its occupant "feel enveloped," cautioning, however, that for her, "softness applies to texture more than form. There is nothing ruffled or billowy in my bedrooms."
Instead, softness comes through detail and ornament, like the Dorothy Draper–inspired spiral-trimmed valances in a Bridgehampton guest room and the branch-like Chuck Hettinger stencils on the seafoam-green grass cloth walls of a Greenwich Village bedroom.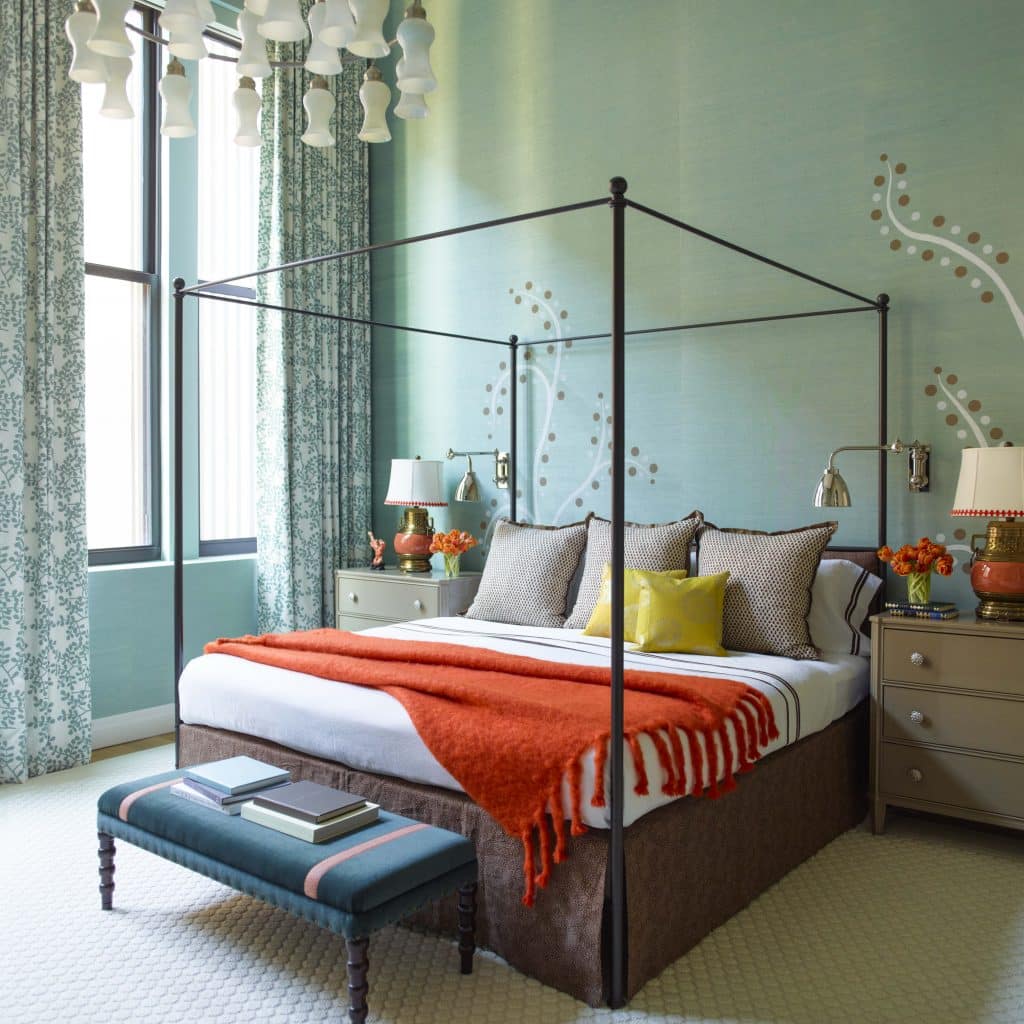 In another guest room, blue-painted trim frames a serene, finely dotted Schumacher wallpaper that sets off patterned fabrics from Décors Barbares and a colorful quilt. Silkscreens of a ram and a zebra from Andy Warhol's Endangered Species series "add a psychedelic note," Ridder says.
Before setting up her design studio, in 1991, she spent six years working with editors and with photographers on photo shoots at House & Garden and House Beautiful magazines. Ridder credits that experience with teaching her composition "and to look around a room," skills that have served her well as a designer. She also makes a point of acknowledging the artists, artisans and craftspeople whose work adds so much richness to her spaces.
Ridder is currently crafting the interiors of a Kentucky horse farm that Pennoyer is designing and a house on the water in Rye, New York, designed by Murray. Also on her plate are projects in Manhattan and the Bay Area and a Birmingham, Alabama, house by the architect James F. Carter.
In addition, she continues to design fabrics and wallpapers under her own name. (Two of her designs are used on the book's binding and endpapers.) "It's something I love to do," she says. We can only hope that these and other projects by Ridder will be featured in her next book of rooms.
---
Katie Ridder's Quick Picks