In addition to being one of New York's most celebrated classical architects and preservationists, Peter Pennoyer is an ardent scholar of his field. His office library boasts a superb and ever-growing collection of architectural books on every influential practitioner, both famous and obscure, as well as every architectural style and building material imaginable. This bibliomania, combined with his classical bent and conservatively suited appearance, might tempt the unknowing to deem him a turn-of-the-20th-century throwback rather than an architect well wired into the 21st. And how wrong they would be. Pennoyer is actually an adventurous architect, who believes, as he once noted in an interview, "Imagination is enriched by tradition." Thoroughly a man of his times, he uses his office's 3-D printer when fabricating models of bespoke vintage-inspired decorative details. This love of both history and high tech is likely why he counts the Old Masters–collecting avant-gardist Jeff Koons among his clients.
Pennoyer's passion for all aspects of design is why it was only a matter of time before he expanded his firm to include an interiors department, currently headed by the forward-looking Alice Engel. Yes, his wife is the lauded interior designer and entrepreneur Katie Ridder, who has an office on the same floor as his firm, and he continues to collaborate on projects with her and with such other design legends as Jeffrey Bilhuber, Thomas Jayne, Victoria Hagan and Miles Redd. But, Pennoyer explains, there are certain clients who simply want a one-stop design shop. The department's first clients were in this mold: a globetrotting hotelier, long based in Hong Kong, and his wife who, together, had recently acquired a duplex maisonette on Fifth Avenue to serve as their New York pied-á-terre. Designed by Rosario Candela, New York's leading architect of luxury buildings in the 1920s, it is among the city's choicest residences, with views of Central Park, the Frick Collection and that museum's Fifth Avenue garden. Although the couple, who have a young son, admired the maisonette's good bones, its layout didn't suit their needs. The over 4,500-square-foot apartment hadn't been significantly altered architecturally since liveried help were de rigueur and expected to move unseen through the house. The couple wanted a more casual plan, with Eastern accents, that also took better advantage of the western and northern light and nearly priceless views. Who better to handle this than Pennoyer, an expert on the architecture of Candela and well versed in the many varieties of Asian taste?
---
"Imagination is enriched by tradition," avers avowed classicist Peter Pennoyer, whose New York City–based architecture firm just added its own interiors department.
---
Pennoyer describes the hotelier as "demanding" but with "great knowledge" about construction as well as layouts and interior design, due to his years in hospitality. "You learn from clients like him," he says. So the project was at once an illuminating collaboration and an exciting exploration of how Pennoyer's new team of architects and interior designers might advance each other's work.
The result, apparent as soon as you open the private front door on Fifth Avenue, is a home of serene and airy elegance. The vestibule features a scalloped handkerchief vault, its ceiling adorned with white gold leaf. In the 30-foot-long front hall, the staircase, original to the apartment, is outfitted with an exceedingly graceful, looping bronze balustrade, and the walls are clad in the lightest apricot-hued parchment panels, endowing the space with a most inviting luminosity.
From there, one can pass directly into the dining room. To offset its nearly cubic geometry, Pennoyer's new team commissioned a round Regency-style dining table of mahogany with ebony accents — which also happened to be ideal for the wife's preferred Hong Kong–style, lazy-Susan-served meals — and covered the walls in a pretty jade-hued, floral chinoiserie paper.
To give the first floor a more contemporary and open feel while maintaining its classical proportions, the team created an enfilade of spaces, from the den paneled in pale waxed oak on the Fifth Avenue side of the home through the dining room and into the kitchen, which looks out onto the Frick. Discreet pocket doors between the rooms disappear completely when not in use, their frames handsomely detailed to appear as welcoming archways.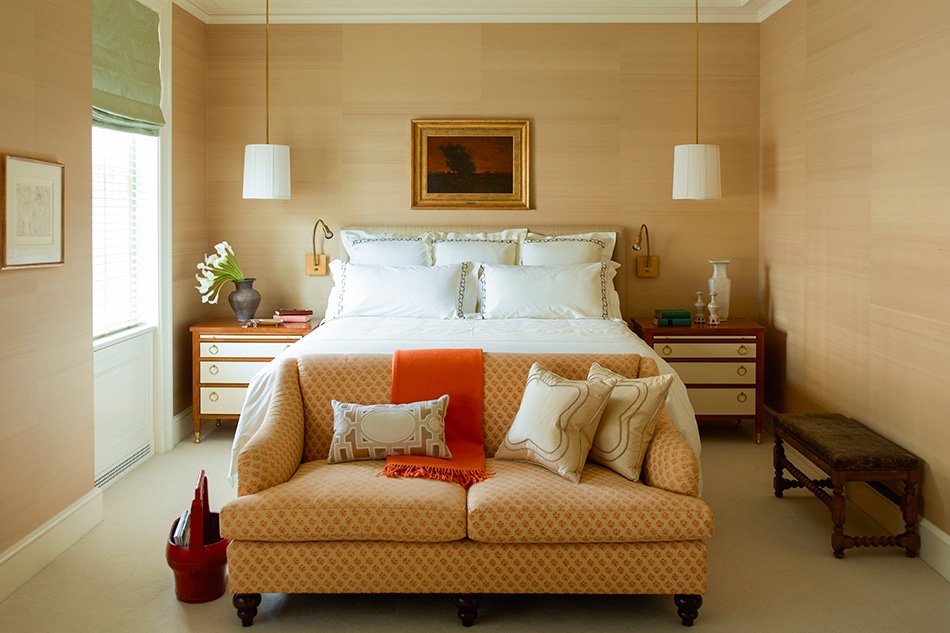 A man of many talents, Pennoyer happens to be an enthusiastic cook and takes special delight in designing kitchens as family gathering places, even if members assemble only to watch the chef prepare their meal. It's because he's acquainted with kitchen accidents that he specified nearly indestructible teak for the flooring. He merged the original breakfast room with the kitchen to improve the flow, and he hid almost all the appliances and storage within cabinets crafted from light and handsome fiddleback sycamore. Adding to the room's capacious feeling are walls covered in gleaming Calacatta marble and window jambs lined with mirrors that reflect the Frick garden view.
Just how effectively Pennoyer's new team worked together is apparent in some of the details in the upstairs living room. There, the architects designed cove moldings for the room, but the interior designers wanted the walls to be paneled in leather. This might have caused a problem, if the architects hadn't figured out a way to design the moldings to accept the leather. The effect is sleek and sophisticated. When the interior designers voiced a desire for a gilded-glass mantle frame for the fireplace, one of the architects immediately drew up its glamorous profile.
Scattered throughout the maisonette are pieces from the clients' collection of Chinese furnishings, as well as ancient ceramics and objects, so every room has a subtle Asian feel. "We love working with a client's collection. Weaving it into the interior is part of the fun," says Pennoyer. "And now that we have interior designers in-house, we can speak more convincingly with a client about the furniture when we are developing plans."
These clients lobbied for a stronger Eastern statement, but Pennoyer advised against it. Instead, he and the team furnished one of the guest bedrooms entirely with Chinese pieces and painted the room's walls celadon and the ceiling cinnabar. The effect is magically transporting for those moments when the family wants to commune with their faraway main home. One gets the sense that the wisdom of this decision came to Pennoyer not through books but instinct. Interior design, like architecture, is in his DNA.