May 22, 2022How to set the bar high: Call your business the Magic Factory, and make it your stated mission to "always overdeliver and never disappoint."
That formula has worked for designer Ken Fulk, whose superpower, he tells Introspective, is a lifelong ability "to imagine things the way they could or should be" in sumptuous detail.
This faculty has enabled him, with no formal design training, to compile a prodigious portfolio of homes, restaurants, resorts and hotels — both outside commissions and enterprises in which he has ownership stakes — distinguished by their cinematic scope. Some are fantastically maximalist, every square inch an opportunity for color, pattern or ornament. Others are riffs on Hamptons beach houses, Napa farmhouses or Tahoe cabins, so monumentally scaled and boldly executed that they elevate the archetype itself.
The 56-year-old Fulk, a member of this year's 1stDibs 50, chose the name Magic Factory in 2006, partly in homage to Andy Warhol's Factory, a creative hotbed in the 1960s, '70s and '80s, and partly because he felt it conveyed a mindset unlimited by "a predetermined 'This is all that we do.' "
"I would never have a signature look," he says. "It's almost lazy. Every situation, every place is new."
For proof of the sorcery Fulk and his 80-person San Francisco– and New York–based team perform, thumb through the splendiferous new monograph from Assouline, Ken Fulk: The Movie in My Mind.
Among the featured projects are a 30,000-square-foot Technicolor vacation home on Mexico's Sea of Cortez; the Vienna residence of the U.S. ambassador to Austria, with murals and furnishings inspired by Gustav Klimt and Josef Hoffmann; Sun House, a California farmhouse reimagined as a fantasy of latticework, inlaid floors and hand-painted murals; Miami's 266-room Goodtime Hotel, a pastel confection whose owners include entertainment mogul Pharrell Williams; Tosca Cafe, a legendary, century-old San Francisco bar once frequented by Beat poets and other cultural icons and now revamped as a moody restaurant with red leather banquettes and opera on the jukebox; and the Commodore Perry Estate, a 1928 Italianate manor in Texas Hill Country transformed into a destination resort, whose vintage woodwork and ironwork were only a starting point for Fulk's wry, glamorous decor.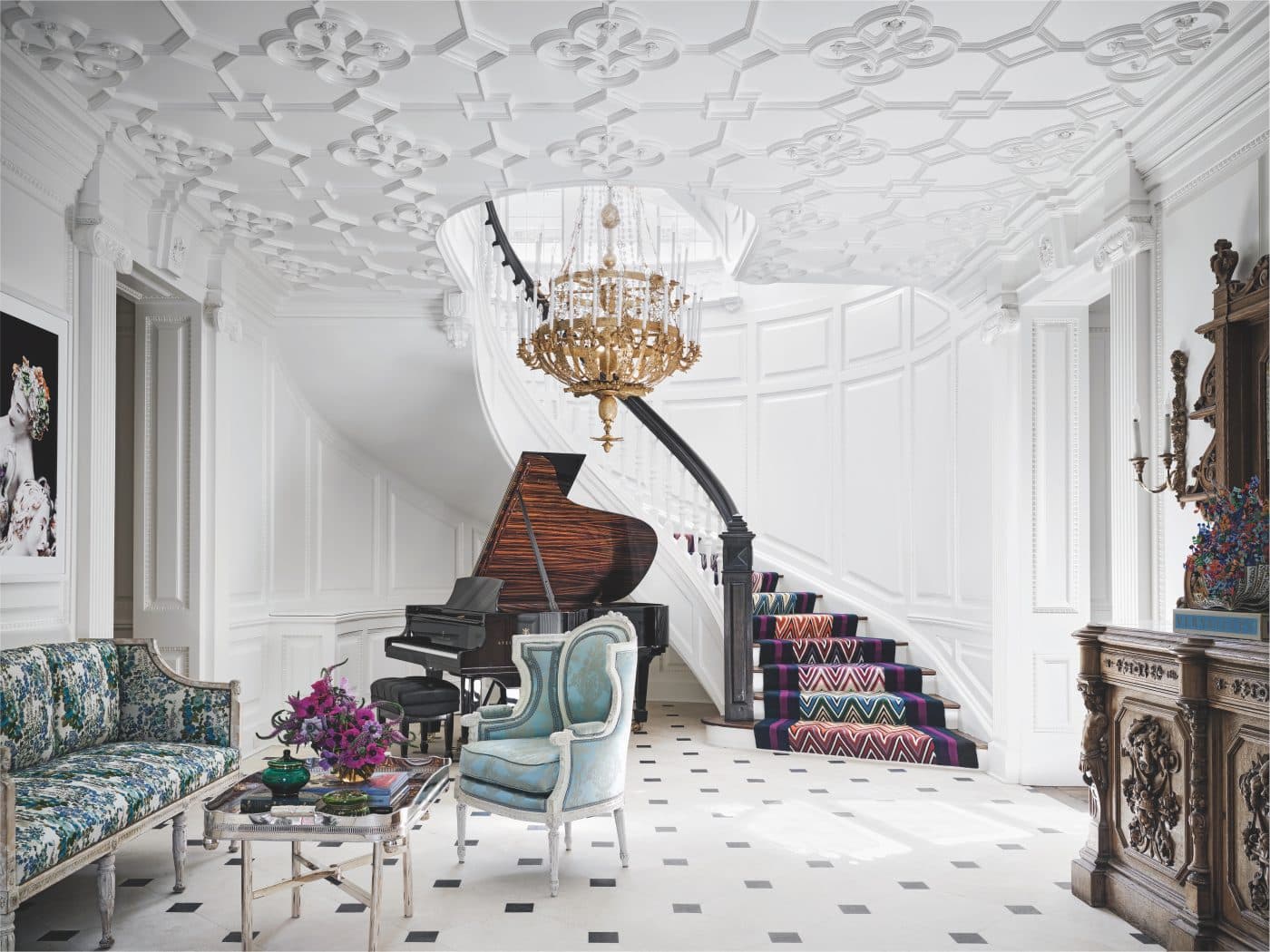 "We've been gifted with incredible spaces," says Fulk. "I feel an obligation: 'Don't muck it up.' "
In recent years, Fulk's inner cinematographer has led him, almost by chance, to become a rescuer of some important architectural treasures. He sees his accidental mission as "saving extraordinary places but not keeping them in amber." Instead, he picks up where history left off and creates something brand-new.
In San Francisco, Fulk spent years driving past an imposing but derelict Neo-Romanesque church, wondering why someone didn't do something about it. He finally decided to be that someone, marshaling his connections and resources to restore the 1913 building and launch the Saint Joseph's Art Society, a nonprofit where artists in varied media can create and show their works in a soaring sunlit space, pristine from floor to cupola.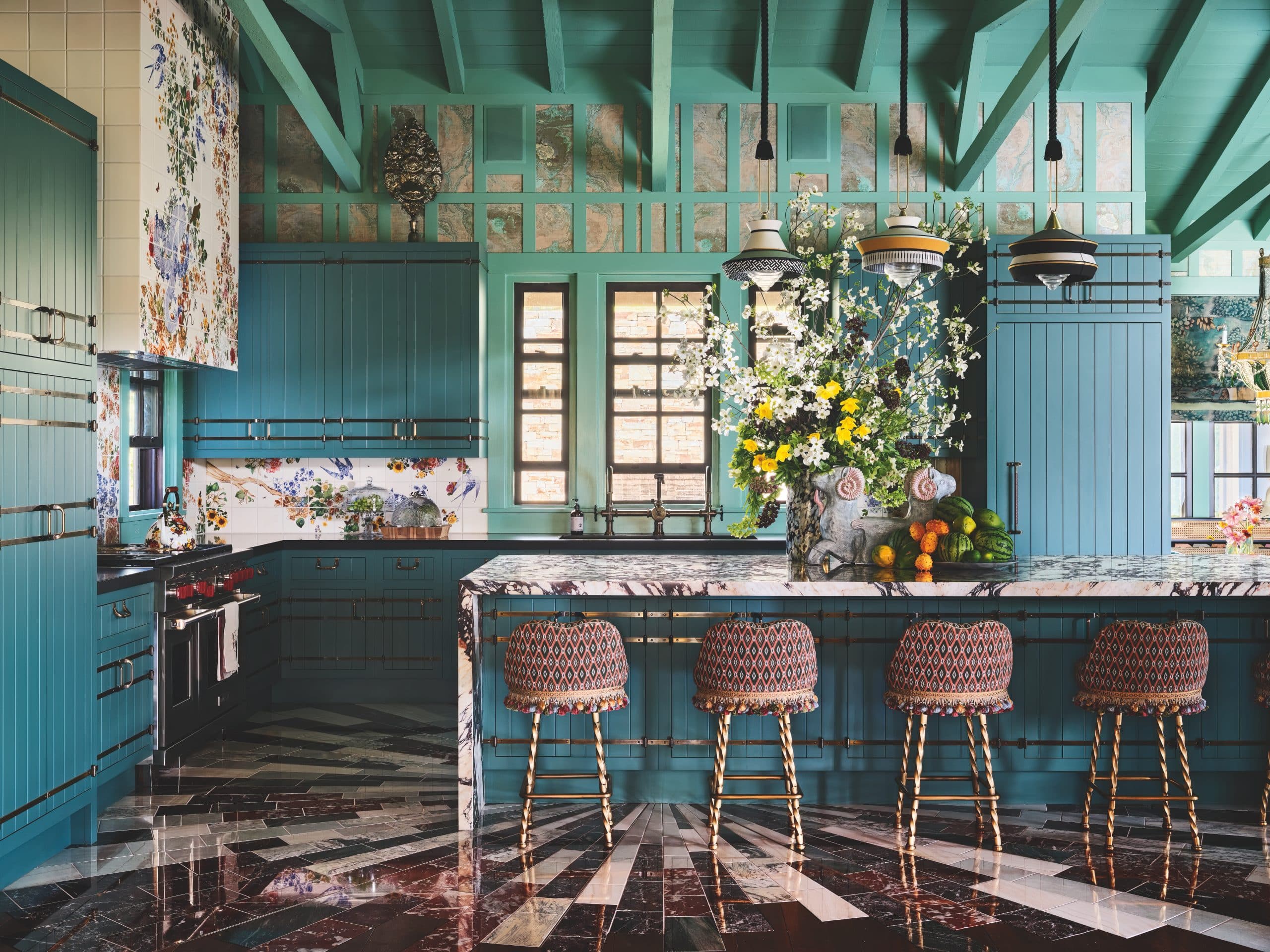 Similarly, a few years back, while gazing out the window of the 1760s house in Cape Cod's Provincetown that he shares with his husband, Kurt Wootton, Fulk decided to buy and restore what he calls the "rotten, daunting" 18th-century house across the way. Reborn as the nonprofit Provincetown Arts Society, an extension of Saint Joseph's Art Society, it hosts exhibitions, lecture series and other events, with eight bedrooms for recipients of live-in artist residencies.
The building's original beamed ceilings and wood floors were meticulously salvaged, but the furnishings, in the interests of economy, are a sprightly mix of reupholstered auction finds and donated antiques, matter-of-factly juxtaposed with a rotating array of contemporary artworks.
In Boston, meanwhile, Fulk reimagined the many rooms of the 1888 McKim, Mead and White–designed Algonquin Club, a once-stuffy, deteriorating Beaux Arts masterpiece. Now a new private membership club called the 'Quin House, it is a showhouse of flamboyant neo-Victoriana, with Lincrusta wallpaper, leopard-print bergeres and curved velvet sofas dripping foot-long fringe.
Among the 'Quin's dining options are the haute Bondo, a woodwork-laden Gilded Age salon dominated by an enormous glittering chandelier fashioned from the roots of a tree, and a charming trellised tearoom within what was formerly a large brick air shaft.
Fulk sourced an array of unusual vintage accent pieces and lighting for the 150-year-old structure's interiors, including patinated-bronze coffee tables, from Gottlieb Gallery, for the entry foyer; a trio of 1960s blown-glass and brass chandeliers, from Davidowski, for Scottie's champagne bar; and, in the casual Cafe Q, a folk-art billy goat of gilded pine by contemporary American artist Will Kautz, from Sylvia Antiques.
Fulk's recipe for such worthy but neglected historic places? "Bring them back, fill them with life and create community for them."
A bit of drama and whimsy doesn't hurt either. LA MAISON PIERRE FREY's Le grand corail fabric, for example, swathes the walls and forms draping curtains in the ground-floor salon of Saint Joseph's Art Society's, and in the church's lofty main space, bear-shaped taxidermy molds reimagined as flag bearers by Dutch artists DARWIN, SINKE & VAN TONGEREN hold the society's standard.
Exactly how Fulk works his magic is a bit of puzzle, not least to himself. "Where I got this gift is a mystery to me," he says. He praises his talented team to the skies, but he is undoubtedly the auteur, relying on what he calls "the never-ending loop or reel" that has played in his mind since childhood.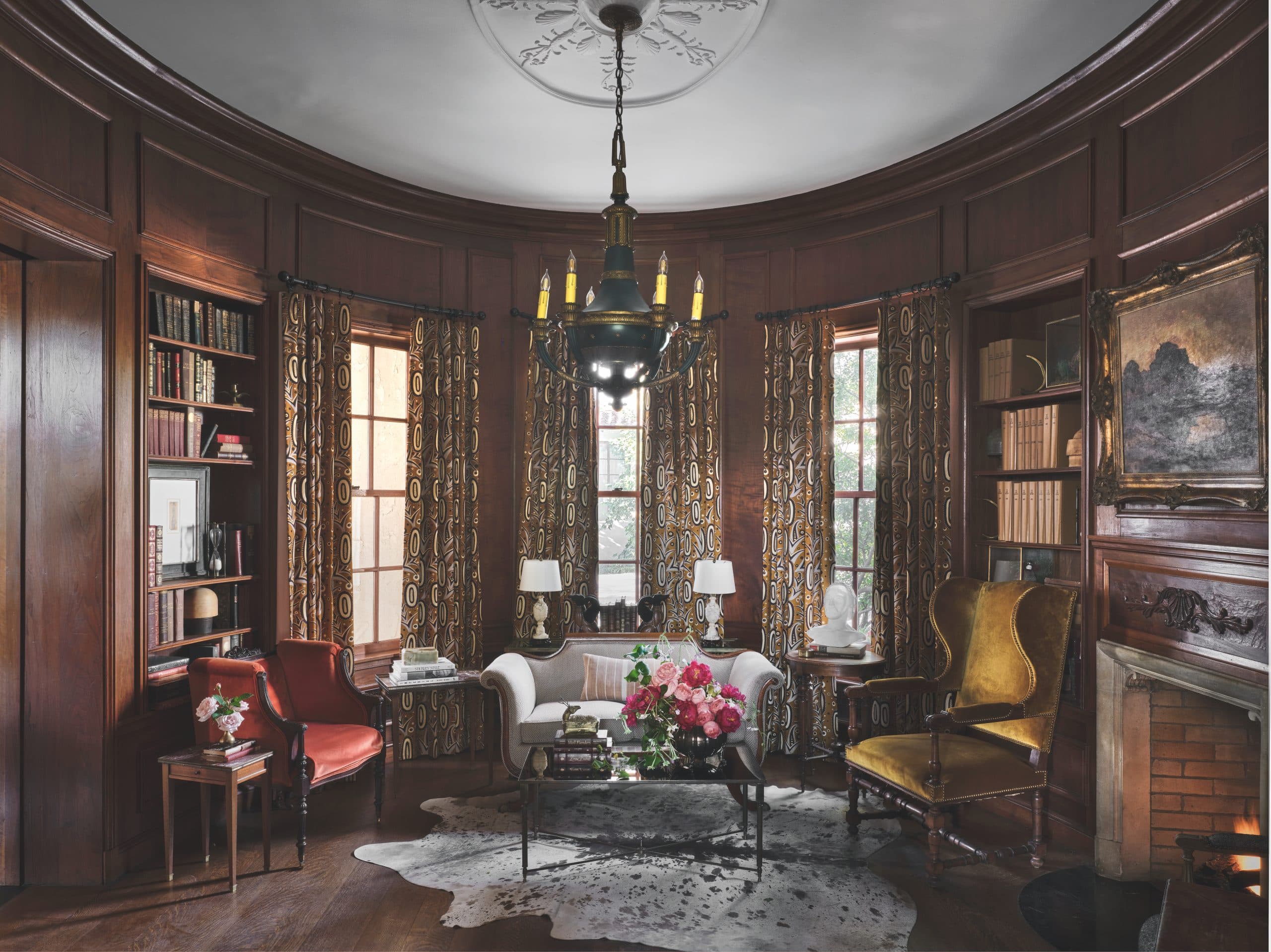 Fulk doesn't draw, so, "we start every project with words," he says. "People sit around, I tell tales of how I see things, and we bring them to life, whether it's a dinner party, yacht, plane or hotel. I often use cinematic or cultural references that stay with a project from beginning to end."
He launched the group's work on Tosca, the iconic San Francisco bar, with the evocative line "Dashiell Hammett, Francis Ford Coppola and Allen Ginsberg walk into a bar . . ." and a Napa Valley farmhouse redo with "one part Falcon Crest, two parts Petticoat Junction." The jumping-off point for the 'Quin House was "Rock stars move in to their grandfather's mansion."
Thus begins a complex process that bears more than a slight resemblance to the development of a stage or film production.
Growing up decidedly middle-class in rural Virginia, with a mother who teased him for having what she called "illusions of grandeur," Fulk honed his aesthetic imagination in his hometown's two movie palaces. Film was an inspiration. "You sat in the dark and watched a beautiful, glamorous, scary, inspiring world," he recalls. "It must have planted a seed in me."
It's a seed that continues to germinate in endlessly creative ways. Fulk will soon be pulling out the decorative stops on an overhaul of the majestic Blantyre, a 1902 Tudor-style mansion turned hotel ("like an American Downton Abbey," he says) in Western Massachusetts's Berkshires. And he'll do the same for Soniat House, a beloved New Orleans hotel that's an atmospheric mash-up of three early-19th-century townhouses in the French Quarter.
What else could Fulk possibly have on his agenda — an overhaul of the Chrysler Building, the nation's best-known Art Deco landmark? Well, yes.
The Magic Factory's latest gig is a reimagining of the building's Cloud Club, which originally occupied its 66th, 67th and 68th floors, just beneath the iconic spire. Entrusted with reincarnating this hallowed establishment, a few floors lower down, Fulk — an unpretentious guy who met his now-husband in a Boston laundromat three decades ago — feels the pressure.
"How do you honor that? How do you do something that isn't simply historical re-creation-ism? How do you push it forward and not disappoint? It's definitely a challenge," he says, "Talk about 'Don't muck it up'!"
Fortunately, Fulk has another superpower: innate optimism, or what he calls "saying yes to the thing you don't know how you're going to accomplish but you'll figure it out.
"I get frustrated when people pontificate about the glory days," he adds. "Even though we do things that have a nostalgic flavor, I'm oddly not a nostalgic person. The most exciting things are ahead of us."