One can almost feel a balmy trade wind blowing through the Beaux Arts mansion on Manhattan's East 66
th

 Street, the site of this year's Kips Bay Decorator Show House, open to the public through June 17. Indeed, the air of subtropical exoticism infusing the august 1908 residence offers a welcome blast of heat after the winter New Yorkers endured. Of course, there are other stories being told in these 9,600 square feet. But first things first…
---
Eastern Exposures
May 25, 2015
Persian and Indian textiles, particularly paisleys, imbue the restrained limestone townhouse with color and spice. "The whole thing is kind of Bollywood," jests Dallas-based Cathy Kincaid of her fourth-floor bedroom, a Hindu fantasy featuring an Indian bone bed from John Rosselli, draped in Claremont Fabrics that are hand embroidered with Indian floral motifs by Penn & Fletcher. Nearby is a slipper chair covered in blue paisley.
Two flights down in the dining room, Los Angeles designer Mark D. Sikes highlighted panels of Bennison's lush Indian-style floral fabric, called Malabar, by setting them against gingham walls, and he upholstered banquettes in red Fez Stripe from Soane. (The room also contains pieces from his new line of rattan furniture for Soane.) Adjacent to Sikes's room, Suysel dePedro Cunningham and Anne Maxwell Foster, the ladies behind Tilton Fenwick, wrapped a dining lounge in their Zulla paisley print for Duralee and hung a manipulated photograph from Karen Knorr's "India Song" series above a BDDW credenza.
Across the stairhall, Rome-born, Chicago-based Alessandra Branca dressed the windows of her comfortable living room in an Indian "tree of life" design called Le Grand Genois from Braquenié, which, she says, "was reinterpreted for export to the Genovese market in the nineteenth century." She also used it on a custom sofa blanket and a George III Gainsborough chair from Yew Tree House Antiques. The Indian inflections of her living room serve as a backdrop for a diverse salmagundi of objects and art: an Hervé van der Straaten pendant and a lacquer-and-ebony bookshelf by Jean-Berenger de Nattes (both from Maison Gerard); a 1950s Fornasetti side chair from Bernd Goeckler; an 18th-century Chinese lacquer screen from her own holdings; and, over the fireplace, a Marie Antoinette portrait by Robert Polidoro (wickedly placed across the room from Donald Robertson's contemporary portrait of Louis XVI on a bloodied brown paper bag).
Exoticism is not solely of an Eastern persuasion, however. Suzana Whyte Braga Monacella, of McMillen, referenced her roots — she was born and raised in Brazil — when designing a top-floor "Rio" bedroom with niches papered in a lush tropical foliage print from Pierre Frey. To one side rests a superb rocking chaise by mid-century Brazilian legend Joaquim Tenreiro, provided by R & Co. On the ceiling, Paulina Trojnar, of decorative painting firm Do the Magic, created a pattern simulating Jean-Michel Frank–inspired straw marquetry. Not purely south-of-the-border, Monacella's room also displays a 1955 Swedish bureau from BG Galleries, Danish pottery of the same era from Bernd Goeckler, antique Chinese jade objects from Phoenix Gallery and a pair of 1970s Philip and Kelvin LaVerne side tables from Liz O'Brien.
Palm fronds also sprout up the walls of Michael Herold's "Las Palmas" sitting room, in the form of a Cole & Son wallpaper first printed in the 1950s. Herold sourced everything — the Curtis Jeré brass-and-coral sculpture, Vladimir Kagan Nautilus chair, Italian 1940s sunburst pendant and Milo Baughman drum table — either through Newel Galleries or his own 1stdibs storefront. (Both an interior designer and a dealer, Herold says his international mid-century offerings are "like the offspring of Mad Men  and American Hustle"). Though objects and furnishing span from the 1940s to the '80s, the room telegraphs a 1950s Palm Beach vibe, as seen through Herold's fresh eyes. He sails with cheeky humor near the coastal kitsch of mambo-dancer lamps before heading out to calmer, and more elegantly chic, waters.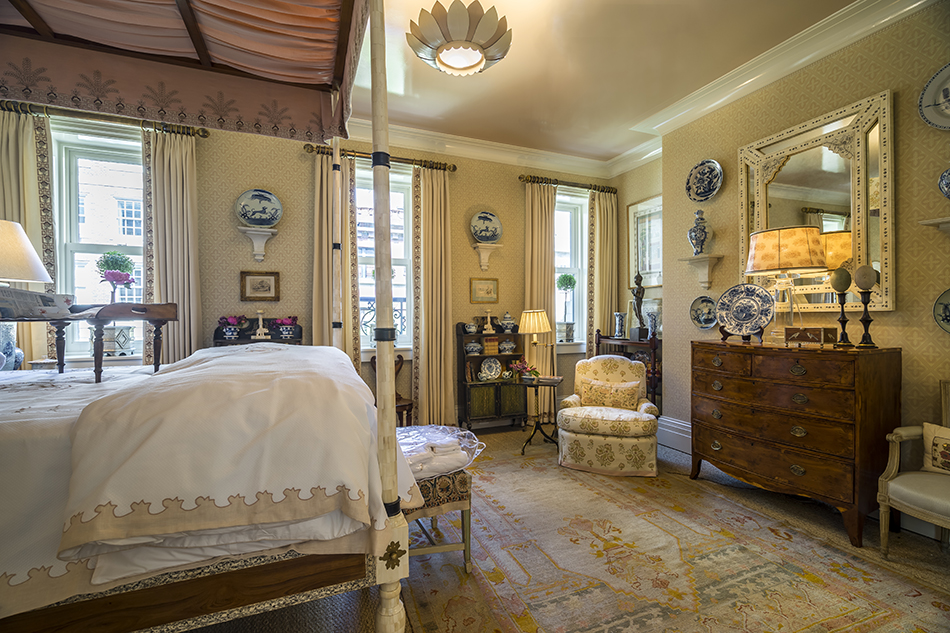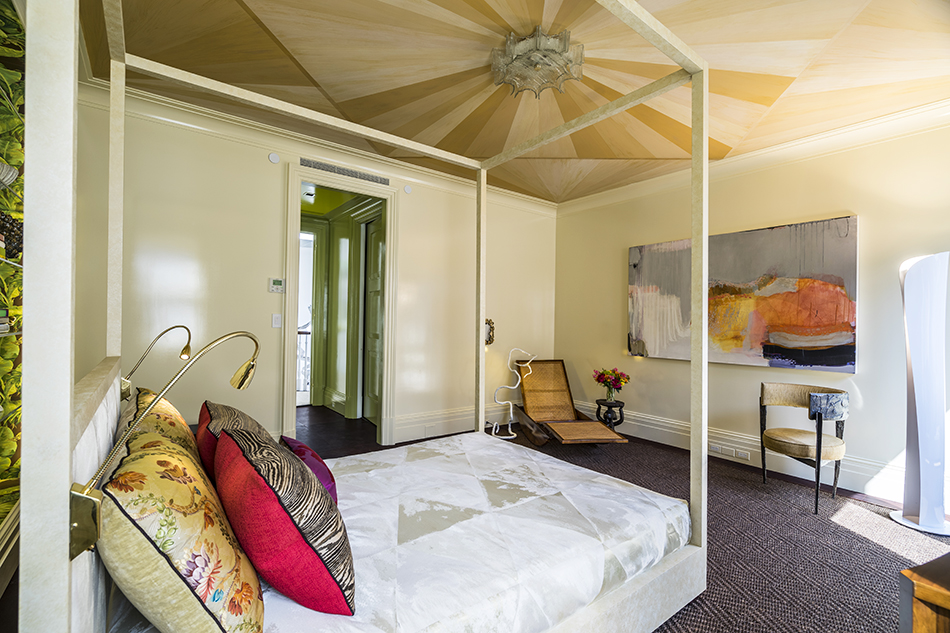 ---
Globetrotters
Even in rooms by designers who didn't use exoticism as a touchstone, one finds alluringly heterogeneous assemblages of objects and furnishings from a wide-ranging array of cultures and eras. Philip Mitchell's stairhall is decidedly catholic in its tastes, ebulliently showcasing approximately 260 works of art (largely from the Toronto designer's personal collection) dating from an astonishing variety of periods and executed in diverse media and genres: a small abstract modern painting by Robert Kamnatnik from Decorum Decorative Finds, his mother's own Wedgwood plaque, a Nan Goldin photo entitled Joey Putting on Make Up from David Duncan Antiques, a Frank Stella–like work created with masking tape, a Hunt Slonem rabbit painting.
Thom Filicia's study juxtaposes contemporary art and objects — paintings from Gallery Henoch, a sculpture by Robert Greene he encountered at a benefit exhibition 1stdibs held at the New York Design Center, a Stephane Parmentier table from Maison Gerard, an industrial floor lamp by John McDevitt for Jonathan Burden — with a 1950s Danish rosewood desk from Lawton Mull.
---
Rough and Rarefied
The communion of the rough-around-the edges with the refined is a common literary plot device. Sometimes it ends badly (Strindberg's Miss Julie, for instance). Other times the lovers prevail: Let's hear it for the sweet-while-it-lasted marriage between Downton Abbey's Sybil Crawley and the family's chauffeur. Felicitously, the latter outcome is in evidence at Kips Bay. In his handsome kitchen, Christopher Peacock dramatically wedded a smoothly polished Silestone island countertop to a chunk of live-edged English elm burl, which constitutes the dining end of the island. Peacock also used rectangles of the burl on drawer fronts.
Nearby, young New York–based talent Bennett Leifer mined the elegant potential of fusing polished textures — de Gournay's gilded wallcovering, the shagreen of an early-20th-century coffee table from Lee Calicchio, the Fortuny-covered pillows on the Dmitriy & Co. settee — with highly textured stones. Among the latter are a rock-crystal chandelier and sconces from Phoenix Gallery, and Achille Salvagni's illuminated-onyx table from Maison Gerard.
On the top floor, in his Greece-inspired room, Alan Tanksley combined coarse Kravet grasscloth and finely crafted finishes by Bespoke Millwork with a cork model of the Temple of Athena from Jonathan Burden and a Theodoros Stamos painting.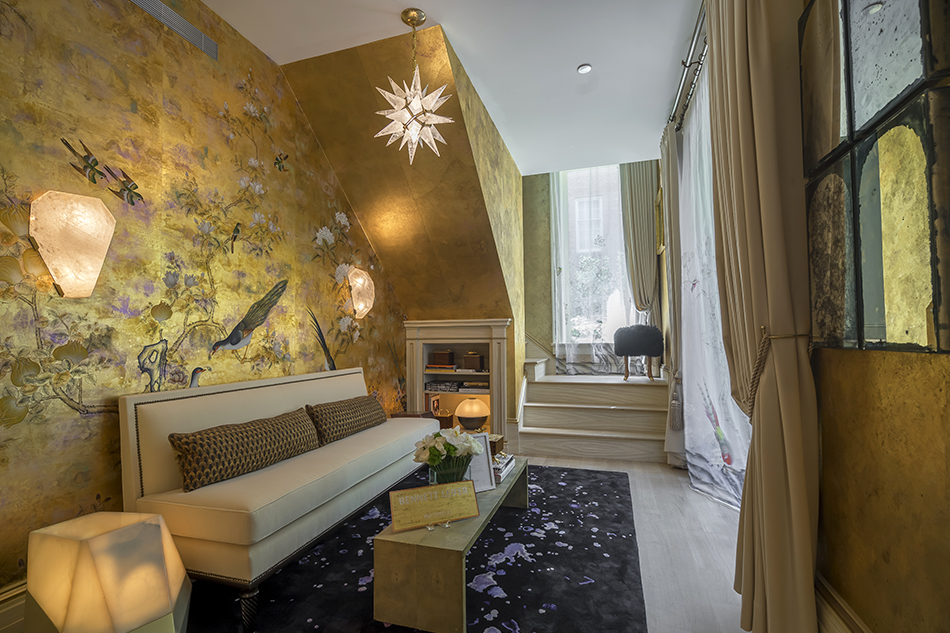 ---
Glam Factor
Of course, what would Kips Bay be without some glamour? It takes many forms this year, including via the use of lacquer in a rainbow of colors: Tanksley's indigo blue bar, Monacella's kiwi green walls in the Rio bedroom, Mitchell's glossy gray vestibules, Filicia's charcoal gray bar, Kincaid's flesh-toned ceiling, Tilton Fenwick's blue-gray dining lounge walls and Jamie Drake's blue-gray foyer ceiling. Drake also mixes periods and cultures with his usual virtuosity, placing exquisite contemporary works such as Ayala Serfaty's spectacular ceiling lights from Maison Gerard and a Barbara Takenaga painting from DC Moore Gallery in the presence of such historical gems as a George III giltwood mirror from Hyde Park Antiques and Empire bronze gilt vases from Mallett.
There is no lacquer in Charles Pavarini's "Midnight Manhattan" lounge, but it hardly requires it. The stars here are irregularly staggered silver-leafed travertine marble tiles, and Jonathan Kutzin's wall treatment. For the latter, Pavarini asked Kutzin to match a lapis ring he owns. He obliged with five coats of paint, the last one mixed with 10 pounds of blue eyeshadow and applied in a strié pattern. The ultimate effect is as spectacular as the Jeff Zimmerman chandelier (from R & Co.) dominating the room.
There are more sparkly forms of glamour too, namely in Clive Christian's "Metro Deco Dressing Room & Bath." The tub room is all Carrara marble, Venetian-style mirrors, Baccarat sconces and mother-of-pearl wall covering by Maya Romanoff, with a French 1930s crystal chandelier shaped like a galleon (from Carlos de la Puente) over the tub.
All in all, this year's Kips Bay Decorator Show House once again offers a gorgeous synopsis of the times through design: consummately global, ethnic and erudite, clever and sharp. Thanks to these designers' breadth of interests and their ease in mashing up an entire continuum of influences and history, it's impossible to peg anything here as simply modern or traditional. This crowd is too sophisticated for that.