November 19, 2023Architect and interior designer Melanie Raines is well-versed in the art of crafting inviting, distinctively tailored environments rich with characterful details and objects that tell engaging stories. And for good reason. Before launching her own Austin, Texas, firm, in 2018, she had established herself as a deft designer of restaurant and hotel spaces while working for such boutique hospitality brands as Soho House and Austin-based New Waterloo.
"Well-executed boutique properties are all about creating an immersive experience, a clear, all-encompassing concept, from the finish materials to the smallest details," says Raines. "Once you have that, you can get a bit irreverent and break the rules with a great, odd piece of lighting or furniture."
As her hospitality portfolio attests, she is not bashful about deploying bold colors and playful, animating gestures — and that's evident in her residential work as well. When she designs a home, there is an additional "layer of filtering in a client's biography," she says. "So they see the space as a facet of themselves — either who they are now or who they aspire to be."
A few years ago, an Austin couple with three kids now in their teens reached out to Raines about overseeing the interiors of a weekend retreat they were building in Texas Hill Country, around 30 minutes outside the city. They explained that they wanted it to be focused on entertaining — with wine, one of their passions, at its heart.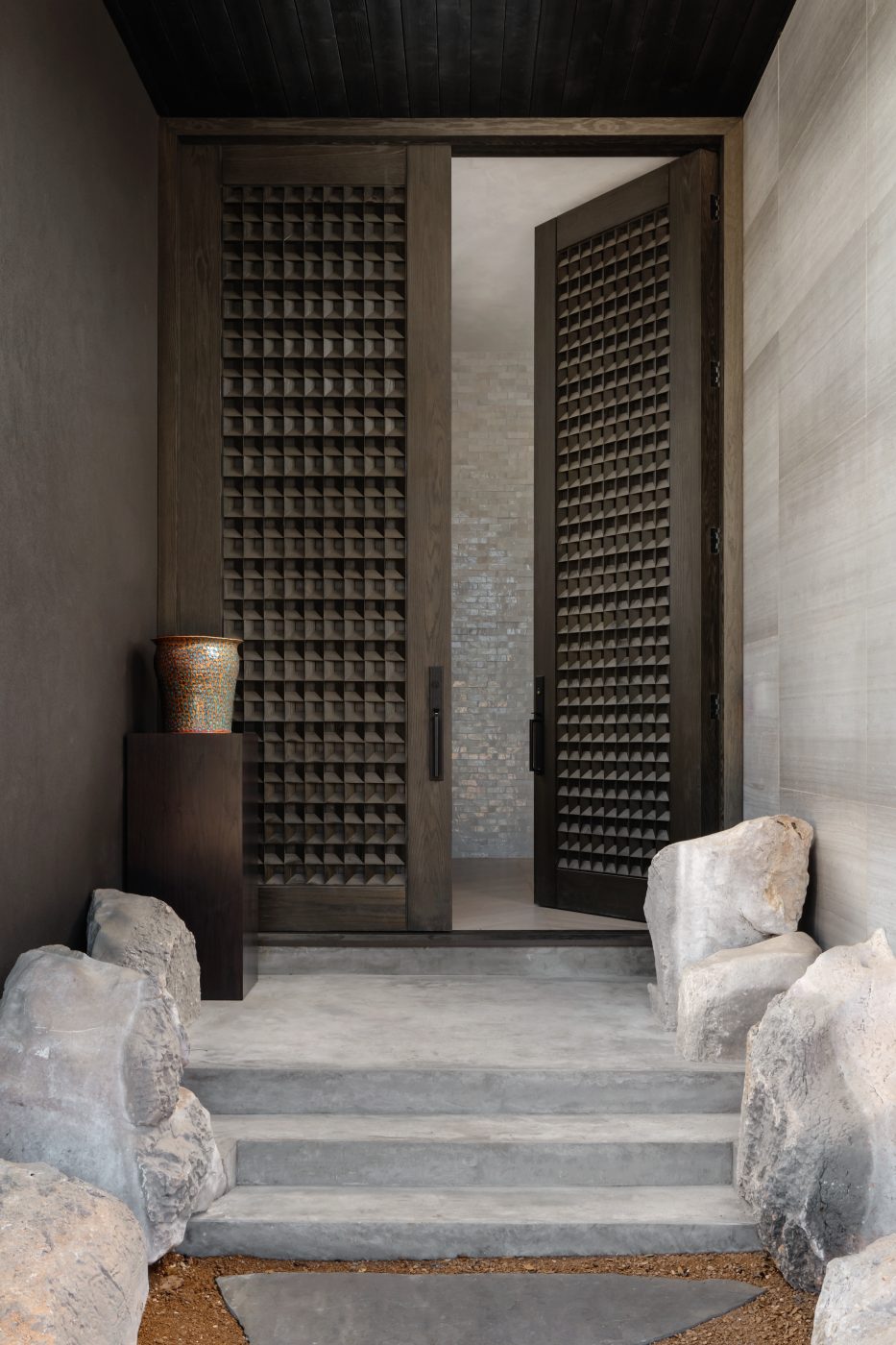 Mexican architect Bernardo Pozas designed the house, which overlooks a vineyard and features a tasting room and 3,000-bottle cellar. (Pozas is based in Monterrey, where the couple also resided for a time.) Robustly contemporary in spirit, the U-shaped residence comprises a series of crisp rectilinear volumes clad in limestone, steel and wood, with expanses of floor-to-ceiling glass.
For the interior, the couple sought an earthy and understated vibe that would contrast with their more formal primary home, which features lots of bold color and pattern and a lively collection of Pop art. "They wanted serene, evocative architecture," says Raines, whose early conversations with the clients led them to an aesthetic that draws on Mexican and Japanese influences. "Of course, they knew I would translate that with a little bit of weird. Because I wasn't going to make it too Zen."
Raines turned this vision into reality by using plenty of distinctive textures and original handcrafted elements — many of which she commissioned on trips to Mexico, where she traveled to meet with Pozas as well as to connect with artisans and to source materials.
"One of the clients' major objectives was to have a story for everything that they could share when hosting people at the house," Raines says. "They wanted stone that didn't look like their neighbors' stone. They wanted this really intricate Mexican artistry in the woodwork."
The artistry starts at the entry, where the prodigious, 2,000-pound wooden front doors are carved with an intricate cubic pattern designed by Raines and executed by artisans in Monterrey. Just inside, she lined the entrance hall with a wall of pearly-white handmade zellige tiles, the variations in their texture and glazing creating ever-changing surface effects that shift with the light.
In the entry's seating area, a gold wire-mesh NESTOR PERKAL bench topped with a furry flokati — "a bit of punk rock," as Raines describes it — perches beneath a minimalist Oda & King wall sculpture made with bits of organic matter and stone. "It's art without being a glossy framed piece," says the designer, who installed only a few two-dimensional artworks in the house, choosing instead to accent spaces with striking ceramics and other sculptural objects that reinforce the focus on material and texture.
In addition to masterminding all the finishes and furnishings, Raines made refinements to the original interior plans. To break up and bring some intimacy to what had been conceived as a sprawling, continuous space for the main entertaining areas, she largely enclosed the living room.
At one end, she added a wall containing a fireplace surrounded by inky Mexican quartzite and topped with panels of riveted blackened steel. "I don't know if there's a better word than masculinity, but the client wanted some more of that," says Raines.
She went on to furnish the room with a brawny modern sofa custom made in Paris, leather-upholstered camp-style chairs by Roman and Williams and a Rogan Gregory coffee table of smoothly sculpted petrified wood that took 11 men to move.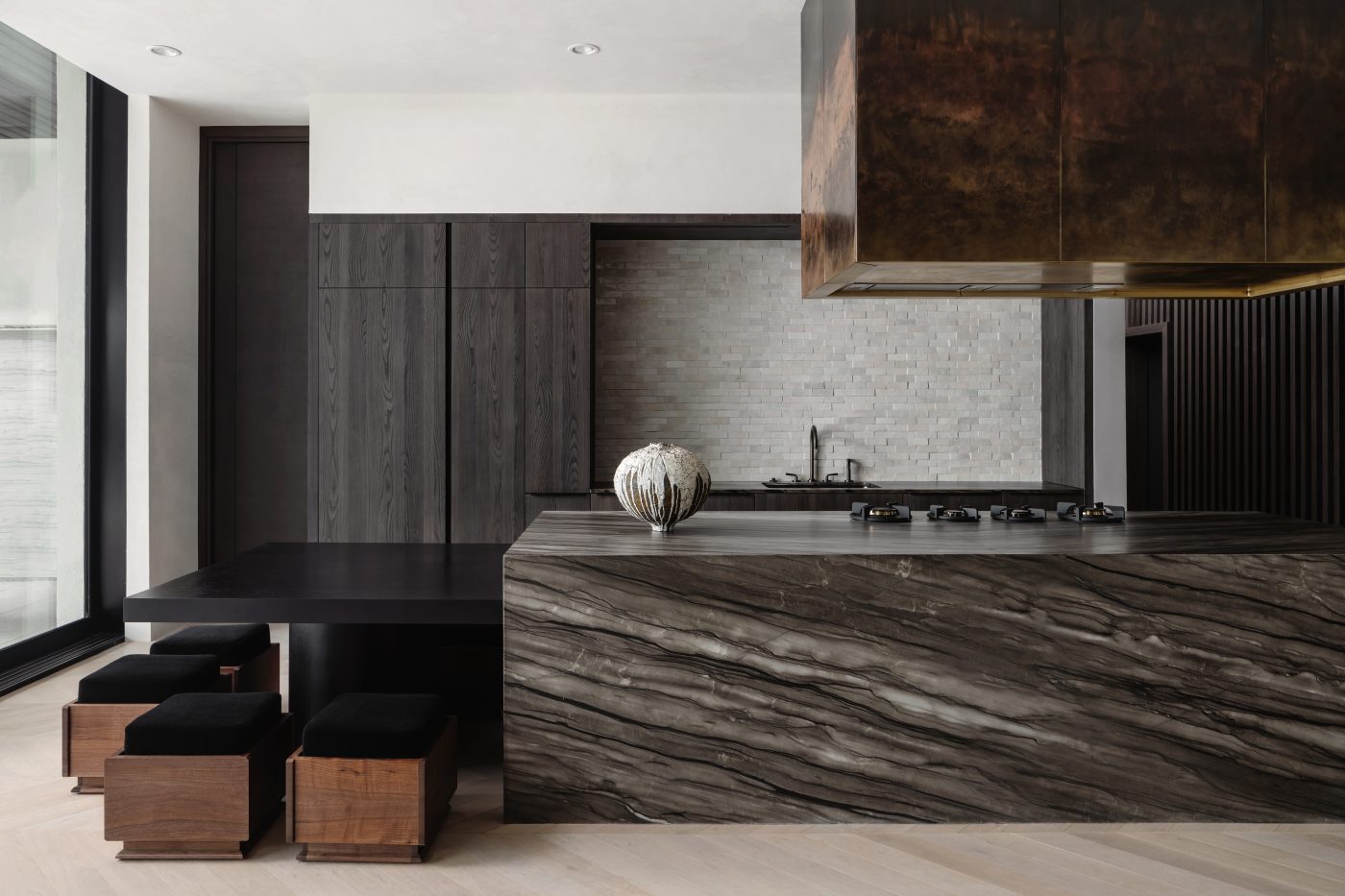 To create separation from the adjacent dining area, she installed a Japanese-inspired slatted screen, its bands of fumed walnut merging with the slatted ceiling above while each elegantly tapers to a metal pin at the base
The dusky woodwork continues in the dining area and open kitchen, where everything is custom, from a biomorphic plaster dining table beneath a jewelry-like Lindsey Adelman light fixture to a showstopping patinated-brass hood mounted over an island clad in painterly Sequoia Brown marble.
Raines did allow herself a chromatic splash in this space, lining the wall above the kitchen's bar with Waterworks tiles in variegated shades of green. "That tile had been a sample on my desk since I worked for David Mann ten years ago," she says, referring to her first job, at New York's MR Architecture + Decor. "I finally got to use it."
Another opportunity for color was the wife's office, where Raines lacquered the cabinets in a glossy burgundy. Playfully, she furnished the space with a pair of chairs featuring horn-shaped brass backrests and seats of cascading wool strands that give the impression of ultrarefined shaggy beasts. (These came via 1stDibs from the South African gallery Egg Designs.)
Raines furnished a space specifically for the husband, too. At his request, she conceived the lounge — which is situated next to the tasting room and has sliding glass walls that open up to a pool — for watching sports and enjoying wine with friends or business associates. All charcoal grays and tobacco browns, it features a sitting area with a buttery leather B&B Italia sofa and rattan-frame upholstered lounge chairs by Norm Architects on one side and a large GUBI table for casual dining or hosting meetings on the other.
Entertaining tends to flow between the lounge and the wine room — a collaboration with Grandeur Cellars — where a half dozen stools ring a marble-topped horseshoe-shaped bar. "The whole room is climate-controlled for the wine," says Raines. "The idea was to use that space for intimate tastings but then also incorporate the lounge for larger wine gatherings."
To reach the bedrooms upstairs, one ascends an atmospheric, Japanese-inflected staircase wrapped entirely in espresso-hued slatted panels of fumed walnut and softly illuminated by wall-mounted paper lanterns. "I can almost taste the smoke thinking about it," says Raines, who describes the stairs as one of the home's most overtly boutique-hotel-like moments. "We really wanted this woodwork to stand out as dark and mysterious."
The symphony of textures, both visual and tactile, continues in the main suite. Here, slatted walnut wainscoting gives way to creamy plaster along the upper wall and across the ceiling, while the Roche Bobois bed has a whimsical asymmetric headboard upholstered in three differently textured blue fabrics. To this Raines added a channel-tufted glossy-leather Gio Pagani bench — another 1stDibs find — and a nubbly vintage rug.
One of the rooms Raines feels closest to is the adjacent study, which she lined with muscular gridded bookshelves to display the husband's collection of classic literature as well as "Japanese ceramics and handmade things from some of our favorite sources," she says.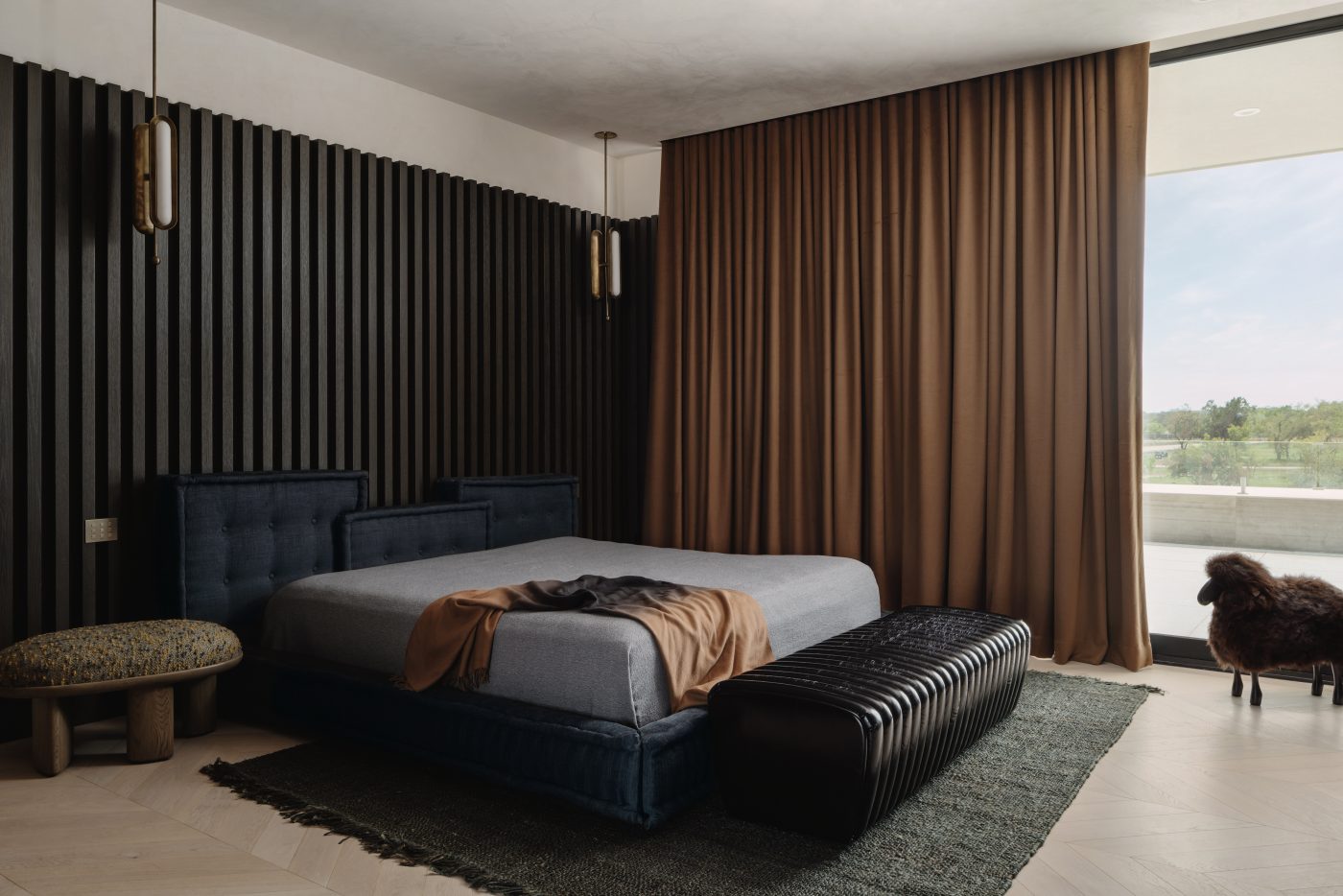 She furnished the space with a couple of items from 1stDibs, including a daybed by P. Tendercool that offers a stylish spot for reclining with a book and, next to it, a quirky, bulbous-legged table by Müsing-Sellés that sports a lustrous metallic finish in a gradient of wine tones. It's the kind of exquisitely idiosyncratic accent Raines loves.
"For me," she says, "it's all about these moments where I could marry the Japanese and the elemental with something wonderfully unexpected."
Melanie Raines's Quick Picks