Isaac Newton's secret, he famously confessed, was that he stood on the shoulders of giants. Lee Mindel has a slightly different secret: He has sat on the sofas of giants, studied the sketches of giants, curated the shelves of giants.
Those giants include Louis Kahn, whose charcoal drawing of a Massachusetts street resides in Mindel's bedroom; Ettore Sottsass, whose sculptural bookcase occupies a corner of his living room; and Poul Kjærholm, whose daybed faces the fireplace "front and center," as Mindel puts it.
"The pieces I own are by the people who have made me what I am," says Mindel — which is saying a lot. As a partner in Shelton, Mindel & Associates, the Manhattan firm he and the late Peter Shelton founded in 1978, he has created some of the most beautiful interiors of the 20th and 21st centuries, satisfying demanding clients while winning some 30 American Institute of Architects awards and countless other honors.
Mindel acquires objects not only to look at them but also to get to know their creators. Some of the giants Mindel has actually met (Kahn, for example, was his teacher at the University of Pennsylvania). Others he has come to know by living with their work. "The inanimate becomes the animate for me," he says.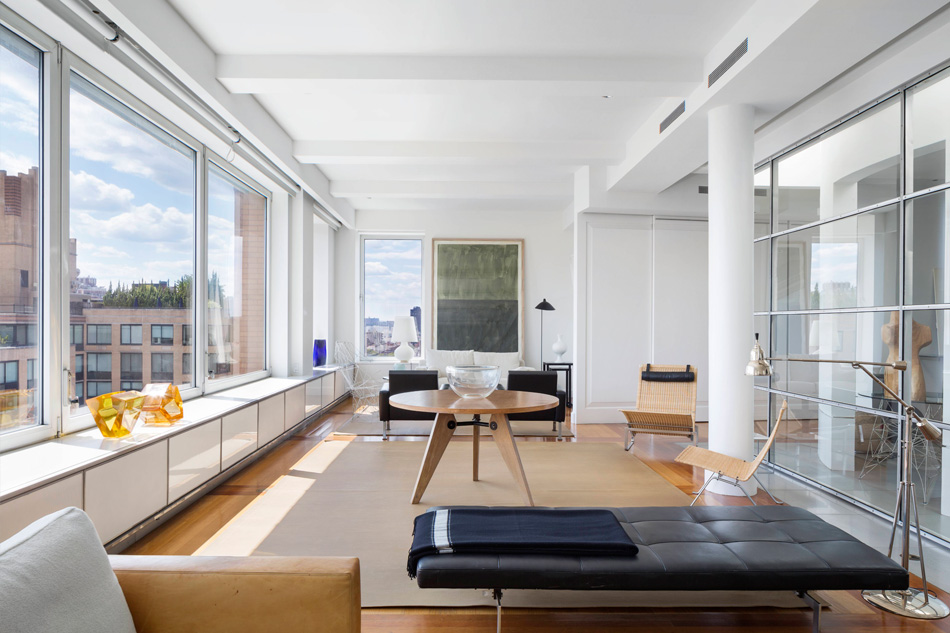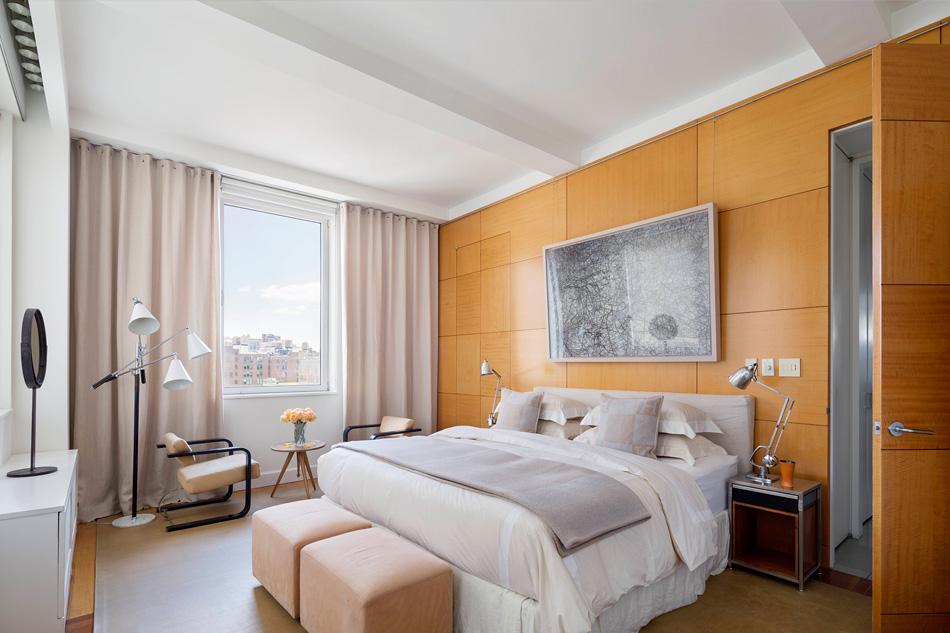 Mindel began collecting more than 30 years ago. The first thing he bought that was "any good," he recalls, was a screen by Piero Fornasetti with architectural motifs both Piranesian and Escheresque. (Mindel still recalls nervously watching the screen coming down the conveyor belt at Newark Airport.) His collecting became more purposeful in 1994, when he acquired his current apartment. The space was the top floor of a former hat factory in the Flatiron District. Like many industrial buildings in Manhattan, it lacked windows along the so-called party walls, facing east and west. But Mindel took a ladder to the roof and peered over the parapets. He could see the Hudson River in one direction, the East River in the other. Suddenly, he said, he had the feeling of being surrounded by water. He knew that by cutting windows into both sides of the space below he could capture the experience of being on an island.
Those new windows, along with the existing north- and south-facing openings, brought into his home such landmarks as the Empire State Building and the World Trade Center, the iconic forms that have made New York New York.
There was something else up on the roof, another iconic form that makes New York New York: a cylindrical water tank. Mindel wanted it to be a focus of the new apartment. He designed a deck surrounding the tank and, below it, a skylit round room to bring its curved shape into the otherwise-rectilinear layout.Windows in the double-story space provide glimpses of the tank, hovering like a spaceship, while a sinuous, stainless-steel stairway makes climbing imperative.
Downstairs the rotunda, 16 feet in diameter, serves as a kind of connector, inviting the surrounding spaces into a conversation the way a round table makes dinner chatter flow. The curves, Mindel observes, are "friendly" to the rooms around them.
---
"The pieces I own are by the people who have made me what I am," says Mindel.
---
These include a living room that has the dimensions of a loft but also the homey qualities of a prewar apartment, thanks to interventions by Mindel and Reed A. Morrison, an outside architect he works with on personal projects. Where Mindel needed to conceal storage, they created sliding walls with baseboards and crown moldings; where he needed to conceal ductwork, they added the kind of beams you'd see in a Park Avenue living room. And they inserted a fireplace faced with sheet of sleek white glass. All the windows, new and old, are fitted with translucent Sol-R-Veil shades that, when lowered, turn Manhattan's icons into misty apparitions. The living room rugs are actually linen mats covered in latex. Flat and pale, they serve as framing devices for furniture as varied as Tom Dixon's gossamer wire chair and Jules Leleu's black leather seating.
The rotunda, the apartment's holy of holies, contains several particularly meaningful objects. There's a Kjærholm prototype steel chair, which Mindel likes because it reduces a functional object to its essence; a wildly sculptural love seat by Antoni Gaudí; and a lamp by Maarten Baas seemingly squeezed from clay. No single sensibility dominates. "I always stay away from isms," says Mindel, pleased that he avoided the postmodernist tendencies that snared some of his colleagues in the 1980s and early '90s.
Now Mindel has put the apartment up for sale. A couple of years ago, he designed a sales office for 56 Leonard Street, a new building by the nonpareil Swiss architects Jacques Herzog and Pierre de Meuron. He fell in love with the building, with its jaunty cantilevers sheltering an Anish Kapoor sculpture. So he made a deal with the developer for a sprawling apartment with full view of the Kapoor, a kind of abstracted version of his water tank. Mindel plans to furnish the space with new acquisitions, which would mean selling the objects he has lived with for more than two decades. (An auction at Phillips is in the planning stage.) For lovers of design, this means that some of the finest pieces ever made will come to market.
That won't happen overnight — 56 Leonard is still under construction. But, Mindel says, "I'm ready to reinvent myself." Meanwhile, whoever moves into the old place will get to know Mindel, just the way Mindel got to know the designers on whose shoulders he has stood.