Some of my ancestors hail from Sotheby's. They're the English branch, the ones painted in oils that hung on the walls of my family's Connecticut house. My mother did most of the selecting and was always excited to bring home one of the relatives and introduce them to all their cousins, once or twice removed.
While they were obviously not family, one of them was a dead ringer for the messenger who worked for my father. They presided over the library and foyer while actual relatives — in daguerreotypes from Germany, tintypes from Lithuania and (going back five generations) photographs and glass negatives from the United States — clustered on various hallway walls and tabletops, in black-and-white and sometimes sepia.
With this as my cultural underpinning, it is no wonder that I gravitate toward the antique. It's in my coding. With the exception of my first ever post-college rental ($405 a month for a one-bedroom-with-balcony on Manhattan's Second Avenue), and then a more recent 18 months in a boxy Upper East Side rental when my daughters and I were between "real" apartments, I've only lived in pre-war buildings. I love the creaks of the wooden floors and the hiss of the cast-iron radiators. I like things with a backstory, even if it's one I invented ex post facto.
As a young author who spent much of the 1980s traveling, in a combination of book-tour interviews and signings and then lecturing at colleges while researching my next book, I found myself gravitating toward antiques stores during my down time. In Denver, I unearthed a crystal box engraved with a diamond, a spade, a club and a heart in a shop at the Brown Palace Hotel. It was meant to hold cigarettes, but I never put anything in it except my admiration for its tidy shape. Vintage travel posters joined it, richly colored and instantly nostalgic: One of my favorites touted a German vacation resort in which the model kept her swimming cap on even though she was cavorting nowhere near the water.
A vintage cardigan came from a place in Seattle near the University of Washington. It was knit from a thick, hard black wool and had insets of velvet printed with leopard-print stripes. It was so stiff it was maybe more jacket than sweater, really, but I can't say with authority because I never wore it. It wasn't me, I wasn't it, and it languished in my closet for years. I finally donated it, in a huge purging that went by truck to the Irvington House Thrift Shop. A few weeks later, I saw my cardigan beautifully styled with black trousers in the window. Thinking "Oh, I could do that," I went in and re-bought my now much more expensive vintage sweater. Needless to say, I never wore it — once again! — and the store got it back within the year.
I'm telling you this story because not everything old meshes with everything new. It takes some experimentation to figure it out. I haven't had much success with purchased vintage clothing, but I do tend to keep my wardrobe so long that it becomes vintage inside my closet.
A tiny and cluttered antiques shop called Sentimento in midtown Manhattan fed my jones for old bits and pieces until it closed in 2011 after 30 years in business. The terracotta bust of a young boy I bought there on a whim — thinking he was more my type than the quotidian snow-globes I was also beginning to accumulate — sits on a bookcase, but now my children dislike him. I believe they are jealous. At Sentimento I began buying old silver frames and boxes as wedding presents, as my cohorts were beginning their period of mergers and acquisitions.
---
As a young author who spent much of the 1980s traveling on book tour or researching my next project, I found myself gravitating toward antiques stores during my down time.
---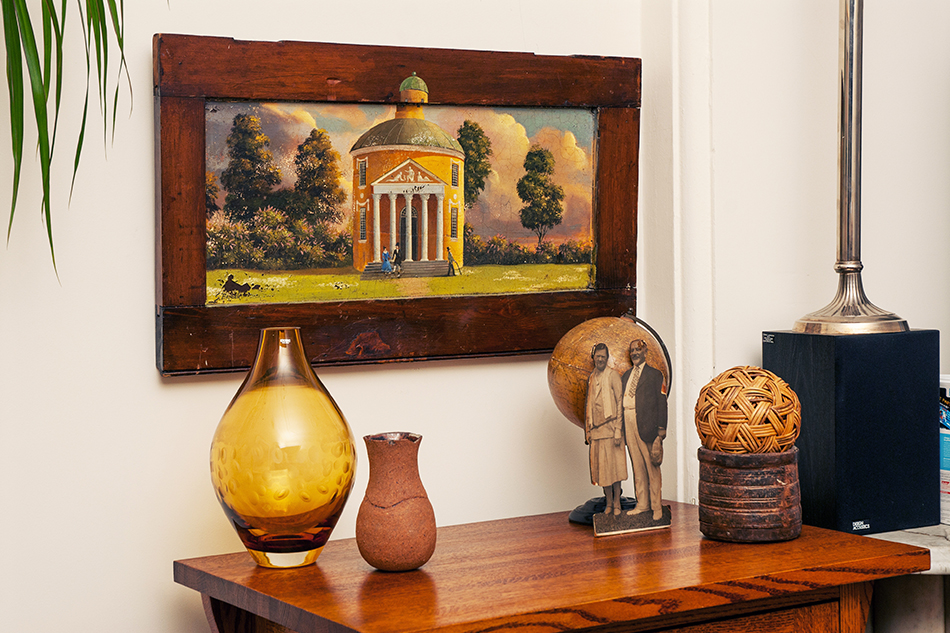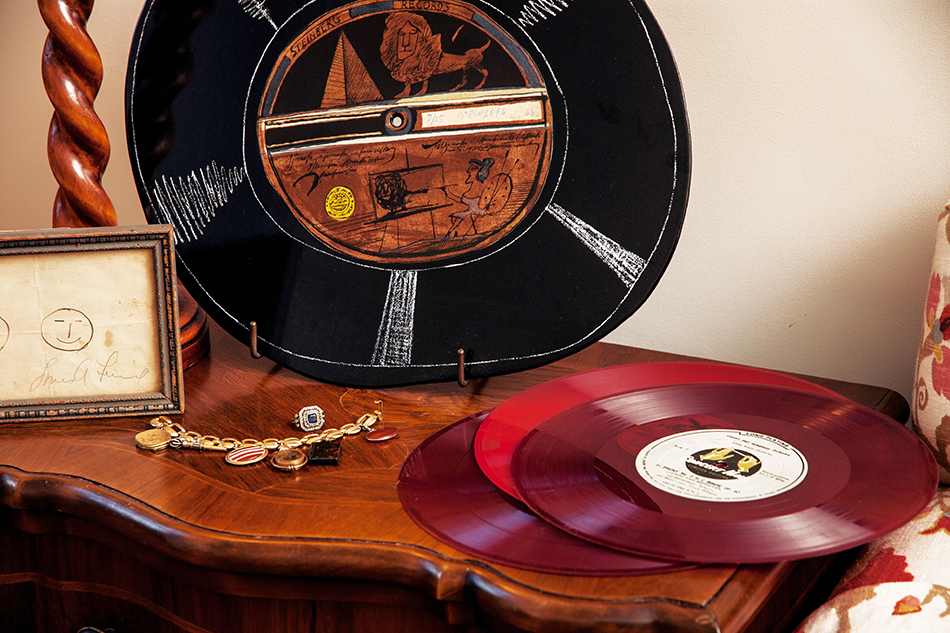 I firmly believe — even with no actual proof — that I was the first of my generation to collect vintage globes. One from the early 1960s is made of glass and is lit from within; one I chose for its lovely calligraphy; one is tiny and spins on its axis on a slender wooden rod. I loved them all (and enjoyed seeing the geopolitical changes that had materialized since my various globes had been made) until I ran out of shelf space to display them.
Which brings me to charm bracelets: Charms and the chains that connect them take up almost no space whatsoever. This makes them a perfect collectible in a New York City apartment.
For my 10th birthday, my father took me to a jewelry store to pick out a bracelet with the links I liked, and he instructed me to choose two charms to get the ball rolling. One was a pair of toe-shoes adorned with tiny pearls, and the other was a typewriter with a moveable carriage. This was my first grown-up piece of jewelry — except for the fact that every little girl in the 1960s had a ballet-themed charm. I doubt Dame Margot Fonteyn had one; they were made for little girls. Over time, the bracelet became full: a tennis racquet balancing a "pearl" ball; a pair of blue-and-white enameled "Dutch shoes," which were also comme il faut in those days; a gold box with the words "MAD MONEY" engraved on its lid and filled with — wait for it — a single dollar bill. One couldn't go "mad" on a dollar even back then.
The final charm that finished the bracelet was a diploma, earned, I think, pre-high school graduation, when I, of course, stopped wearing that bracelet for good. (But, in my own defense, my charm bracelet was more of a collection than something I wore. Not having pierced ears until I was 27 — really! — or being a magpie until much later, I only brought a watch with me to college.)
Nowadays, I've made up for lost time. I simply cannot resist the lure of charms and so I have composed charm bracelets for wrists other than my own. Two of them are designed for my daughters. But why stop at wrists? I have a necklace that now carries a substantial thicket of old charms, which is becoming so heavy I may have to offload some onto yet another bracelet.
Charm bracelets, especially those that come together deliberately over time, are wonderful, dangling mementos, records of milestones. You can add charms carefully: to celebrate a graduation, a vacation to somewhere exotic, or proficiency in a sport or an instrument — or just because. Mummy's earring that is missing its mate can end up being a favorite single charm. So can a golden hourglass with pulverized crystals inside. A tiny martini shaker. A folding fan that spells out SPAIN on its leaves. Every tiny figure carries with it a memory, even if the memory is just how much you paid for it online.
Then there are the charm bracelets that have been "curated" to look as if they've been collected over time. Most of those currently on 1stdibs come from one creator: kit and caboodle by Verdura, Cartier, Tiffany, Van Cleef, Louis Vuitton, Chanel, Pomellato. They look as if they were born like the goddess Athena — fully finished, ready to wear and prepared to make that pleasing, tinkling sound on your slim, chic wrist.
Like "Great Grand Uncle George" and my mother's "Brooding Aunt Margaret" of the "library branch of the family," the ready-made bracelets speed up the airing of the heirlooms with their pre-provenances. It would be nice to think that some of the mementos I have dangling off my wrist in 2014 could have been something that one of these faux ancestors might have worn once upon a time. After all, rumor has it that "Ruddy Cousin Silas" occasionally enjoyed wearing a pearl-and-garnet brooch under his Norton & Sons shirt. Mum's the word.