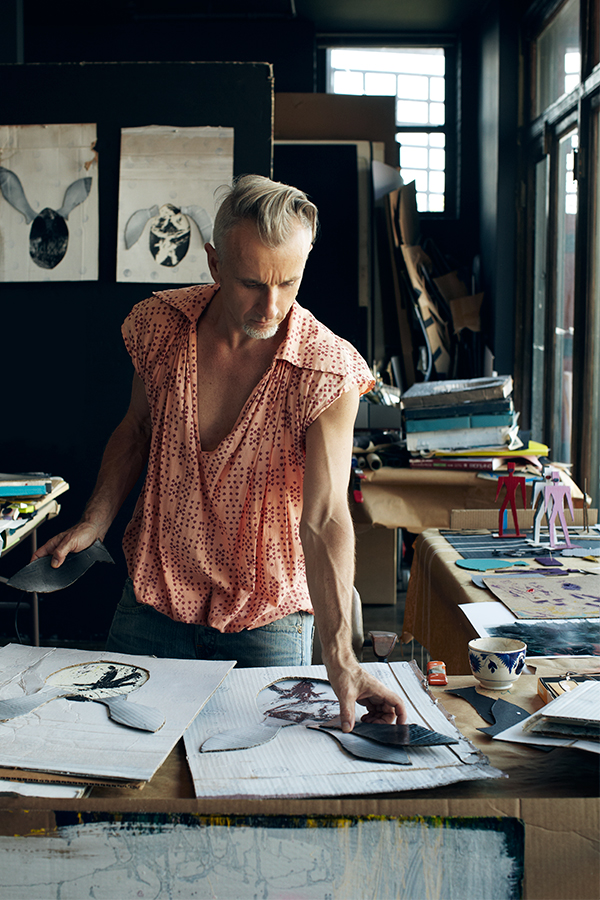 Martyn Thompson is one of those rare creative spirits who seamlessly moves from project to project, magically imbuing whatever he touches with his distinctive style. He is, artistically speaking, a jack-of-all-trades.
Best known as one of the leading interiors and still-life photographers of his generation, Thompson also designs textiles, wallpapers and home furnishings. Whether it's a photo of a moody interior, a glossy ad for a luxury retailer or the design of a Jacquard-loom woven textile, Thompson's signature painterly aesthetic is a kind of magical fairy dust sprinkled over everything he touches.
In his 30-year career, he has photographed countless images across the globe for a variety of top publications. His luxury-brand clients include such well-known names as Gucci, Hermès, Ralph Lauren and Tiffany & Co. A deep reverence for layered interiors with a sense of history — he loves antiques, rich textures and aged surfaces — are hallmarks of his distinctive style.
Thompson's work in textiles and home furnishings grew organically from his photography. Falling under the banner of Martyn Thompson Studio, the most recent textile collection is titled the Accidental Expressionist and was made from a series of still-life photographic images of the paint-splattered floor in his studio. His first such collection, Cézanne's Shadow, was taken from a series of floral still-life photos inspired by Impressionist paintings.
These textiles and the other unique home furnishings Thompson creates caught the eye of David Alhadeff, founder and owner of the Future Perfect, a New York and San Francisco design gallery offering a curated mix of limited-edition and self-manufactured works by contemporary designers and artists.
"What immediately drew me to Thompson's work is its three-dimensional quality," Alhadeff says. "I was drawn to the level of sophistication he brought to the idea of a lack of pattern, and how he achieves a subtle elegance within an unabashed messiness."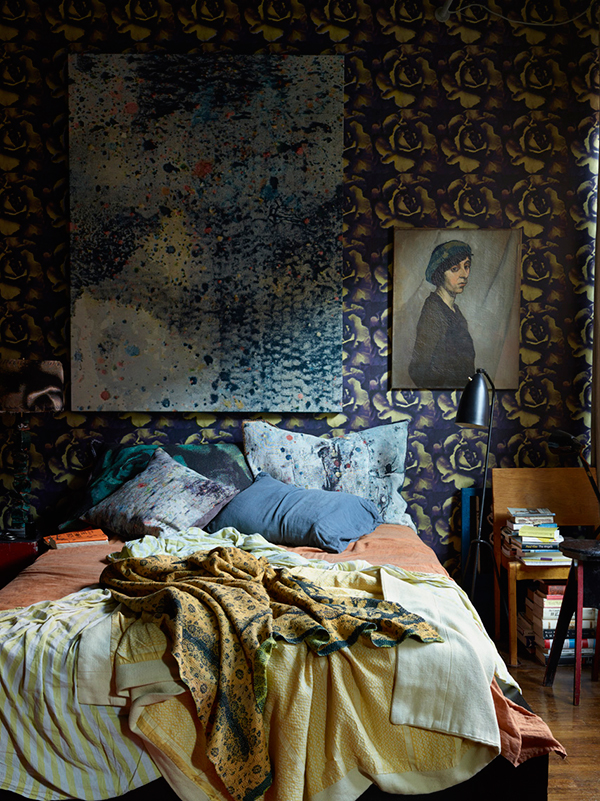 "I'd been experimenting with different ways to reproduce my photographs and came across a Jacquard-loom process," Thompson says, explaining his move to fabrics. "I've always loved textiles. I basically transposed the images into the weave of the thick, tapestry-like fabric. When I held the first examples in my hands, I had a sense of all my worlds coming together."
The Accidental Expressionist fabric collection is currently being exhibited at the Future Perfect's downtown Manhattan location, on Great Jones Street, through April 23. Here, Thompson has sourced vintage Italian and French furniture to show off the fabrics as upholstery, working with a New York­–based workshop to re-cover each piece with his studio's artful textiles.
In the Future Perfect show, the textiles and reupholstered vintage items appear alongside a collection of one-of-a-kind furnishings also produced by his studio. Original pieces on view are from the Quarry series of lamps, whose off-kilter bases are composed of stacks of ceramic or cast-bronze shapes. A collaboration with his partner, artist Dove Drury Hornbuckle — who pieces the lamps together by hand, as if creating a sculpture —  each fixture is crowned with a bespoke shade featuring decorative hand-stitched embroidery.
More than any other element of his life, Thompson's rambling Soho loft exemplifies his continual blurring of artistic lines. This live-work space occupies half a floor of a Beaux-Arts building constructed for the Singer Manufacturing Company in 1904. (It's rare today to see a loft of such proportions left "raw," as Thompson's is, and not redone by a Wall Street banker or supermodel.)
Almost entirely open plan, the space serves as a blank canvas for the creative process at hand — from photo studio to design space to showroom. Hand-painted murals by Hornbuckle periodically change the color scheme and mood of the surrounding walls. One day, a pale-gray backdrop composed of cardboard pieces painted in a textured fashion by Thompson himself serves as a makeshift studio for a still-life photo shoot. On another visit, the same spot may be adorned with tables full of tactile, sweaty clay where Hornbuckles's ceramic pieces are being constructed for the lamp bases.
---
Thompson's signature painterly aesthetic is a kind of magical fairy dust sprinkled over everything he touches.
---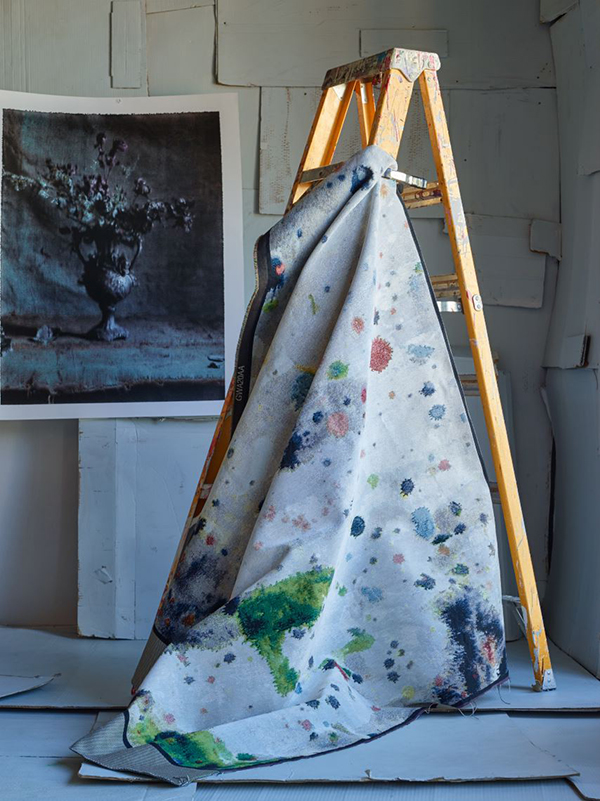 "The loft serves different functions at different times," Thompson explains. "One of the beauties of an open space is that it's ever-evolving. I enjoy the immediate proximity of the work because there is no separation for me between what I do and what I'm interested in. Passion is an essential ingredient to my process."
Born in London and raised in Sydney, Australia, Thompson was seduced by music at an early age — the style and attitude of such movements as glam rock, punk and New Romanticism all served as major influences. He began designing clothes just after leaving university in Sydney in the early '80s.
But Thompson's career as a fashion designer took an unexpected turn when he began taking pictures of his own collection and quickly discovered that his photos garnered far more attention than his clothes. It wasn't long before he dropped the scissors in favor of the camera and, essentially self-taught, started shooting for Australian fashion magazines. Although his early photographic work was primarily in fashion, a distinct sense of place, as well as a fascination with interiors, was visibly lurking.
Yearning to be in what he considered the heart of the fashion world, he moved to Paris to further his career. "Paris taught me to look at things more particularly — and how to refine. It was also there I fell in love with natural light. And that has remained my photographic ideal."
In 1991, after three years in Paris, Thompson relocated to London, where his work moved decidedly from the world of fashion to that of interiors. "I was mentored into the lifestyle world by the Australian stylist Jane Roarty, who was forever exposing me to new subject matter," Thompson remembers. "I came to like the broader mix, and I'd always found environments very inspiring. Ultimately, creating and capturing an atmosphere became more important to me than the subject matter."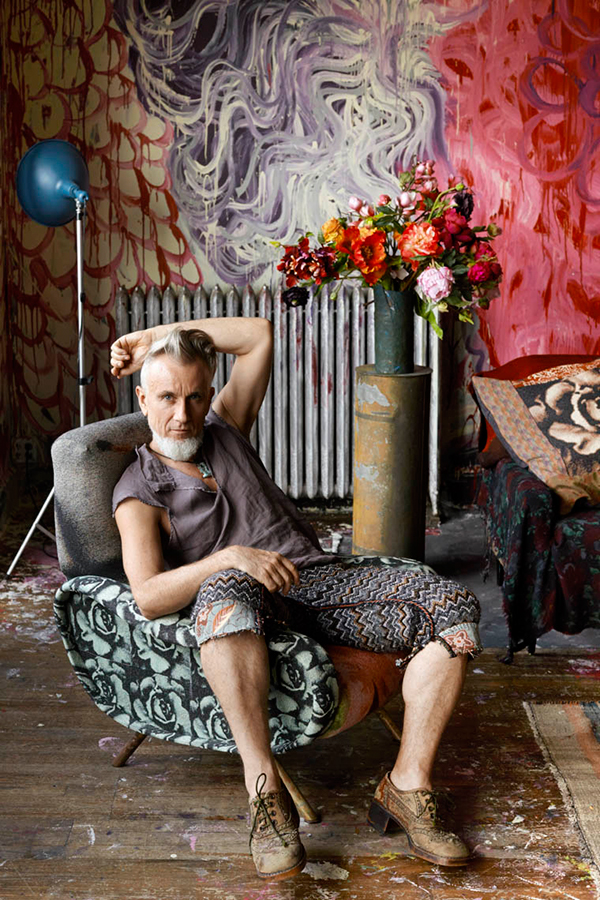 The renowned designer Ilse Crawford, who was editor in chief of Elle Decoration UK at the time, recalls her first impressions of Thompson's work. "One day in the early nineties, I came across some pictures taken by a young Australian fashion photographer of his own flat in London," she says. "There was something about them I was really taken with, something very different from the picture-perfect interiors photography typical of that time. They were dark — cinematic almost — and focused on atmosphere and the feeling of the space and the sense of inhabitation."
Crawford and Thompson began a close collaboration and friendship that continues to this day, even as his career took him to New York, in 1999, where he has lived ever since. "When I first visited New York, in 1982, I met a lot of ambitious people who instilled an idea in me that anything was possible," he recalls. "Although I find it a radically different place today, I think New York still inspires that promise."
Thompson has produced several books in collaboration with others and two books of his own work: Interiors (from 2011) and Working Space (2013). His most recent publishing project was the original photography for the Rizzoli publication Tom House: Tom of Finland in Los Angeles, edited by Michael Reynolds. That book is a photographic ode to one of the gay world's most idiosyncratic and historical sites: the Echo Park home of famed homoerotic illustrator Tom of Finland.
"I believe in the importance of experimentation," says Thompson. "Unless you keep experimenting, your creativity doesn't remain vibrant. I've reached a point in my life where I really trust my instincts."
---
Martyn Thompson's Quick Picks on 1stdibs