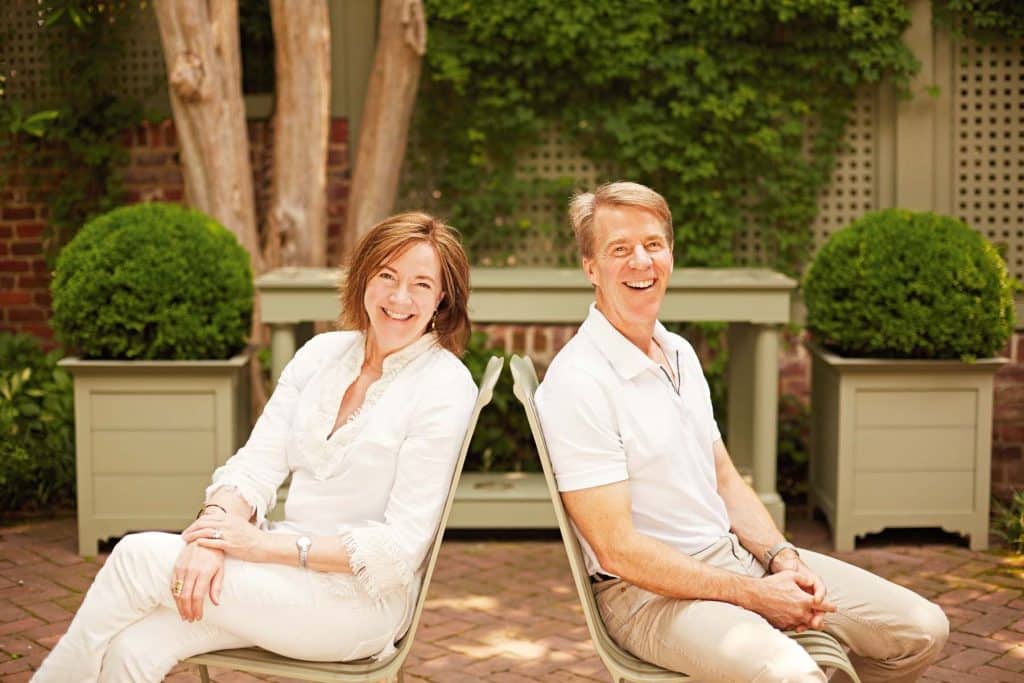 August 9, 2020A garden is a sanctuary in the best of times, and even more so when times are not the best. Whether it's a swath of country acreage or a sliver of terrace off a high-rise apartment, private outside space has never been as cherished as it is now, during this annus horribilis.
The ability to create an easeful plein-air oasis depends largely on being able to find suitable furnishings. This wasn't always so easy, recalls Will Massie, who cofounded McKinnon and Harris, makers of top-quality all-weather outdoor furniture, in 1991 with his sister, Anne.
Back then "the whole concept of the outdoor living room was new, and people weren't really focused on comfortable outdoor living," says Will, who uses the word throwaway to describe the lightweight, prone-to-rust pieces that dominated the alfresco furniture market at the time. It was the underwhelming nature of these offerings that made the siblings decide to create something of their own, although neither had a background in design.
They began by producing three garden benches based on historic styles, an undertaking that eventually grew into a successful business now occupying a renovated historic workshop in Richmond, Virginia, with showrooms in New York, Los Angeles and London. McKinnon and Harris pieces often start with an initial "napkin sketch" by one of the siblings, which is then refined and brought into flawless being by a team of five engineers and about 70 designers and craftspeople.
Now, for the first time in the brand's history, McKinnon and Harris is selling its stylish benches, chaises, bar carts, dining sets and other pieces — previously available only through architects and designers — directly to consumers, on its new 1stDibs storefront. Almost all McKinnon and Harris furniture is built to order, with 12- to 16-week lead times, but pieces from a curated collection on 1stDibs, in preselected colors and fabrics, are ready to ship right away. "We've started with some of our favorites," Will explains, "which we hope to expand upon as we learn more about what people are drawn to" on the site.
McKinnon and Harris products are meant to become heirlooms. Crafted of thick, substantial aluminum extrusions and finished with a high-tech powder coating pioneered in Germany, the pieces have proved practically impervious to the elements, allowing them to be left outside year-round. The sturdy items laugh at salt spray, snow, ice, hail and whatever else may rain down from the sky, making them ideal for the patios and verandas of oceanfront properties as well as the terraces and decks of urban row houses — and venues in between. "We've always been defined by performance and wanting to make things that truly last," Will says.
Designers of high-end properties from Florida and the Caribbean to Texas and the West Coast select McKinnon and Harris pieces for spaces indoors and out, as well as ones bridging both realms. In a Palm Beach loggia, for example, Ellie Cullman, of New York design firm Cullman & Kravis, recently combined a large-scale duVal sectional and smaller duVal club chairs with a 19th-century marble table and a contemporary ceramic drinks table. "McKinnon and Harris's curved sofas, double chaises and sectional modules give tremendous flexibility," Cullman notes, "and their two modern lines, deCamp and Couper, allow us to offer our clients a full range of aesthetic choices."
The veneration of permanence and classic styles, deeply felt by both the company's principals, springs from their shared childhood in the foothills of the Blue Ridge Mountains of Central Virginia, in a house full of American Federal furniture. "Antiques were important to our parents," says Will. "They had a lot of family pieces with provenance. Each one had an amazing story and almost a soul." Growing up, adds Anne, "everything was seen through an artistic lens. Our mother was a painter and our dad was a physician, but with a poetic view."
Equally important in forming their sensibilities were the evocative gardens of their two grandmothers, where Will and Anne, 15 months apart in age, spent long summers. (McKinnon and Harris are those grandmothers' maiden names.) "They had two very distinctive gardens, one a formal city garden in the middle of historic Lynchburg, the other a much more informal country garden on a working farm," recalls Anne. "Both really lived in their gardens, tended them through the seasons and did a lot of entertaining in them. We felt completely at home in both."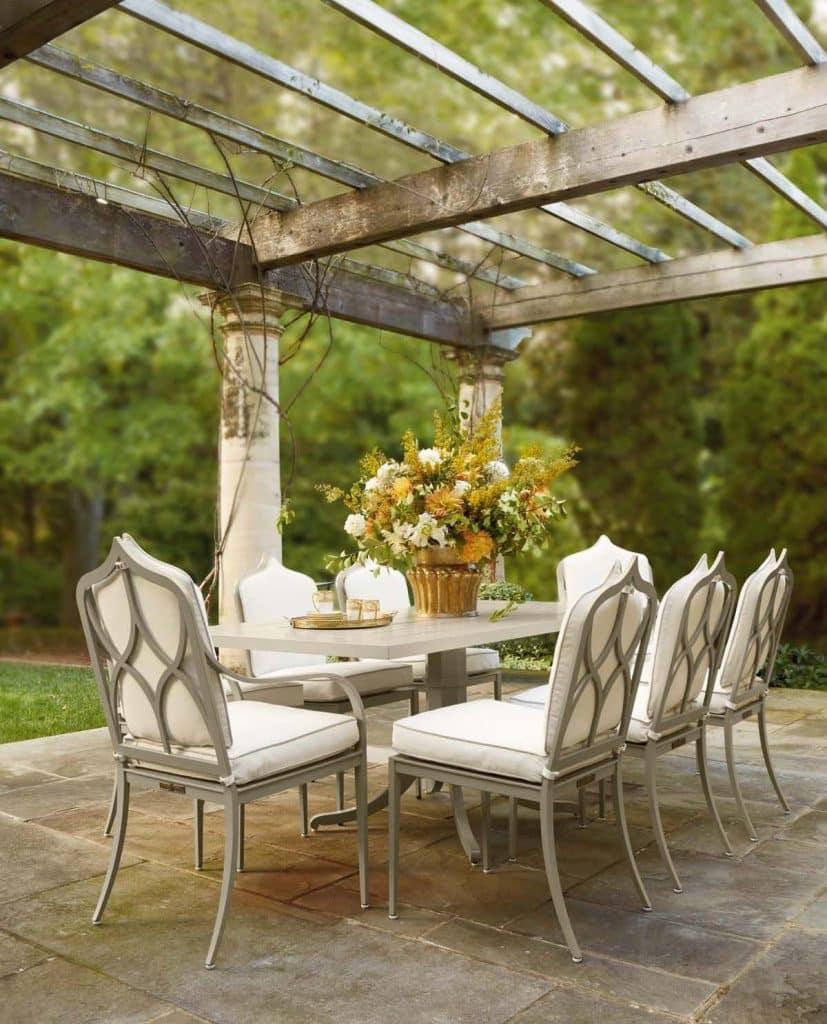 In early adulthood, the siblings simultaneously found themselves at loose ends. Anne was a painter with a master's in art history from Virginia Commonwealth University; Will had started a banking career but hated it. The two had a series of pivotal conversations, Will recalls, about "what we really loved: antiques, gardening and making things." They hatched the idea of forming a company to design and manufacture garden benches and other outdoor furnishings like those they remembered from their grandmothers' gardens. They produced their earliest designs in wrought iron, then switched to heavy aluminum. Gradually, they expanded their offerings to encompass "every period across the board," says Anne, from the formidable Pavilion club chair, inspired by ancient Roman latticework, to the Fayette yacht chair series, with tapering legs reminiscent of French Art Deco. The introduction of the duVal line about 15 years ago marked the first time an outdoor sectional appeared on the worldwide market. A functional — and comfortable — space divider, the sofa can be arranged in many ways. It quickly became a mainstay of the line, along with such other best-sellers as the X-backed Beaufort collection, named after the siblings' beloved childhood Gordon setter. "We're interested in a timeless aesthetic," Anne says. "Different periods might inform a single piece, but we ruthlessly hyper-edit, always taking out extraneous detail to get to the essence of something."
Not everything on McKinnon and Harris's new 1stDibs storefront is contemporary manufacture. Among the exclusive offerings are stone garden antiques and architectural elements from the siblings' personal collections, as well as antique garden ornaments and furnishings like cast-iron urns and Italian Carrara marble tables, picked up on their travels over the years. Dating to as early as the 17th century, these pieces seem eminently in tune with the timeless appeal of McKinnon and Harris's new furnishings.
Dallas-based interior designer Cathy Kincaid, author most recently of The Well-Adorned Home (Rizzoli), is another big fan of the brand. She used a McKinnon and Harris sofa and chairs with treillage panel arms in a Dallas orangery that opens to beautiful gardens and a babbling creek. "Their furniture is pretty enough to hold its own in any room and has the added advantage of being able to withstand the humidity," Kincaid points out.
A garden can be a fragile thing, undergoing constant change through the seasons and the years. McKinnon and Harris furniture is quite the opposite. "Their pieces are legendary for their durability," says Schuyler Samperton, a Los Angeles–based designer of interiors and textiles. "I joke with my clients that even after we've all passed on, McKinnon and Harris furniture will continue to look as good as the day it was delivered."
---
Talking Points
McKinnon and Harris's Anne Massie shares her thoughts on a few choice pieces