"Southern hospitality is about being very gracious and warm," says Tupelo, Mississippi–born designer Meg Braff. "It's how you conduct a meeting with a client, how you make people feel when they come to your home or a home you've designed, writing thank-you notes and showing up with a hostess gift when you come to dinner. I love all of that. Aesthetically, that translates to a feeling." It is precisely this feeling of Southern hospitality — as expressed in Braff's vivacious personality, contemporary color sense and ebullient pattern mixing — that has won her well-heeled clients from New York City and the Hamptons to Palm Beach and the Caribbean.
In Braff's hands, the well-mannered traditionalism many associate with Southern homes gets a modern twist. Elegant antiques, of course, are an essential element of this aesthetic. "I don't do period rooms, but I like incorporating antiques," she says. "I do it in every room because antiques are what make spaces unique." Braff incorporates these into a mélange of elements like the one she describes in her 2017 book, The Decorated Home (Rizzoli): "chinoiserie, bamboo and rattan, pagoda shapes, lacquered pieces, Lucite and vintage brass." It is her sense of color, however, that most palpably transforms the whole into something fresh and modern.
Her recent revamp, for instance, of a Centre Island, New York, house for which she'd done the initial design 20 years earlier includes a sprinkling of mid-century modern pieces amid the antiques. But each room also sports a bold palette and mix of patterns. The living room has peach walls and curtains with cantaloupe-colored zigzagging lines. To one side of this space is the library, its chocolate-lacquer envelope punctuated with graphic, verdant leaf-patterned curtains and a tiger-print-covered ottoman. To the other side is the dining room, whose walls and ceiling are clad in a paper featuring white flora against a kiwi green ground; a slightly yellower shade of the latter hue adorns the frames of the room's French doors. In the kitchen's breakfast nook, white Eero Saarinen Tulip chairs are gathered around a contemporary white table, and the banquette wrapping the corner is upholstered in glossy umber leather. The wallpaper and toss pillows boast a design of traditional Chinese porcelain jars rendered in white and umber.
"I'm very sensitive to using colors appropriate to the setting," says Braff. "I have a different color wheel for Florida than for Millbrook, New York." In a Palm Beach condominium, for instance, the living room is bright with sunny yellows, corals and pastel pinks, while a bedroom is decked out in turquoise and another bedroom is salmon and white.
A Locust Valley, New York, project, meanwhile, has a more subdued palette. Here, other elements of Braff's style come into play. The antiques quotient of the mostly traditional home is significant. Asian influences are apparent in a pair of caned chinoiserie armchairs and the forms of some porcelain lamps in the living room, as well as in the fretwork of a contemporary metal games table and chairs in a sunroom. Braff's exuberant pattern mixing takes flight in the paneled library, where densely figured floral curtains keep company with a rug featuring a large-format zigzag design, an oversize ikat on two chair seats and a modern geometric design on an armchair.
One magazine has described Braff's style as a "creative and colorful approach to refined risk taking." She agrees, although she admits that instilling clients with the confidence to leap into the wild and wonderful world of Braff color can take a while. "As time has gone on, I'm better at encouraging my clients to take risks," she says. "After so many years, I've worked with people on successive residences. They're willing to take more risks with their third or fourth house."
As gracious and refined as Braff's style is, she emphasizes livability above all else. "My projects are not like a showhouse," she says. "I have four kids, so I want everything to be comfortable and useful. If I'm going to bring a French antique into a living room, it's probably not going to be an upright settee. It'll be a pair of really great comfortable chairs. I also don't like objects for the sake of objects. While there's nothing like a well-styled bookcase or coffee table, I don't think anyone at this point likes clutter."
Braff grew up in a redbrick colonial filled with antiques. Her maternal grandmother had a grand antebellum manse in Corinth, about 50 miles north of Tupelo. "It was the first time I ever heard of Scalamandré or Fortuny," she recalls. Although intrigued by these glimpses of high home design, Braff was unsure about the field as a career and decided to study human development at Vanderbilt University, earning a bachelor of science degree in 1990. The school didn't offer design classes, but in her senior year there, she and her roommate decorated their dorm room. The experience was revelatory for Braff. It unearthed her deep passion — and talent — for design. So, she changed course, moving to New York and attending Parsons School of Design.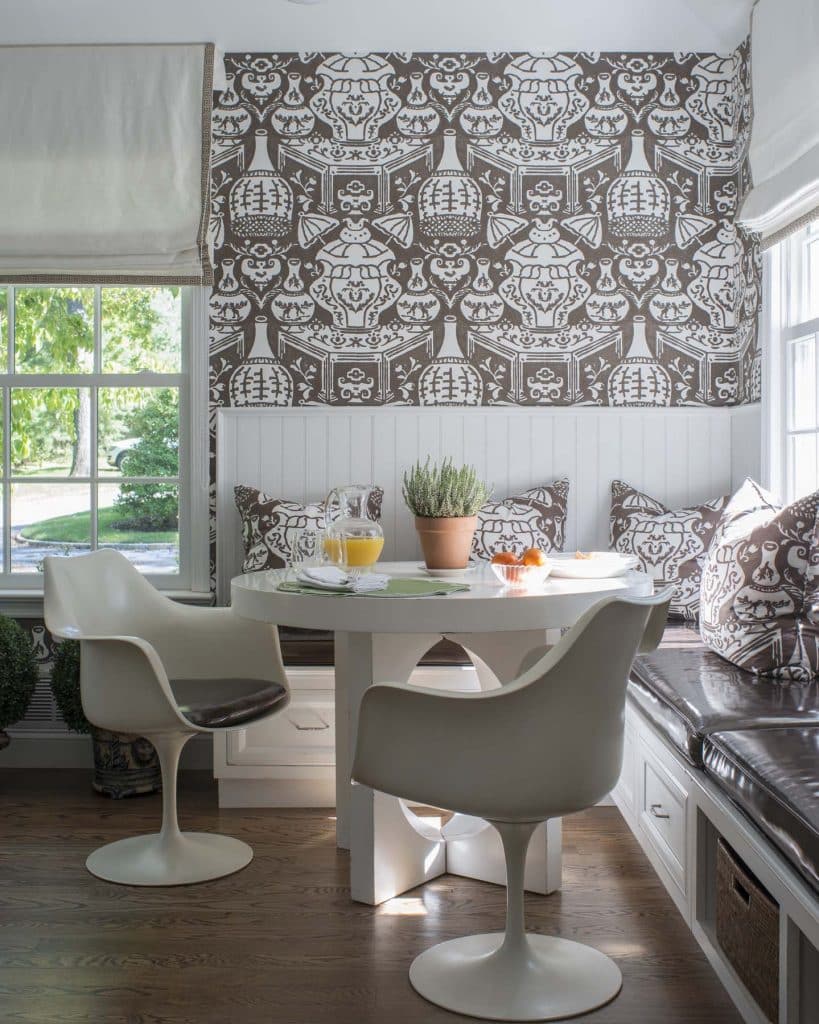 Early on, she met Doug Braff, a fellow Vanderbilt grad now in the financial services industry, on a blind date at Doubles, the private club in the basement of the Sherry-Netherland hotel. They married in 1993 and settled into an apartment on East 80th Street. Braff's first job was with Ellen Lehman McCluskey Long, who had decorated the lobbies of the Waldorf-Astoria and Plaza, among other hospitality and commercial commissions. Jane Gould, a decorator there who handled only high-end residential interiors, taught Braff how to manage projects. Soon, she was freelancing in her off hours.
Braff established her eponymous firm in 1994, working out of the 80th Street apartment. Her big break arrived two years later when Andy Lack, then head of NBC News, commissioned her to decorate his Tudor home in Bronxville, New York. "It was big and very important looking and filled with antiques," she recalls. "I got a lot of jobs through that."
The Braffs' first son was born in 1997. Two years later, they moved to Locust Valley, needing more space to raise a family (twin boys and a fourth child had followed the first). The designer commuted to Manhattan until 2011, when she opened a shop and design office on Locust Valley's Forest Avenue. That same year, Braff bought five archival wallpaper lines created by the defunct company Philip Graf. She recolored the 1960s patterns and launched them as paper and fabric collections. This summer, she will debut a 100-plus-piece extension based on a fresh batch of archival patterns, executed in materials like grass cloth and in colors with, she says, "a very Palm Beach feel — minty greens, apricots, peony colors and others."
Palm Beach currently figures importantly in Braff's life for other reasons: She and Doug have been riding out the pandemic there with their children for the past several months, and Braff is opening a second shop and office there to cater to a local clientele. "I'm also dying to do a boutique hotel," she says. Should that happen, the phrase "Southern hospitality" will take on new meaning.
---
Meg Braff's Quick Picks