Designers often talk about creating a "collected" look. When clients don't have heirlooms and collections of their own — especially if those clients are young, just developing their tastes and starting to assemble possessions accordingly — this layered and personal aesthetic must be manufactured out of whole cloth. This type of interior, even when deftly executed, can sometimes convey a lack of depth; when conjured by unskilled hands, it feels contrived.
Neither is true for Baltimore-based designer Mona Hajj's projects. That's because the collected aesthetic comes naturally to her. In A Romance of East and West (Monacelli), her recently released second book, she talks about the homes in which she grew up during her Beirut childhood. "Many of the pieces we lived with had been handed down through generations," she writes. "There were no formulas for the ways these rooms came together, which may explain why I am so averse to any sort of design formula now."
When asked to elaborate, Hajj explains, "Once we install the basic pieces, the rest of the room comes together naturally. It's never set. It builds up. I can't make up my mind ahead of time." She cites the use of rugs: "In the Middle East, we layer them. Here, you put down a rug that suits the room exactly. If we love a rug, we just use it. If it's too small, we layer another one alongside it. It just feels more comfortable that way." Her process is so organic and spontaneous that a room can never not look collected. In a Beverly Hills home, for example, the living room floor features a patchwork of overlapping carpets, while on the second-floor landing, three rugs apparently unrelated in color scheme, country of origin and pattern share a relatively narrow space. Not only does all this work, but it feels as natural and easy as it is sophisticated.
Although born in Africa, Hajj was raised in Lebanon. Her parents "were in the import and export of textiles," she says. "So at a young age, I was introduced to Eastern and European textiles. That part of the Middle East has a lot of rich culture. It was very natural for someone who loved art and design to appreciate Ottoman, Syrian and other textiles." Not surprisingly, her eventual career was never in question. "I loved to design, loved to draw," Hajj recalls. "It wasn't like a choice. I knew that's what I wanted to do."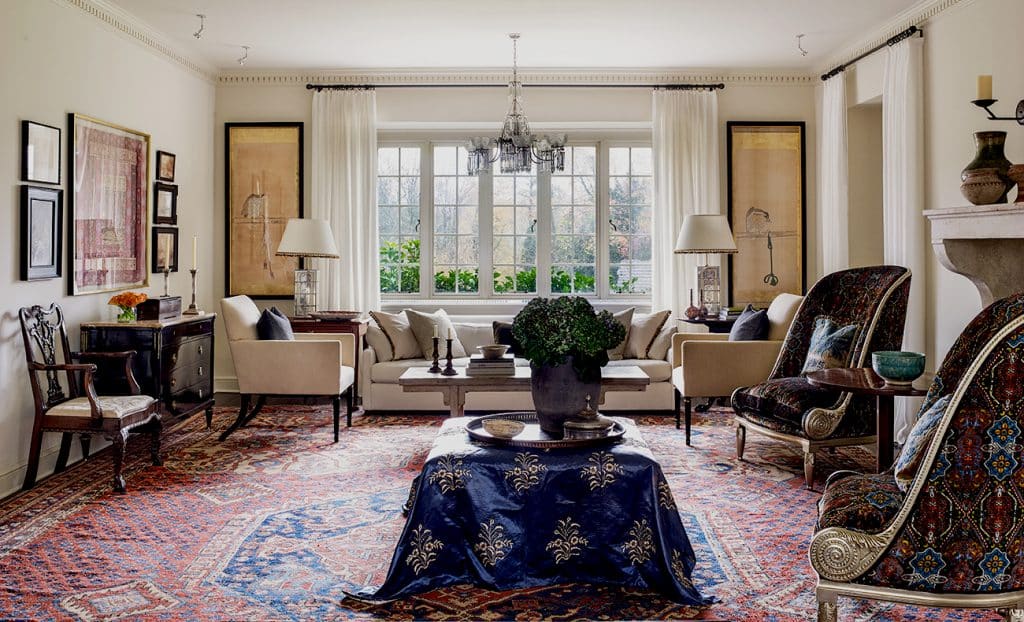 Hajj's family immigrated to the United States when she was a child, settling in Maryland, where she went to school in the late '70s. She attended the Maryland Institute College of Arts, earning a bachelor's degree in interior design. After graduating, in 1987, she worked first at an architectural firm for three years, then at an interior design outfit. In 1988, Hajj entered an area interior design competition and won the first of four consecutive annual awards for best Baltimore designer. Local and regional magazine coverage raised her profile, enabling her to establish Mona Hajj Interiors in 1990.
Hajj's first big break was the complete renovation of Charlcote House, a 10,000-square-foot circa 1914 John Russell Pope home in Baltimore. "The clients were a young couple, and they wanted a young designer," Hajj recalls. Her approach to the rooms was "not too traditional, not too modern," she says. "They travel a lot and wanted to have that feel, not like other John Russell Pope houses filled with traditional furniture. It's global, very collected and still one of my favorites." A 2003 issue of the now-shuttered Southern Accents magazine splashed Charlcote across its pages.
Five years later, Hajj interiors began appearing in Architectural Digest — but only after a show of chutzpah on the part of the designer, who, tired of waiting, pulled a project from the magazine's powerful editor, Paige Rense, to give it to another magazine. "She figured out that I'm not very patient," says Hajj, giving a mischievous laugh. With a hefty portfolio under her belt, she released her first monograph, Interior Visions (Monacelli), in 2011.
Traditional looks are back in vogue, and Hajj, who espouses an updated classicism, is busier than ever, working on up to six major commissions at a time, along with updates and smaller renovations for her regular clientele. Her warm palettes and sumptuous brand of globalism, however, distinguish her design as unique. "Classic style never went out for me," she says. "It's the base. There was a lot of care and thought given to classical interiors and architecture. I come from a culture where you can see mosaics that are five thousand years old."
For Hajj, everything starts with rugs, particularly Persians — Mohtesham Kashans, Serapis, Haji Jalilis — although she has always been enamored of Moroccan Tuaregs. From there, "I might choose accent chairs that are old or antique, but furniture is mostly very clean, upholstered comfort," she explains. "Sofas are kind of a nonevent." As a woman with no formulas, Hajj hastens to add, "We will use a Vladimir Kagan sofa because it's needed, not because it's a recognized name. They're very beautiful but also practical — you can have a lot of people sitting and conversing with each other because of the curves."
Fundamentally, however, Hajj states, "I like the art and textiles to be the story rather than let the furniture take all the attention." She herself loves Eastern textiles, like the souzanis that make frequent appearances in her interiors: on the bed of a Kentucky horse farm's master suite, dressing up the leather sectional of a rustic stone home in Baltimore County. Asian and European fabrics draped on furniture — over tables in a Georgetown historic home and a Chevy Chase residence — are another of her signatures.
Which is not to say that Hajj cannot pare down. A seaside house in Bethany Beach, Delaware, is light, mostly monochromatic and visually simple. "I can be minimalist if needed," she says. "But I need life everywhere. Layering feels more real. You travel, you accumulate — that's how people really live."
Mona Hajj's Quick Picks