November 12, 2023Not long after I met interior designer Nina Farmer — nearly four years ago, while writing a profile of her for this magazine — I realized she possessed something of a supernatural spiritual power. She didn't communicate with the dead, at least not exactly. And even though I often thought her inspiration divine and found her spaces heavenly, it wasn't because I imagined she had a direct connection to a higher power.
What she does have, however, are unique abilities as a historic house whisperer. And she doesn't just speak to the centuries-old homes she works on. Those buildings seem to speak right back to her, often through the ghosts of their pasts.
"When you walk into an old house, you get a sense that life has happened there," the Connecticut-born designer once told me. "You feel like there are histories and stories that give it life. There's a special quality, this otherworldly feeling." That quality, that feeling, are what leads Farmer on every project to ask herself — and the house — "What can this place become?"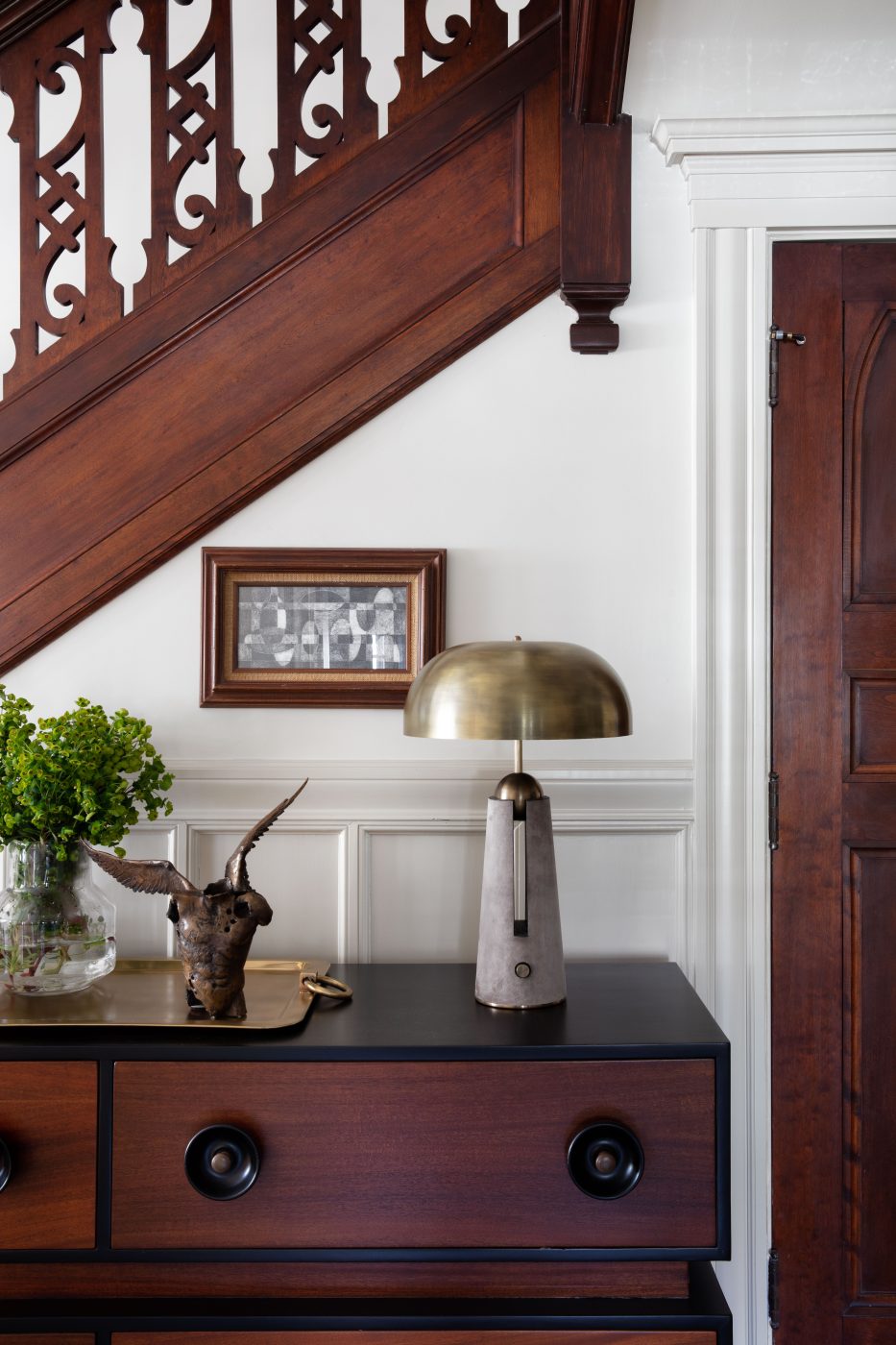 The answer to that question came to her quite clearly for a 1940s manor in the northern Boston suburbs whose stucco-clad, ivy-covered facade gave it an old-world country-house mien. Newly owned by clients both well-traveled and well-heeled, it cried out for a richly layered, globe-spinning decor that took as its muse the style-setting turn-of-the-20th-century collector Isabella Stewart Gardner (she of the eponymous Boston museum).
A whimsical but still sophisticated English Arts and Crafts residence north of the city, on the other hand, demanded sculptural furniture and handcrafted pieces whose weight and artisanship could hold their own amid the interior architecture's intricately carved woodwork and monumental moldings.
The terracotta-colored roofs and iron grates of a stone-walled pile in Connecticut's urbane Fairfield County, meanwhile, suggested to Farmer a jaunt around the Mediterranean, tempting her to pull in items and ideas from Italy, the south of France, the Greek islands, Spain and Morocco.
These three projects, together with six more — including Farmer's own homes in Boston's Beacon Hill and on Martha's Vineyard — fill the pages of her recently released first monograph, Timeless By Design.
Rizzoli asked her to create it shortly after she was given a Rising Star Award by her alma mater, the New York School of Interior Design, and she kindly invited me to write it with her. I couldn't say yes fast enough.
As we collaborated on the book, it became more and more clear to me that Farmer's design finesse comes from her ability to turn a historic house into what she refers to in the book as "a better, present-day version of itself." She does so in ways that let a home live squarely in the here and now even as she celebrates, elevates and sometimes even amplifies its past. At the same time, she seamlessly combines what an old building tells her it wants to be with what the contemporary families she designs for need it to be.
With a signature — but never standard — mix of elements, she creates spaces that feel like they have tales to tell, both old and new. Her interiors feature moody, organic colors, often saturated and always sophisticated, plus an international coterie of patterned fabrics, rugs and wall coverings in a subtle mix of textures and materials.
To these, she adds Scandinavian modern and Art Deco furniture, older antiques and a few contemporary and custom pieces, plus mid-20th-century paintings that blur the line between impressionism and modernism. In her quest to find just the right items, Farmer — a 1stDibs 50 member for several years running now — has become an expert shopper. She thrills at the hunt.
In her work, and the shopping that comes with it, she hops between eras, styles and locations. The result? Carefully curated "rooms that looked collected, filled with pieces that could have been acquired over time from around the world, then lovingly arranged to create a richly layered aesthetic," she explains in Timeless by Design.
Her houses feel timeless because they have a sense of history, but they're not tied down by their past. "There's an understandable fear of living in a museum," she told me while we were working on the book, "of not being able to modernize in a way that fits with life today."
Farmer has figured out how to blend both worlds. The furthest thing from period pieces, her historically minded homes are warm, inviting and decidedly 21st century, with rooms you want to linger in.
One recent commission — glimpsed only briefly in the book and seen here publicly and in its entirety for the first time — represented something of a departure for Farmer. She generally prefers a heady mix of periods and aesthetics, but while she was designing the interiors of an 1863 Cambridge home, the owner asked her to hew more closely to his passion for, and impressive collection of, continental Art Deco antiques.
"With this house, the driver was the client, much more so than for any project I'd had before," says Farmer. "He has an intense interest in the Deco period — he knows the makers, certain pieces. He had inherited some items and had dealers all over Europe. And he has a strong contemporary-art collection. He knew what he was doing and what he wanted."
There was also, of course, the matter of what the house wanted. A center-hall Colonial revival in plan, it sported a facade whose moldings, bay windows and arched entryway skewed a bit Victorian.
In weaving together these diverse threads, Farmer maintained the dramatic profiles of the wide mid-19th-century moldings, wainscoting and millwork around windows and doors. Painted in relatively neutral hues, they now blend seamlessly into the walls in some rooms and offer subtle contrast in others. In both cases, the architectural envelope serves as a relatively quiet canvas for the bold Deco furniture.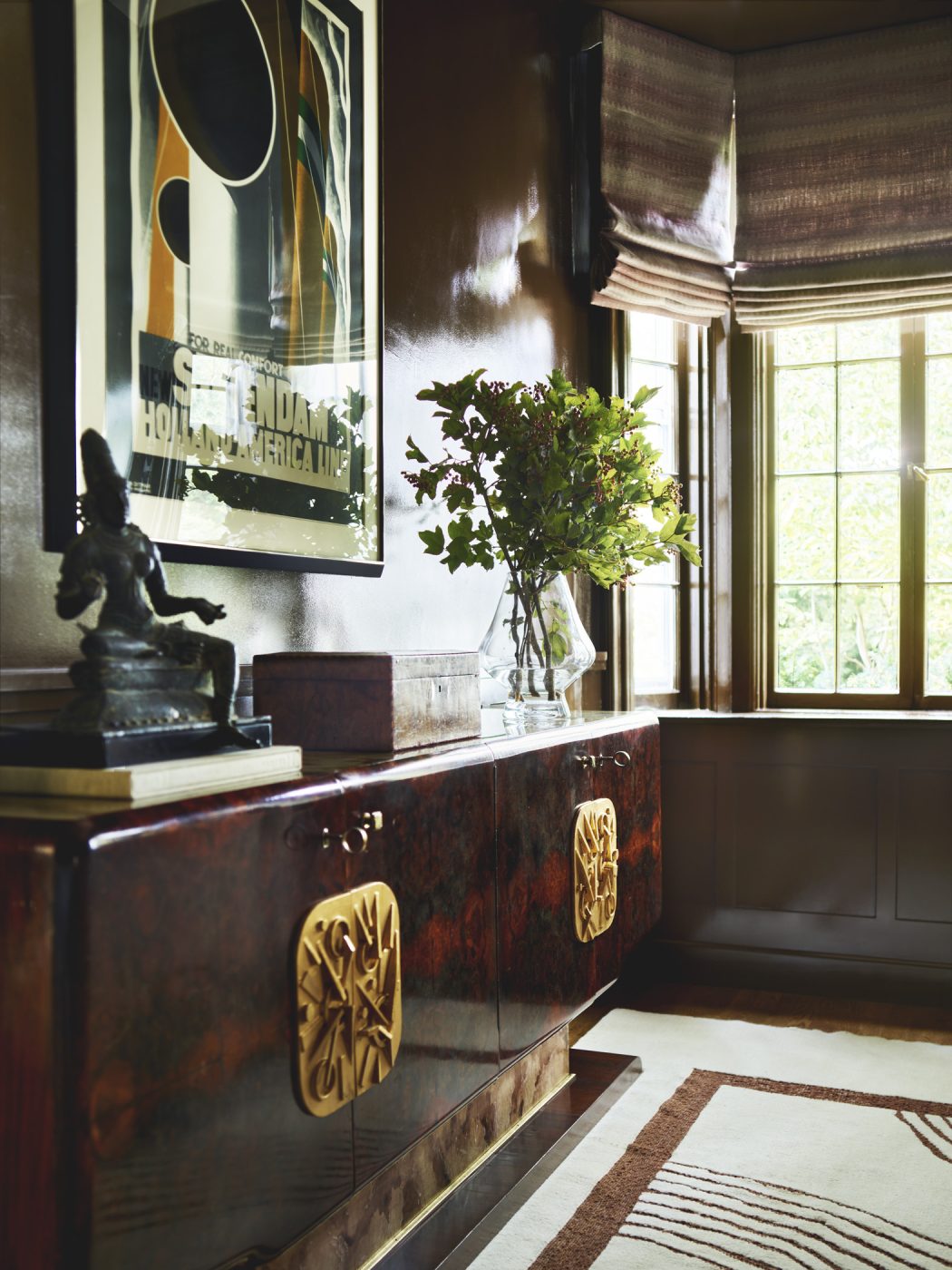 And, oh, what furniture it is — much of it from the client's collection, with additions carefully selected from 1stDibs.
In each space, a dramatic piece from the homeowner's existing holdings or one acquired early in the design process sets the tone for the rest of the decor.
"There were certain things that he was really drawn to, and we'd work from those," says Farmer. As much client whisperer as house whisperer, she would then go back to him with ideas she'd generated based on what he'd seen and liked.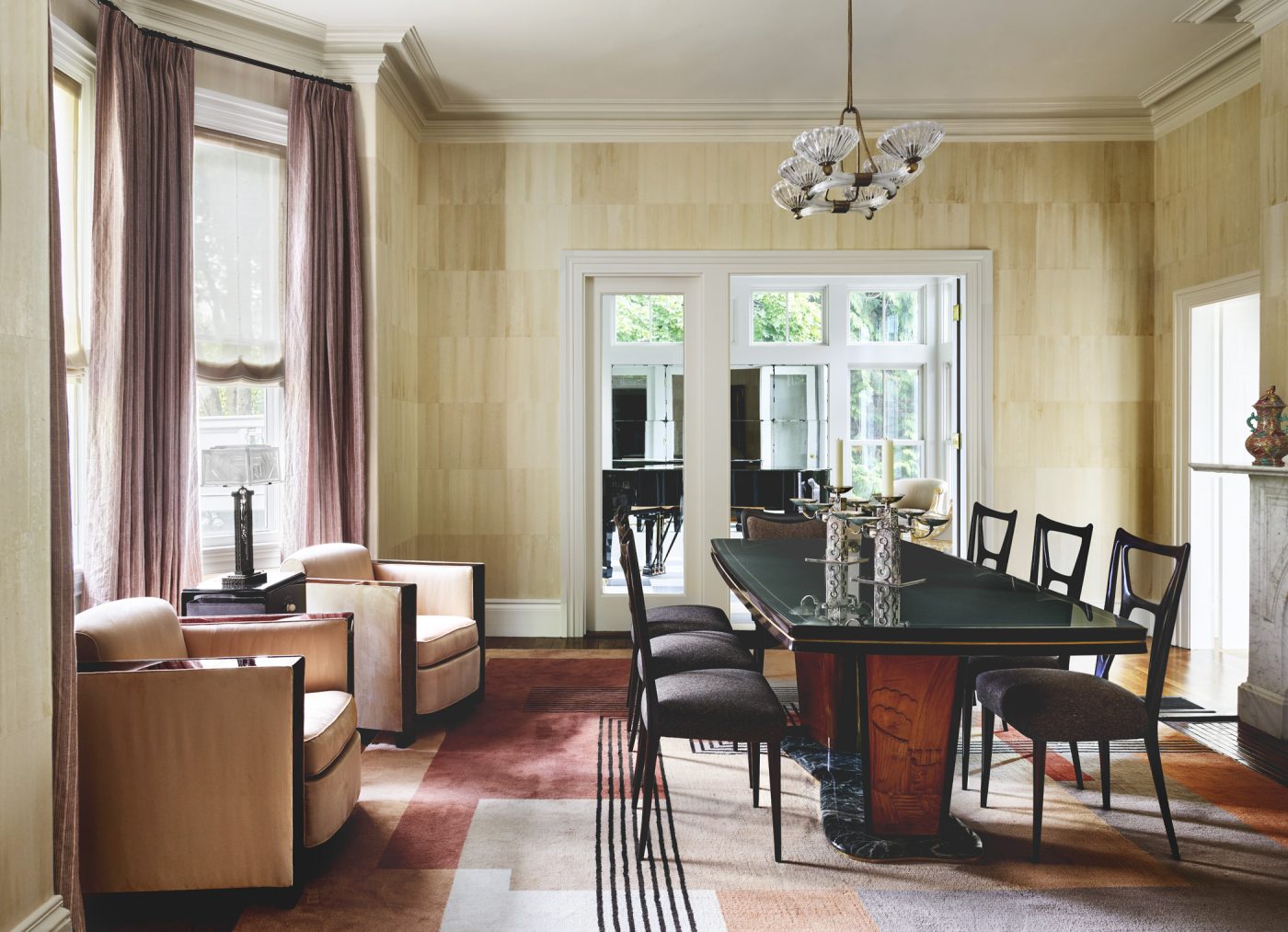 For instance, his admiration for the proportions of a 1950s carved-base Vittorio Dassi dining room table found through 1stDibs shortly after the project began led Farmer to select similarly slim mid-20th-century Italian chairs from the client's collection. She then stuck with mid-century Italian designers for the bay window's pair of armchairs, by Paolo Buffa, and the chandelier, by Ercole Barovier.
Farmer especially likes that lighting fixture, because of its flower-like glass cups. "It has a feminine flair," she says. "That made it feel like the right complement for the dining table, which, though elegant, leans a bit masculine. Having that balance was important."
The masculine cast of many Deco pieces, and of the client's personal style, inspired Farmer to employ relatively feminine dusty-pink, peach and rose hues across the home, furthering the sense of balance. The rose and mauve hues of the dining room's custom wool rug and linen curtains soften the austerity of the Dassi table and Buffa armchairs. And in the den, the pale-pink velvet-upholstered sofa offsets the deep-brown lacquered walls and the monumentality of the Dassi-style console behind and marble fireplace in front of it, as well as the heft of the contemporary lacquered walnut coffee table.
The homeowner, Farmer states, "has a good eye for color and a good understanding about how things should be mixed."
He clearly thinks the same of her, as he's recently given her a second commission: the design of his New York apartment in an early-20th-century Deco building, sure to benefit from a historic-house whisperer's carefully considered touch.
That project, Farmer expects, "will be a continuation of this one, with a similar play back and forth between us. Thankfully, he loves the hunt for the right pieces just as much as I do."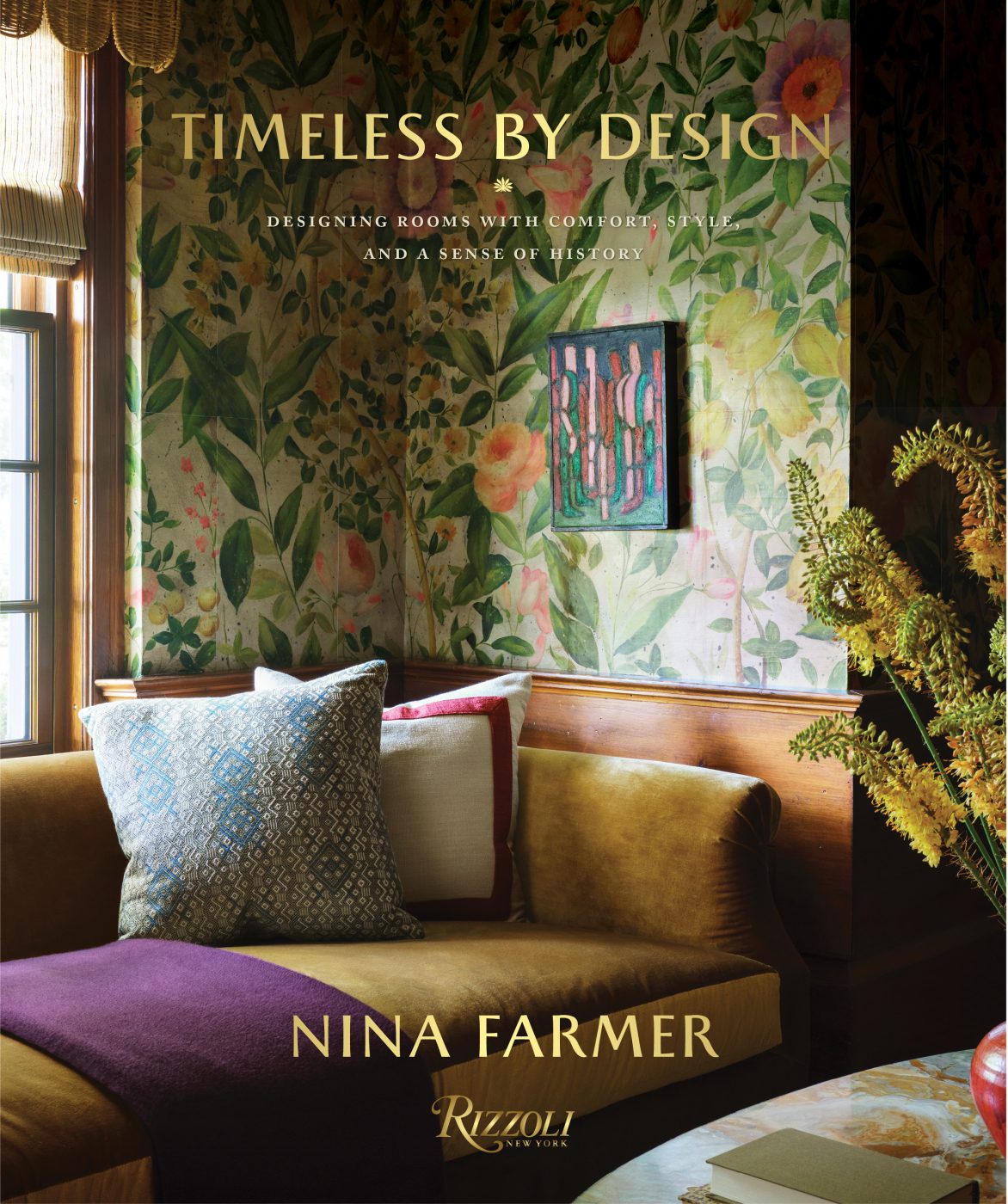 Nina Farmer's Quick Picks