March 22, 2020Boston interior designer Nina Farmer hadn't planned to be an interior designer, and she never intended to live in Boston. "I came to this through a little bit of a circuitous path," she says, laughing.
Although now known for her historically sensitive decorating schemes — characterized by subtle mixes of mid-20th-century American and European pieces with antiques, custom contemporary furnishings and global, craft-centric finds from Asia and Africa — deployed in hundred-year-old homes in and around the city, Farmer had planned to be a doctor.
She grew up outside Manhattan, in suburban Westport, Connecticut, the daughter of a doctor father and artist mother, and completed a premed degree in biology at Tulane. Before she applied to medical school, however, her father and her husband, also a doctor, noticed that she didn't seem passionate about their chosen profession, and so they staged something of an intervention. "There are other paths,' " she remembers them saying. "And that other path for me had always been interior design."
She credits her parents with sparking her aesthetic interest. They dabbled in real estate development and brought their daughter to showhouse after showhouse. "We went to every single Kips Bay there ever was," she recalls. Those experiences helped her see interiors "through the lens of the maximal design and creative craziness that showhouses are — this sort of dream-like idea of what design could be."
Following the familial intervention, she enrolled in the summer Career Discovery program at Harvard's Graduate School of Design, subsequently getting a degree from the New York School of Interior Design. After that, she worked for a small studio in Manhattan and, when an unexpected change in her husband's medical training brought them north, found employment in a Boston studio before launching her eponymous firm in 2007. "I was lucky enough to simultaneously leave and get a job, doing a friend's house," she says.
Nina Farmer Reinvents a Petite Seaside Bungalow on Martha's Vineyard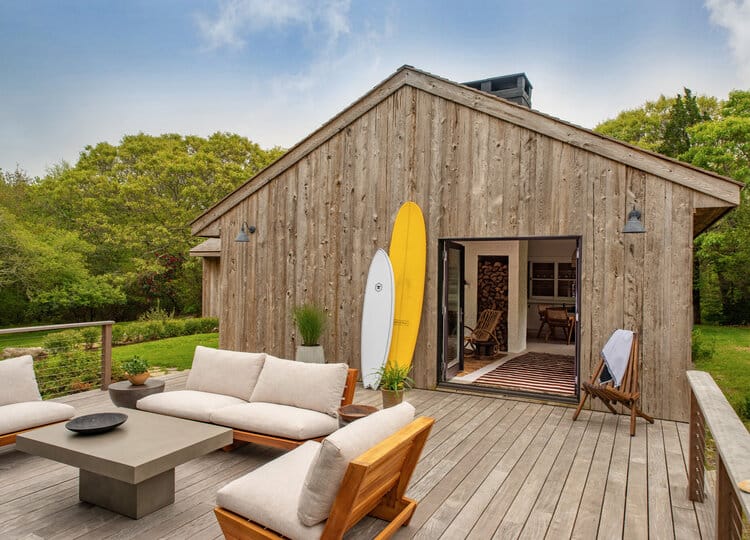 Today, she and her team of two additional designers work from her home in an 1850s brownstone in Boston's Beacon Hill. A decade ago, she combined its parlor and second floors to create a duplex, furnishing it with her signature mix of old and new, domestic and far-flung. She restored and re-created historic and historically inspired millwork and plaster moldings, then layered in such timeless-feeling pieces as the living room's French Art Deco chairs and the Sputnik chandelier suspended from the original Victorian skylight in the octagonal dining room. The home was her first project published in House Beautiful, in 2014. "It got a lot of local coverage as well, and my name got passed around for townhouses," she says.
The maximalist fever dreams of showhouses may have been what initially drew Farmer to design, but she's carved out a space for herself as a specialist in a more understated, down-to-earth art. "We relish the idea of salvaging the integrity and the architecture of old homes," she says. At the same time, she notes, she and her clients want to bring these houses into the 21st century, with all the functionality they desire from a home today. "There's a special combination that you need, the right balance and mix to achieve that," she says. "You don't want to live in a museum, but you don't want to rip everything out and start from scratch, either."
Asked if Boston — a city that wears its history on its sleeve — has been a good source for the sort of antiques she needs for that ideal mix, she admits it hasn't. "I don't know if the market just isn't there or if it's just all gone." Instead, she relies on 1stdibs for the distinctive vintage items that define her spaces.
Consider Farmer's design for a generously proportioned 1870s Victorian in suburban Boston's West Newton Hill historic district owned by clients with three young children. In the living room, she pulled an array of pieces from 1sdibs to create a decor that is at once family friendly and formal. A pair of upholstered armchairs from Christopher Anthony and two X-base Paul Marra stools, together with a custom-covered new couch, surround a large metal-and-wood coffee table. In an adjacent bay window, straight-back chairs upholstered in a window-pane print flank a French tilt-top wine table from the first decades of the last century. Adding that signature global note are a pair of Ming-style 1920s Chinese side tables from Tansu Design, placed at either end of the sofa, and a round, early-20th-century Bamileke stool from Cameroon, purchased through Pegaso Gallery Design, set between the armchairs.
In the foyer of a 1910 colonial in nearby Brookline, the designer placed a Biedermeier center table that was a family heirloom of the homeowners' under a grandly scaled Atelier Petitot pendant lamp. This Art Deco light fixture — a Farmer calling card — "was one of those pieces where I was looking for something that would really make the room sing," she says. Farmer found the piece on 1stdibs and made a trip to see it in person, at New York's High Style Deco, before buying it. ("It was perfect," she recalls.) Elsewhere in the entry, the house's original fluted columns flank a pair of Deco chairs from Bardin Palomo and a custom faux-shagreen-wrapped credenza, over which hangs a painting by Bernard Lorjou. The overall scheme harnesses the past to create an arrangement that feels entirely contemporary.
If there's one project that allowed Farmer — who still looks forward to doing her first showhouse — to live out her fantasies of Kips Bay–style, client-free creative liberty, it's the residence on Martha's Vineyard she recently bought, renovated and decorated, intending to sell it fully furnished. (The sale recently closed.) When refurbishing the small, relatively nondescript beach bungalow — which Farmer says felt as if it could have been anywhere — she unleashed her globalist leanings to create spaces that borrow as much from the aesthetic traditions of Morocco and Zanzibar as from the mid-century-modern and contemporary styles of Southern California and Cape Cod. In one bedroom, Farmer used a geometric motif she saw in Marrakech for crown molding and mounted a Vertigo pendant by Constance Guisset over a bed flanked by vintage Drexel nightstands. For another sleeping space, she had a pair of custom rattan beds made from French 1950s versions she'd seen on 1stdibs, using them to bookend a John Van Koert for Drexel nightstand topped by a Gordon and Jane Martz table lamp, both mid-20th century. In the living room, vintage cerused-oak and rope chairs from Robert Stilin and a mid-century bamboo seat by Rohe Noordwolde coexist happily with a console from Western Massachusetts's Brimfield Flea Markets and a painting by a local Vineyard artist.
Farmer is currently at work on a 1920s colonial in her native Westport whose owners are game to embrace the architecture's unconventional Mediterranean accents. For another project, a 110-year-old shingle-style ocean-view house in Seal Harbor, Maine, she plans to channel the ruggedly windblown aesthetic of that northernmost portion of New England.
"A house looks best when it feels as if it's evolved over time, over the course of someone's life, as the owners have developed different interests and traveled to new places," says Farmer, explaining the rationale behind the casually collected, lightly curated aesthetic her houses embody. Her clients, she notes, are completely confident in her ability to weave this sort of geography- and history-hopping narrative through their homes. They understand, she says, that she and her team "are the keepers of the whole story."
Nina Farmer's Quick Picks