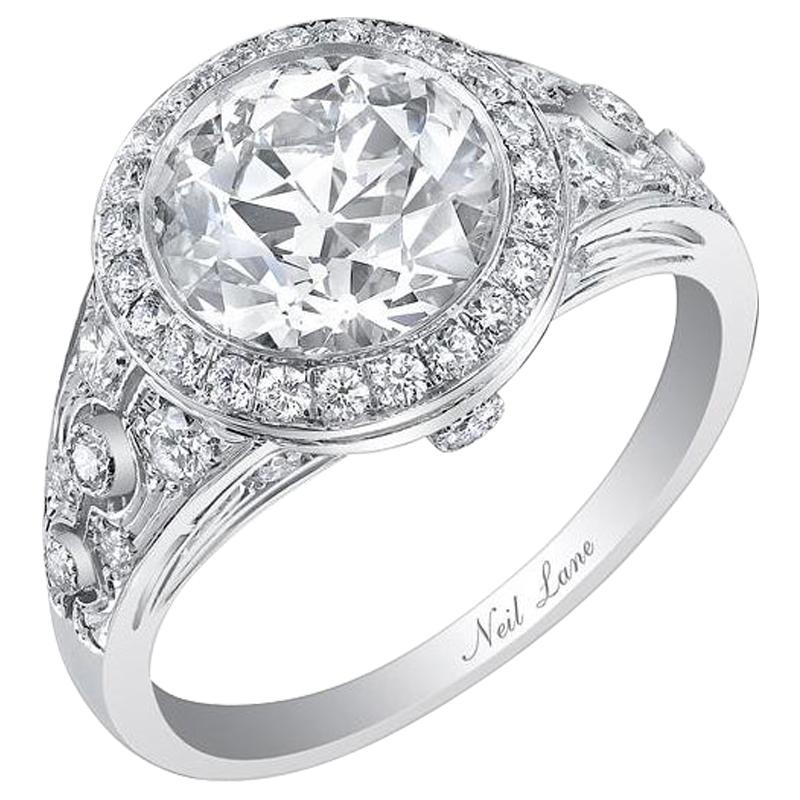 June 13, 2021Before becoming a big-name Hollywood jewelry designer, Neil Lane was quietly selling vintage and antique jewels to a select group of collectors. Then, in the late 1990s and early 2000s, he began lending his pieces to Renée Zellweger, Charlize Theron and countless other megawatt stars.
All that red-carpet exposure considerably raised his profile — and also ignited a worldwide craze for Edwardian and Art Deco jewelry. And though Lane is reluctant to acknowledge his influence on jewelry tastes and trends, the fact remains: He made the wearing and collecting of estate jewels feel current and desirable to the glitterati who flocked to his original boutique, on Beverly Boulevard — and to fashion-minded women everywhere.
Brides quickly developed a taste for Art Deco– and Edwardian-inspired platinum engagement rings with cushion- and emerald-cut center stones. Twenty or so years later, the trend that Lane helped invigorate is still going strong. If a young Neil Lane had not left New York for Los Angeles in the 1980s — "with a bunch of vintage jewels because that was what made my heart throb," he says — it might never have taken off.
"It's funny, because when I first got to Hollywood, vintage was 'grandma stuff' — nobody wanted it," says Lane. "And there really wasn't much of a red carpet. People don't realize that it was a pretty sleepy town. It was very laid-back.
"The red carpet was very much black Armani with a diamond line bracelet and necklace, maybe diamond studs," he continues. "And there I was, this guy with a really different aesthetic and vintage vibe, and people started coming to me to borrow jewelry. I got caught up in this storm. Stylists just starting to make their mark would come in. And there was never not a movie star at the counter. It was insane."
Today, the counter is inside a gorgeous flagship store and atelier on La Cienega Boulevard. It remains a premiere destination for celebrities, especially those looking to tie the knot, cementing Lane's reputation as the ultimate source for custom-designed and couture pieces featuring rare and exceptional diamonds set in platinum.
Speaking with the designer, it can be hard to pick a lane, as it were. His brand has evolved to include a host of collaborations, including Neil Lane by Fortessa china, flatware and stemware; Neil Lane by Paper Source wedding invitations; an evening shoe collection launched last year with Nine West; and a partnership with mass retailer Kay Jewelers that goes back to 2010. He has also written a book about wedding style and continues to focus on his visual-art work, with metallic collage his preferred medium.
And for a certain demographic, Lane's Hollywood red-carpet legacy is very nearly outshone by his longtime affiliation with an ABC reality show called The Bachelor. You may have heard of it.
Below, our conversation with the jeweler about everything from Boucheron to bachelorettes.
When you look at your body of work, do you feel that you're invoking a particular era? Which one inspires you the most?
I can't actually pinpoint my design style. When I started, I was an art student in Paris, and I was drawn to the goldwork of the mid- to late-19th century — revivalist jewelry, Castellani. Then, I entered an Art Nouveau period, and I really loved that.
Art Deco was a revelation in terms of style. I love Edwardian jewelry. I love some of the bold jewels that Paul Flato made in the nineteen thirties. The idea of Joan Crawford gliding down the carpet in a big cuff and cocktail ring by someone like Paul Flato really inspired me. It's amazing what jewelers were able to do with gold — twisting it, setting it with glamorous stones like aquas and citrines.
But then there are some jewels made in Paris in the late 1930s — oh, they're just dynamic! The construction, the platinum, the use of diamonds. Van Cleef made the most beautiful jewels, as well as Cartier and Boucheron.
I didn't go to GIA [the Gemological Institute of America]. I studied art. So I had to really hone my aesthetic, always looking and learning. As a dealer, I had to really be sure that what I was purchasing was special. And I think I looked at things so much that it was embedded in my brain. So, when I did start designing jewels, I took things from different eras. I always wanted to keep the pieces contemporary, too. I always wanted to talk back to the vintage world but peg it to something modern.
Is there a piece in your current collection of vintage jewelry that you adore so much you'd never part with it?
I have an amazing Art Deco ruby and diamond bracelet that belonged to Zsa Zsa Gabor. I didn't know it was hers when I bought it, but when she died, my friend showed me a picture of her wearing the bracelet as a necklace to the opening of the Dunes Hotel in 1960. So I googled it, and I saw her wearing the bracelet all the way back to 1942, when she was married to Conrad Hilton.
There's a connection, because when I was selling at the 26th Street Flea Market in New York, she used to pull up on the curb in a big Bentley and go shopping. I probably sold her something. I love that all these years later one of the highlights of my personal jewelry collection is a bracelet that she treasured.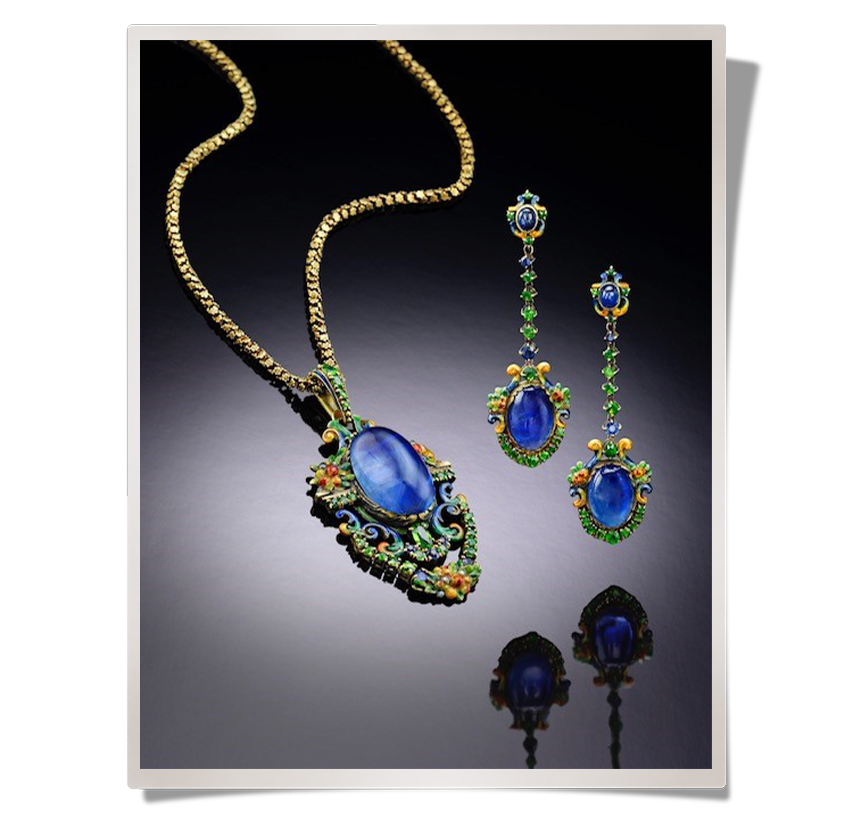 I think, karmically, I've always had it in me to deal in beautiful, precious things. I look at them, and I get mesmerized. I have a Louis Comfort Tiffany suite with giant cabochon sapphires surrounded by beautiful enamel florals with matching earrings. I mean, my gosh, I wouldn't want to sell that. I want to give it to a museum.
What's on your Holy Grail list as far as jewelry acquisitions?
I've been collecting vintage jewelry a long, long time. And years ago, I collected Suzanne Belperron, Boivin, Paul Flato, all of whom are at the forefront of the collectors' market today. There are things that I would love to have in my collection or that I did have and I sold. But I'm also at a point where I'm involved in other aesthetics.
I was building a house based on my artistic vision, and I had an opportunity to buy a very important Art Deco jewel, a Fouquet bracelet. Fabulous. I wanted it, but then, I had the opportunity to buy a sculpture by the artist Ruth Asawa. She did these wonderful hanging globes in the nineteen fifties. And I realized I couldn't really hang the Fouquet bracelet from the ceiling. So, I bought the Ruth Asawa sculpture instead.
You've been providing engagement rings for ABC's The Bachelor and appearing on the series for more than a decade. The New York Times once reported that you don't watch the show. Is that still true?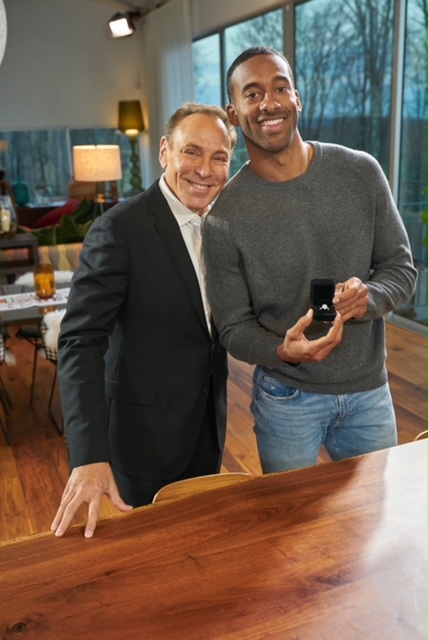 An honest answer: No, I don't watch The Bachelor. I'm pretty self-conscious, so I glimpse at it. Or I peek at it. I really don't watch TV, although when I do, I love it. I spend most of my time in my art studio. But the recognition I have received from the show has been life changing.
Are you building the rings from scratch based on the bachelor's feedback?
No, by the time I'm on the show, the rings are ready. Now that I've been doing the series for a while, there are certain styles that are signature Neil Lane styles, all handmade with platinum, but the centers are not chosen yet.
What they air is five minutes of an hour and a half of me really working with the guys. I try to bring six styles with different center stones and cover all my bases. I make sure that I have different things that represent what someone would want today. In the beginning, ovals and pear shapes were not as popular, and now they're very popular. Sometimes, I meet the bachelorettes beforehand to get a sense of their style. I get some feedback, but I'm basically working in a vacuum.
What would be your number one piece of advice for a first-time engagement ring buyer?
Buy a ring that she's going to love. That means really understanding who she is. The ring has become such an important aspect of someone's fashion, style and design aesthetic. It's so entwined; there isn't a woman wearing a ring today who's not aware of her style, and the ring represents that as well.
Of course, it doesn't take away the love that it represents — that's always going to be there. But I believe women want a ring that they adore. On The Bachelor, I say, "What does she like? Tell me about her. Is she going to be happy with this ring?" The guys are getting involved with a lot of technicalities, and obviously that's very important as well, but the main thing is her style.
Neil Lane's Talking Points