August 26, 2018To call Nicole Fuller a busy woman is an understatement. As the founder and creative director of the New York City–based Nicole Fuller Interiors, she designs luxurious, layered spaces — for both residential clients and fashion brands like Gianvito Rossi and Zac Posen — as well as products for such manufacturers as the Rug Company, Ann Sacks and Savoir Beds, not to mention her own furnishings line, Nicole Fuller Collections. Fuller travels constantly: She also has an office in Los Angeles and divides her domestic life between a Manhattan apartment and a house in Millbrook, New York, that she shares with her husband of nearly two years, the artist Alexander Yulish. If all this sounds like a lot of juggling, it is — and Fuller wouldn't have it any other way. In fact, you could almost say that design was in her stars.
Fuller grew up in New York. The only child of divorced parents, she lived with her mother, Diane Bokal, an artist who painted, sculpted, photographed and made her own dresses. "She was my style maven," Fuller says, noting that the two were extremely close. Although her mother is no longer living, she remains a constant source of inspiration. "I grew up in a very creative environment," Fuller explains, "so it feels natural for me to design, on every level."
Nicole Fuller's Interiors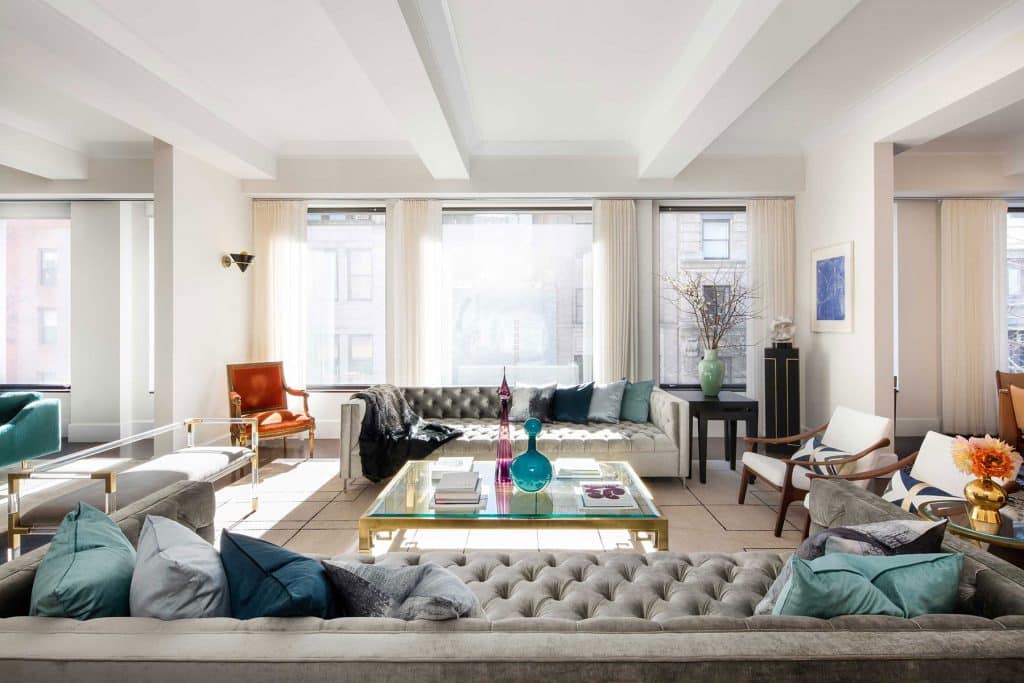 In a bit of a career detour, Fuller decided to skip college, modeling in Europe and London for several years instead. But after she decorated her own home in the British capital and friends started asking for help with theirs, she realized that interior design "was what I wanted to do." Fuller moved back to New York around 13 years ago and opened her office four years later. At first, she worked alone, but her staff has since grown to 14 — "It's a great team," she says.
Fuller's lively aesthetic is modern but eclectic. For the Tribeca pied-à-terre of her good friend Jodi Guber Brufsky and Brufsky's husband, Seth, the designer crafted light, airy spaces accented with bright color and filled with furnishings by Hervé Van der Straeten, Lindsey Adelman, Mattia Bonetti, Patrick Naggar and Stefan Gulassa. These create a sophisticated but playful backdrop for the couple's collection of works by such contemporary artists as Damien Hirst, Nir Hod and Stanley Casselman. "Jodi and I did a lot of shopping together," Fuller says. "She wanted the apartment to feel very chic but not too serious."
In another Tribeca apartment, owned by fashion-loving clients, Fuller emphasized seductive textures, working with Corey Springer, of the Brooklyn company Wüd Furniture Design, to create wall panels of copper encased in resin for the powder room and lacquering one wall in the master bedroom a bright sky blue. She also designed a luxurious walk-in closet lined in carbon-fiber shelving with leather and suede accents. For an apartment in the high-rise Langham on Fifth Avenue, Fuller scripted a calm, monochromatic environment that both complements and contrasts with its midtown location. She painted the foyer's burlap walls silver, added brass inlays to the dining room's cerused-oak walls and veiled a series of bedrooms in steel-gray Italian plaster, giving each a different surface treatment. The one departure from this neutral scheme: a home office with oxblood lacquer walls and a ceiling of blackened antique mirror.
Fuller applies her talent for design to projects of every scale. She conceived (in collaboration with Building Studio Architects) 54 MacDougal Street, a recently completed seven-story, four-unit residential building in Greenwich Village, but she also dreamed up her own engagement ring, which features a rose-cut diamond and was made by the New York jeweler Susan Foster. Fuller's foray into product design began a few years ago when Christopher Sharp, the cofounder and then-CEO of the Rug Company, saw the custom pieces the firm had produced for her and asked her to design a collection. She agreed, creating the Farrah line. Fuller is now at work on a new collection for the company, which includes not only rugs but also a tapestry cushion — a collaboration with the artist Lola Schnabel, whom she calls a dear friend.
Art has played a role in other of Fuller's recent product designs, too. Her Whimsy line of tiles for Ann Sacks, set to debut this fall, is inspired by the work of some of Fuller's favorite modern artists, and Stella, her new bed for Savoir Beds, has a channel-quilted headboard covered in Pierre Frey's Teddy mohair that pays homage to Frank Stella's geometric paintings. A stationery collection she's creating for Dempsey & Carroll draws on similar influences, although it's too soon to discuss it in detail. "All the collections speak to one another," the in-demand designer says.
Fuller has a number of interior design projects in the works as well, including a house on a Malibu cove and an "art-themed hotel" in the Arts District Development project in Los Angeles, a natural fit for her. Then there are clients in Miami, London, Boston and the Hamptons, plus a family with a beach house near Tel Aviv — and that's only a partial list. In every case, Fuller adheres to the same rules.
"I don't like precious design," she says. "I want to design interiors you can live in, use and enjoy. Trends go in and out. Designing timeless interiors is my mantra — interiors that will last, that are forever chic."
---
Nicole Fuller's Quick Picks on 1stdibs