October 11, 2020Phoning from her condo on the Big Island of Hawaii, Nicole Hollis sounds surprisingly relaxed. Although she often makes short trips from her home base in San Francisco to Hawaii — where she has two hotels and several houses in the works — this time she is cocooned there with her husband, Lewis Heathcote, and their two young children.
"I have a team of architects and furniture designers. The main reason I can be so relaxed is that they're so talented," explains Hollis, who started her firm, NICOLEHOLLIS, in 2002. (She went upper case and dropped the space, she says, to distinguish the brand from the person.)
Many of her clients are tech moguls who expect nothing short of perfection. And Hollis satisfies them with crisp interiors in which rich materials — bronze, marble, dark woods and leathers — substitute for color or pattern, creating soothing environments without much overt "decoration."
Hollis has partnered with some of the best architects in the world, including Tom Kundig, Snøhetta and Lake|Flato. And they're happy to work with her, because she is the kind of interior designer who doesn't undermine, but rather underlines, their architectural intentions.
One way she does that is with careful symmetry. "There's not much symmetry in nature," says Hollis. "But at home, people seem to feel comfortable with symmetry. It creates a sense of calm." She adds, "Though I might throw in a zinger or a curve, it's one of my starting principles."
People who look at interiors professionally admire the discipline that characterizes Hollis's work. Douglas Friedman, who shot many of the photos for the new book NICOLEHOLLIS: Curated Interiors (Rizzoli), says that "her rooms require me to be precise. Everything lines up, and I have to honor that."
"I don't know her process, but she must be making some tough calls — some hard-core editing — because the result always looks intentional, confident and edgy," says lighting designer Lindsey Adelman, who has worked with Hollis on a number of residential projects. "She's got an amazing mix of smart passion and cool restraint, and she is very fun to work with."
Hollis's approach is on full display in a house in Kua Bay on the Big Island. Architect Greg Warner, of the San Francisco firm Walker Warner, designed a central pavilion that welcomes the outdoors in. Indeed, with its glass doors open, the house would practically disappear if it weren't for materials that give it gravitas, such as cedar for walls and ceilings, basalt for floors and marble for kitchens and bathrooms.
Hollis had artist Michele Oka Doner create bronze door handles based on branches, and she collaborated with furniture designer John Houshmand on a large "multi-material" coffee table for the living room. Other living room furnishings include a Groundpiece sofa by Flexform with shelf arms wrapped in gray leather and a Web chair by Hans Wegner bought on 1stDibs. Nearby are five slate-gray Vladimir Kagan barrel chairs beneath a large, globe-shaped chandelier by Adelman, one of the largest she has ever made.
For Hollis, nearly every job involves collaborating with artists and artisans; her standbys include Oka Doner, Adelman, Bec Brittain, Michael Anastassiades, David Wiseman, Jeff Zimmerman, Joseph Dirand and Christian Astuguevieille.
Her firm also designs custom pieces, like the two sofas she did for a glass-and-steel house in Larkspur, California. The client, an ad executive, had hired Jensen Architects to design what Hollis describes in the book as "a series of floating planes that opens to the landscape and blurs the lines between indoors and out."
Indeed, the site is so windy that only a few weeks after Hollis installed a paper lantern by Ingo Maurer over the dining table, it was torn to shreds. She replaced it with a steel fixture by Kevin Reilly (what look like candles are indeed made of wax, but they've been hollowed out and filled with LEDs).
This illuminates a white Balfour dining table by James Perse, a pair of bentwood chairs by Frank Gehry, purchased on 1stDibs, and three linen-covered director's chairs. Opposite the director's chairs is a NICOLEHOLLIS high-back sofa. The firm designed a different custom sofa for the living area, of solid white oak with linen cushions; it faces a coffee table made in Morocco of recycled tire treads.
Another house in the book, commissioned from Walker Warner by a family that had recently moved from Hong Kong to Marin County, occupies a dramatic site overlooking San Francisco Bay. There, Hollis had Oka Doner design a lacy bronze screen for the dining room. Weighing two tons, the screen had to be installed while the house was under construction, Hollis says.
In front of a wall of Aegean limestone, a new sofa from a Jean-Michael Frank design, covered in a Holland & Sherry velvet, meets a John Pomp Rondelle credenza of handblown glass, oxidized brass, oil-rubbed blackened steel and walnut. "It's a materials study," Hollis says of the room. And while neutrals prevail, when it comes to texture and tone, "there's a lot of contrast," Hollis says.
Not all her projects involve new construction. One client bought a 1915 house on San Francisco's Russian Hill designed by Julia Morgan (best-known as the architect of William Randolph Hearst's San Simeon; Hollis lives in a black-painted Victorian, in Pacific Heights, that was Morgan's last home). Hollis's interventions included turning what had been the house's ballroom into her client's bedroom. "It didn't have closets, so I added two brass cabinets floating in the room," she says.
As design writer Pilar Viladas observes in the introduction to the book, the brass "creates warm reflections while accentuating the dialogue between the historic architecture and its contemporary contents." Those contents include a pair of Pill wall lamps by Autoban for De La Espada, which bracket the ornate fireplace, and an angular ceiling fixture by Brittain over the bed. "It's a pretty mix of modern and antique," says Hollis.
More NICOLEHOLLIS Interiors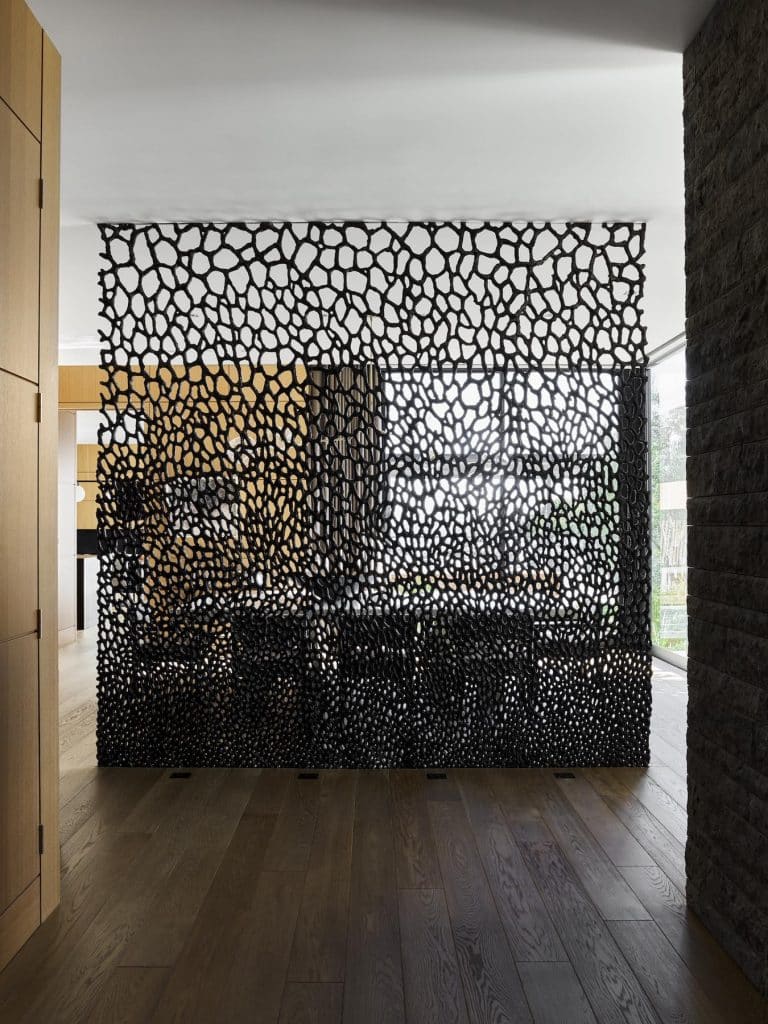 Growing up in Jupiter, Florida, Hollis imagined herself working in the fashion world. "I lived in the pages of Vogue," she told Introspective in 2015. "I taped the pages to my wall and would dream of the far-off locations and photo shoot sets. Imagining the styling of the photos was part of the allure."
When she got a job delivering clothes for a Florida boutique, she found herself more intrigued by the customers' houses than their wardrobes. Then, while attending New York's Fashion Institute of Technology, she worked for architect James D'Auria, whose projects at the time included showrooms for Armani and Valentino.
In 1997, she moved to San Francisco, where she was employed by Starwood Hotels and then by the estimable Napa Valley architects Backen, Gillam & Kroeger. After three years there, she left to start NICOLEHOLLIS. The firm has now grown to almost 100 employees, and Heathcote is its CEO.
Although NICOLEHOLLIS takes on some modest projects — "We pick jobs that make us want to get out of bed in the mornings," Hollis says — many are large and elaborate. Typically, three to five people will work on interior architecture (which includes such items as custom door hardware, tile layouts for kitchens and baths and veneer layouts for cabinets). Another small group will work on selecting and designing furniture, along with the accessories required to make a new house welcoming.
Counting every table, tablespoon and towel, a single residence may need 5,000 pieces, Hollis says. All of them have to get to the right place at the right time. That's why each project also has a logistics team, Hollis says, "so the designers can focus on designing." And working from home during these strange times hasn't changed that. Says Hollis, "Everyone in the studio is very busy and engaged."
---
Nicole Hollis's Quick Picks