September 26, 2019Russian decorator Olga Malyeva struggles to pinpoint the exact origin of her love of interiors. She is not one of those designers who discovered an artistic bent at a precociously early age. Nor did she grow up in a creative environment.
Born in 1976, she spent her childhood in Kirov, a small city about 600 miles northeast of Moscow. Her mother was an economist; her father worked as an engineer. "We lived in a typical-looking Soviet flat," she says. "It was absolutely nothing special. I wouldn't even say it was very cozy because we were short of money at the time."
She studied fashion at the University of Design and Technology in Moscow, a decision born out of necessity. "If you wanted to be dressed remotely well, you needed to create clothes for yourself back then," she explains. "That's why I opted for that course."
Thus well-attired, Malyeva embarked on a 10-year career in marketing. She worked for British American Tobacco and then as a brand manager for Bacardi Martini before deciding to take a professional break to start a family. 
Back then, she "wasn't connected to interiors at all and never imagined becoming a designer," she recalls. But in 2009, she and her husband acquired a house in a somewhat fantastical residential complex seven miles west of Moscow. Named Deauville, it is a pastiche of that celebrated French beach resort, with homes resembling 19th-century Normandy villas, topped by complex roof structures, and even a boardwalk, running along the shore or a lake rather than the English Channel.
The couple first thought of hiring a decorator to oversee the interiors. But after meeting with several, Malyeva had second thoughts. "I realized, 'I can do this myself,' " she says. And so she did, creating spaces she describes as "timeless, very cozy and light, functional and quite modern."
While working on her home, Malyeva enrolled in a six-month course at Moscow's Details Design School and invested in a host of books to deepen her knowledge. In doing so, she discovered both a passion and a profession that would allow her a certain amount of freedom. "I was looking for a field where I could be creative and manage my own time," she says. In 2011, she set up her own studio, which today employs a team of five in Moscow.
The editor in chief of Russian Elle Decoration, Aleksey Dorozhkin, recalls Malyeva's early residential projects as being "not so different from others. But at the same time, I saw a kind of lightness in them."
In those days, she was still searching for her own voice. But it was immediately obvious that she was a name to follow. She displayed a flair and a command of proportion that many of her Muscovite counterparts had not seemed to master.
Since then, her work has developed and matured, and today it displays both architectural rigor and a distinctive approach to the integration of Western interior designs. Her biggest stylistic influences these days undoubtedly come from the United States.
"Olga's recent projects are very fresh and offer something out of the ordinary," says Dorozhkin. "She's open to experimentation and goes deep into details. That's what really sets her apart."
One of Malyeva's latest commissions is a weekend escape on the outskirts of Moscow. Her clients, a couple with two children, bought a wooden kit house from the Finnish manufacturer Honkarakenne. Malyeva could have taken her inspiration for the interiors from traditional Russian dachas but instead turned to the Hamptons.
The aim was to create "a very modern, light, timeless" decor, says Malyeva, who today lives in London's Battersea neighborhood. To this end, she brought in furnishings from American designers like Kelly Wearstler and Barbara Barry.
What is particularly striking about the home is the orderly and structured interior architecture she created for it. There are strong perspectives and a precise sense of framing.
Malyeva also found a fine balance between using too little and too much wood. "It's like making pancakes," she explains. "You need to put in the right proportion of salt and sugar to make them in the best way." Here, she counterbalanced the warmth of timber planking on the walls with harder surfaces, such as mirrored ceilings and a metallic wallpaper in the entry hall from Philip Jeffries.
Asked about her design heroes, Malyeva cites a diverse group American practitioners, such as Steven Gambrel, David Mann and Thad Hayes. She also has a penchant for the layouts of classic Manhattan apartments. Among her favorite books is one devoted to the work of New York–based architect John B. Murray, which reproduces the floor plans of several of his traditional-inspired projects in the city.
Malyeva likes American furniture because of its scale and comfort. "It's substantial and sometimes very sculptural," she says, pointing to the work of Paul Evans, Karl Springer and Adrian Pearsall, among others.
When she discovered 1stDibs, back in 2010, she fell in love with the seemingly endless access to a wonderland of iconic vintage pieces.
"Back then, nobody in Russia knew anything about American design. Even in a magazine, you wouldn't see anything," she says. Some of her favorite 20th-century creations include the Edward Wormley for Dunbar party sofa, Paul Frankl's cork model 5005 cocktail table and J. Wade Beam's Ponte cantilevered desk.
In 2018, she and her husband acquired an apartment in Moscow's Hamovniki district for themselves and their two school-age children. When she started decorating it, there was one item she wanted for it more than any other: a Wave swivel chaise longue, which Milo Baughman designed for Thayer Coggin in the 1970s.
"It has this amazing shape, and I love how it rocks and swivels," she enthuses. Via 1stDibs, she managed to track one down in Chicago.
The 2,700-square-foot flat is located on the sixth floor of a new building and consists of two units that have been joined together.
Using relatively neutral hues for the architectural framework, Malyeva filled it with other statement elements, such as the kitchen's emerald-colored quartzite wall, the foyer's pair of bold-hued glass chandeliers and the main bedroom's custom wall installation, titled Les Papillons (Butterflies), which she designed herself, strategically placing several groupings of glass light shades on lines resembling branches.
In all of Malyeva's projects, comfort is paramount. But here in her own home, she chose to integrate a couple of high-backed, rigid-looking Charles Rennie Mackintosh chairs strictly for their sculptural quality. "The seats are so tiny, I'm even afraid to sit on them," she admits.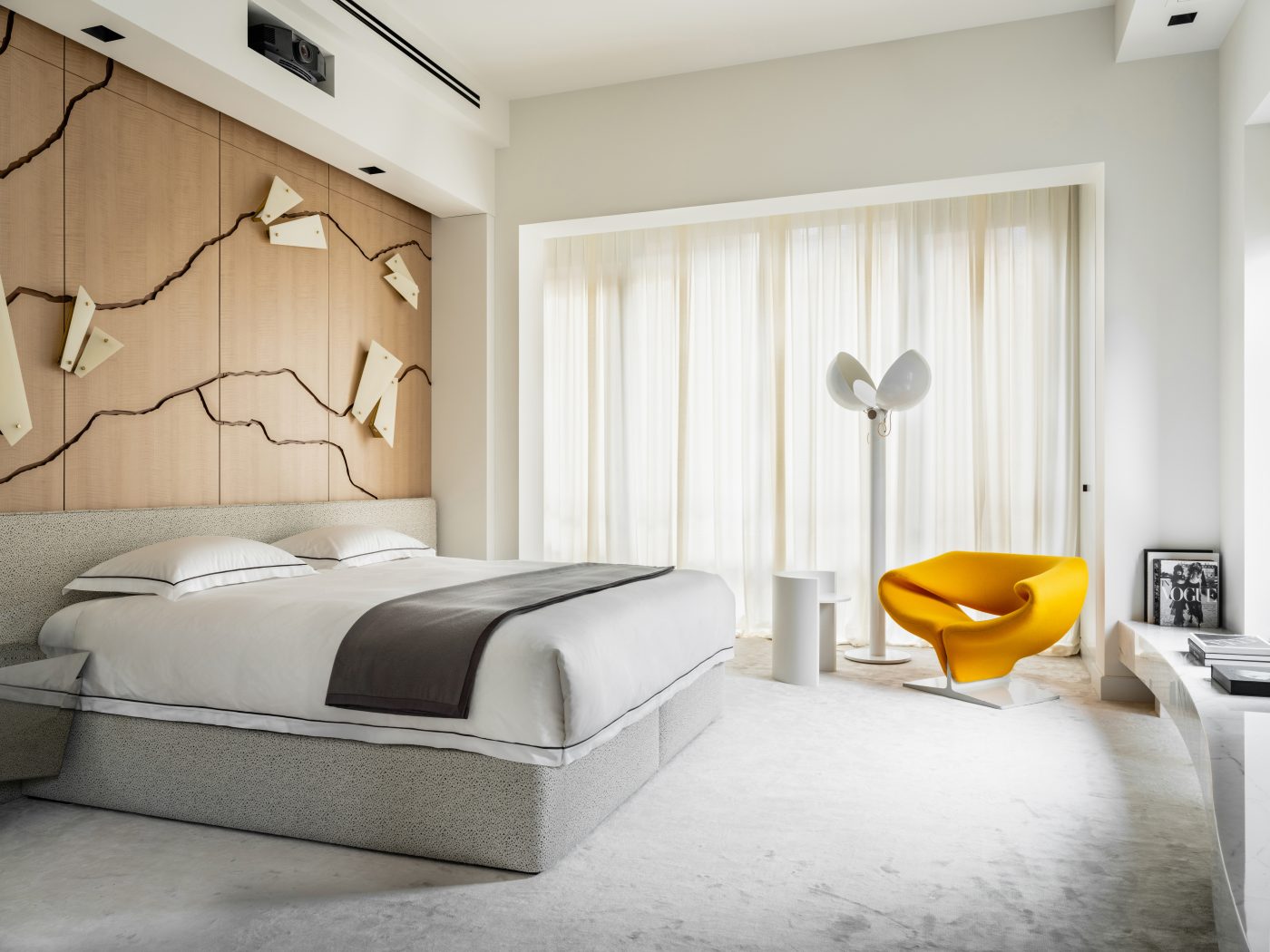 Since the family moved to London, in September 2020, the Moscow apartment has served solely as a pied-à-terre. Malyeva, however, returns regularly to the Russian capital, where she is currently working on four residential projects. Also on the drawing board is a landmarked house in Kensington, as well as wallpaper collection. The last is still confidential, although she mentions that it will include floral motifs — a first for Malyeva, who generally favors large-scale geometric patterns.
But then, her tastes are always in flux, her design influences always expanding. "I like to look for something fresh and unique. It's a must," she insists. "I don't want to be a designer who has just one aesthetic."