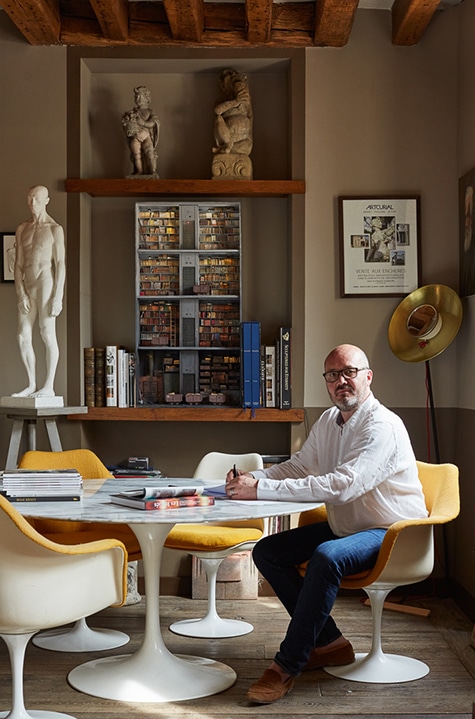 A 45-minute train ride from Paris's Gare Montparnasse to the small station of Houdan. A 10-minute drive through an unassuming residential stretch, a brief swing around the highway, and you are at Le Four à Chaux, a former tile factory and grain farm that is now home to Origines, France's primary source for architectural salvage and a treasure trove of antiquities and discoveries. Barns are filled with artfully displayed fireplaces in marble, stone, wood and granite, ranging in date from the 15th through the 20th century, adorned with paneling, vases, sculptures and mirrors and placed on antique terracotta tiles, intricate parquet and oak floorboards. The gardens are filled with fountains, basins, benches, statues and even a 19th-century stone folly shipped over from England.
"This piece is a bit crazy," says Samuel Roger, the founder and owner of Origines, gesturing at the folly. "But I love finding these kinds of things."
Roger, who grew up in the area, developed an interest in salvaging architecturally significant antiquities after his father started a building-materials-reclamation business in 1981, just as Roger finished an art history degree in Paris. "His business was more about roof tiles, antique bricks and pavers, wood beams, that kind of thing, but he did get some old fireplaces, which I was immediately interested in," Roger explains.
In 1992, at 24, he decided to create his own business, specializing in antique fireplaces and flooring, garden ornaments and sculpture. The idea, he says, was to offer "a one-stop shop for renovation if you were looking for this sort of thing." Today, Origines is a major player in the architectural antiques market and Roger a world authority on French fireplace mantels (he has written a book, Cheminées Françaises, on the topic). "I learned on the job, having hundreds, even thousands of objects pass through my hands," he says. "It's the best school." Among his clients are interior designers Jean-Louis Deniot, Rose Tarlow and Robert Couturier and architect Peter Marino.
After a guided tour of the property and viewing many, many fireplaces (there are more than 200 in stock), Rogers spoke with Introspective about finding his pieces, the problems of transporting several tons of stone and how tastes have changed in recent years.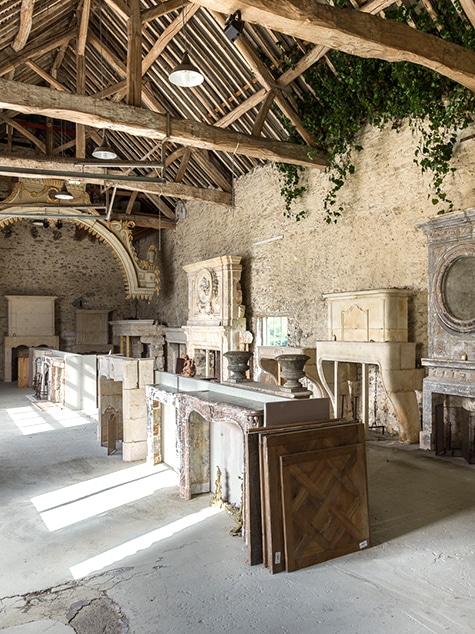 How do you source your items?
The Internet changed everything. Until then, I spent most of my time driving around France, going to little antiques dealers and reclamation dealers. You had to go in person, because there was no email or cell phone, and you had no idea what you might find. Sometimes, I would get letters with photographs, but you still had to drive all over the country to look at the pieces.
I think we were one of the first individual companies to develop a website, in 1999. People thought that offering our pieces on the web would depreciate the rarity value, but, of course, that turned out not to be true at all. Very quickly, we came to work mostly online. A lot of people email with photographs, and I also look at the auction catalogues and use Google to search for pieces. In the past five years, I've found and bought quite a lot of French antique objects from the U.S. Of course, I do go and look at high-value and important pieces in person. I can spot a fake or a period from a photograph, but you don't ever want to risk investing a significant amount of money without seeing the piece.
Do you buy mostly in France, and do you source specific items for clients?
Over the years, I have bought items from Italy, Spain, Austria, Germany and the U.S., but, yes, France is the main source. That said, one of the greatest fireplaces I ever found was from Vienna. It was a neo-Gothic piece made in 1878 for the grand reception room in the city hall but never installed. Soon, it will be placed in the lobby of a hotel in the Czech Republic.
We will source specific pieces for clients. If someone wants, say, a marble Louis XVI fireplace with ormolu ornaments, we will try to find exactly that. We currently have a potential project with the architect Gabriel Calatrava in New York. If it goes ahead, we will need to source a large quantity of eighteenth-century parquet flooring, seventeenth- and eighteenth-century French stone fireplaces and numerous antique garden ornaments. Once, we had a request for a large iron entrance gate to a château, with pillars in stone. We found it!
Where Connoisseurs Go for French Architectural Salvage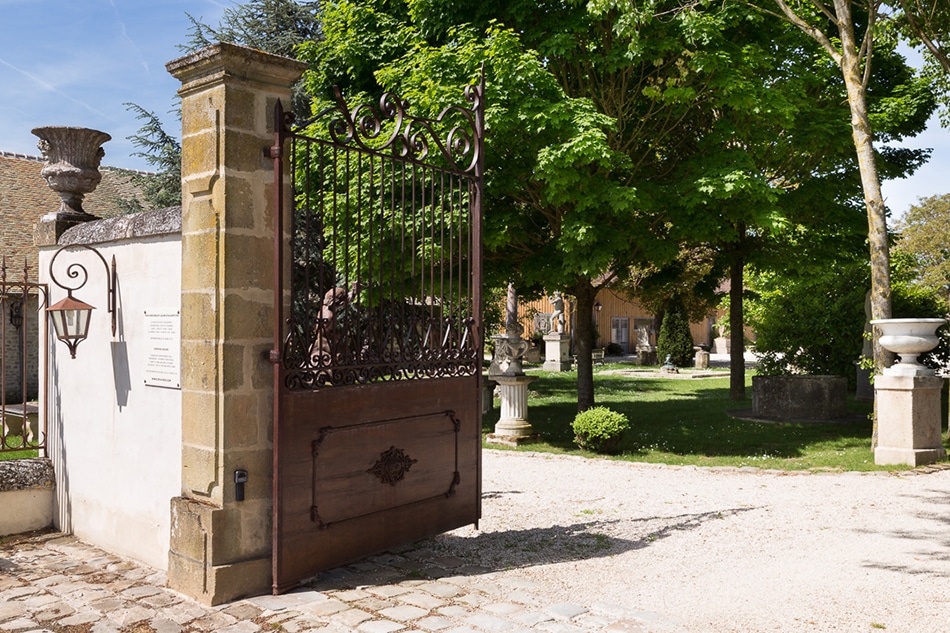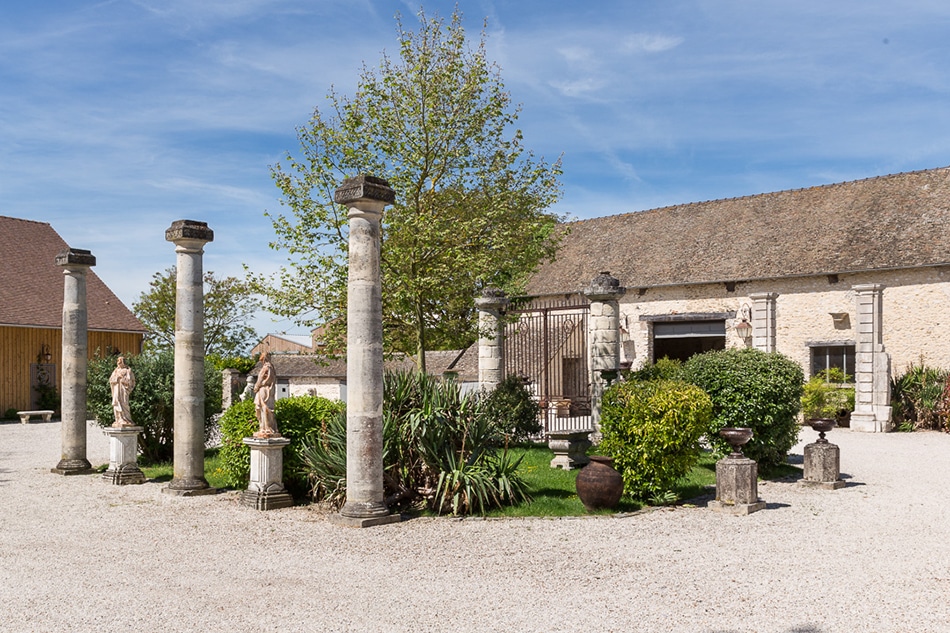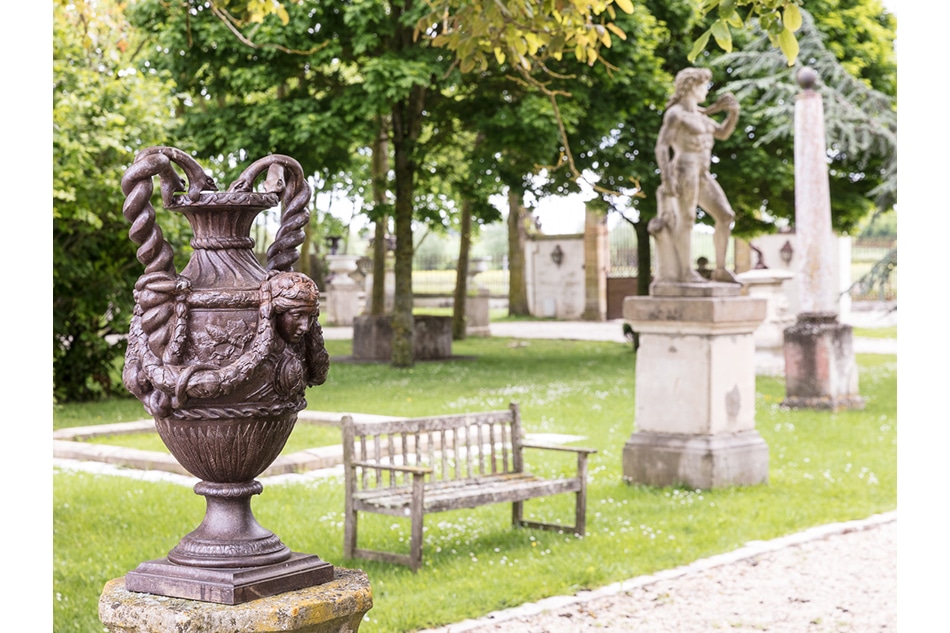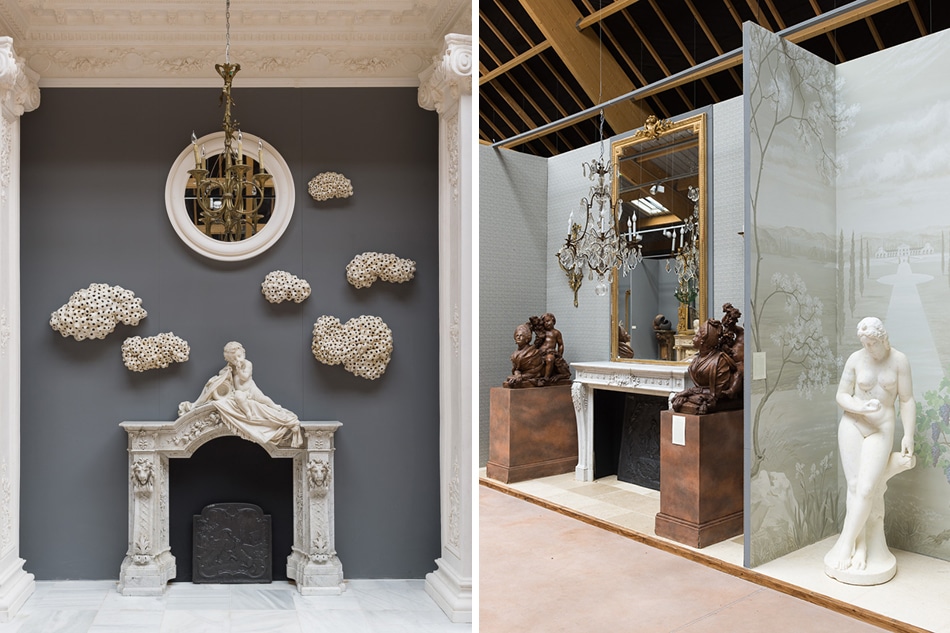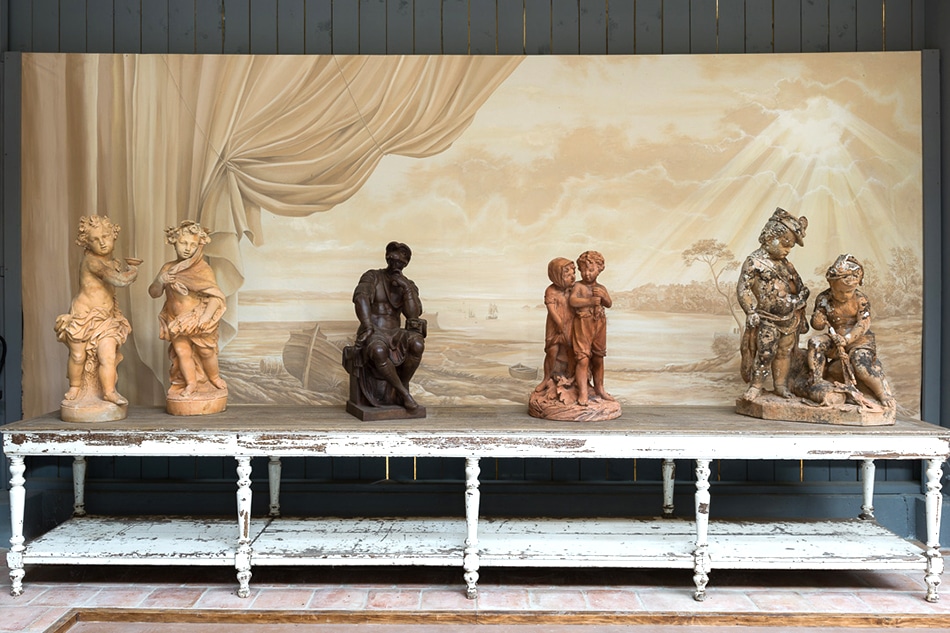 Where Connoisseurs Go for French Architectural Salvage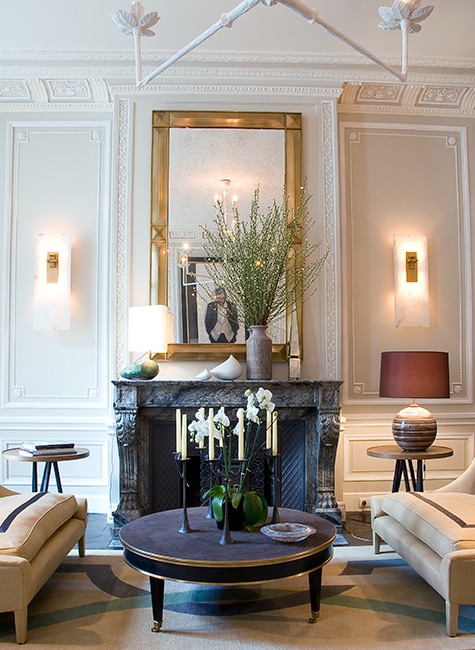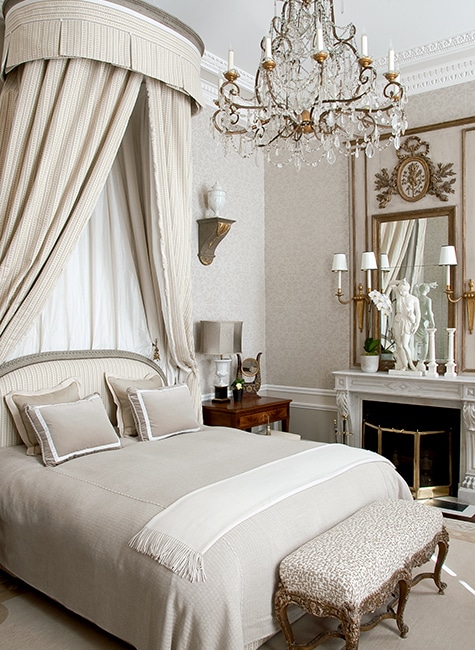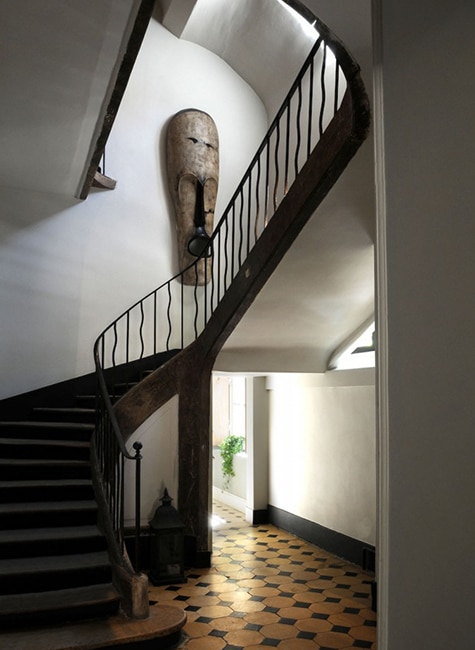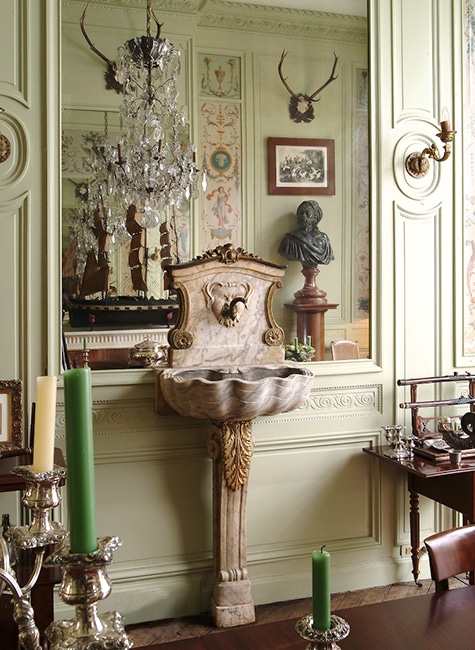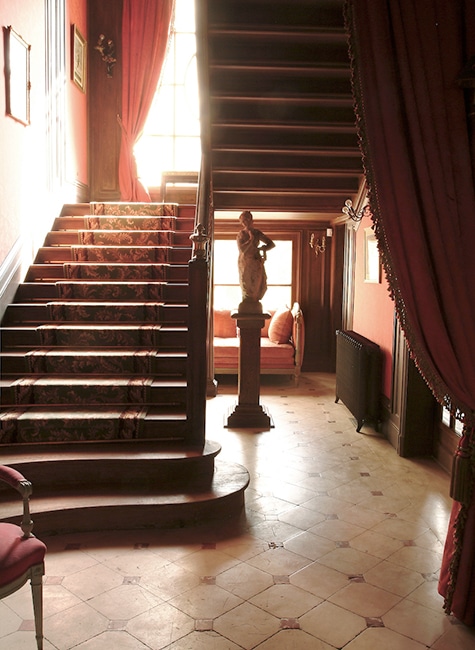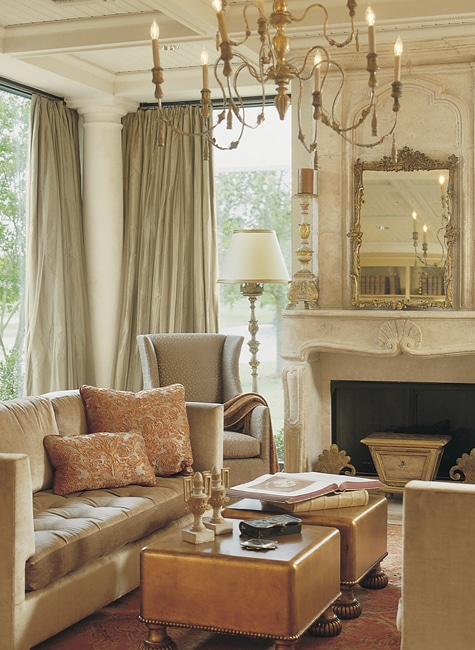 How do you transport items that are both enormously heavy and fragile because of their age?
It's not always easy! When you are talking about the Cowbridge estate garden folly or a monumental marble fireplace mantel, it's a real project. Sometimes, the stones in a mantel are really part of the walls. I have a network of artisans all over France, and when I find a huge piece like that, I contact someone from the region, a mason, to dismantle it. Then they pack everything on wooden pallets, load it — very carefully! — onto a truck and bring it back here. On-site, I have seven employees, and three of them are in charge of the restoration, presentation and then dismantling and packing it when it is sold.
Every one of them is knowledgeable about how to handle these heavy yet fragile objects — it's very easy to break stone. But when I love a piece, I'm never afraid of the logistics. I think the only reason I wouldn't buy something would be the price. The average turnover for a piece is about a year, so you need to be able to afford that. I've had opportunities to buy complete buildings that were going to be demolished, but that is too much money for something that could take you ten years or more to sell.
Do you interact with your clients and designers about where a piece will be placed?
To some extent. I'm not a designer, but if a client comes here — and about fifty percent do — we will usually have an exchange, and if a designer or landscaper comes along too, we will often look at the pieces together and discuss what might work or not. U.S. clients often send plans and drawings and ask me to suggest the right pieces and objects.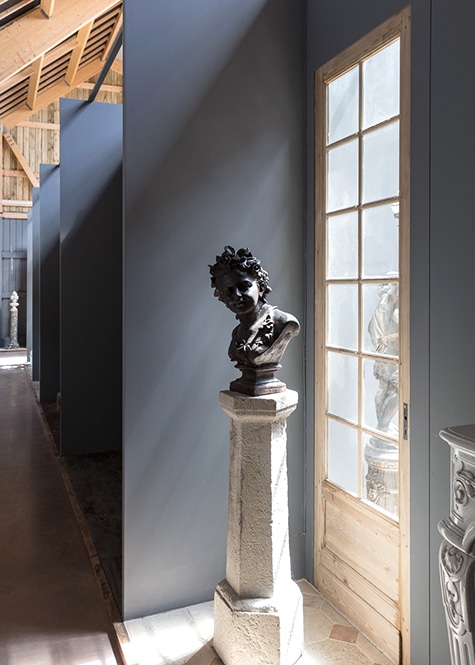 Occasionally, we have great projects that we will work on for several months or years, which is very satisfying. And sometimes, I do have a project in mind when I'm looking at pieces and will take photos to send to the client.
Have you seen changes in tastes or spending habits over the three decades you have spent in this field?
Tastes definitely change. When I started my business, it was all about curved mantels, French Regency, Louis XV. Now, there is a greater interest in simpler lines, like Empire, Directoire and Louis XVI, which perhaps correspond more to interiors by new, younger designers. There is a move toward a more pared-down feel and less liking for more-ornate pieces, which are certainly harder to integrate but often very beautiful in their detail.
As far as spending goes, we are very dependent on external events, because about eighty percent of our clients are foreign — from the U.S., Russia, the Middle East and Europe — although some of them live in France. We saw a significant decline after September 11, and then again after the financial crisis in the U.S. in 2008. We have also had to cope with attacks in France over the past two years, which have certainly deterred foreign customers from visiting. But the Internet — and 1stdibs! — really help, because people don't absolutely have to come here.
I think being outside of Paris is a deterrent to visitors, and I've just acquired a space at the Saint-Ouen flea market, which has the largest concentration of antiques dealers in the world: fourteen hundred in seventeen acres of space. It's a very charming little three-story house with a courtyard and garden, and we'll keep a bit of stock there. It will be a way for foreign clients to visit us more easily in Paris, and perhaps for potential clients at the market to find us. It will be a small outpost there and hopefully encourage people to come and see the much greater inventory that we have here. You tell them — it's easy!
---
TALKING POINTS