The Manhattan–based designer Paris Grant, head of interiors at the firm Reddymade, is known for her eclectic approach, so it makes sense that she heads to the Upstate New York town of Hudson when it comes time to source beautiful objects.
Hudson's main drag, Warren Street, is a charming assemblage of 19th-century row houses in which dozens of art, antiques and design dealers have nestled over the years, offering a wide breadth of material. Modern may be the favored flavor, but pretty much anything you could want is available.
"I like spaces to have a combination of different things so they don't feel like showrooms," says the upbeat Grant, who credits a stint working for decorator Jamie Drake with giving her an appreciation for antiques and helping her learn "not to be afraid of color."
Working with Reddymade founder and principal architect Suchi Reddy has been a lesson in "leadership, and how to motivate staff — even remotely," says Grant. Reddy tilts minimal and neutral, and the more maximalist Grant loves the balance they've struck: "I'd say we share an attention to detail, right down to the hardware on every piece."
Grant has become something of a darling of shelter magazines with her solo projects, like the West Village townhouse she did for filmmaker Maggie Betts, which was recently featured in Architectural Digest.
She frequently weekends in the Hudson area because her husband, Garson Grant, has family in the vicinity: His aunt and uncle, the owners of the beloved Manhattan flower shop Zezé, have a house nearby. So do Grant's longtime clients Roland and Lois Betts, Maggie's parents and cofounders of and investors in the Manhattan sports and fitness complex Chelsea Piers.
"It's such a cute, quaint town and a nice reprieve from the city. And I really like how diverse the shops are — they're not all one-note," says Grant.
During a two-day Hudson shopping spree, with Grant darting in and out of small shops, it quickly becomes clear that she gravitates toward strong, sculptural forms, whether old (the bulbous curve of a Biedermeier case piece at Arenskjold Antiques Art) or new (the funky lines of a mid-century lamp at Modern on the Hudson). "I do like weird shapes," she says laughing.
Here, she takes us on a tour — in words, pictures and video — of some of her favorite spaces among the many wonderful 1stDibs galleries that call Hudson home.
---
The Gilded Owl
"I love walking in here," says Grant, referring to the 1785 Federal-style house where The Gilded Owl is located. "It's like a livable art gallery. And the secret sauce is that they have things you've never seen before."
Certainly in that category is a 1921 Expressionist floor lamp by Fritz August Breuhaus de Groot whose base may have been carved by noted German sculptor Willi Hoselmann. Grant regards it admiringly. "I like anything that looks like it required real skill," she says.
She also loves the spindly high-backed Chiavari chairs made in Italy in the 1950s. "Gilded has the largest collection of these," she says. "The tell-tale sign that it's real is that you can lift it with one finger from the back — they're super-light."
Although the shop's cofounders — interior designer Andy Goldsborough and art dealer Elizabeth Moore — aren't on hand, one of the makers they feature is. Richard Saja creates paneled artworks depicting pastoral scenes out of rayon floss and cotton toile de Jouy. After chatting with him, Grant can't help but effuse about his creativity: "He started making these as therapy, and now it's been over twenty years. The detail of these toiles — you'd need a microscope to get it all. I'd love to have him make them into a pillow or a headboard."
---
Carrie Haddad Gallery
At the contemporary art–focused Carrie Haddad Gallery, Grant is grooving on the streamlined look of the works on display, calling the aesthetic "very clean."
Founded in 1991, the gallery focuses on Hudson Valley–based artists including Stephen Walling, who makes painted wood constructions, and Mark Beard, who paints figural works under the name Bruce Sargeant; Grant gives an approving nod to one of Beard's works, a painting of a family and a tractor.
She saves her most enthusiastic response to the realistic paintings in the recent show "Man & Machine" — works by the likes of Joseph Richards, which have a whiff of Charles Sheeler about them. "All these pieces speak to each other," Grant says of the way Haddad, who usually has multiple shows going at once, has selected and arranged the art.
---
Regan & Smith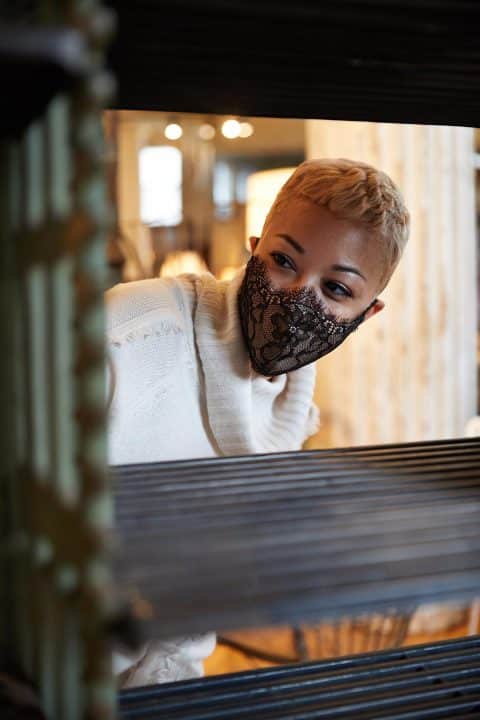 Kevin Regan and Kurt Smith, two native Rhode Islanders, established their eponymous shop in Hudson in 2007, focusing on 20th-century lighting and furniture. And now, Regan & Smith is a top Grant pick for such mid-century-modern treasures as a French aluminum table lamp from the1940s.
An attraction to this gallery runs in Grant's family. Her husband's aunt and uncle — the Zezé owners — relied on Regan & Smith when appointing their house nearby, using it as a source for architectural elements including French doors, as well as outdoor sconces and a white, metal cabinet with copper details. "It's just stunning," Grants says of the last piece. " "I love anything they have here."
On this visit to the gallery, Grant can't get enough of a large semicircular 1970s sectional by Milo Baughman.
"In a world of a million knockoffs and poorly made upholstery, it's a breath of fresh air to see — and sit on — a sofa whose design and comfort has held up for nearly fifty years. Even after all that time, this piece is still relevant, still sexy and still comfortable," she remarks to Smith on her visit.
---
Workstead
Founded in 2009 by Stefanie Brechbuehler and Robert Highsmith, who later added Ryan Mahoney to their partnership, Workstead makes clean-lined original pieces that are must-haves for Grant. The company, which also boasts a thriving interior design practice (key projects include the Wythe Hotel in Brooklyn and the Dewberry in Charleston, South Carolina) and has headquarters both here in Hudson and in Brooklyn, takes a modern approach to lighting. "It's very geometric," says Grant. "It has a mid-century vibe to it, but it still feels very relevant, as it's made today."
The curved metal backing of a Helios ADA sconce gets an approving look from Grant, as does what she calls the "balanced and sensible" design of the Lodge sconce.
Among her favorite new offerings at Workstead are light shades made with fabric that buyers can purchase by the yard to use as well for wallcoverings, upholstery or curtains. "It's a nice, seamless integrated look," she says. "It's really special."
---
Naga Antiques
A longstanding hub for Japanese furniture and screens, Naga Antiques was founded by Jim Marinaccio in New York City in 1971 and relocated in 2012 to Hudson, where it's now run by Marinaccio and his daughter, Maggie. Grant happily frequents the elegantly uncluttered, two-story space, especially for the screens, which she terms "functional art." She adds, "When you buy one of these, it's an heirloom. It's something that you'll pass down."
Grant is especially beguiled this day by what she describes as a "haunting" two-panel, Yozakura screen made in the early 1900s. "It captures the radiant and delicate beauty of the cherry blossoms against a dark, moonlit sky," she explains. "Evening scenes are rarely depicted on silk screens, making this a rather special and unique piece."
Equally of interest to Grant is a late Edo-period trunk from the 1850s. The lacquered piece, inlaid with 275 family crests in gold leaf and bronze, was used for storing textiles.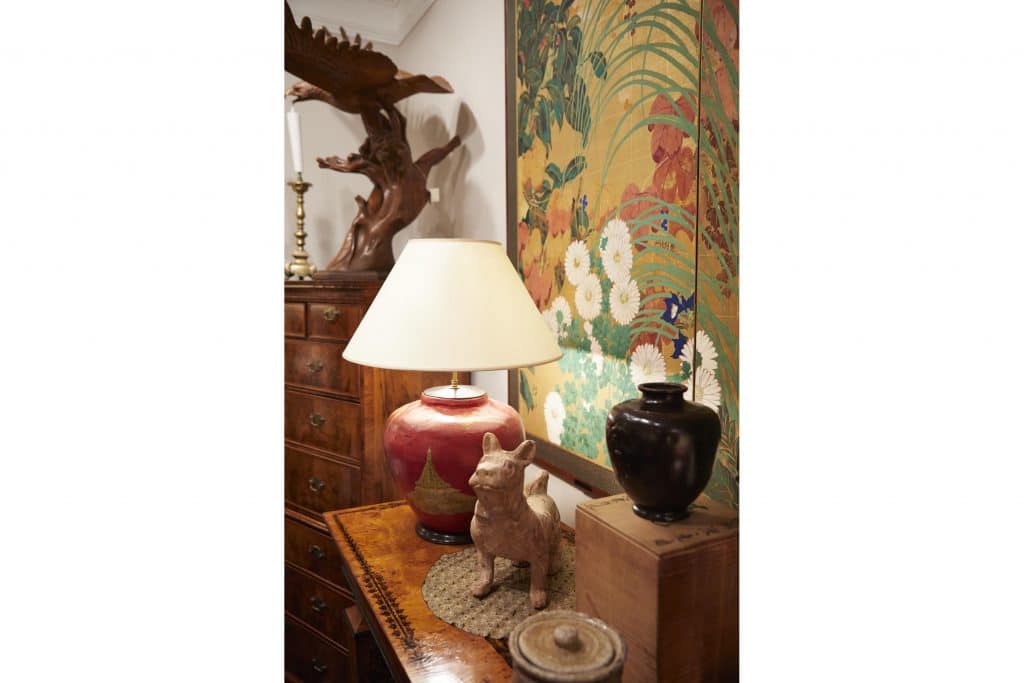 ---
Arenskjold Antiques Art
Talk about veterans: Kim and Jennifer Arenskjold have been in the business for decades and in Hudson for three of them. European vintage and antique furniture and paintings are the specialty here, with a focus on Danish modern. That suits Grant, who is "drawn to Danish things," she says.
Right on cue, an 1820 Danish Biedermeier secretary with many drawers grabs her attention. "I love these secret compartments," she says. A mid-18th-century bombe chest of drawers with ornate pulls and elegant feet leads her to wonder about its history: "What kind of stories does this dresser know about?"
She caresses a 1760s Southern German wardrobe with bone inlay depicting Adam and Eve alongside pewter detailing. "Anything that has marquetry or inlay — sign me up," she says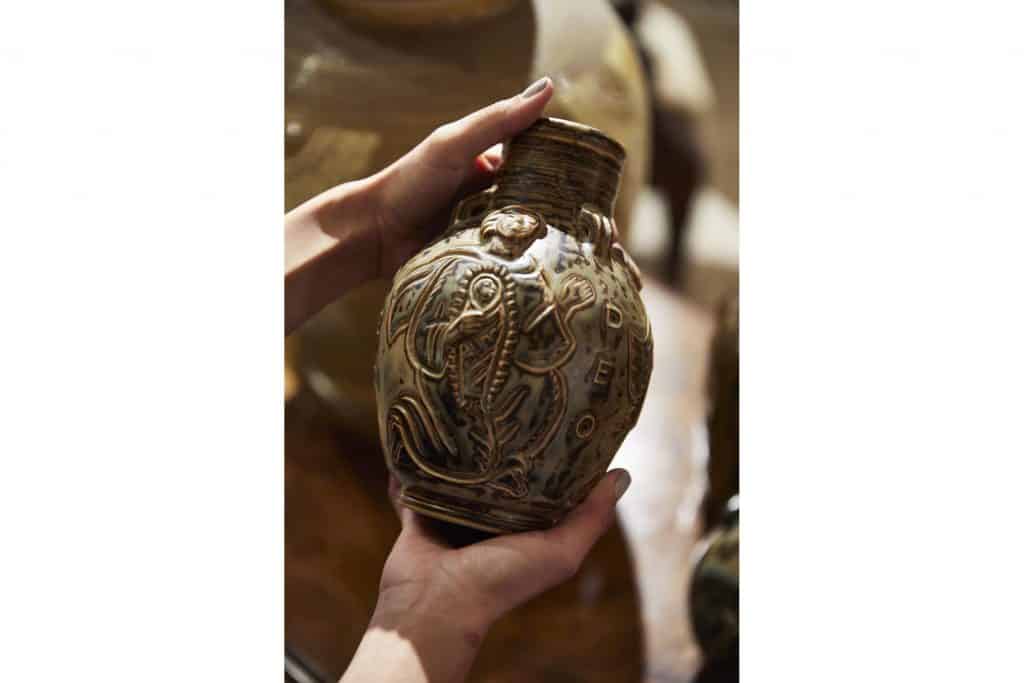 ---
Benjamin Wilson Antiques
Grant is a longtime fan of Benjamin Wilson, who started dealing in a range of wares in Hudson 18 years ago. "I can always get my fix of looking at pretty Italian furniture here," she says — but is immediately drawn to a small 1845 American painted side table with a finish Wilson calls "vinegar painting." He explains to her that the pattern was likely made by dipping a feather in vinegar and then applying it to the paint.
A 1970s Rudolph de Harak red bench — which once stood in a park on Water Street in downtown Manhattan — updates the old tete-a-tete chair with funky modern lines. It couldn't be more different from that vinegar-finished table, but Grant loves it equally; she also admires a mid-century Danish credenza, pulling out a silverware drawer to test the piece.
"I just buy things I like," Wilson tells her. "How bad can that be?"
It's an approach Grant can appreciate. "That's what I tell clients," she says. "Don't overthink it. If you don't immediately respond, maybe it's not for you."
---
Modern on the Hudson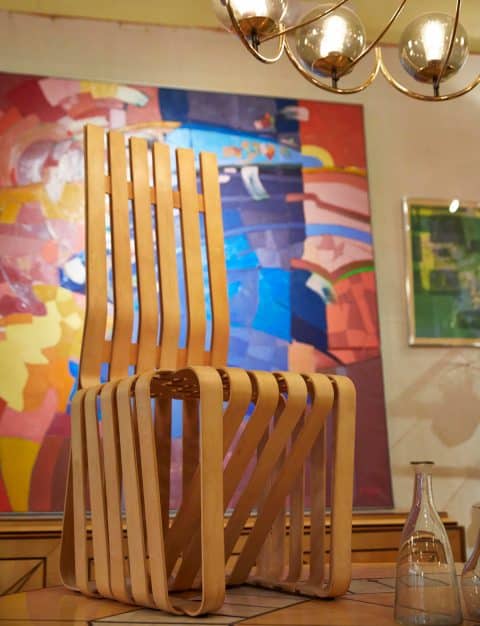 At Modern on the Hudson, where owner Judith Engel has been dealing in mid-century design since 1996, Grant responds to a triangular corner table by Edward Wormley for Dunbar that is cleverly filling the space between two chairs set next to each other at an angle.
"I could talk about this all day," she says, pointing out that the magazine rack at the rear of the piece "solves the problem of walking into a room and looking at the back of furniture."
The light maple charm of a 1930s chair by Herman DeVries for Cushman Furniture has what gallery co-owner Frank Daley describes as a "cool granny" aesthetic, to which Grant exclaims: "Coolest granny ever!"
High Sticking chairs by Frank Gehry also meet with her approval, as do cane-back seats by Ward Bennett. And she gives the nod to pieces by Hans Wegner, Harvey Probber and T.H. Robsjohn-Gibbings, too, complimenting Daley on his curation: "I love how you combine things."
When Grant gets to an Arthur Umanoff–designed bar and stools, she's reminded of her Manhattan home base. "It's very apartment-size," she says. "It would work in New York City."
The Umanoff pieces make for something of a fitting end to her shopping tour Upstate, bringing her thoughts back to her homebase in Manhattan.
There, she is currently keeping busy working on two apartments in a prewar building on the Upper West Side as well as a three-bedroom in Downtown Brooklyn, a house in Southampton and a commission at the Acqualina Estates in Miami, among other projects.
Asked if she found anything on this browsing trip that might work in some of those spaces, she quickly mentions the Hamptons home, whose owner is an avid collector of Arts & Crafts–style furniture.
"The client really knows antiques," says Grant, noting that she's already thinking about another drive up this way to continue sourcing perfect pieces. "1stDibs is always the first step in my antique hunts," she concludes. "It's an added bonus when I can follow up with a trip to Hudson to view some things in person."