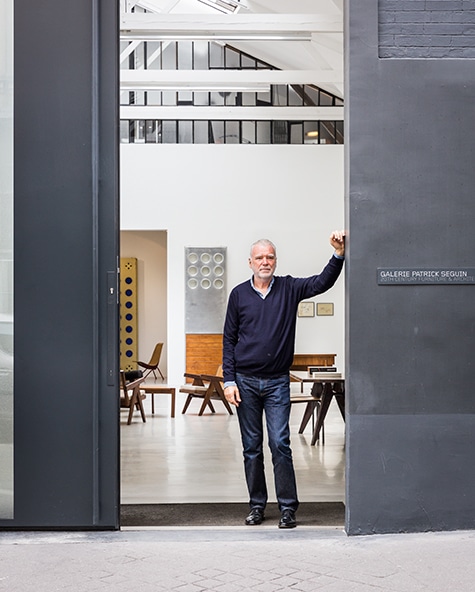 In the late 1980s, while wandering around Paris's Saint-Ouen flea market, Patrick Seguin happened upon dealer Philippe Jousse's booth, where he discovered the work of French designer, architect and engineer Jean Prouvé. Seguin bought Prouvé's now-iconic Compas table and a Standard school chair on the spot. He soon became an ardent collector, then decided to quit his job running a nightclub and restaurant to, he says, "make a profession out of my passion": He went into business with Jousse, with whom he founded the Jousse Seguin gallery in 1989, and proceeded to buy up tables and chairs by Prouvé and Charlotte Perriand for their space in Paris's Bastille neighborhood.
A decade later, after parting ways with Jousse, Seguin opened his own eponymous gallery, taking over a huge, high-ceilinged former warehouse, just around the corner, that was renovated by Pritzker Prize winner Jean Nouvel. Work by Prouvé had fallen out of fashion by that point, and Seguin struggled to sell his chairs for a few hundred dollars. Today, however, the designer is acknowledged as a 20th-century great, his furniture is in high demand, and his prefabricated, temporary buildings, known as "demountables," are worth millions. (Seguin has sold examples to such customers as artist Richard Prince and fashion designer Azzedine Alaïa, who sleeps in a Prouvé gas station installed in his Paris loft.)
Galerie Patrick Seguin has since expanded to a second space, this one in London's Mayfair district. But the 63-year-old dealer, who works with his wife, Laurence, remains rigorously devoted to a handful of designers, most of them French or Swisss, all of them active in the middle of the last century: Jean Royère, Le Corbusier, Pierre Jeanneret, Perriand and, of course, Prouvé, on whom he has just released a definitive monograph.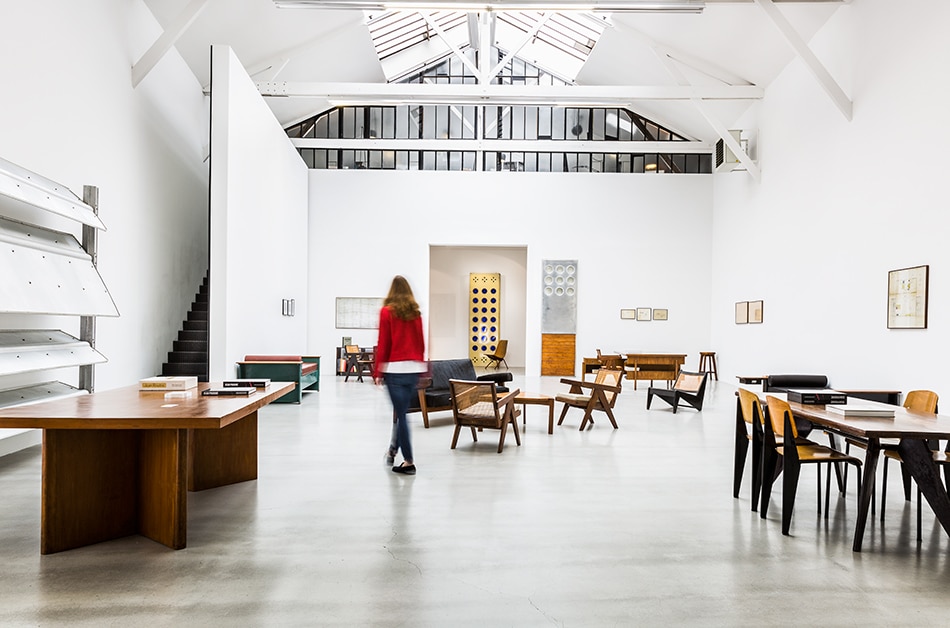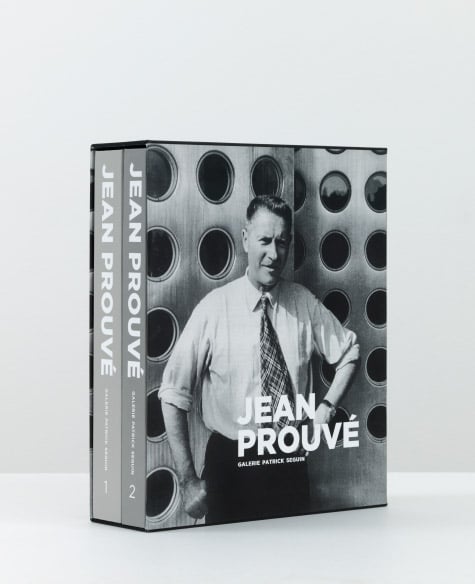 Comprising 764 pages, this two-volume box set is an updated and enriched version of a monograph Seguin published a decade ago. It once again brings together essays by design historian Raymond Guidot and architecture historian Catherine Coley; additional texts by Nouvel and Renzo Piano; interviews with collectors and design professionals; and detailed remembrances of Prouvé by one of his daughters, Catherine; as well as many new drawings and photos. These elements combine to create a more personal, better-rounded view of the designer than has ever been presented before. The revised monograph also incorporates an entirely new chapter on Prouvé's architecture, an updated bibliography and filmography and extensive information on his work in private collections.
In addition to Prouvé, the visionary Seguin has brought international recognition to a small group of other artists and some of their lesser-known projects. He has doggedly promoted their work for nearly 30 years, at times acting like a modern-day Sherlock Holmes. During the gallery's early days, for example, Seguin became fascinated with the Chandigarh project — an experimental city in India, north of New Delhi — which he first learned about in the early 1990s in the archives of Le Corbusier and his cousin Jeanneret.
Back in 1950, at the invitation of Indian Prime Minister Jawaharlal Nehru, the two cousins became project managers for the groundbreaking architectural program to design Chandigarh as "an expression of faith in India's future." Le Corbusier worked on the urban planning and invited Jeanneret to help him. Jeanneret ended up living there for 15 years, taking over as chief architect after Le Corbusier left. During his stay, he designed furniture using local materials that were compatible with the local climate, putting a modern spin on traditional techniques to create sturdy, bug- and humidity-resistant chairs, tables, desks, benches and shelves in teak and wicker.
---
Dealer Patrick Seguin first became an ardent collector of works by Jean Prouvé, then decided to quit his job running a nightclub and restaurant to, he says, "make a profession out of my passion."
---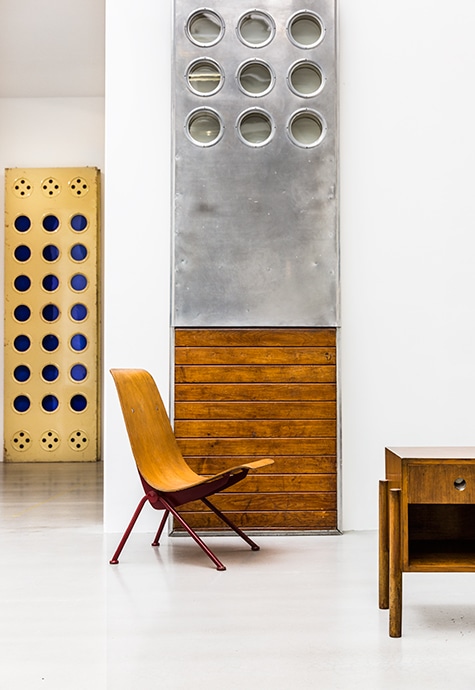 "I was taken by the similarities of the forms of the furniture and the architecture and the beauty of the vision that united all aspects of the city," says Seguin. Thanks to his research, he was convinced the furniture would still be in India. So, in 1999 he traveled several times to the subcontinent, where he discovered a trove of now-famous furnishings, including Jeanneret's V chair, all sitting in storage or otherwise forgotten. These had had shipped back to Paris, and several are now on display at Galerie Patrick Seguin, among them Jeanneret's elegant bench with slats (1955–56), as well as his teak and wicker Writing chair, his office chair in teak and imitation leather and his fabulous Kangourou lounge chair (all from around 1960).
Like Jeanneret's furniture, Perriand's works — also intended to be industrial and cost-effective — have become cult objects, largely thanks to Seguin. History has it that when Perriand first came to Le Corbusier seeking a job, he sent her away. "We don't embroider cushions here," he famously told her. But after Jeanneret showed him Perriand's revolutionary chrome-and-steel Bar sous le toit at the 1927 Salon d'automne, Le Corbusier changed his mind about the designer.
Seguin also specializes in Prouvé's furniture for the masses. The austere, utilitarian pieces, designed for schools, factories and municipal sites, include chairs, desks, shelving and beds made from sheet metal and plywood. Of these, the gallerist is currently showing the Cafétéria no. 300 demountable chair (1950) and a Bed no. 102, 1936, a daybed in blueish green and brown that was created for the dormitories at the Lycée Fabert, in Metz.
Although the gallery generates much of its revenue from furniture, over the past few decades, Seguin has become obsessed with Prouvé's demountable buildings, which he has been indefatigably preserving, showing and repurposing since 1990.
Patrick Seguin Has Turned His Passion for Jean Prouvé into a Mission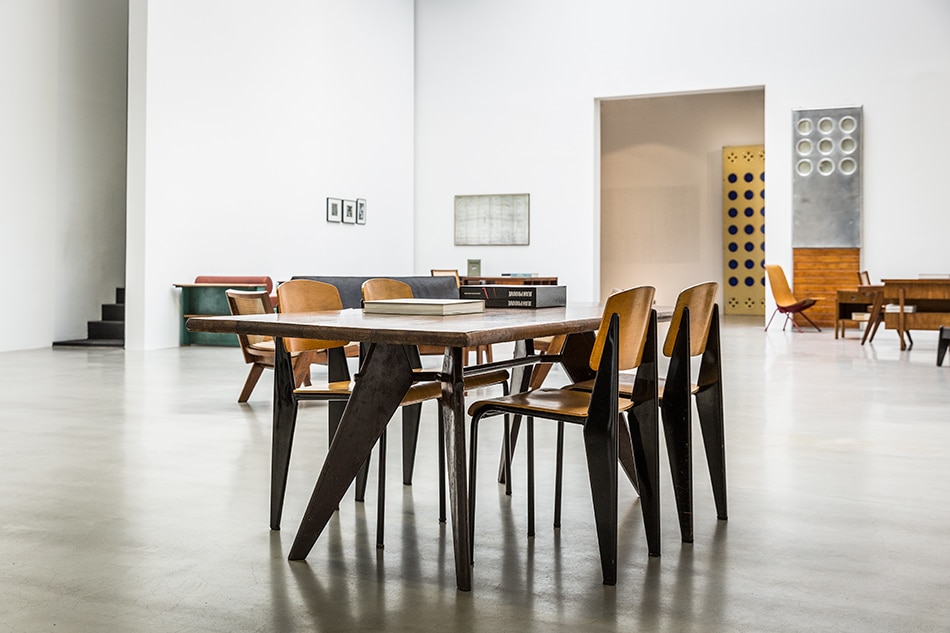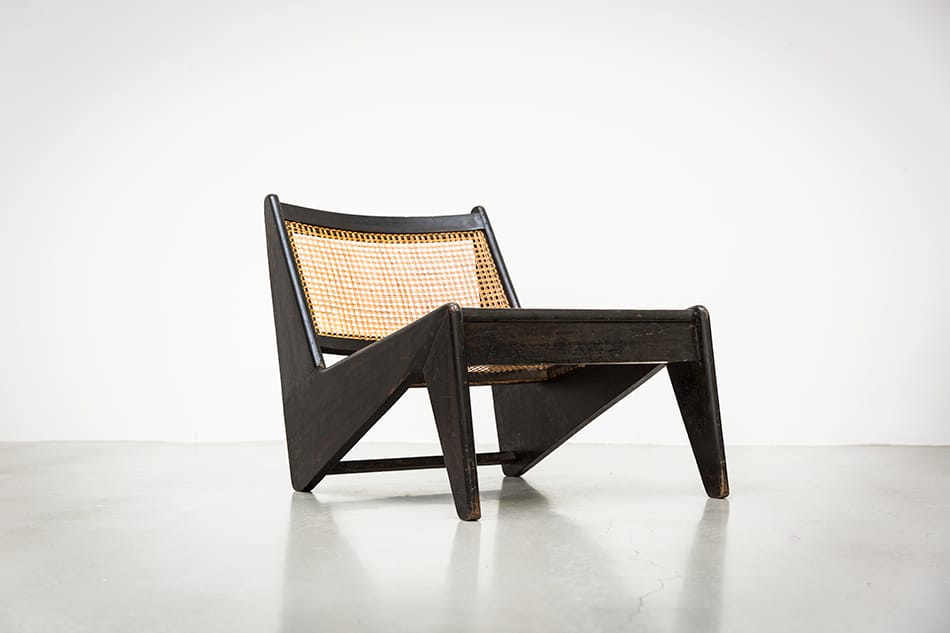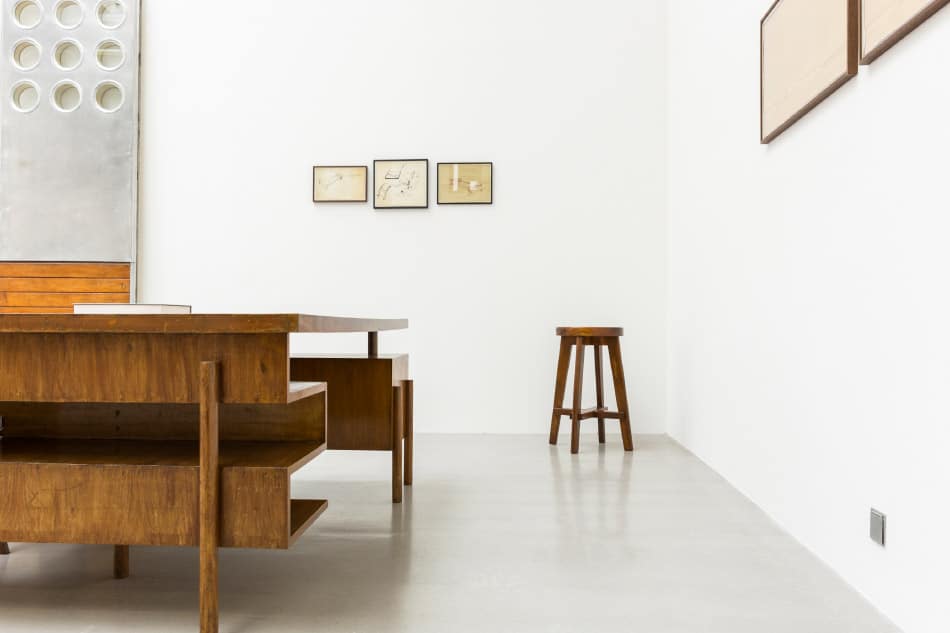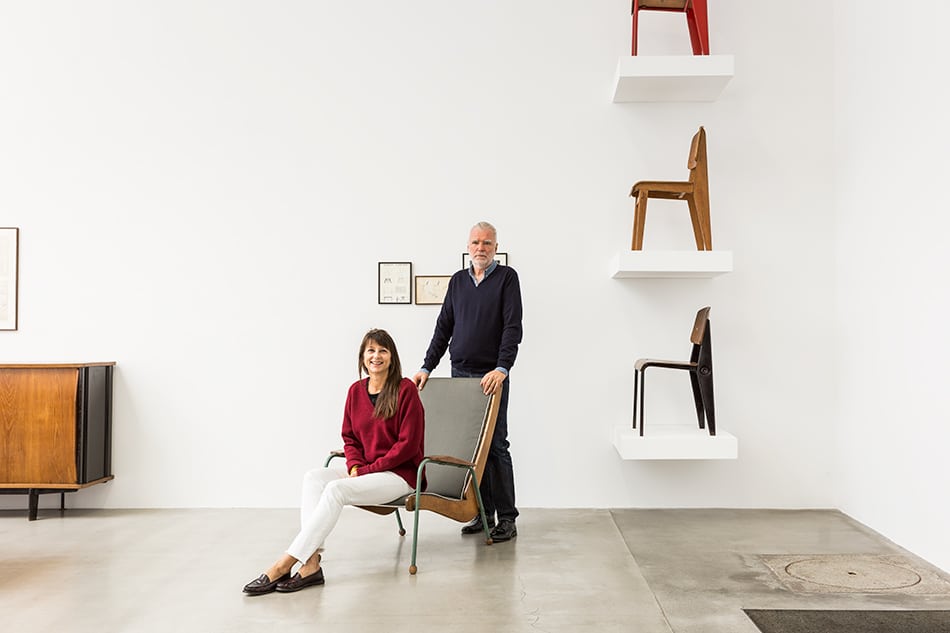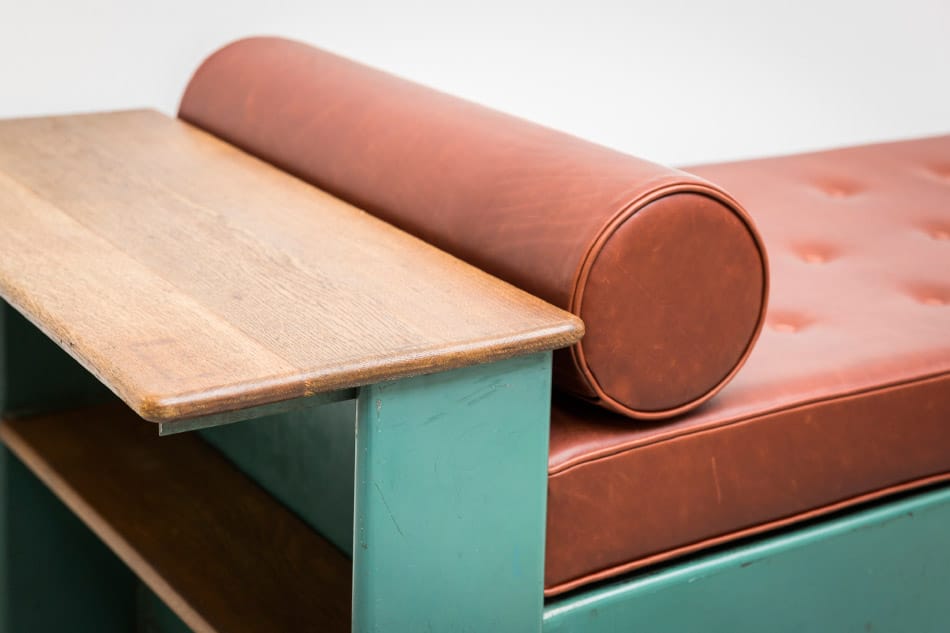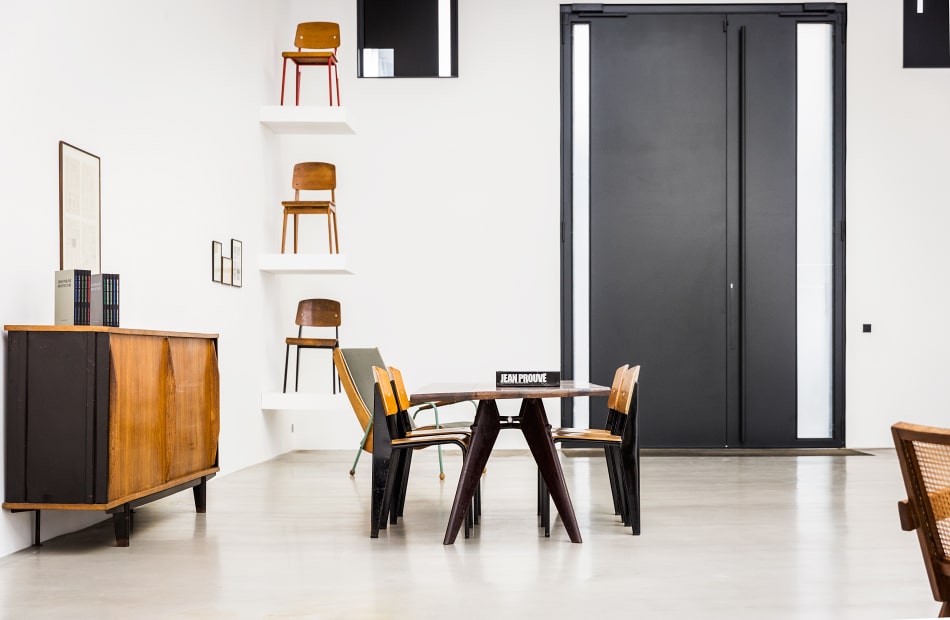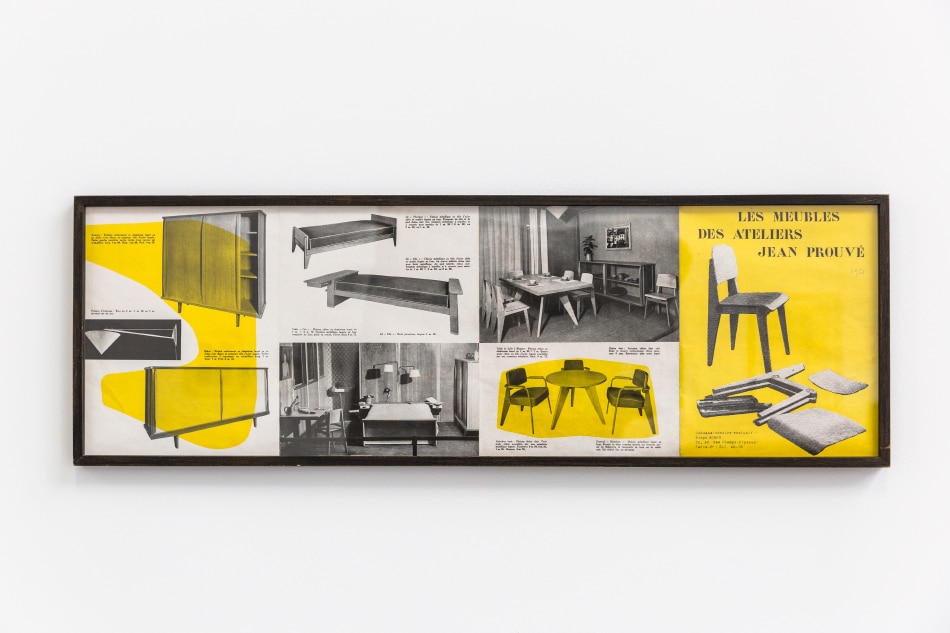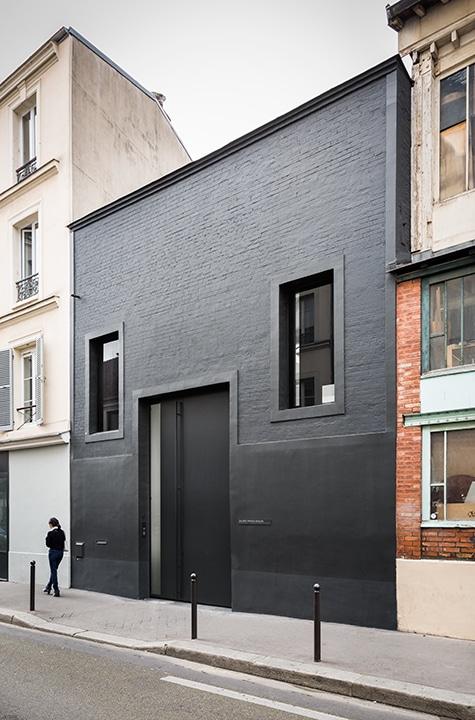 The Seguins currently possess the world's largest collection of these remarkable structures — 23 in total — ranging from a 75-by-26-foot Ferembal House created in 1948 (their first acquisition) to the Bouqueval School, of similar dimensions, from 1949. One of their most recent discoveries was a demountable that Seguin had spent years searching for: Prouvé's own 1948 bureau d'études, or design office, which the gallerist eventually located in Maxéville, in northeastern France.
Prouvé had maintained a studio in Maxéville but abandoned the town in 1953 after falling out with the major investor in his factory there. Seguin was not sure the demountable still existed, let alone that it would be in the area. But in 2014, he finally found it, concealed behind a shell of blue aluminum siding. It had become a swingers' club, hosting nightly orgies. Seguin rescued it and presented the restored building at last year's Design Miami/Basel.
"Prouvé was extremely ahead of his time, designing houses for World War Two victims who had lost their homes to bombs, temporary schools in the Parisian suburbs and gas stations on French highways — all using prefabricated elements that could be assembled in a matter of days," Seguin says. Seguin's most ambitious installation of demountables to date is a monumental exhibition, bringing together 12 assembled Prouvé houses, that opened on October 21 and remains on view through next spring in the Grande Halle at the LUMA Foundation in Arles
"Today, the way in which one interacts with Prouvé's furniture and architecture is different from when it was created," Seguin explains. "No longer used in schools or administrative buildings, it has become a luxury. The pieces are taken out of context, but they are no less beautiful and meaningful than they were at the time of their conception. Instead, the significance of Prouvé's work has increased, because the passage of time only indicates its enduring relevance."
Visit Galerie Patrick Seguin on 1stdibs
---
TALKING POINTS
Patrick Seguin shares his thoughts on a few choice pieces