November 24, 2019Los Angeles artist Paul Rusconi is all about process. That's true whether he's putting together elements for his impactful portraits and text-based works — made from spray paint and nail polish — or creating art-filled rooms in the mid-century modern home he shares with partner, Jordan Brown, a political consultant, and their 10-year-old twin girls, Zella and Blaze. The house showcases his own pieces alongside an enviable collection of works by such artists as Man Ray, Damien Hirst, Robert Longo and Andy Warhol. "For me, an object, or the design of my home, doesn't result directly from an idea," he says. "The artistic process from start to finish, not just the end result, is what matters to me."
During his childhood in Santa Cruz, Rusconi was surrounded by a community of makers and artisans. "I grew up in an environment that was very artistically driven," he says. After attending Pepperdine University, he settled in Los Angeles but made frequent trips to New York to explore the booming 1980s art scene. It was during those trips that he became friends with influential art dealer Leo Castelli, whose gallery showcased work by Donald Judd, Cy Twombly and Frank Stella. With Castelli's help, Rusconi started acquiring pieces from influential artists including Keith Haring, Jean-Michael Basquiat and Ed Ruscha. Recognizing a kindred spirit with a knack for identifying artists and works with lasting impact, Castelli took Rusconi under his wing. "Leo was very generous with me, inviting me to openings and sharing with me artists I should look at," Rusconi recalls.
It wasn't long before the walls in his Hollywood apartment were covered in impressive art, from Agnes Martin drawings to Ruscha paintings. Visitors started asking where they could find works like his, and Rusconi soon became a successful contemporary art dealer, scooping up pieces for boldface names around L.A., London and New York. Two decades later, he shifted gears from dealing to creating. He was impelled to make the change by Robert Rauschenberg, who, after turning down a project Rusconi had suggested, encouraged him to take it on himself. "I realized that I was trying to speak through other artists instead of looking within," Rusconi recalls. "It was really liberating for me to own who I was and the work I would do."
In his portraiture, Rusconi often paints those around him, both famous — like the top skateboarders who were the subject of his first solo show, in 2010 — and unknown. In his most recent work, the artist — who is represented by Oculus Gallery, in L.A.'s Hyde Park neighborhood — takes language and text, rather than people, as his subjects. The words and phrases he renders in nail enamel and spray paint assume their own distinct personalities.
When he and his family moved into their current home, seven years ago, there was little they needed to do, thanks to a masterful remodel by architect Michael Maltzan in 1994. "He modernized the space and took full advantage of the natural light, which is critical to a painter," says Rusconi.
The result is a livable and clean-lined home, one that allows him to connect emotionally with the items in every room. "I like to live with objects openly," he says. "I'd rather be in a relationship with my environment as opposed to being a victim of it." Here, Rusconi takes Introspective on a stroll through a family home with serious artistic chops.
---
Dining Room
The centerpiece of the dining room is a custom 12-foot-long mahogany table that Rusconi designed. "It seats twenty-four and remains perfectly flat without the use of a center leg," he says. The trio of benches were sourced in Morocco, Pennsylvania Dutch Country and California. A Donald Baechler painting covers an entire side of the room. "It's the only wall where this painting would fit, so that's where it went," Rusconi says.
As a young man, Rusconi started buying early-20th-century green pottery at a Goodwill store in Santa Cruz. He continued purchasing pieces from antiques dealers around the country, acquiring works by such potters as Grueby, Van Briggle, Rookwood and Wheatley. Today, his collection fills built-in bookshelves in the dining room.
---
Living Room
The family's living room is a study in contrasts, illustrating Rusconi's assertion that he doesn't ascribe to any particular aesthetic. "I don't think I have a particular style. I gravitate toward items that are stylistic," he says. "I'm looking at lines and shapes and the way something feels when you sit in a room." A Rauschenberg sculpture rests on a Korean chest just below a double portrait of Katie Holmes that Rusconi created in 2007, in a nod to Warhol's 1964 Blue Jackie.
The horsehair-covered iron stools in front of the fireplace are from Holly Hunt. Rusconi bought the burlwood bar cabinet years ago. It cost nearly double his rent at the time, but "I had to have it," he says. A pair of Jacques Adnet table lamps flank a Christian Liaigre sofa. The coffee table, from B&B Italia, holds a sculpture by Bernar Venet.
In one corner of the living room, visitors are drawn to engage with a trio of thought-provoking works. Rusconi's 2012 Untitled (Amy) is an homage to strong women done in nail polish — a material he uses often, for its color range and brushwork effect — on Plexiglas. It is paired with a charcoal and graphite work from Longo's 1980s "Men in the Cities" series, while just below, a crumpled aluminum foil work by John Chamberlain sits on a Plexiglass plinth.
Hirst's silver Skull of a Unicorn appears made for its spot in front of a huge living room window. But Rusconi chooses where to display art around the home purely by instinct. "I tend to put things where they fit," he says. "Once I've placed things this way, it seems to make sense and look more highly curated than it actually is."
---
Kitchen
"The kitchen is our hang space," says Rusconi. In place of a more traditional round dining table, there's a long table, at left, purchased from the previous owners, stools lined up at the counter and a cozy seating area by the windows. "That's a great spot for reading or drinking coffee," says Rusconi. "We seat guests here with drinks while someone is cooking." The cocktail table is from B&B Italia.
Rusconi's 2012 Untitled (Wink), from his series of text-based works, hangs behind the bar, to the right of Warhol's Lips, 1975. Another Warhol, from his 1970s "Ladies and Gentleman" series, can be partially seen to the right.
---
Master Bedroom
Rusconi describes himself as a functionalist when it comes to picking furniture for the home. Case in point: the Adnet floor lamp that takes up one corner of the master bedroom. "I pay close attention to what a piece does," he says. "I love that it's adjustable, so it can go as high as you need it to." Next to the lamp is a Haring work on wood. A Caio Fonseca painting hangs above the platform bed, which was designed by Maltzan and Antonia Hutt.
---
Office
The family gravitates to Rusconi's home office to read books in the comfy leather armchair or on the floor. The rug is a find from Morocco. Prime placement is given to Rusconi's Untitled, Kate Union Jack, 2008, in which the flag was created entirely with nail polish. To its right, Franz West's 2005 Eating Fish hangs over the desk. A diptych of Barbara Kruger Polaroids can be seen on the left wall.
---
Entry & Hallway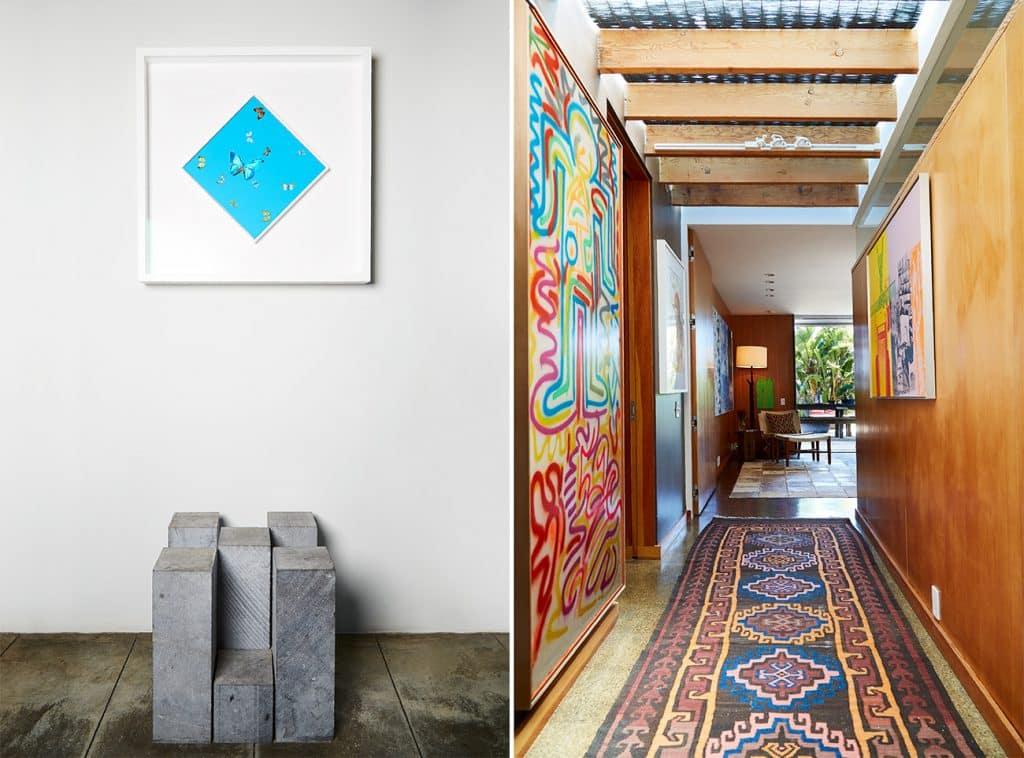 The diminutive Hirst butterfly painting that greets visitors in the home's entry is one of Rusconi's favorite pieces. "Some of these paintings are really large, which I think is exceptional," he says. "But there are certain times when an artist does something smaller scale that's extremely intimate." Hirst's emotionally evocative image is a perfect foil for the linear limestone sculpture by Carl Andre, just below.
In the wood-paneled hallway that connects the bedrooms, a large Haring hangs directly across from a Rauschenberg from the early '80s. The floor is covered with a vintage kilim runner that echoes the art's bold colors and shapes.
---
Pool & Patio

The living room opens out to the home's hardscaped patio and pool. As in the interiors, Rusconi did little to change the design here. His only addition was a fence to keep canyon coyotes out and allow their four chickens to "cruise about" with no fear.
The house, measuring just under 2,400-square feet, is the perfect size for the family. "Jordan and I both love smaller homes," explains Rusconi. "My grandfather always said close quarters mean close hearts."