January 29, 2023Based on her virtuoso combinations of lush surfaces, ornate patterns and bold gestures, you might assume that New York–based interior designer Daun Curry was to the maximalist manner born. In fact, she was raised with four siblings on a do-it-yourself organic farm in Gainesville, Florida, by parents she describes as "hard-working, highly educated hippies, committed to a different way of life."
Her father built their Prairie-style house, inspired by the early architecture of Frank Lloyd Wright, piece by piece, and her mother, an early-childhood-development specialist, encouraged her daughter's creative play and love of transformation. Still, growing up, Curry didn't know that such an interest might someday be parlayed into a profession.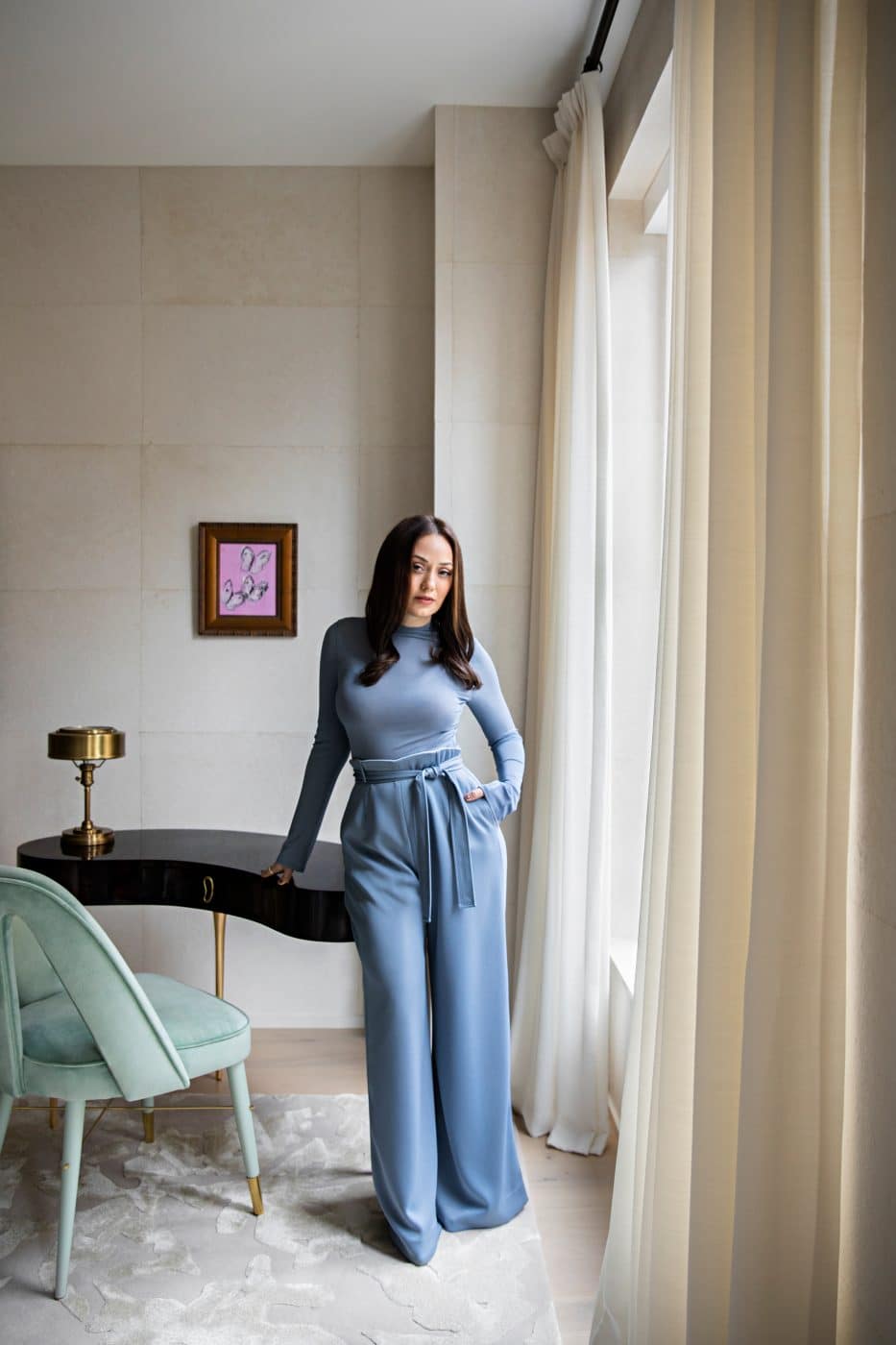 Which may be why, after graduating from high school, she was a bit lost as to what was next. When her sister, MaryAnne, a student at Smith College, in Northampton, Massachusetts, invited Curry to spend the summer in New York City, where she was working as an intern at Ralph Lauren, Curry took her up on the offer.
The city was a revelation. "New York expanded my mind and my view of the world. There was so much to discover, especially about art, architecture and design," she recalls. "I got an education in life through the city."
Always interested in food and health, much like her parents, Curry began studying at New York's Institute for Integrative Nutrition. But being in the city on 9/11 forced a reckoning about her life's purpose. Curry decided to instead pursue a career drawing on her creativity and enrolled at Parsons School of Design. No sooner did she have her diploma in hand than she and a former Parsons classmate began picking up small residential projects through acquaintances and friends.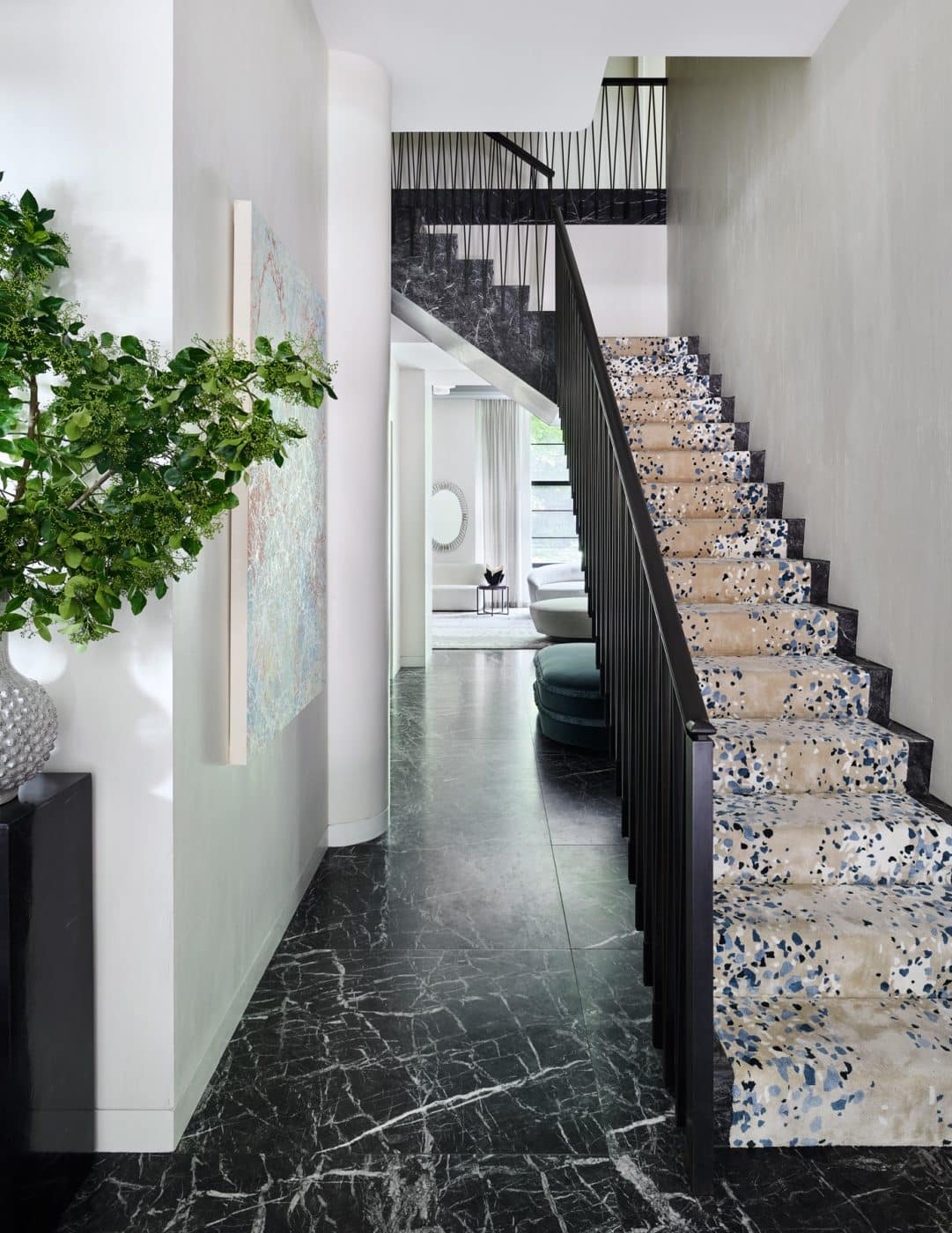 Amazingly, Curry has never worked for another designer, and she's still not sure if that was lucky or not. "The problem is that there's a big learning curve between school and work," she says. "No one teaches you how to collaborate with an upholsterer or how to run a business."
Still, by 2009, just four years after graduating, Curry had formally established her own design firm. And a decade later, with a portfolio packed with ritzy residential, commercial and hospitality projects, she took home the so-called Oscar of the profession, the Andrew Martin International Interior Designer of the Year Award. Presented by its namesake London design showroom, it has been won by decorating legends like Thomas Jayne, Rose Uniacke, Nicky Haslam and Kit Kemp.
Awards aside, the real measure of a great interior designer may be how many repeat clients they collect, and Curry has a generous assortment, among them, the owners of one particularly covetable New York duplex she recently completed.
"It's a funny story how they first came to me, back in 2016 — and it's one I've heard before," Curry relates. "The couple told me, 'We were researching interior designers and pinning a lot of projects we liked, and we realized eighty percent of them were yours!' " They hired her to do their apartment on lower Fifth Avenue.
Years later, when the husband and wife, who have two young children, found this rare contemporary maisonette with floor-to-ceiling windows in the West Village, they felt certain it was their forever home. Yet before closing the deal, they called Curry again, this time for a prepurchase assessment.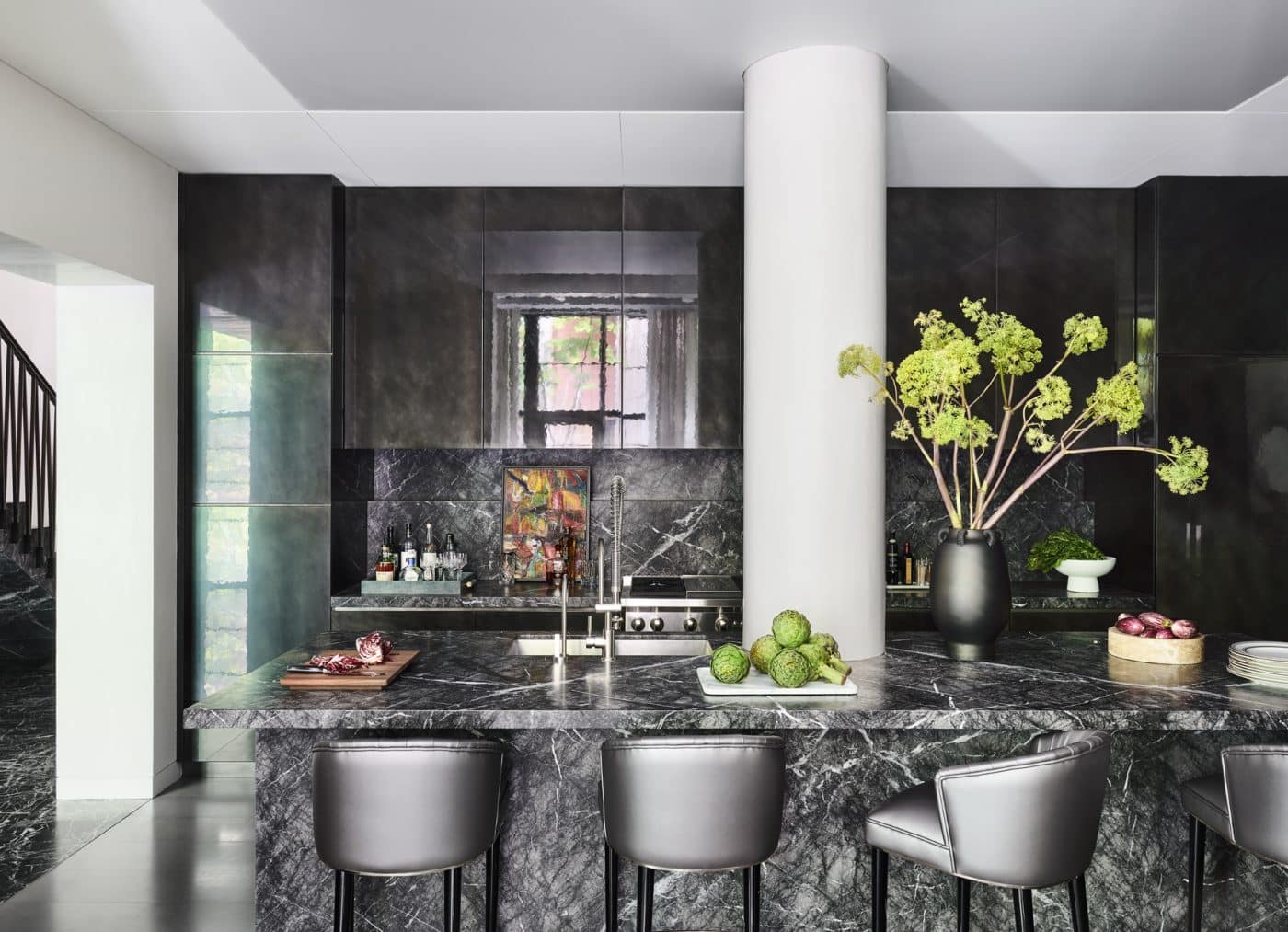 "It had great bones," she remembers, "and beautiful spaces. But there were a lot of dark gray walls and custom millwork that was not to the clients' liking. I suggested we go lighter and brighter with white Venetian plaster."
One of the residence's most appealing — and challenging — existing features was the dramatic Grigio Carnico marble covering the entry-level floor and staircase. "It's so strong that it almost insists on the interior being a monochromatic story," Curry observes.
To temper the high-contrast effect of the dark stone with the polished white walls, Curry designed a runner for the prominently featured stairs in a pretty terrazzo-like pattern featuring gentle hues of beige, white and blue.
Elsewhere in the interior, a palette of dark blues, purples and grays grounds and softens the spaces. Combined with an array of luxe materials and elegant furnishings, these produce an overall effect of quiet opulence.
The home's colors and materials were selected during a preliminary shopping trip with the wife. "I like to bring the clients in right off the bat," Curry explains. "It's my job to see what they are drawn to."
One of the materials that first caught the wife's eye was the teal-blue velvet that now covers the Art Deco bench in the foyer — the distinctive fringe detail is a Curry addition.
The wife was also enamored of ombré curtains from Holly Hunt, and two sets, one in dark blue and the other in a rich magenta, became the decorative foundation for the children's rooms. The son's features a loft bed suggestive of Lego block construction. The daughter's is all dreamy fantasy: It boasts a wall papered in a surreal design of birds' wings in flight, with Ingo Maurer's wondrous Lacrime del Pescatore — an undulating nylon net with suspended crystals illuminated by a spotlight on the wall — suspended above.
A midnight-blue velvet struck the wife as so soothing that Curry upholstered the window seats and cushions in the main bedroom with it. She also commissioned Jean-Louis Deniot to create a lacquered dresser in that hue, with a starry constellation of rock-crystal pulls. As it was the wife's wish that the bedroom be cozy, quiet and acoustically insulated, Curry covered the floor with a charcoal-gray silk carpet and padded the walls in light gray faux suede.
To ensure that the children and their friends could have rambunctious fun without annoying the grownups, Curry soundproofed the walls of the media room in the basement with a distressed white faux leather evocative of concrete. A chair upholstered in a graffiti-patterned fabric, left behind by the previous owners, along with a funky Togo sofa from Ligne Roset, adds to the feel of a gritty urban playground.
By contrast, tobacco-colored real leather covers the floor of the husband's study. Curry topped this with a faux-cowhide rug, conferring a suave, masculine ambience to the room that is enhanced by the timber-beam ceiling she installed and her choice of a texture-rich greige-colored grasscloth for the walls.
In the dining nook, Curry upholstered a custom-designed channel-tufted banquette in an aubergine faux leather, again mindful of the children. Family friendly though it may be, when combined with designer Gio Pagani's smoked-mirror Atomic dining table and acrylic Z chairs, it endows the space with all the swank of a posh '70s nightclub.
The adjacent formal living area, meanwhile, has an air of Hollywood glam. Its twinned lilac-plaid Vladimir Kagan Serpentine sofas flank a Sicis glass-topped Ondine coffee table whose wavy metal base wears an antique gold finish. Completing the scene are a pair of 1970s gold-plated bronze and Murano glass sconces by Surrealist metal artist Claude Victor Boeltz.
All in all, the home is a superlative study in child-centered but sophisticated living by a designer raised with a highly enlightened notion of lifestyle.