September 26, 2021The famed 20th-century figurative painter Francis Bacon maintained that "the job of an artist is always to deepen the mystery," suggesting the pursuit of something elusive and almost imperceptible. But mystery can also inform the sharpest and clearest depictions, as demonstrated by realist artworks, which replicate scenes or objects with such intense precision that they seem to be lifted out of time and observed in a new light.
An obvious example is the vanitas paintings of Renaissance masters from the northern and southern schools of Europe, especially those associated with the 17th-century Dutch Golden Age. These works, intended to convey the transience of life and the futility of material possessions, often featured impeccably rendered skulls, insects and wilting flowers alongside burgeoning blooms, glistening jewels and exotic delicacies.
Fast-forward three centuries, and a new kind of verisimilitude in painting was establishing a footing in an art world dominated by abstraction. Pioneered by a group of American and European artists, 1960s photorealism sought, through painstaking attention to detail, to mimic the clarity and precision of photography with paint on canvas.
The Illinois-born artist Richard Estes, whose work is on display through December 12 at Damien Hirst's Newport Street Gallery, in London, is widely considered the founding father of the international photorealist movement. Renowned for his preternaturally still and super-sharp cityscapes, Estes captured the subtleties of light in his paintings, bringing to life oft-overlooked metropolitan fixtures such as steel subway rails and colorful shop awnings.
Brooklyn-born photorealist Robert Cottingham, too, homes in on familiar aspects of urban environments, from neon signs to shop fronts, manipulating scale and texture to endow them with an enigmatic quality.
Then there's fellow Brooklynite Ben Schonzeit, a pioneer of the airbrush technique, is best known for his hyperreal paintings of floral bouquets and ripe fruit, contemporizing Dutch tradition with Pop art flair.
A more political side of photorealism is evident in the work of such artists as the late American painter Manon Cleary, who confronted difficult issues of self-worth and sexual identity in pictures that blend Renaissance style with a modern sensibility. New Yorker Audrey Flack takes a similar approach, producing chromatic vanitas paintings featuring make-up, cake and perfume that seek to subvert harmful gender norms and dismantle old-fashioned feminine ideals.
Today's contemporary talents continue to push the boundaries of realism and photorealism, proving that this precise visual language is as capable of expressing flights of the imagination as abstraction. Here, we speak to seven artists who explain their reasons for adopting this meticulously detailed style in their work.
---
Eric Forstmann
Eric Forstmann, who lives and works in Connecticut, paints inanimate objects with incredible precision, leaving space for thought. "I love presenting objects of a common nature in a new light, following a kind of oddball arrangement and theater," he says. "The objects tell stories that are different for everyone or similar for different people."
His freshly pressed Oxford shirts arrayed in a row, for example, seem to have personalities of their own, while a cupboard full of kitchen tools and tableware could be a metaphor commemorating great meals previously enjoyed or promising conviviality to come. "Realism to me," Forstmann says, "is respect for the actual — a fascination with the minuscule, an adoration for the ordinary. And a strong sense of time and how to spend it, extend it and comprehend it."
---
Richard Combes
British photorealist Richard Combes transforms unprepossessing spaces, such as cobbled cul-de-sacs, office hallways and pedestrian crossings, into places that spark the imagination. Jam and butter on a slice of bread appear both unctuous and inviting, while an abandoned cardboard box perfectly evokes being lost and lonely on a day you'd rather forget. On puddle-strewn streets soaked in light, every inch of every building is reflected in the water.
"I like to make a view of an empty street seem like a stage set ready for the actors to appear," says Combes, who cites a wide range of artistic inspirations. "Artists who have influenced my work include Antonio López-Garcia — I love the way he paints architecture — Vermeer, for the way he captures light falling on surfaces, and Edward Hopper, for the atmosphere he creates in empty spaces."
---
John Moore
"What draws me to subject matter are places that connect with memories, that suggest ideas or perhaps have a melancholy attribute," says John Moore. The Maine-based painter's hyperreal visual worlds play with perspective, space and reflection, giving rise to arresting viewpoints that have a penetrative power.
Window scenes like Double Dusk (2018) have a hypnotic effect — as viewers gaze at the picture, they realize they are looking at a canvas depicting an industrial landscape at dusk that is perched on an easel in front of a different sunset scene outside.
"A representational painting does not require a certain amount of previous information, a context or a degree in art theory," says Moore, who previously chaired the fine art department of the University of Pennsylvania. "A representational painting is accessible, available and brings associations that directly connect with lived experiences, and if it has flawless technique, that's even better."
---
Gregory Block
Denver-based Gregory Block's hyperreal canvases have an irreverent quality that is both whimsical and thought-provoking. In new works like WELL-BALANCED, cheeseburgers are stacked precariously on top of each other to create an oozing tower of ingredients. Similarly suggestive of overindulgence and excess, the cake pyramid in Cherry on Top and the frosted-doughnut monolith in Pisa in Pink (all 2021) are at once alluring, repulsive and extravagant. The flowers captured in close-up in orchids, irises and lilies, meanwhile, appear otherworldly, like alien life forms on the brink of bursting out from the canvas.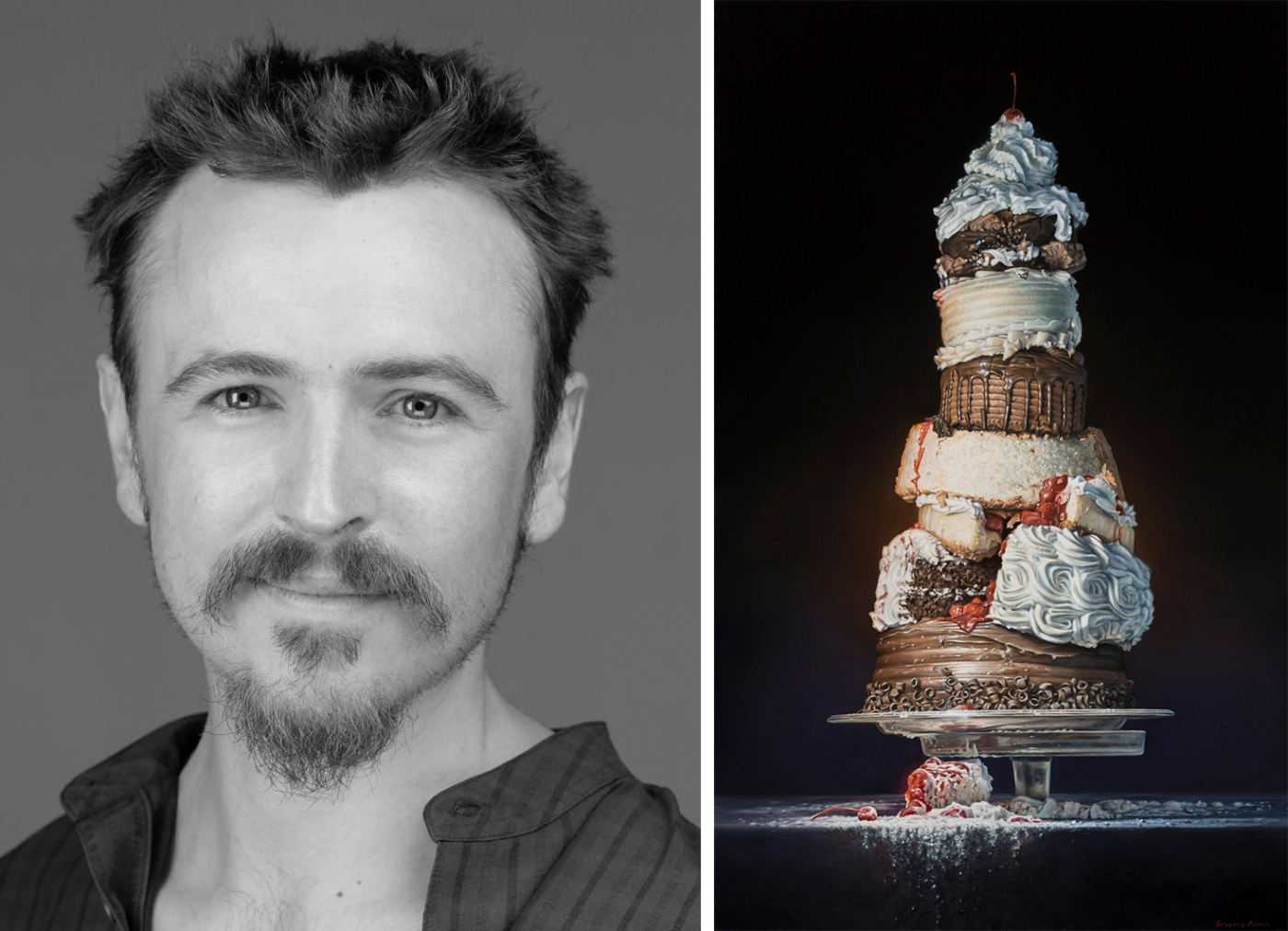 Block believes any surrealism we sense comes from within. "Each of us experiences the constant reality of living in our own minds, messy and abstract though it may be. And painters like the Abstract Expressionists and others could be considered 'realists' in that realm," he says. "Then there's the external reality with which we constantly interact: the subject of what we generally consider 'realist' art. At best, I hope my work first appears as externally real but, upon further scrutiny, pulls the viewer down the continuum toward a deeper, more internal and mysterious reality that's less easily quantified."
---
Matthew Hopkins
New York artist Matthew Hopkins sees beauty in the seemingly prosaic. In his hands, a fleshy, cold-looking coiled sausage is almost anthropomorphic. A monkey wrench, meanwhile, is transformed into a great sculptural mass, like a rusting battleship abandoned on a remote shore, and a Chinese takeout carton has the sturdiness of architecture.
"I paint things that endure, things that have been and always will be," says Hopkins, who works in both watercolor and oil. "To build my paintings, I distill and refine each image using a combination of photos, drawings and working from life. I consider my still-life paintings to be portraits, and I seek what's significant about the ordinary."
---
Yoshihiro Fujita
Inspired by Manga comics, Japanese artist Yoshihiro Fujita focuses his paintings on the gaze of the genre's wide-eyed characters, zeroing in on their doll-like glassy irises. The works are arresting and disorienting, touching on the contradictory coexistence of comfort and discomfort.
"Unlike real dolls, the dolls I paint are not supposed to be playful," Fujita explains. "They allow me to provoke a reaction in the spectator by creating a feeling of intrusion and disruption. My goal in the realization of extremely realistic canvases is to cause emotional upheaval in the spectator."
---
Bruce Cohen
California native Bruce Cohen's interior scenes are both stylish and surreal. The stillness with which his paintings are imbued owes to the sculptural quality of the objects depicted and the strong dialogue he sets up between natural light and shadow. In Poppies and Oranges (2014), for instance, the flowers and fruit of the title practically glow in the sunlight, while the deep shadows all around seem ominously corporeal.
"I believe that a painter can take the simplest subject matter and put something of themselves into it," Cohen says. "My interiors are a combination of observation, memory and invention. Perhaps this is where they get their dreamlike quality. In my work, it is the combination of flat, two-dimensional shapes and light that gives them a sense of space."