To look at Poonam Khanna's elegant, understated rooms — with their confident, skillful blend of spare, modern lines and warm, welcoming tones and textures — you'd never know that her path to interior design was a circuitous one.
After studying political science and international relations at Brown and beginning a management training program at Saks Fifth Avenue (a mistake, she realized), Khanna earned a master's degree in architecture from Parsons and another from Columbia University. She then spent several years at the New York City Housing Authority, where she designed a community center, before leaving to work with a friend in Telluride, Colorado, on interiors for wealthy clients.
This new focus on interior design was an unplanned career shift — "It just dropped in my lap," she says — but it clearly suited her well.
Since founding her Brooklyn-based studio, Unionworks — a name that conveys the importance of collaboration between designers, architects and clients — in 2007, Khanna has designed projects ranging from elegant residential interiors on both the East and West Coasts to fashion showrooms. Her retail store for the label Loeffler Randall (which she describes as "more like a space to feel pretty in and less like a store") will open in Soho early next year. And she's at work now on a venture-capital office in a Greenwich Village brownstone, where the client asked for spaces "that evoke a sense of joy" and which features a mix of modernist, vintage and contemporary pieces.
Khanna's change of career from the sometimes overly analytical field of architecture is not surprising, given her philosophy that "more than anything else, design is emotional and deeply personal." It is this philosophy that informs her modern but sensuous aesthetic.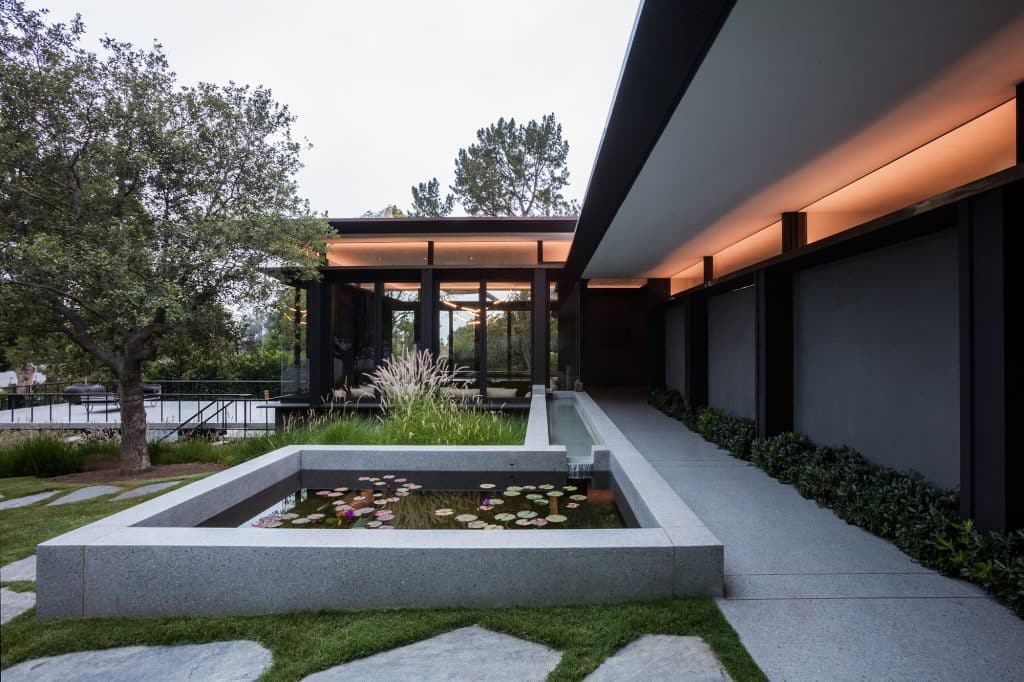 A case in point is an early 1960s house in Beverly Hills, designed in the indoor-outdoor style of the time by the noted modernist architect Rex Lotery. The current owners are enthusiastic collectors of 20th-century furniture, much of which they have purchased at such well-known Los Angeles galleries as JF Chen.
The project is a collaboration among the Los Angeles– and New York–based architecture firm Studio Tim Campbell, which restored Lotery's 5,000-square-foot concrete, stucco and wood structure and designed a 3,000-square-foot addition; the Los Angeles landscape designer Art Luna; and Khanna, who was responsible for the interior design and furnishings, as well as the indoor spaces' finishes and millwork. (After the house was completed, the owners asked the interior designer Cliff Fong, from whom they'd purchased some of their prized pieces, to add a round of finishing touches.) The team's aim was to remain true to Lotery's vision — and they more than succeeded.
Here, Khanna takes Introspective on a room-by-room tour.
---
The Foyer
To enter the house, which is set far back from the street, you pass through a covered open-air entryway into a spacious foyer. There, a Charlotte Perriand cabinet keeps company with a wall-mounted light fixture by Serge Mouille. Dividing the foyer from the living room is a freestanding fireplace framed by rectangular cast-concrete columns of Lotery's design. Khanna covered its original turquoise-mosaic-tiled front and back with bronze cladding that is deliberately made to look, she says, "like the B-side of metal, tarnished and patinated in a haphazard way."
---
The Library
Through double glass doors from the foyer is a cozy library, which Khanna designed with dark-stained walls and bleached-oak bookcases. A Jean Prouvé daybed and a Flag Halyard chair by Hans Wegner offer places to sit and read under Murano glass hanging lights. "It's a solitary space," she says, "and I wanted it to have a little bit of glamour — hence, the de Gournay metal-leaf wallpaper in the shelves. When the light hits it, it gives the room a magical glow."
---
Living Room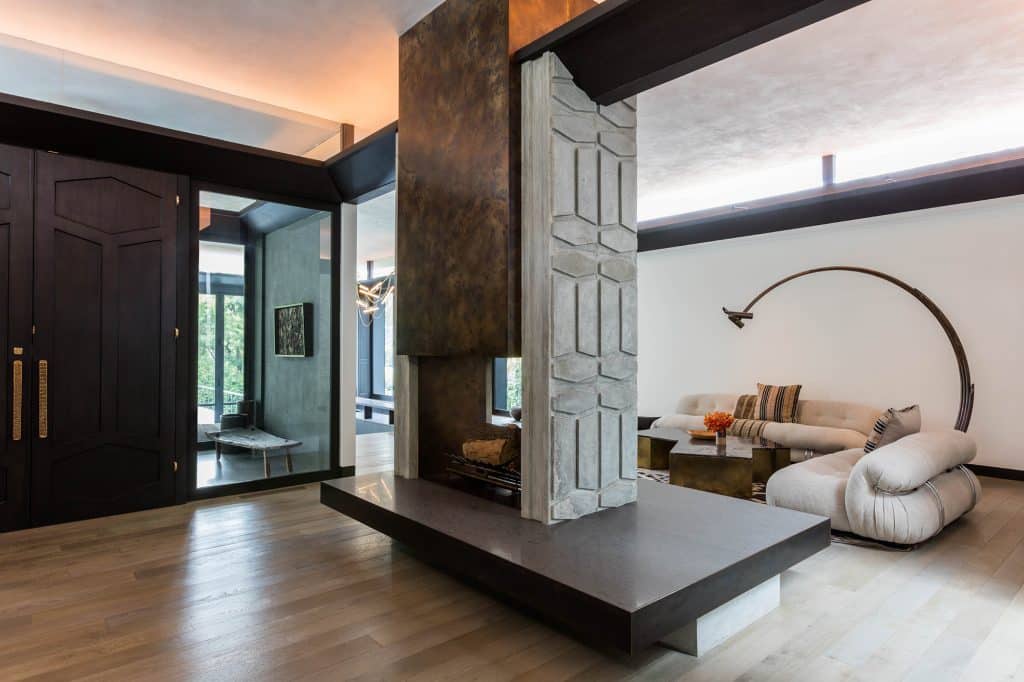 In the living room, on the other side of the fireplace from the foyer, two vintage Soriana sofas by Tobia Scarpa and a marble and brass coffee table by Brian Thoreen sit on a Losanges Two rug by Ronan and Erwan Bouroullec for Nanimarquina. The curving floor lamp was purchased by the owners. The concealed cove lighting, by the Los Angeles lighting designer Sean O'Connor, is designed, Khanna says, to illuminate the ceiling "so that it appears to float."
---
Family/TV Room
Located in the addition to the house (which also contains a guest room, a room for the kids to hang out in and a maid's room), the family room includes a comfortable sectional sofa that Khanna had covered in dark gray mohair, vintage armchairs and coffee tables by George Nakashima and Michael Wilson. The home's owners found the bronze-ball piece, originally a pawnshop sign, that hangs near the board-formed concrete fireplace. Ten vintage Turkish Sumak rugs from Amadi Carpets are layered on the floor. Khanna's clients favor a monochromatic color scheme, but she says she "wanted to make it as warm and relaxed as possible."
---
Powder Room
Lined in Rosso Laguna marble, the powder room boasts wall-mounted lights by Bec Brittain and a diffuser from Apparatus on the freestanding vanity. The vibe, Khanna says, is "Donald Judd meets Yves Saint Laurent."
---
Dining Room
A wood mosaic piece by Joe Conforti, which the owners had in their previous house, adorns two walls of the dining room. Bronze chairs by Paul Evans, reupholstered in Osborne & Little fabric, surround a bleached-maple table with bronze legs from BDDW; a Belgian wood Brutalist cabinet stands against the back wall. The decor is spare, Khanna says, but "there's so much happening in the house, and you're facing the back garden, so you don't need a lot."
---
Back Garden
The dining room and adjacent kitchen look out on the back garden, where Luna's landscape design includes a firepit surrounded by a group of 1960s concrete chairs by Willy Guhl. The mid-century patio furniture was purchased by the owners. (The part of the building to the left is the addition.)
---
Adult Playroom
Opening onto a large deck is a space a few steps down from the living room that Lotery called the "adult playroom," which the current homeowners frequently use for entertaining. Khanna compares the room, with its windows on three sides, to a treehouse. Drawn up to Lotery's bar — rebuilt with a stained-wood base and marble top — are reproduction Jean Prouvé barstools. A custom light fixture by Lindsey Adelman hangs above. Opposite the bar is a linen-upholstered banquette that Khanna designed to feel original to the house, covering the base in pearlescent leather. Bronze Facet vases by David Wiseman sit on one of the three coffee tables carved from anthracite coal by Jim Zivic. The three Milano rugs are a 1951 design created by Gerd Hay-Edie and Robin Day for a room at the Triennale di Milano.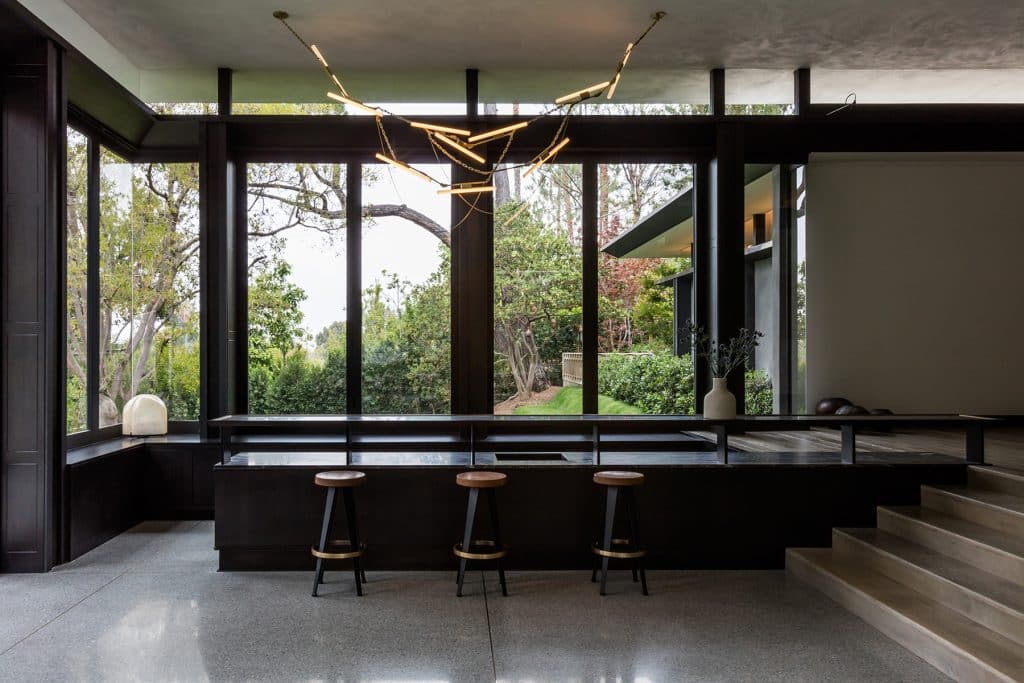 ---
Principal Bedroom
Khanna wanted this room, with its view of a Japanese-style garden and outdoor shower, to feel calm and gentle, like a sanctuary. Resting on a plush silk shag carpet from Studio Four are vintage Ubald Klug for de Sede Terrazza sofas from design gallery Morentz. The Paul McCobb stools at the foot of the bed belonged to the owners, as did the blue fur throw and the Danish credenza.
---
Principal Bathroom
Khanna sought a '70s vibe for this room, cladding the walls, tub and vanity in veined travertine — "the same one used in the lobby of the Seagram Building," she notes — and using basalt for the floor. Above the sink, an Eileen Gray Satellite mirror, in an unlacquered brass finish that matches the Waterworks plumbing fixtures, is flanked by a pair of lights designed by Jason Miller for Roll & Hill. The wooden Tractor stool is by BassamFellows.
---
Rear Terrace
A 1950s Kyoto daybed designed by Mathieu Matégot lounges on the elevated terrazzo deck off the adult playroom. Luna's lushly planted landscaping includes grass-covered steps leading to the principal bedroom and bath.
---
Poonam Khanna's Quick Picks