Ray Azoulay doesn't believe his taste is universal. Or even eternal. Tastes evolve, he says. There are trends in interior design, just as there are in fashion. Some of those trends might even originate with Azoulay, whose Culver City, California, gallery, Obsolete, has been a pilgrimage site for design lovers since the turn of the century (and has reached a still wider audience via 1stDibs and through Azoulay's seven books, which are as tightly curated as Obsolete's physical space).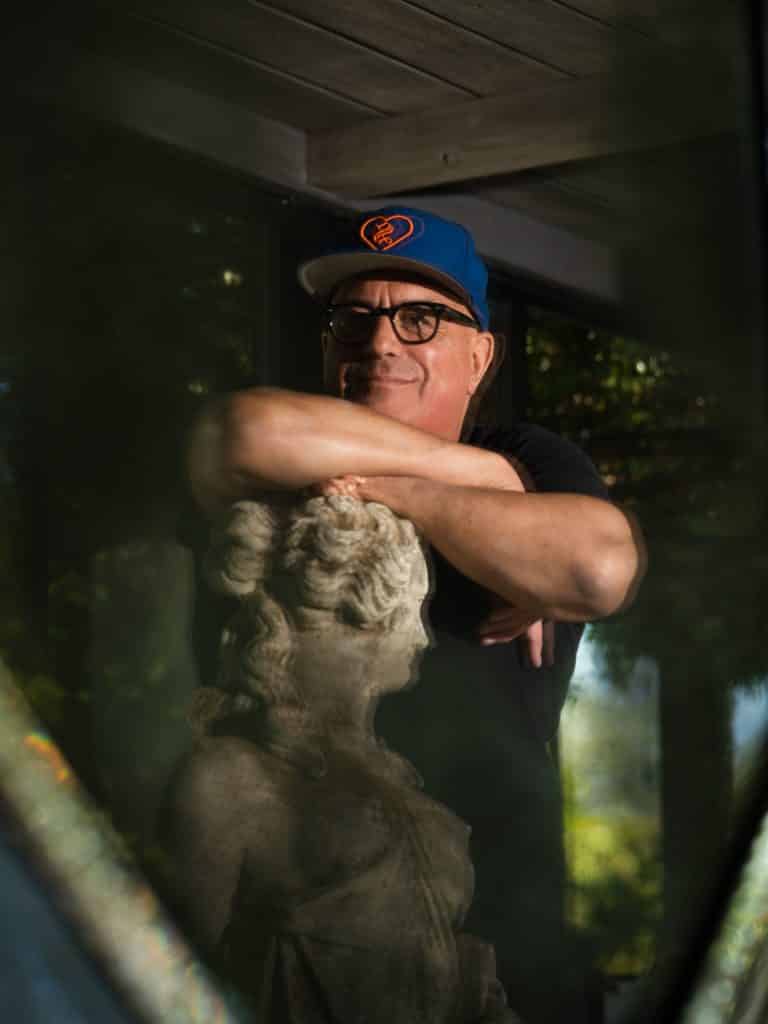 One recent trend, he says, is that after years when solids were de rigueur, "patterns are back — even pattern on pattern on pattern." Azoulay, who spent more than 20 years in fashion — as a design director for Macy's and Liz Claiborne — before opening Obsolete in 2001, says "the development is really exciting for me. When the cycle moves from solids to patterns, it separates the mice from the men." 
Azoulay is one of the men, as he proved while working on a house in Piedmont, a prosperous town across the bay from San Francisco. In the main bedroom, he brought together four boldly patterned fabrics. Trying to explain how he knows what will go with what, he says, "There are rules, but they aren't rules that can be written.
"I know it when I see it," he adds. "The one thing I have is certainty. I've always had that. When someone asks me what I think, I don't say, 'I'm not sure.' "
Azoulay, whose devotees include Diane Keaton, Barbra Streisand, Ellen DeGeneres, artist Takashi Murakami and architect Thom Mayne, occasionally helps clients decorate their houses, but "only if it feels right with the person." It felt right with the Piedmont home, which belongs to a longtime friend who has bought and fixed up many houses ("She lives in them, she doesn't sell them"). Because she had other places to live, Azoulay didn't face a move-in deadline. "When you do a house with the kind of things I like," he explains, "they present themselves when they present themselves." 
His client — a polymath who breeds and shows French bulldogs, owns an avocado farm and manufactures tahini — bought the Tudor-style house five or six years ago and began redoing it. That included adding floors of distressed and stained white oak in every room (a project that took several years) and complex tracery on many of the ceilings. She also installed a number of showstopping light fixtures (she's a lighting obsessive, Azoulay says), no two of them the same. Then, she came to a creative standstill. Her plan had been to paint every room a different color. But when she called Azoulay for advice, he told her, "We're not doing that." Instead, he chose a single shade (Building February's Gray, by the color guru Donald Kaufman) for every room in the house — ultimately using 50 gallons of Regal Select matte finish paint. With the background perfected, he got busy on the foreground, selecting furniture and art that would give the interiors the kind of off-kilter eclecticism he is known for. Azoulay, who doesn't generally like being a guest, has even deigned to stay overnight in the house. He chose a cozy downstairs bedroom, where his favorite feature is a gigantic staghorn fern hanging on a wall outside the window.
---
Foyer
The items in the foyer, Azoulay says, "are all from different planets" — setting the tone for the eclecticism of the rest of the house. The large circa 1870 table with what Azoulay describes as "exquisitely turned legs" is Danish. It supports a tall brutalist lamp that he calls "maniacal." He found the barnyard painting in England. When you walk in the front door, he says, one of the cows is looking right at you. It's welcoming and funny and creates a little bit of mystery about where you're going." He doesn't know or need to know the history of every piece. The sconce next to the powder room door, he says, is "probably from the nineteen twenties," and the primitive table below it (supporting a vase filled with dahlias) is "probably seventeen nineties."
---
Living Room
The one thing Azoulay didn't like about this oversize room was the view of the house next door. He tried putting a giant vase filled with foliage in front of the big window, but when that didn't work, he turned to R.D. Gibbs & Co., of Glendale, to create a stained-glass panel using colors derived from the circa 1850 Indian Tree of Life tapestry mounted in a no-glass floater frame next to the fireplace. He avoided a hanging light fixture. "I wanted to look at the ceiling. I didn't want to look at a chandelier," Azoulay says, adding that, in general, he "didn't want anything disrupting the flow. It's about seeing through the room to the stained glass."
Along the way, your eye might settle on a 1970s Adrian Pearsall sofa. Designed with a no-nonsense upholstery material like corduroy in mind, it is now covered in a Williams Morris velvet that Azoulay calls "a little bit Mad Hatter." He chose Italian circa 1950 wingback chairs covered in mohair velvet because, under the high ceiling, he wanted something "just a little bit regal." A circa 1880 English cast-iron statue of Jesus lies on the coffee table. It is, he says, "a bit irreverent, which is what I do and what the client loves."
---
Gallery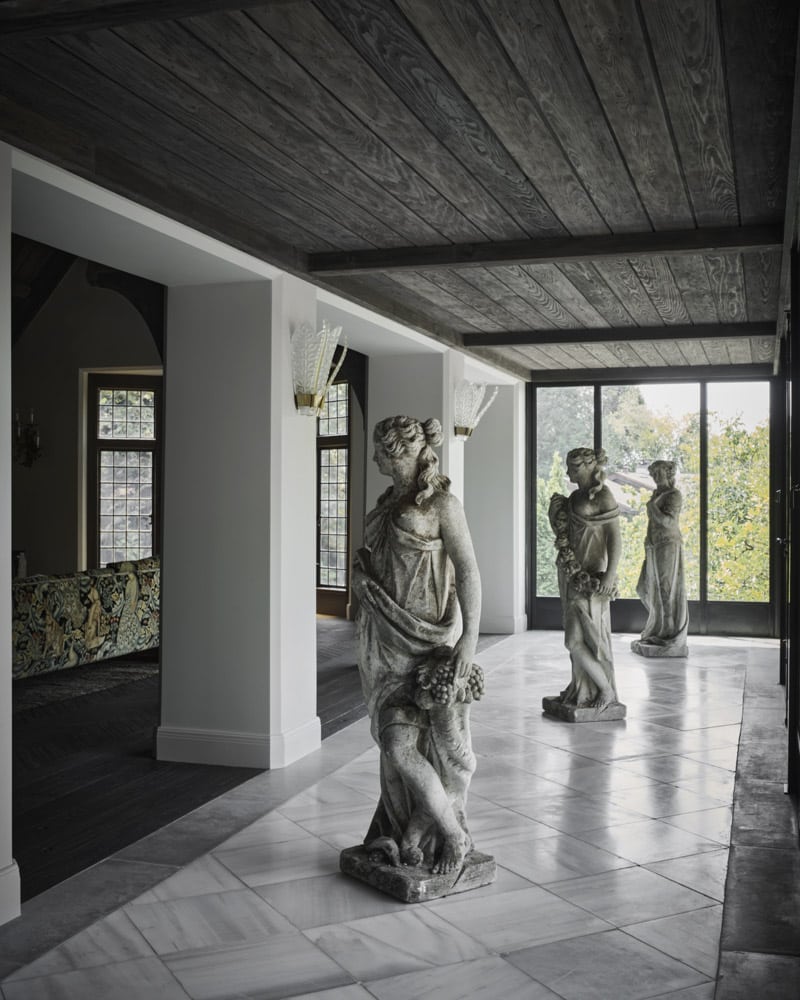 Azoulay purchased three Italian circa 1930 life-size stone garden statues in England but didn't put them in the garden because, well, "that's the obvious place." Instead, he said, "you feel like three ladies have stepped out of the garden and are about to join you in the living room."
---
Dining Room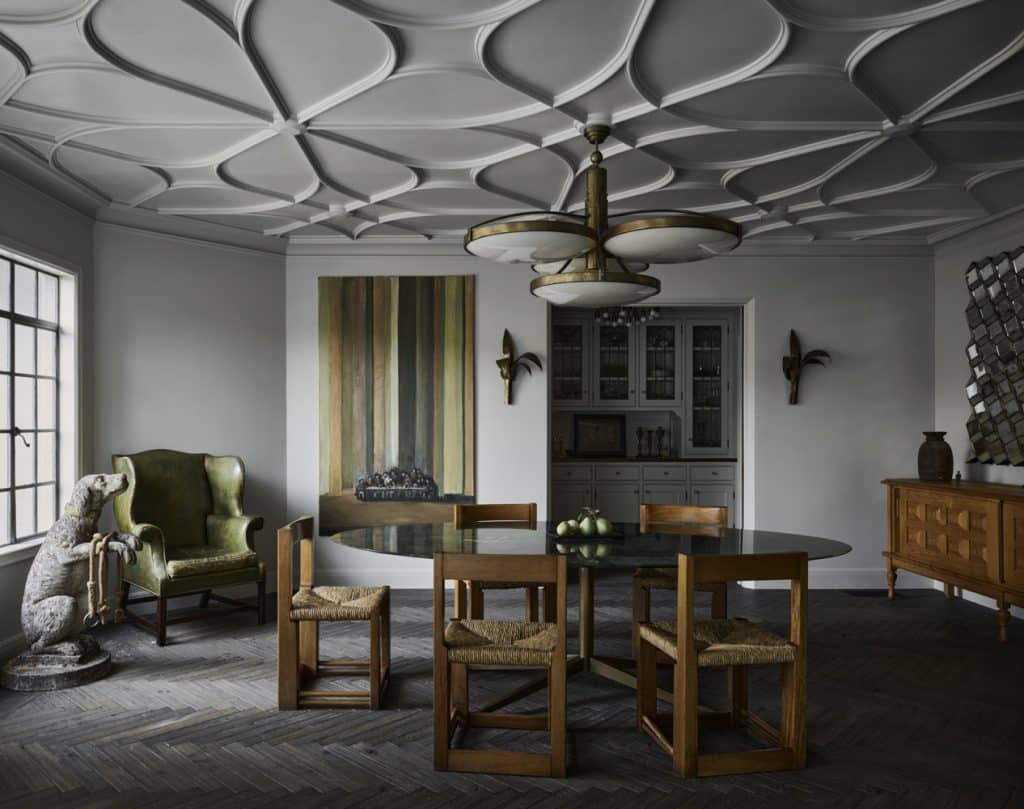 "That's what I call razzmatazz," says Azoulay, referring to the tracery that his client added to the ceiling. (He resisted painting the tracery a separate color. "It was already speaking loudly. I didn't need it shouting.") As he began furnishing the room, he says, it naturally took on a greenish, golden tone. First, he had a chrome table base replated in brass. Then, he chose Italian circa 1930 mahogany and rush dining chairs, for their stolid geometry ("I didn't want the house to go in the direction of French country"), and a "worn-out English wingback chair." The painting is by Goran Djurovic, a Serbian artist who lives in Berlin. The stone statue of a begging dog is a garden ornament that Azoulay bought from a private collector near Milan. "Anything dog-related she loves," he says of his client. 
---
Kitchen
Much of the kitchen was already installed when Azoulay arrived. To warm it up, he added school stools from England and a circa 1900 table, which he bought in France, with its original zinc top and tall ebonized legs. He also chose the Holophane lights, from interwar England, with borosilicate refractors that provide uplight and downlight evenly.
---
Sitting Room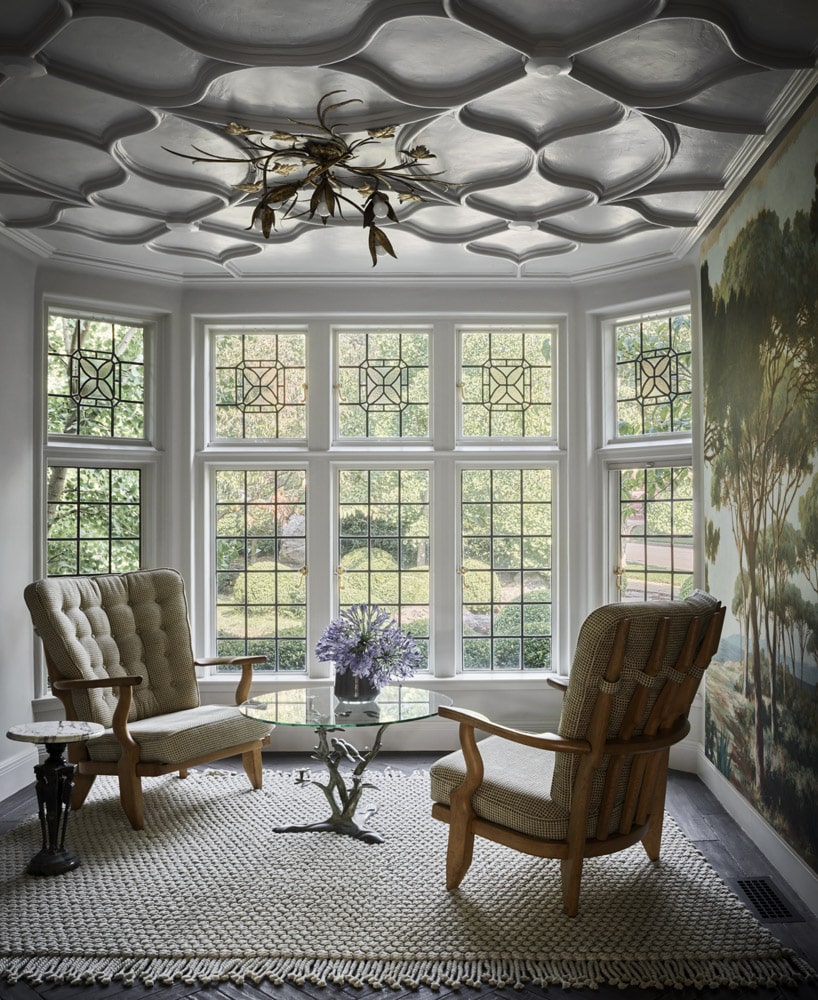 In a room off the kitchen, Azoulay placed Guillerme et Chambron chairs, which are "as beautiful from the back as from the front," on a knotted Maharam rug. He helped bring the outside in with a Pierre Frey mural and a bronze birds-on-branches table base.
---
Game Room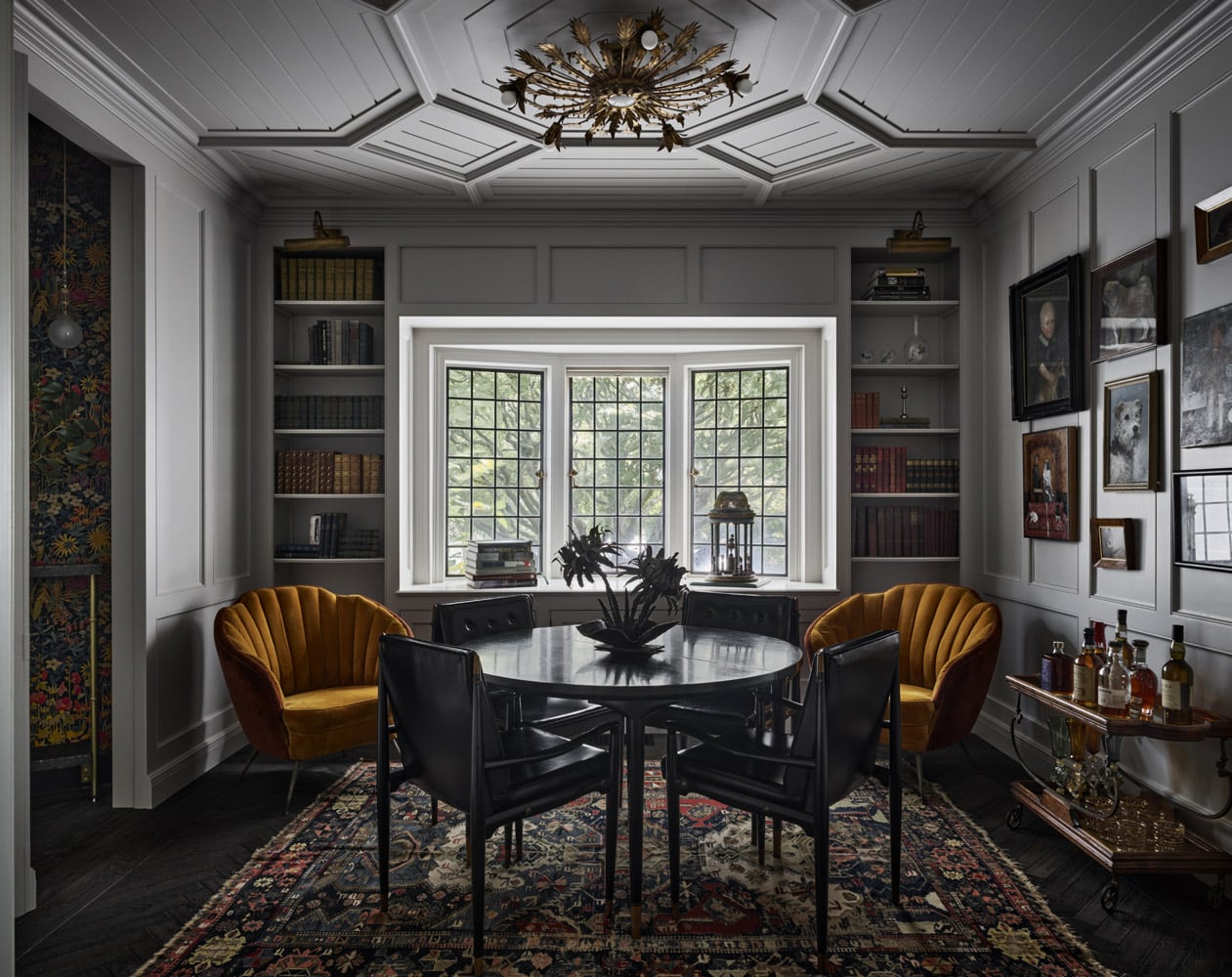 To make the game room cozy, Azoulay covered one wall with paintings of dogs (some with their owners). An opening in the opposite wall leads to a small bar area with a floral Liberty of London velvet on the walls. The black lacquered table and the chairs surrounding it are circa 1940. The upholstered Deco chairs, he says, "are there for the color."
---
Hallway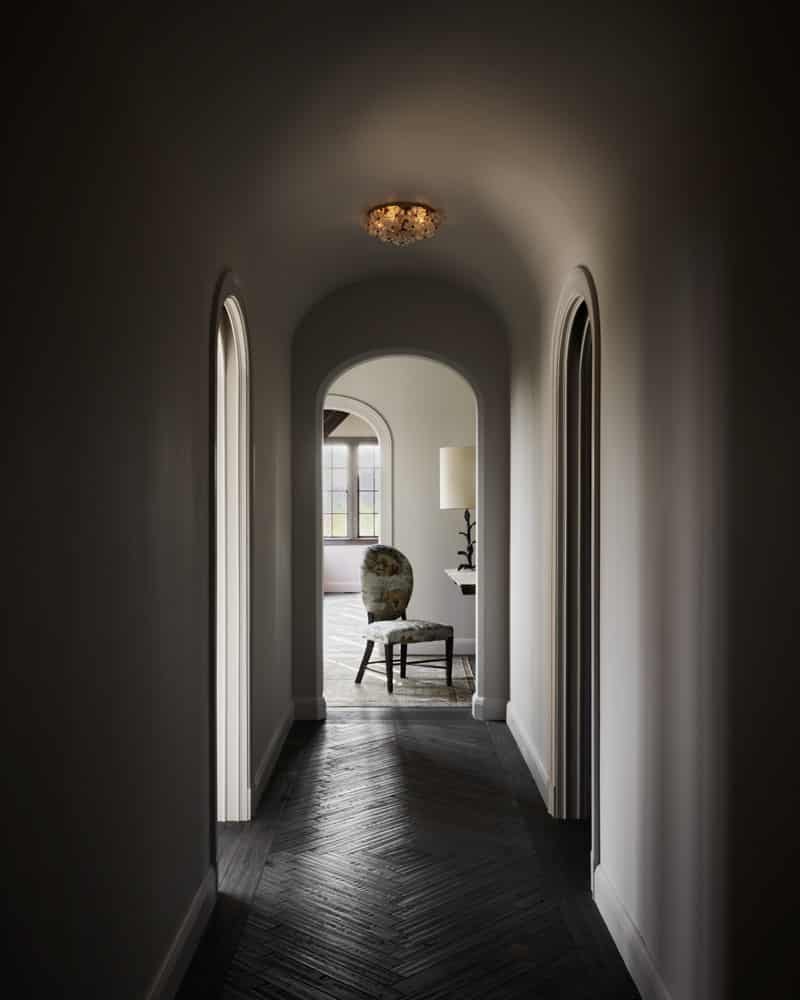 An upstairs hallway is the spine of the owner's suite. To the left is the main bath; to the right is a walk-in closet. Straight ahead is the bedroom. Azoulay decided to keep the walls "very blank, as quiet and monastic as possible." The only decorations are the arches themselves and a floral light fixture mounted "tight to the ceiling."
---
Main Bedroom
The English circa 1920 ebonized bench and custom headboard are both upholstered in House of Hackney fabrics; the other two fabrics are vintage. The prints are all assertive, but they "flow together," Azoulay says. By contrast, the Italian circa 1950 chair by the window is covered in the same pink mohair velvet as the curtains. "I didn't want that chair to speak," he explains. "I didn't want the curtains to speak. They're in supporting roles. It doesn't mean they're not important. But I'm very careful about who speaks. You can't have five Judi Denches in one movie." 
The client, Azoulay says, so loves the more-than-four-foot-tall dog vase that she wanted it close to her bed.
---
Main Bathroom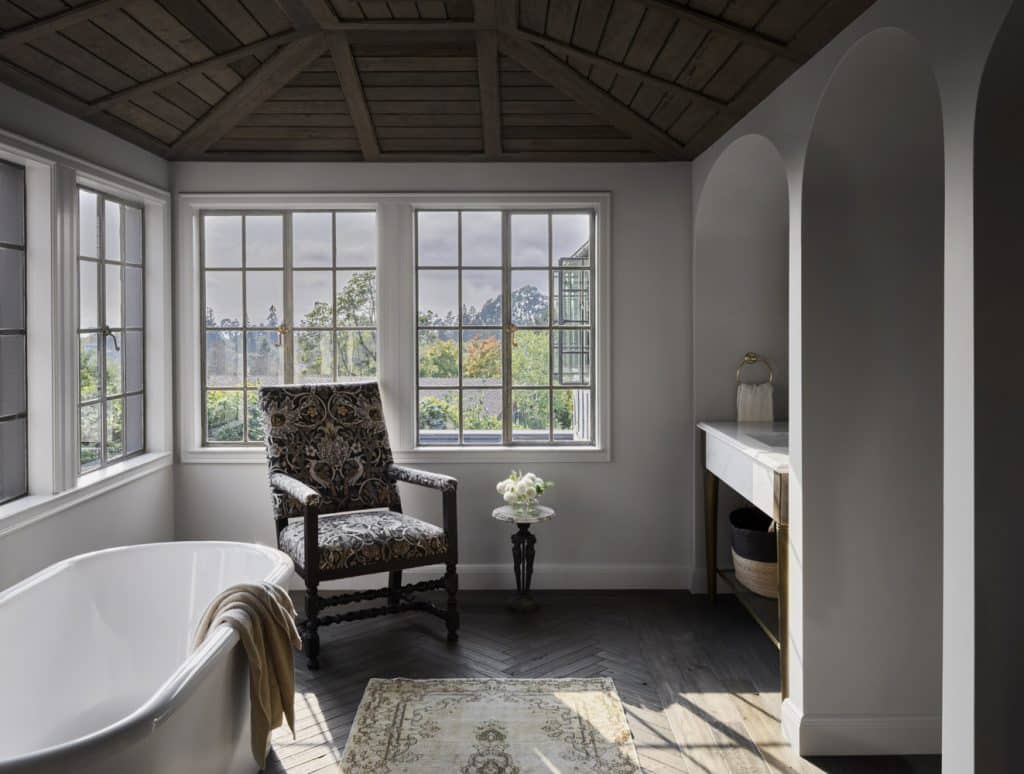 The room is entered through the central arch; the two side arches shelter sinks. On a smokeless day, the windows offer panoramic views of the Bay Area. The 19th-century English chair is covered in a William Morris fabric. To get the shot, Azoulay says, photographer Douglas Friedman stood in the small toilet room and placed his camera in the shower.
---
Downstairs Guest Room 
"This is the bedroom I sleep in," Azoulay says. "I like it because it's cozy, and because of the dramatic shapes of the fern outside the window." The Empire chair, he says, "belonged to a very important movie producer. When you sit in it, the chair takes over — it is such a powerful form." The wall-hung console is from BDDW. "There's maybe two hundred years between the chair and the console," Azoulay says. "I love that sort of juxtaposition."
---
Upstairs Guest Room 
An oak and rattan bed, designed by Pernille Lind and Richy Almond for Copenhagen's Hotel Sanders and available on 1stDibs, faces off against an Eero Saarinen Womb chair. Azoulay kept the room spare. "I don't want a table next to that floor lamp," he says. "I want you to appreciate the lamp." Referring to his discriminating eye, he adds, "The blessing is you see everything. The curse is you see everything."
---
Powder Room
Azoulay used a Timorous Beasties wallpaper not just on the walls but also on the ceiling. He says he learned from Donald Kaufman that patterning the ceiling makes a small room feel bigger.
---
Front Garden
Azoulay's client wanted to shield the house from the street without resorting to a fence. So, she and West Hollywood–based "exterior designer" Scott Shrader placed boulders and planted boxwoods (themselves shaped like boulders) and tall grasses in front of the home, to create "layers of camouflage." The bench, Azoulay says, is English, "maybe around 1910."    
---
Ray Azoulay's Quick Picks