April 26, 2020"PEHR-nel," the Danish-born interior designer Pernille Lind says with a laugh when asked how exactly to pronounce her first name. "It's a strong name. It means 'rock' in Greek, derived from 'petros.' "

Because the entire world has been shut down by the coronavirus, rather than meeting an interviewer in her office or at one of her projects, Lind is speaking from her home in West London, where she has lived since 2013. She is perhaps best known for her 2017 design for Copenhagen's Hotel Sanders, in which she and her business partner, Richy Almond, transformed a dilapidated 90-room city-center property into an über-stylish mix of Danish cool, British eccentricity and Asian influences that earned rave reviews.

Celebrated for a distinctive style that combines a clean, cool Scandinavian aesthetic with quirky detail and an extensive use of natural materials, Lind is currently working from home, starting on a slew of new projects and putting the final touches on older ones, including a 1918 Colonial Revival house in the Chicago suburb of Oak Park whose dated interiors she refreshed. The home now reflects the sensibility of her clients — Americans who lived for a time in Europe — with serene, open-plan spaces, light-hued materials and detailed marble and terrazzo finishes.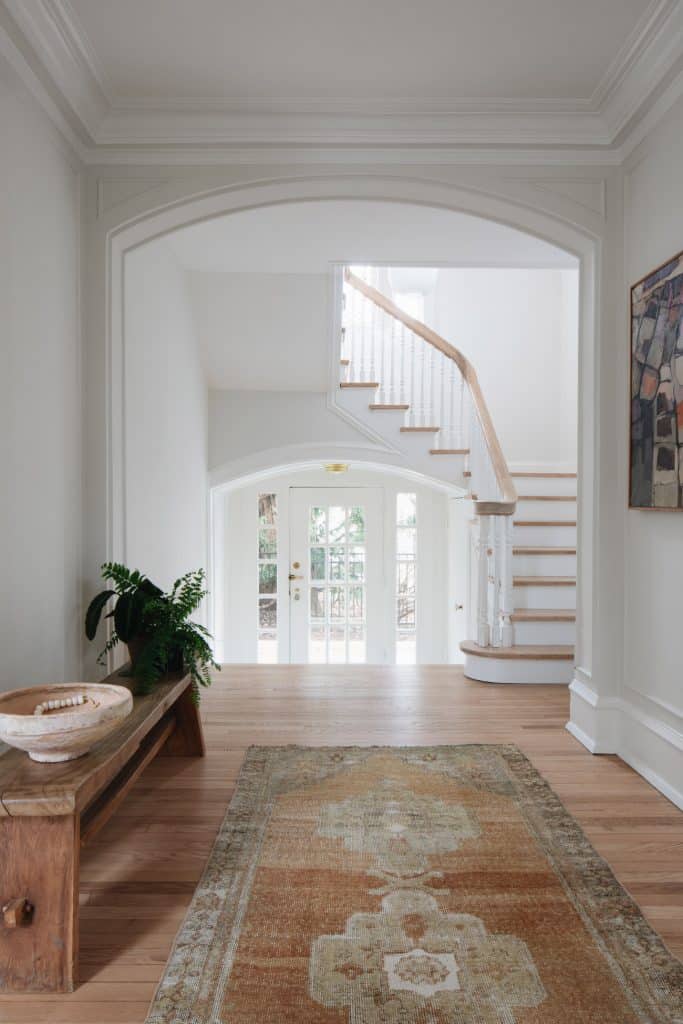 Lind's overarching aesthetic reflects her diverse heritage and peripatetic upbringing. "It's essentially a re-creation of my childhood memories and innfluences," says Lind, whose Danish engineer father worked all over the world and met her Thai mother — an antiques dealer — in Bangkok. "I constantly reference what I saw growing up and traveling."

Lind lived in Saudi Arabia, Denmark and Thailand before the family settled in a suburb outside Copenhagen for her high school years. Always acutely aware of her surroundings, she remembers being slightly embarrassed by her parents' eclectic collections of objects and their home's vibrant decor, so different from the muted Scandinavian style of her friends' houses. "I was always trying to purge and redecorate!" she says. Highly creative as a child ("I was obsessed with sewing throughout my teens"), Lind at first thought she might study fashion design but shifted to interiors after a foundation course at Central Saint Martins, in London.

In 2010, upon completing a master's degree in interior design in Copenhagen, she moved back to London, where she worked for several high-end designers, including Anouska Hempel. In 2015, she took on a senior role at Soho House. While heading up the team designing the company's new Soho Works spaces, Lind received a call from Alexander Kolpin, a former Royal Danish Ballet principal, about the property that would become the Sanders.

"Alexander really liked Soho House's flexibility, informal-formal mix and style, and he had heard of me through an acquaintance," Lind explains. "He asked if I would do a pitch." She immediately called Almond, a British architect she had worked with during her time with Hempel, and the two secured the commission.

The success of the hotel brought myriad requests for smaller-scale private projects, some of which Lind undertook solo while Almond continued with Novocastrian, a bespoke metalwork business and 1stdibs maker he had launched before their original collaboration.

---
Lind's overarching aesthetic reflects her diverse heritage and her peripatetic upbringing. "It's essentially a re-creation of my childhood memories and influences," she says.
---
One of those residential projects presented the irresistible opportunity to fully refurbish a townhouse in central Copenhagen. The four-floor structure had been bought by a Danish–South African couple who lived in London for many years and "wanted a bit of a London-international vibe," she says. In her design, Lind used prototypical Scandinavian materials — deploying fumed oak and other woods, not least in mid-century modern pieces by Arne Jacobsen and Hans Wegner — while introducing a more English look in the upholstery and adding commissioned metal pieces from Novocastrian and overdyed Turkish rugs.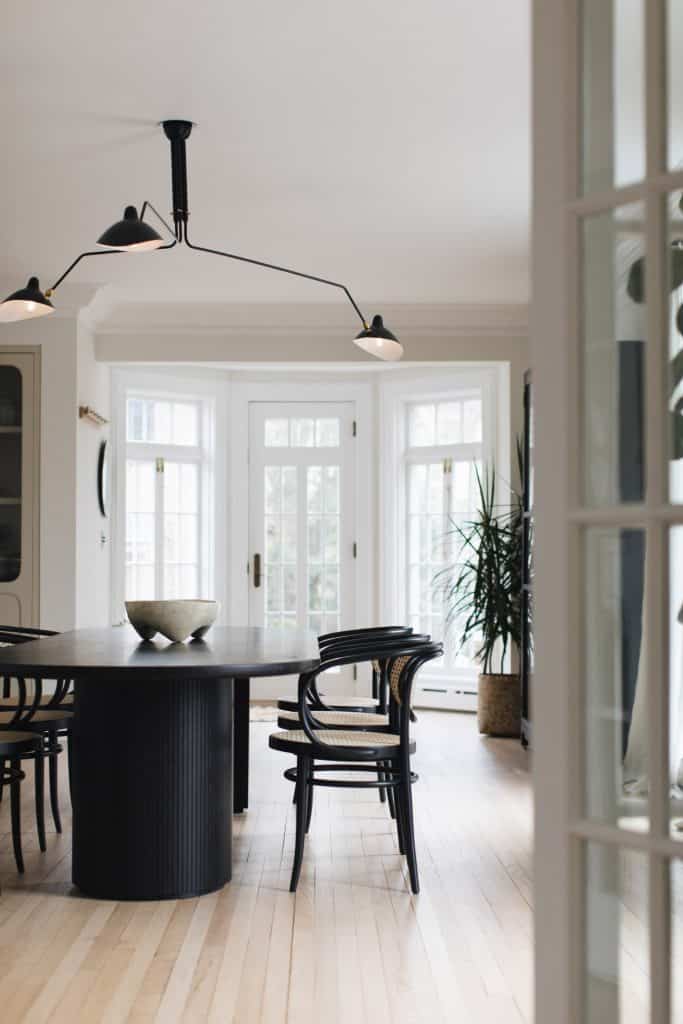 Lind chooses her projects carefully, especially long-distances ones, she says, because "the connection with people — from suppliers to clients — is so important to me." Still, she didn't hesitate when offered the chance to design the public spaces and a showhouse for a luxury residential development in Bangkok. "The synergies were really moving," she explains. "The site was close to the Taksin Bridge, which was my father's project, and the client's vision focused on outdoor spaces rather than bling-y luxury, which was inspiring."

For both the communal spaces and the show apartment, Lind commissioned Thai craftsmen to make artisanal furniture using local materials like bamboo and teak. These pieces she combined with vintage items, ceramics and objects from all over the world. In the public reception areas, for example, she juxtaposed 1950s French leather-and-brass floor lamps sourced from 1stdibs with Flexform sofas and custom pieces like a bamboo-patterned reception desk framed in brass and topped with marble.

In the 6,000-square-foot show apartment, Lind deployed items from Bangkok's antiques markets as well as bespoke ones that evoked childhood memories, such as a large, round bamboo lounge chair that she set in a quiet corner alongside a Swedish brass floor lamp from the 1960s. "It wasn't about using expensive marble and pricey furniture," Lind says, "but about feeling calm and safe in a home."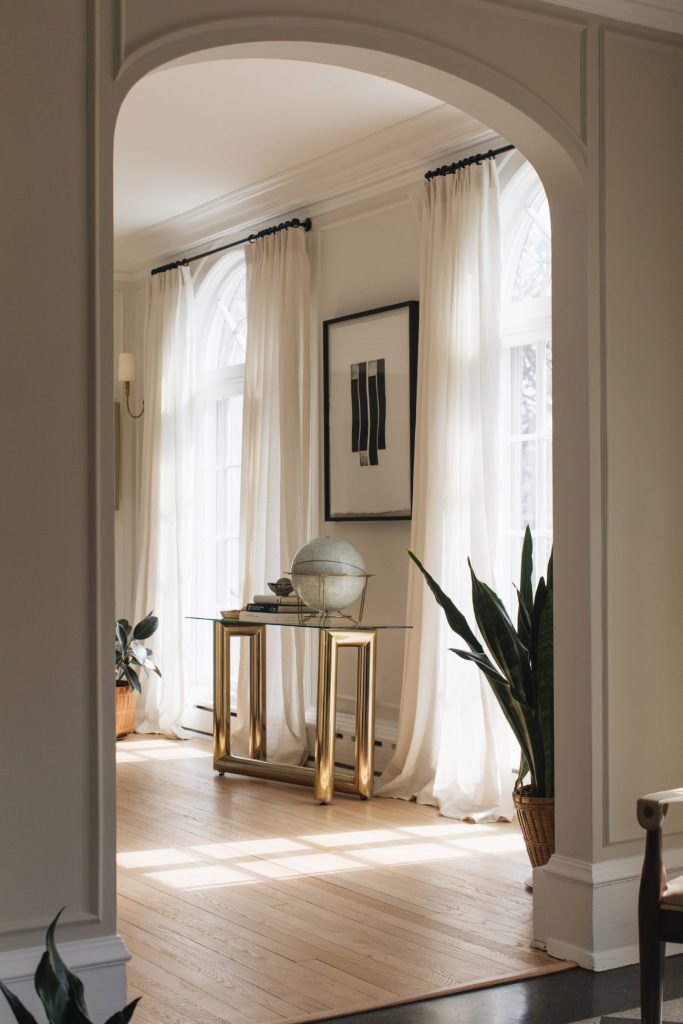 Lind aimed for a similar feeling in the Oak Park house, her first stateside project. She had shared an office space at Soho Works with one of the homeowners. "We were on-site with Hotel Sanders, and I wasn't in the office much, but she followed me on Instagram and saw what we were up to," Lind explains. "After she and her husband moved back to Chicago, she called to ask if I would work with them." They had fallen in love with a Colonial Revival house in the suburb's Frank Lloyd Wright district.

In reimagining the home, Lind began by creating a calm, pale palette, painting the mustard-yellow walls in off-white, pale biscuit and taupe tones and sanding the darker stain off the red-oak floors. She then introduced sophisticated mid-century-modern furniture and Art Deco accents that accord well with the period in which the residence was built, as well as its architecture. "The whole house has curves," she notes.

Pernille Lind's Inviting Interiors Reflect Her Global Upbringing
Lind's design is full of luxurious details, including an M.C. Escher–like geometric pattern in the master bathroom made from three different kinds of marble tiles and black-and-white terrazzo floors in a small sunroom. The dining room's bentwood Thonet chairs surround a contemporary table by the Danish brand Gubi, while, in the living room, she mixed such iconic Danish design pieces as Hans Wegner walnut and cord chairs with Thomas O'Brien wall sconces, a 1950s Italian mirror and a travertine coffee table, the latter two from South Loop Loft.

Serenity, space and light were her watchwords throughout, but particularly in the master bedroom, where soft taupe walls and linens set off the vibrant green of an overdyed Persian rug and the hexagonal crystals of a four-tiered, gold-plated Kinkeldey chandelier from the 1960s.

"Eclectic is an overused word, but I do think it's true of my style," Lind says, explaining that the house she grew up in was a real mix of Asian, Danish and African pieces. "What I do now re-creates that, and because of that, my style is personal and approachable. There is always something, a little bit of history or nostalgia, for people to relate to."

---
Pernille Lind's Quick Picks on 1stdibs