March 1, 2021March is Women's History Month, and we're shining a light on four creative, accomplished women — Anna Karlin, Tara Shaw, Kelly Behun and Michael Del Piero — who have forged their own unique paths to design-world success, women whose careers give new meaning to the term multidisciplinary. Between them, they design interiors, furniture, lighting, rugs and jewelry; mastermind the manufacture of their products; operate chic retail galleries and, of course, sell on 1stDibs.
Like all 21st-century women, they're building on the work of generations before them who fought for the rights of women to do anything and everything they damn well please.
Top: Kelly Behun paired a Campana Brothers sofa with a Konstantin Grcic armchair, a Jaime Hayon for BD Barcelona Monkey side table, a Gufram Cactus coatrack and AC Group artworks in a Hamptons living room. Photo by Stephen Kent Johnson
---
ANNA KARLIN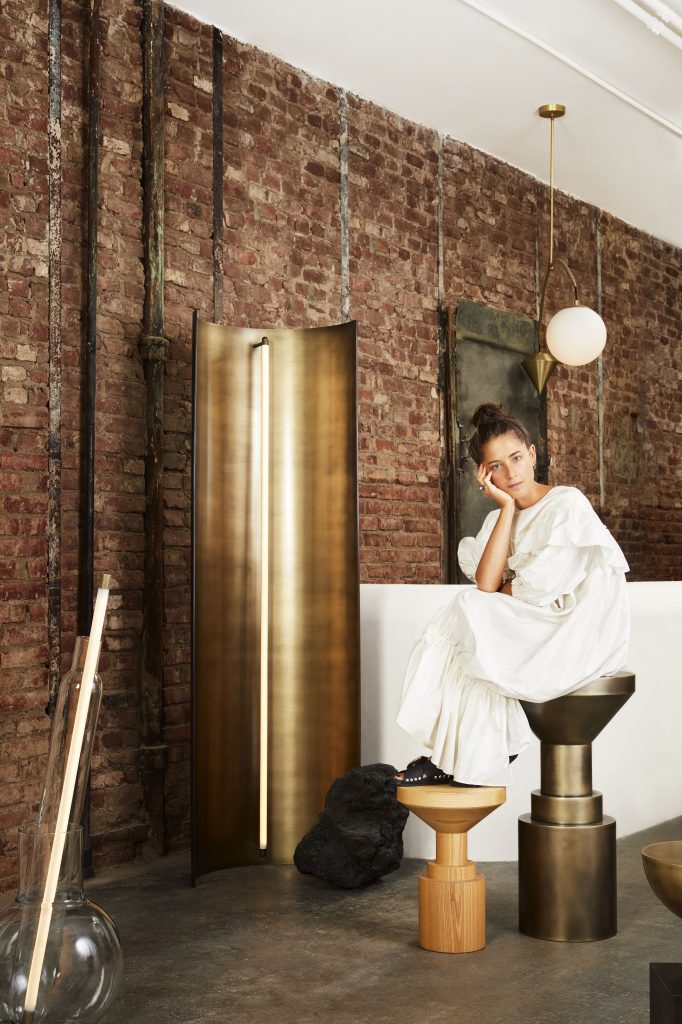 Anna Karlin's CV includes interiors for such brands as Lululemon and the Russian department store Tsvetnoy, set design, graphic design, digital design, a line of fine jewelry and an extensive array of handcrafted lighting and furniture whose production she oversees out of a gallery/studio on Manhattan's Lower East Side.
The 36-year-old British polymath, who came to New York a decade ago, sees her work as all of a piece. "I approach it all — jewelry, furniture, interiors — as usable sculpture. Even a room is sculpture, an installation in itself." Her Chess Piece stools of brass-plated cold-rolled steel, as substantial as her Arc light is slender, have been steady sellers for a decade. Karlin assembles her floor-to-ceiling Form lamp and other lighting fixtures in her downtown studio, sourcing the stone for them from Europe, the bronze from Chicago and the glass from Brooklyn.
The confident Karlin has never found being female an obstacle. In fact, she enjoys subverting expectations. "When you go to design a set for a big fashion show and there's a team of perhaps one hundred people under your direction and you're young and female and quite small, no one expects you to be the boss," she says. "But as soon as I open my mouth, they stop peacocking and we're all just here doing our jobs."
In handling her career, Karlin emulates her godmother, the celebrated documentary photographer Susan Meiselas, of whom she says, "Being a woman has both informed her practice and been a nonissue at the same time."
Anna Karlin's Quick Picks
---
TARA SHAW
Two decades ago, a Veranda magazine cover story about her Victorian home set Tara Shaw, then a New Orleans–based wholesale importer of antiques, on the path to a new career as an interior designer, whose clientele today spans the world. She's currently working on a residential project in Versailles, France; a 1920s home in Palm Beach that's on the National Register; a Ferrari-Lamborghini global service center in southern Louisiana; and the 50,000-square-foot home base of a company that makes CBD products and wants, Shaw says, an "upscale European vibe."
Her lavish book, Soul of the Home: Designing with Antiques, was published last spring by Abrams, and she's on the verge of opening a new retail showroom in a turn-of-the-century building on New Orleans's famous Magazine Street. Two years in the renovating, it will be filled with antiquities, mid-century Scandinavian design, contemporary furnishings and Shaw's own line of reproduction European furniture, Tara Shaw Maison, which she launched in 2007 to make "more accurate and beautiful reproductions of the antique pieces I'd been guerrilla hunting for two decades."
Shaw grew up in Louisiana and Texas having creative "free rein." "I remember my grandmother checking me out of school one day to help her buy a car. I chose a black Mustang Fastback with a red leather interior. I was seven!" The only difficulties she has encountered as a businesswoman occurred when she began manufacturing furniture in rural China. "It was definitely a man's world," she recalls. "The factory owners would look at my translator, who was a man, and not at me. It took years for them to acknowledge that everything, from the carving to the finishes, was solely my decision."
---
KELLY BEHUN
Kelly Behun designs sumptuous, lushly colored interiors that have been described as "pulsing with energy." Well, they certainly express an unfettered imagination. Perhaps that's because the Pittsburgh native came to the field with no formal training. She just met hip hotelier Ian Schrager at a party in the 1990s and volunteered herself as an apprentice.
Soon, she was manifesting an original eye and innate talents while working alongside the late French legend Andrée Putman ("my design heroine," Behun calls her) and Philippe Starck, another icon, on the decor of design-forward Manhattan hotels like the Morgan, Royalton and Paramount.
Today, Behun's divers undertakings include resplendent interiors for homes in the most exclusive precincts of New York City and the Hamptons and interior architecture for such major projects as Robert A.M. Stern's new building at 1228 Madison Avenue, where she chose chevron oak floors and Portuguese marble kitchens for 15 full-floor residences.
Behun has also designed an array of furniture, rugs and lighting, some found on her 1stDibs storefront. Among her creations are Neo Laminati, a line of patterned laminate furniture whose shapes recall the Italian radical design collective Memphis Milano; and the Piatro collection of outdoor furniture, comprising tables with tops and bases of sparking Gaudí-inspired mosaics and chairs of bleached mahogany with marble tile inlay that seem to owe a debt to ancient Rome.
Her hand-knotted Tibetan silk and wool carpets for The Rug Company capture the cosmopolitan glamour of the skyline and the changing skies Behun observes daily from the West Side penthouse she shares with her husband, Jay Sugarman — chairman and CEO of a real estate investment trust — and their two teenage sons.
"The juggling is nonstop," Behun says of her high-powered career. "I'm only hoping it morphs into a literal ability to juggle so I can join the circus when I retire." That's a long way off, but looking at the elegant, exuberantly carnivalesque flights of imagination embodied in her interiors and product designs, one absolutely gets the connection.
Kelly Behun's Quick Picks
---
MICHAEL DEL PIERO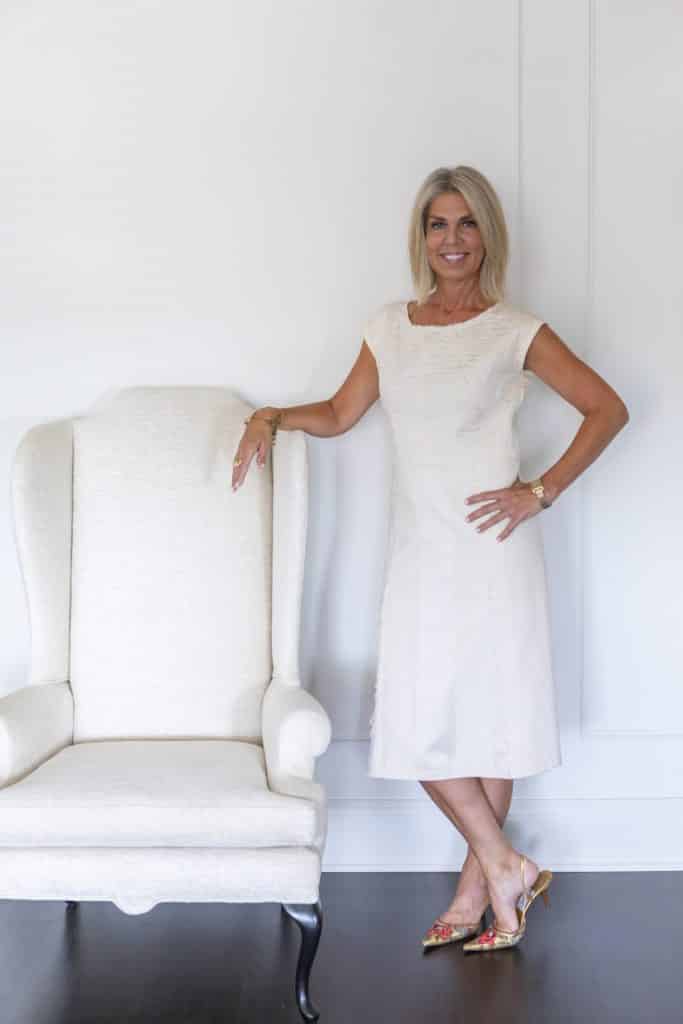 Before meeting her, people often assume that Michael Del Piero is a man. She loves her name now, but as a child in Memphis, she says, "I often ended up in boys' gym class." Del Piero's 12-year-old full-service interior design business, Michael Del Piero Good Design, with offices in Chicago and the Hamptons and projects nationwide, specializes in ground-up construction, complete renovations and soulful rooms typified by white walls, clean-lined, casual furnishings, a masterful use of texture and accessories informed by Del Piero's travels in Asia and Africa.
Since 2018, her Michael Del Piero Good Design shop, a whitewashed barn on Montauk Highway in Wainscott, New York, has offered a selection of inviting upholstered furniture and metal lighting of her own design.
Interior design was not Del Piero's first career. "It's more like my fourth," she says. She began as a nurse, spent two decades as an executive coach in Chicago and started collecting antiques in 2001 upon discovering 1stDibs, then in its infancy, and diving in headfirst. "The site was literally weeks old. Everything still came right out of the Paris flea market," she recalls.
The jump to interior design came when a just-for-fun sale of her online finds that she'd organized at the home of a friend in a Chicago suburb led to her first client, for a project that was published in a leading shelter magazine. Del Piero began selling on 1stDibs in 2006.
Her online storefront is strong in the hand-made antique vessels that bring warmth and gravitas to her interiors, from Japanese fishing baskets and Malian wooden grain bowls to Brazilian clay pots. "I am drawn to pottery, bowls and baskets, weathered and worn, well used and well loved," she says. "They're so easy to pop into an interior, never scream for a specific location and look stunning anywhere. And every piece tells a story."
Michael Del Piero's Quick Picks