When Katy Rodriguez and Mark Haddawy of Resurrection Vintage decided to reopen their beloved, two-decades-old New York boutique and fashion archive in a new location, they knew exactly what to show first: fashion and accessories by Alexander McQueen. Like many collectors, Rodriguez adores McQueen's early work, such as the Blind Colony dress, from the designer's 1996 Dante collection, which incorporated images of blind children from an old photograph. "There was a lot of provocative and challenging imagery in that collection," she says. "His early pieces were super in-your-face and nothing-to-lose."
Nostalgia for such weird and wild fashion moments is what fuels collectors of vintage attire, for whom Resurrection is a Mecca. That's why the store's new location, at 45 Great Jones Street in Noho, which opens April 26, will be both a gallery for its archive and a boutique featuring coveted vintage clothing and accessories, along with textiles, fashion artifacts, books and creative collaborations.
Rodriguez, an independent fashion designer, and Haddawy, an interior designer, first opened Resurrection on Mott Street, in 1996, when designers and collectors were hungry for iconic punk pieces by Vivienne Westwood and Malcolm McLaren. "It was more than fashion. They were collecting the punk lifestyle and philosophy," Rodriguez recalls.
Since then, their repository of fashion from the '60s onward has been frequented by such major designers as Marc Jacobs and John Galliano, fashion editors, celebrity stylists and passionate collectors. They also opened a Los Angeles location and saved thousands of pieces for their archive, which has become a resource for museums around the world.
"It used to be that there were people who collected vintage fashion, and that was an unusual thing to do. But now it's opened up, and all kinds of people are collecting," Rodriguez says. "More people are interested in fashion history now. A lot of young people are collecting anti-fashion and minimalist pieces from the nineties — Helmut Lang, Raf Simons, Maison Martin Margiela — and sharing their finds on social media."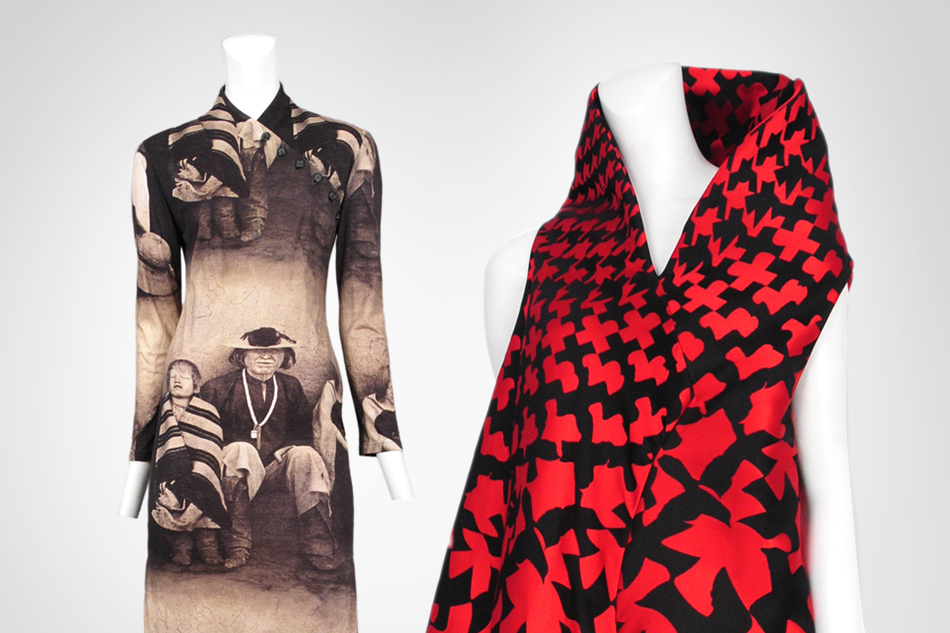 For the launch of the new space, which comprises more than 2,400 square feet spread over two floors, Resurrection will display 70 McQueen pieces spanning his entire career. Among the bold and intriguing items are an asymmetrical black taffeta and tulle dress printed with an eerie image of an elm tree, a tartan kimono, a houndstooth Cocoon coat and thigh-high platform leather boots with metal embellishments.
"For someone who did as many collections as he did, you don't often see his clothes for sale, and that's because people are very attached to them," Rodriguez says. In addition, there will be one-of-a-kind accessories created for the runway, including a few oversize bags made of articulated metal and exotic skins. "They're almost sculpture," she adds.
Also on display and for sale will be a collection of atypical Bulgari jewelry from the 1960s, '70s and '80s: gold watches and other pieces in the snakelike Tubogas style and Monete necklaces that combine classic chains with ancient coins. "While Bulgari's sensibility is mostly very ornate, these pieces are extremely young, modern and sexy," Rodriguez points out. "I love them, because they don't have the ladies-who-lunch feel that fine jewelry sometimes has."
The boutique will offer vintage fanzines, as well, along with eye-popping fashion trade publications and rare and out-of-print books in partnership with dealer Arthur Fournier Rare & Fine. The volumes will be stored on brass shelving and in a rubber and brass credenza custom designed by Brian Thoreen, who is represented by the nearby gallery Patrick Parrish.
Visitors can shop and also glean tidbits of fashion history from the archive pieces on display. "You can't really call us a vintage store — that terminology just doesn't work," Rodriguez says. "With so much information on the Internet, people are craving historical context and knowledge. Our customers are interested in fashion for the art and the history."
---
TALKING POINTS
Katy Rodriguez and Mark Haddawy share their thoughts on a few choice pieces.