When Wim Pijbes, a puckish 52-year-old Dutchman, became general director of Amsterdam's Rijksmuseum in 2008, it seemed a surprising choice to some. The Rijksmuseum is the Netherlands' national museum of art and history, with a collection of more than a million works, from scale models of sailing ships to Renaissance jewels, 18th-century rooms to a menagerie of Meissen animals and Rietveld chairs. Above all, it is famous for its Dutch paintings from the 17th century, the country's Golden Age, including Rembrandt's The Night Watch, Vermeer's The Milk Maid and masterpieces by Steen, Hals and van Ruisdael, among others. Prior to his Rijksmuseum appointment, however, Pijbes (pronounced Pipe-yes) was the director of the Kunsthal Rotterdam, whose focus is contemporary art and design. At that institution, which has no permanent collection, he oversaw exhibitions on Henry Moore, Bollywood posters and the history of opium and the paraphernalia used by those who smoked it.
By any measure, becoming head of the Rijksmuseum was a tremendous professional leap for the then-48 year old. But beady-eyed observers must have wondered if it was not a jewel-encrusted poison chalice. In 2003, the Rijksmuseum closed for a radical overhaul. The planned five-year-long shuttering of such an internationally famous institution was unprecedented — and there was no reliable completion date. The seemingly endless restoration and rebuilding woes were a source of national embarrassment, even outrage. Whatever else was expected of Pijbes when he arrived at the Rijksmuseum, getting the project finished was a priority. And he did. On April 13, Queen Beatrix presided at its official re-opening.
Today, some 8,000 works are displayed in 80 elegant, inviting galleries. Everything has been changed, from the siting of the museum's entrance to the colors of the gallery walls, which are now all gray — but many different shades of gray, from warm to cool, all beautiful and suited to the art on view. The efforts of Spanish architects Cruz y Ortiz, French museum installation visionary Jean-Michel Wilmotte and 40 Rijksmuseum curators overseen by head of collections Taco Dibbits, immediately attracted enthusiastic praise. In almost every way, the new and renewed Rijksmuseum is a triumph — for which Pijbes deserves much credit.
Introspective's Paula Weideger recently chatted with the Rijksmuseum's general director about his four-year-long journey through unchartered jungles, his current success and his hopes for the future.
How would you describe what confronted you when you took the helm of the Rijksmuseum?
The building was empty, literally; the budget was too low; the permits were not ready; the staff was demoralized because of delay, delay, delay. It was a huge state-run project that was not going well.
The Philips wing of the museum remained open, didn't it? Tourists and locals could see Rembrandt's The Night Watch and selected masterpieces from the collection.
The Philips wing got a million visitors a year. But Dutch public opinion was not positive. And the political climate was changing; populist sentiment was increasing. It was not a good time to get support for a major cultural institution.
Coming from a very different and much smaller institution, did you feel swamped by these enormous difficulties?
The scale is different, but the job of director is pretty much the same. You have to show enthusiasm, get things done, inspire people, attract an audience and raise funds.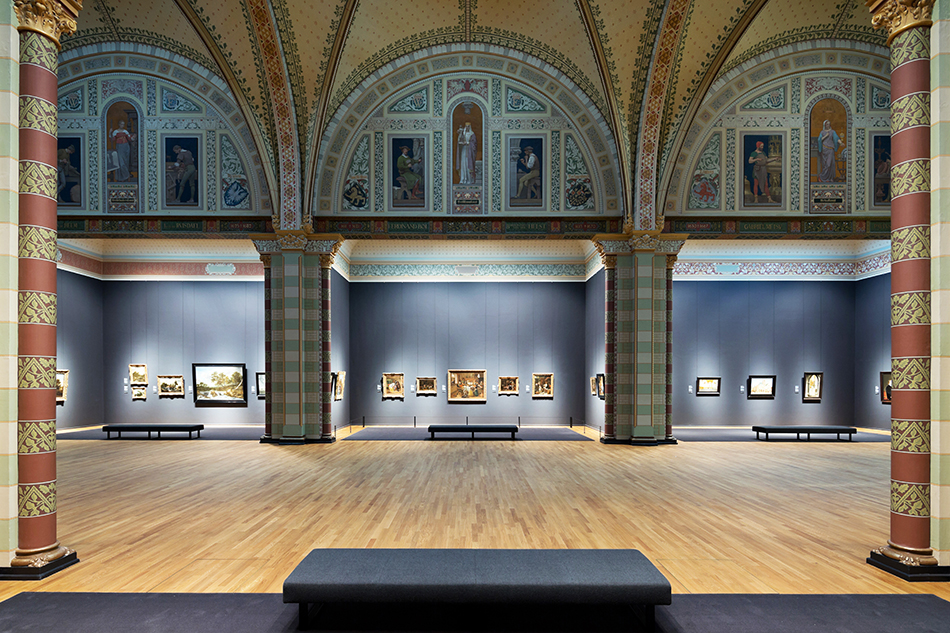 In all, the project cost almost $500 million in public and private funds. When you arrived, the Rijksmuseum looked like a fabulous ocean liner stuck on a sand bar. Clearly, you got her moving. What was your course of action?
These were my immediate goals: Open the building, make it happen. Fix a date and get ready. Until that happened, we shared the collection with the world. We loaned intensely to show we were alive and kicking. Our Golden Age paintings, for example, went to Doha. The result was a lot of good vibes; people were enjoying our collection.
You did your Ph.D. in Dutch theater architecture. Has that come into play as well?
In the old museum, the collection was displayed according to curatorial departments, like 18th century applied arts. Some of them were rarely visited. Now each floor is a century. With paintings and sculpture, furniture and objects displayed together, there is more balance between art and history. This approach was established before my arrival. But I also see the approach to the building as part of the museumgoer's experience. So we have opened up a 14,500-square-foot public space, an historic garden. It is a place to play; you can walk through the water jet fountain, but it also can block you in. The garden is an outdoor sculpture gallery, too; this summer the inaugural exhibition is devoted to Henry Moore.
When the Rijksmuseum opened in 1885, almost everything it showed was Dutch. Is that still true today?
Dutch art and history is our core. We have the best Dutch masters and their masterpieces. No other national museum has this combination of its country's art and history at such a high level. So, while foreign art is now more integrated with the core collection, it is not merged with it. On each floor, Dutch art and objects occupy the main galleries; works made elsewhere at more or less the same time are displayed in the corner galleries. That is where visitors will find paintings by Goya, Sèvres porcelain, Italian Renaissance sculpture. They are in conversation but at a slight distance.
You have talked about combining old and new art. Have you already taken the first steps in what may be a controversial enterprise?
Yes. The largest painting in the museum was only recently completed. In fact, it is a pair of ceiling frescoes of black stars hand-painted on a white ground by the London-born Turner Prize-winner Richard Wright. And, in our new Asian pavilion, at a certain point you see a strange brown square object, a huge cube, on a wooden pedestal. Your eyes are intrigued. What is it made of? It has a kind of Buddha-like, ephemeral quality. It is made of tea by Ai Weiwei. I am an exhibition maker. We as a museum are here to inspire people to see better and to see more things.