Designer Ryan Korban is known for elegantly mixing pieces that would otherwise seem incompatible: He has no problem layering contemporary leopard-print pillows onto a Louis XVI marquise or pairing sinuous antique bronze sculptures with a simple Knoll sofa. He's obsessed equally by Rococo furnishings and mid-century modern ones. So, it's no surprise that London, with its mélange of  the historic and the contemporary, is the 32-year-old, New York City–based designer's favorite city. He visits the British capital four or five times a year, including an annual trip for Frieze week in October when the international art community gathers in Regent's Park.
"You have amazing extremes in London, from the edginess of Brick Lane, in the East End, to the refinement of Buckingham Palace, in the West," says Korban, who has designed retail spaces for such companies as Alexander Wang and Balenciaga and residences for actors like James Franco and Debra Messing. After graduating in 2007 from the New School, where Wang was a classmate, Korban began his career — sans formal design training — by opening an accessories shop in Tribeca with a friend. The place was called Edon Manor, and its vibe was a decidedly glammed-up version of English countryside classicism. Residences and retail projects quickly followed, often featuring a black-and-white palette that Korban says was inspired in part by London's townhouses and their wrought-iron gates.
"Having so many of the world's best galleries all in one place, it's just a huge dose of inspiration," Korban says of the Frieze and Frieze Masters art fairs (running from October 6 to 9). "When I started out, the Internet was taking over, and everything started going so fast. Frieze week is a chance for me to get away from my office and recharge my creativity. I love taking in all that visual stimulation at once, because I can tell in two minutes what I like the best."
Korban recently spoke with 1stdibs about his London must-sees and why Frieze week is his favorite time to visit.
---
"The Norman Foster–designed domed glass ceiling over the museum's courtyard — the largest covered public square in Europe — has been a constant inspiration for me. It's one of the most stunning architectural works I've ever seen. There's always an interesting exhibition on, but, honestly, that ceiling alone is reason enough to go."
"I love how green and lush London is. It's very unusual to have a city with so many parks and gardens where you can sit and enjoy a little peace and quiet. I especially like visiting Kensington Palace Gardens during Frieze week, because it's in the fall, and the fantastic autumn colors are starting to appear. To me, London is a softer version of New York — quieter, more spread out and greener."
"At the top of Regent Street in Mayfair, this Victorian building was the first luxury hotel in the city. It opened in 1865 and a few years back underwent a major renovation that made its debut in 2009. The new lobby has a ton of black and white, which I love, and columns made of marble, one of my favorite materials. It's very grand, very European and very old-world, yet I don't find the decor overly flashy. That's something I love about London: The city has this understated polish to it, a quiet wealth."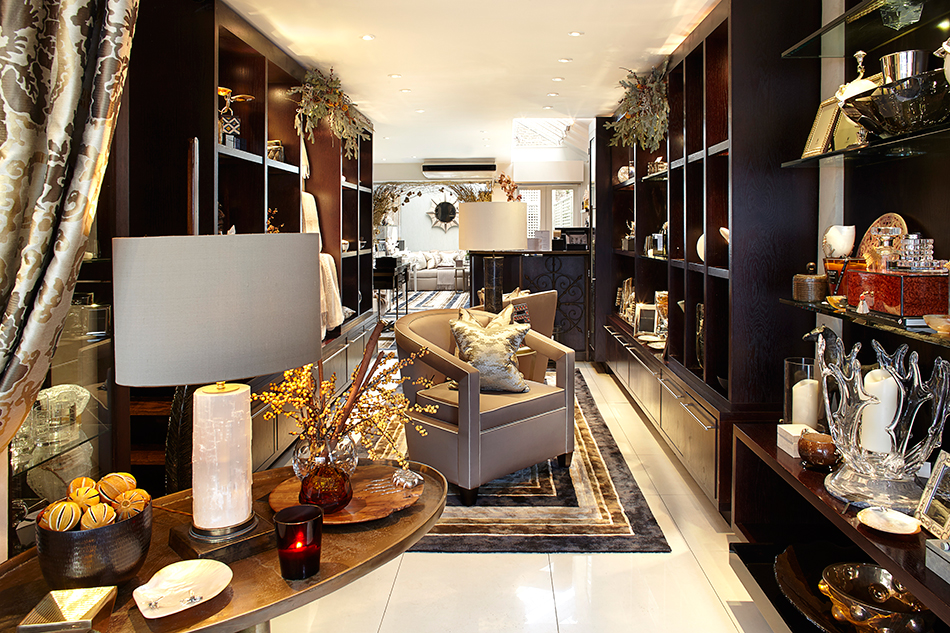 "At this restaurant in the Mandarin Oriental hotel, named for and helmed by the famous British chef, the kitchen does incredibly innovative things with food, and I'm always entertained when I eat there. A chicken liver and foie gras parfait is molded into a sphere and encased in mandarin jelly, so it looks like a tangerine when it comes to the table. For dessert, your server will freeze ice cream right in front of you, in a matter of seconds, using liquid nitrogen. Smoke goes everywhere."
"This spot — where interior designer Fiona Barratt-Campbell sells her hand-crafted furniture — is where I take my clients when we're looking for a fabulous set of nightstands or chest of drawers that will really shine in a bedroom. They're all very contemporary, with unusual finishes like chipped oak, bronze and limestone resin."
"This shop — founded by furniture designer David Linley, who is the queen's nephew — is where you go for a trophy piece, something that's going to be your most prized possession. I particularly love the architectural sculptures that the company makes: a jewelry box that's a replica of Highclere Castle, from Downton Abbey, say, or a humidor that's a replica of Thomas Jefferson's Monticello."
"I stop in here for the little details, like a gorgeous soap dish or a crystal bowl. Katharine is a designer, and her shop specializes in beautiful, luxurious pieces. You might see a shagreen table lamp you fall in love with or black lacquered salt and pepper shakers you simply must have."
"I'm crazy about accessories, and this shop is where I go to find stunning decanters, table lighters made out of horn, ostrich-skin picture frames, interesting match strikers. It's all beautiful objets, the types of things you'd travel the world to collect, but instead they've all been gathered in one place."
"I love its decorative objects.  They're absolutely stunning.  This is one of my favorite places to find the finishing touches for any project."
"There are many things to love about the antiques dealer Mamorea, but what I love the most are its architectural elements. It has a particular specialty in, and impressively wide stock of, beautiful mantels, which are hard to find anywhere else."
"I struggle to use color, but this Mayflair florist — a favorite of British royals — inspires me with its unusual color combinations. The staff here will do, for instance, an entire arrangement of lavender and green. The arrangements always have a little something unusual or undone about them, like some wild herbs or berries added in an interesting way. Flowers evoke emotion in a way that objects can't. If I had a minuscule budget for a project, I'd put a mattress on the floor just so I could spend money on flowers."
"This club has great lighting, amazing cocktails, top DJs from around the world and, most importantly, the best people watching in all of London. If Rihanna and Drake were rumored to be in town, this is where I would go to spot them."