When Latvian interior designer Sergejs Ogurcovs (pronounced SEHR-ghey ah-GUHR-tsov) wants to document his work, he doesn't call upon a professional photographer. He prefers to shoot his projects himself. "I really enjoy the process," he says. "And an interior is a designer's baby, so you should want people to see the result through your own eye."
It's perhaps no surprise that photography is one of his passions. Hanging on the bookshelves in his Riga apartment is a black-and-white image of a Burmese man standing on a low wall, taken by one of his favorite photographers, the San Francisco–based Monica Denevan. The entry hall, meanwhile, is dominated by a striking portrait photo he took of himself with his sister, Natalia, both shown, naked, from the waist up. "It was one of my experiments with a Mamiya Sixty-Seven camera," he explains. "I set up all the lighting, although it was actually taken by my brother-in-law, because someone had to press the button."
Ogurcovs came across his 900-square-foot flat after spotting a for sale sign on one of its windows while out for an evening stroll back in 2015. One of its main attractions for him was its location in a 1911 building designed in the National Romantic style — a Latvian version of Art Nouveau. Its architect, Aleksandrs Vanags, built several churches and some 70 apartment buildings in Riga all before World War I, coming to a tragic end after the hostilities, in 1919, when he was executed by a Bolshevik firing squad for "counterrevolutionary activities.
Ogurcovs's flat had not been restored since the middle of the 20th century. Before he could get to work on the place, he had to consult with the local historical commission, which prescribed that its door had to remain the same, as did all the windows. Ogurcovs decided to restore the crown molding on the bedroom ceiling, replacing the crumbling plaster with a faithful re-creation.
Otherwise, he approached the space as an opportunity to experiment. "I wanted to try all these solutions that my clients are usually not ready for," he explains. He used a gloss paint on the ceiling of the entry hall, chose a dark palette for his bedroom and installed geometric tiles with a relief effect in the kitchen. "I'd been proposing those tiles for ten years to homeowners I've worked with, and nobody ever wanted to use them," he says.
The resulting decor is typical of Ogurcovs's stylish, pared-down aesthetic. "I'm not a 'wow' designer," he states. "If someone walks into a room and says, 'Cool!,' for me the space would be a complete failure."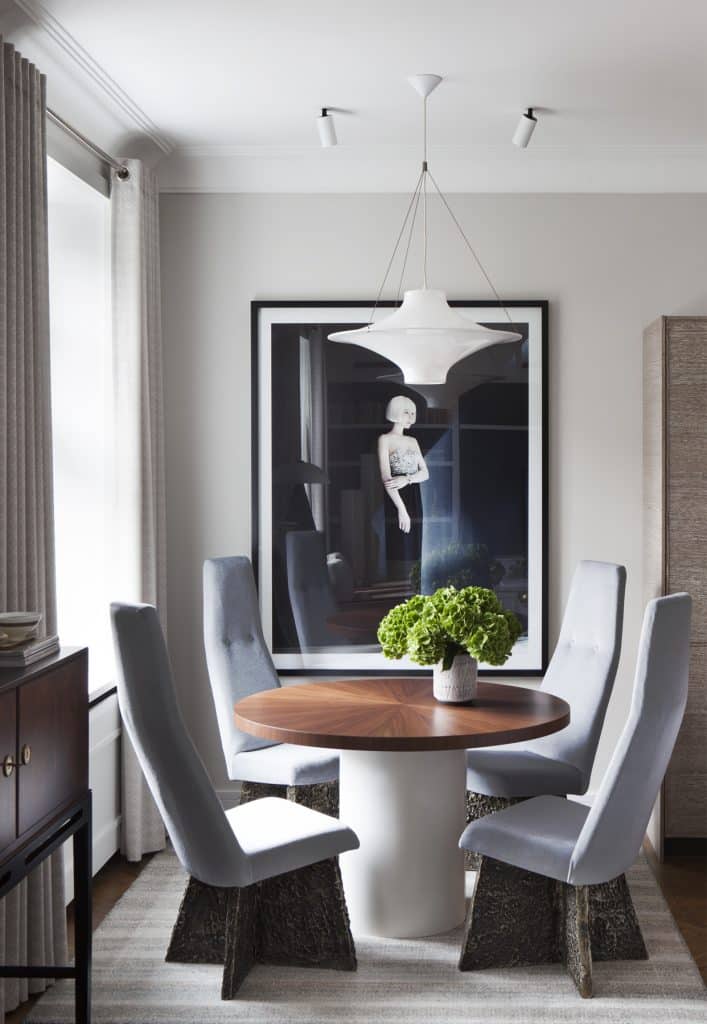 Instead, he favors serenity and simplicity. He also has a deep-rooted affection for American design, as evidenced by the high-backed sculptural Adrian Pearsall dining chairs at the table in his apartment. "Americans take the best of European things, and they simplify them," he says.
The vintage furniture he chooses doesn't have to be signed — "I don't look to see if a piece is by an iconic designer" — or even cost a lot of money. He salvaged his desk chair from a garbage dump in San Francisco.
If there is one constant in all his projects, it's a sense of order — sometimes taken to an almost obsessive extreme. During a video tour of the apartment on Elle Decoration Russia's Instagram account, he opens the door to his dishwasher and reveals plates and flatware perfectly arranged.
The designer attributes his tidiness to his 95-year-old grandmother, who was an important figure in his childhood. "From her, I learned to pay attention to every detail," he states.
Ogurcovs was born in 1980 in the Baltic Sea resort of Liepaja, where both his parents were employed at a local textile factory: his father as head of its chemical laboratory, his mother as an economist. After high school, he graduated from university with a degree in computer science and worked for seven years in the marketing department of a chain of Chrysler automobile dealerships before taking up a similar position in Moscow.
In 2007, his boss arranged for Ogurcovs to travel to Alaska with a stopover in Los Angeles, where he stayed at the Wilshire Beverly Hills. The hotel triggered something of an epiphany. "I was amazed by everything — how decor could be so balanced and so beautiful," he recalls.
He started to dabble in interiors on the side, starting with friends and quickly moving to word-of-mouth clients. Two years later, in 2009, he decorated a small Moscow flat that eventually made its way into the pages of AD Russia.
In 2011, Ogurcovs decided it was time to get some formal training and enrolled in the interior design program at the San Francisco Academy of Arts. He left after two years, encouraged not to stay for the full four by Barbara Barry, one of his design idols, whom he met at a book signing. "She told me that she had dropped out of the academy," he recalls. "Then, when she dedicated the book for me, she wrote, 'No degrees needed!' "
Indeed, a lack of a diploma does not seem to have hindered Ogurcovs's career. He set up his own firm, SOG Interiors, in 2013 and now splits his time between Moscow and Riga, accepting no more than three or four projects per year.
Ogurcovs's modus operandi is well suited to the current Covid-19 crisis: He has no office, preferring instead to operate from home, while his two assistants work remotely. In recent years, he has also taken to communicating with his clients largely via WhatsApp. "For me, it's more efficient than doing a big presentation, where they make a lot of decisions at one time and are tired after one hour," he explains. "Instead, when I send them a few messages per day, I get a quick answer."
And there are a lot of decisions to make. Ogurcovs leaves no design element unconsidered. "He goes deeply into every little detail," says Alexei Dorozhkin, the editor in chief of Elle Decoration Russia.
"I don't know any designer who can spend so much time choosing fabrics and trims," adds the owner of a 1,600-square-foot apartment that Ogurcovs designed in the seaside resort of Saulkrasti, some 30 miles northeast of Riga.
Because the home is in a building just 230 feet from the shore, Ogurcovs aimed for a beachy feeling in the decor. To that end, he installed white-painted wood paneling in both the entry hall and dining room. "I wanted to give the sense that you were almost on a boat," he says. The rest of his initial concept was extremely calm. The client, however, pushed him to experiment.
"He asked me, 'Can you do something you didn't do before and be more brave?' " recalls Ogurcovs.
Among the more dramatic additions are the pair of apple-green sofas from Kravet in the living room, expanses of graphic Panda marble in the kitchen and a Farrow & Ball paper in one of the guest bedrooms that was hung upside down so its pattern wouldn't be concealed by the twin headboards. (Normally, the design's stalks of grass appear to be growing up from the floor; instead they cascade down from the ceiling.)
He also assembled an enticing mix of vintage furniture, including a pair of 1960s armchairs that formerly belonged to the Czechoslovakian embassy in Stockholm and some choice pieces found on 1stDibs, such as a Venetian Art Deco bar from Artistic & myArtistic and a chrome Goffredo Reggiani floor lamp from Goldwood Interiors.
Although different in building type and context, a 1,700-square-foot city apartment on the 22nd floor of a Moscow skyscraper had a similar chromatic evolution.
This time, however, it was the homeowner who requested only grays and Ogurcovs who pushed for more diverse hues. He eventually got her to agree to a violet silk wallpaper in the primary bedroom, a pair of mid-century Italian armchairs upholstered in mauve mohair in the living room and an Italian 1950s dining table with a striking burgundy top. "Sergejs's style is simple and elegant," says the client, "and he is very easygoing, with a perfect sense of humor."
His work, characterized by a clean crispness, is guided by one firmly held belief in particular. As he puts it, "The main thing in an interior should be the owner. So, it shouldn't be excessively decorative."
Earlier in his career, Ogurcovs also maintained that decor should be conceived to last. Now, though, he feels that's not realistic.
"Interiors are not as durable as architecture," he says. "However beautiful they are, they will be somehow changed in ten or twenty years, unless the clients are so famous that their home becomes a museum.
"But, let's face it," he concludes, "that doesn't happen very often."
---
Sergejs Ogurcovs's Quick Picks