May 18, 2020When journalists Monica Khemsurov and Jill Singer, colleagues at the influential, now-defunct I.D. magazine, founded the online journal Sight Unseen in 2009, their mission was to provide a platform for independent designers and avant-garde conceptual design. A few years later, this vision led them to start their own nomadic design fair, Sight Unseen Offsite, which has since become a mainstay of May's design week in New York City.
This year's fair was set to show at Skylight Modern, in the Chelsea gallery district, but because of the coronavirus crisis, they rapidly worked to reinvent the fair as Sight Unseen Offsite Online, in partnership with 1stdibs. Beginning May 18th on 1stdibs and on the Sight Unseen website, virtual fairgoers can peruse brand-new collections from 60 designers — a handful of whom are newcomers to the design scene.
"This year, we felt an even greater urgency to support independent designers and give them a platform," Khemsurov says. "There's a certain intimacy that comes with meeting designers in person at a fair and hearing about their point of view. We decided to re-create that online."
Among the works on view that are also for sale through 1stdibs are ceramics by Hayden Richer and Raina Lee; furniture by Algierwork, Bronsin Ablon, Christopher Norman, Garza Studio, Jackrabbit Studio, Kompaniet, LikeMindedObjects, Nazara Lázaro, Objects & Ideas, Ordinal Indicator, Seer Studio, Serra Studio and Studio Mignone; lighting by Hannah Bigeleisen, In Common With, Farrah Sit and Richard Clarkson; rugs by Tantuvi and glass vessels by Upstate. Pieces include handcrafted furniture that celebrates the inherent beauty of materials such as wood and marble, soulfully textured ceramics, hand-blown glass in luminous colors and geometric textiles. Seamless, sculptural forms abound.
Many of the creations have been brought to life via 3-D-rendered "photo shoots" by digital artists Stefano Giacomello, Charlotte Taylor, Victor Roussel and Andrés Reisinger. "The renderings let the designers create these fantasy spaces, spaces that couldn't exist in the real world because of the constraints of budget and time," says Singer. "So, they really expand the conceptual limits of the fair."
There are also audio clips of the designers speaking about their work. "I think the audio is very poignant and provides that sense of personal connection," Singer says. Finally, throughout the next month, Sight Unseen will publish in-depth content on each designer. The show will remain online indefinitely.
Works displayed reflect the broad range of ideas that are inspiring young designers right now. Andrew Algier, the designer behind the Brooklyn-based company Algierwork, produces wood furniture inspired by antiques and the ways people interact with objects. He first pitched Khemsurov and Singer on a hand-size mirror with a tall, skinny base of ebonized oak.
Then, the process got collaborative: Khemsurov suggested the piece might work better as a smartphone charging station instead of a mirror. Algier agreed and adapted his designs accordingly; it's now kind of a sculpture that performs a function. "It's very conceptual, and almost provocative," Khemsurov says. "There's a mystery and simplicity to it."
Another designer Khemsurov and Singer love is Brett Miller, of Jackrabbit Studio, based in Upstate New York. Miller makes hand-turned wood furniture with a trompe l'oeil effect: On first glance, some of his pieces — such as the Chubby chair — don't appear to be made of wood. "He combines highly technical woodworking with shapes that are unexpected," Singer observes. "His work is playful, yet it also looks like it belongs in a high-end interior. That's a fine line to walk."
Berlin-based designer Nazara Lázaro, exhibiting at Offsite for the first time, is debuting Crooked, a collection of angular, asymmetrical wood furniture — dining chairs, lounge chairs and benches — with hidden joints. She chose massive oak timber as the material "because it adds warmth, in contrast to the angular lines," she says, noting that every piece is unique. "I maintain the overall shape and size, but then I play with the angles a bit."
Brooklyn-based lighting company In Common With is introducing a collection of richly hued hand-blown glass light fixtures. These consist of discs — some rimmed with contrasting colors — and pucks that can be combined to create different shapes, for wall sconces, lamps or pendants. The glass pieces are part of a seamless modular system that leaves no hardware visible.
"It's our most customizable collection yet," says Nick Ozemba, co-owner with Felicia Hung of the two-year-old company, which is known for making elegantly minimal light fixtures using glass, ceramic and metal.
Upstate, run by Kalen Kaminski, also offers hand-blown glass pieces: pitchers and decanters in mesmerizing marbleized colors. "We typically don't have housewares in the show," Khemsurov says, "but these are really gallery pieces. They're so beautiful — their visual impact is undeniable."
Scott Martin founded his furniture company, Seer Studio, in Austin late last year, and this is his first time exhibiting in a design fair. His coffee tables have a hefty presence, thanks to exaggerated proportions and sumptuous materials like Carrara marble.
His pieces are influenced in part by the high-end interiors he works on as a designer at the Austin firm Joel Mozersky. "I've always looked to Sight Unseen for inspiration," he says "so I feel privileged to be included."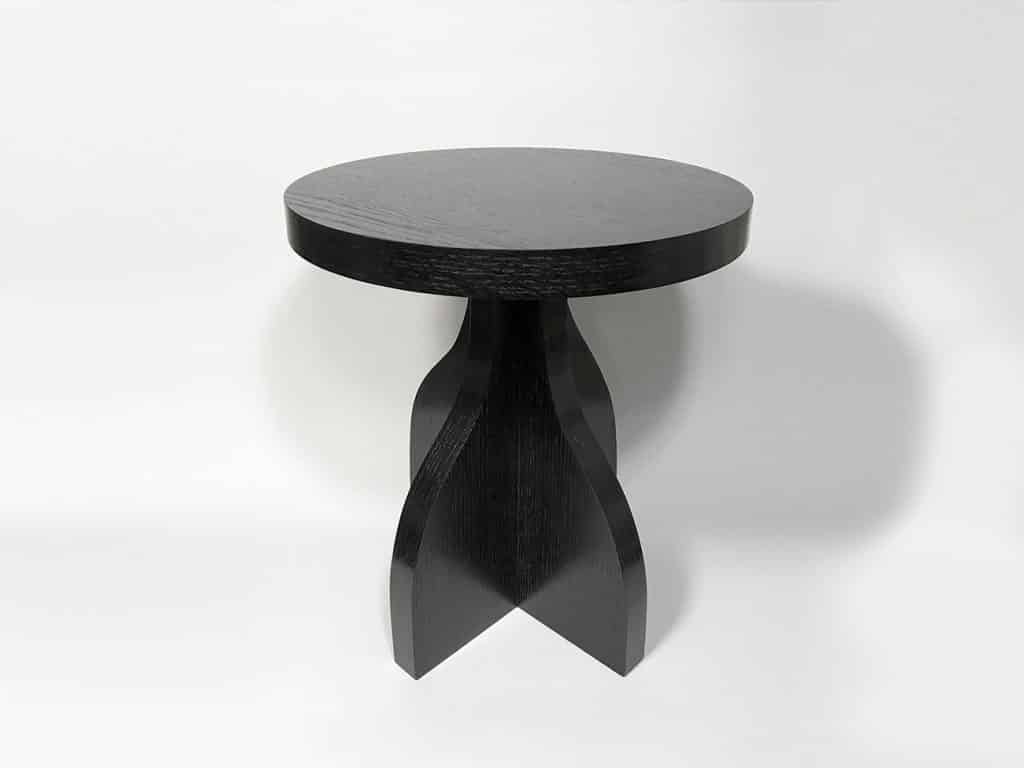 Khemsurov and Singer hope the show will reflect the enormous amount of talent and potential that exists in the design world right now — talent that will ultimately carry many of them through this difficult period. "Designers are problem solvers by nature, and this is a creative, if challenging, time," Khemsurov says. "If anyone is poised to come out of this crisis stronger, it's designers."