Back in 2003, when then-28-year-old David Alhadeff opened his design shop the Future Perfect in Williamsburg, Brooklyn, you wouldn't have been alone in wondering what he was thinking. New York's economy was still reeling from 9/11 and the dot-com bust, and Williamsburg was better known for hipsters than high design. But the Seattle native was no fool. He'd launched and sold a successful Internet startup by the age of 24. Now financially independent and a seasoned entrepreneur, he decided to forge a second career promoting design, a field that had fascinated him since childhood.
As it turned out, his timing and location were, well, future perfect. The shop and the neighborhood grew symbiotically, with Alhadeff becoming a leading supporter and promoter of the borough's emerging design community, showing such rising talents as Jason Miller; Lindsey Adelman; and Bart Bettencourt and Carlos Salgado, of the sustainable furniture company Scrapile.
By 2008, however, the design retailer and the neighborhood had grown apart. The quiet block where the shop was located was becoming a veritable high street, with chain stores like American Apparel and Urban Outfitters starting to arrive. Meanwhile, Alhadeff was beginning to explore special designer collaborations and high-level production work. His enterprise required a neighborhood that was more serene and sophisticated. So, in 2009, the Future Perfect moved to Great Jones Street, one of downtown Manhattan's last sedate blocks, and in 2013 Alhadeff opened a second venue in the tranquil and tony Pacific Heights neighborhood of San Francisco.
Looking back on the past 13 years, the charmingly modest, still boyish Alhadeff denies that any special prescience guided his choice of timing and locale in launching the Future Perfect. "Being ignorant and naïve worked to my benefit back then," he claims. "The city was ready for something new, since the economic downturn had leveled the design categories, and several retailers who focused on that programming had gone out of business." This altered landscape enabled him to build the Future Perfect into a new kind of retail platform, a hybrid gallery, gift shop and talent incubator that could only have evolved in the freewheeling Williamsburg of the early aughts. If this venture became a focal point for the neighborhood's coalescing design movement, it was almost by accident. "There was an interesting community of people who were underrepresented or not represented at all," says Alhadeff. "I didn't set out to promote Brooklyn or its design."
What he did set out to do was become a resource for foreign design manufacturers not represented in the United States. (The Future Perfect, for example, was the first U.S. store to stock the popular Autoban furniture collection of Portugal's De La Espada.) Today, the store carries the collections of the Turkish design studio Autoban and Shanghai-based Neri & Hu, both produced by De La Espada, along with the furniture of the Dutch designer and entrepreneur Piet Hein Eek. Although the lines have distinct cultural viewpoints, they share a design language informed as much by modernist principles and new technologies as by craft techniques and organic forms. It's a language in which many young American designers are conversant. So you might say the design community — and aesthetic — that Alhadeff has helped foster is not so much local as "glocal," taking into account both local and global considerations.
In fact, when the Future Perfect opened, Alhadeff recalls, "there was much talk about the lack of a platform for American design. Now, in 2016, a designer's nationality is no longer a topic. And, if anything, Americans have become global leaders in design, especially in lighting. You can't underestimate the enormity of the level of innovation." He cites Adelman and Miller as examples. The latter initially gained international recognition, in 2003, for his trendy Superordinate Antler chandelier, which was widely covered by the press.
Six years ago, Miller expanded beyond his namesake industrial design studio with the launch of Roll & Hill. The small-batch lighting manufacturer and distributor produces his own edgy fixtures along with those of Adelman and a number of other mostly Brooklyn-based creatives, with the Future Perfect as one of its retailers.
Alhadeff's willingness to interact with his designers as a mentor, promoter and retailer has been key to the success of his store and this design community. When he opened his Manhattan space, he rented the back of it to Adelman for her studio. These complex associations have succeeded, he says, because he prefers collaborating with people he likes. "My business philosophy is to fit round pegs into round holes," he says. "I like things that are easy. I like to go where the warmth is."
Alhadeff is nonetheless shrewd. More than a decade ago, he became intrigued by the ways design and craft were "intersecting," so he began hunting for craftspeople creating work with a conceptual edge. He looked first among those producing pieces for the designers he represented. That is how he discovered Bec Brittain, a metalworker in Adelman's studio who is today an acclaimed lighting designer in her own right. Scouring craft magazines and fairs deepened his appreciation for pottery and eventually led to his adding ceramists to his stable.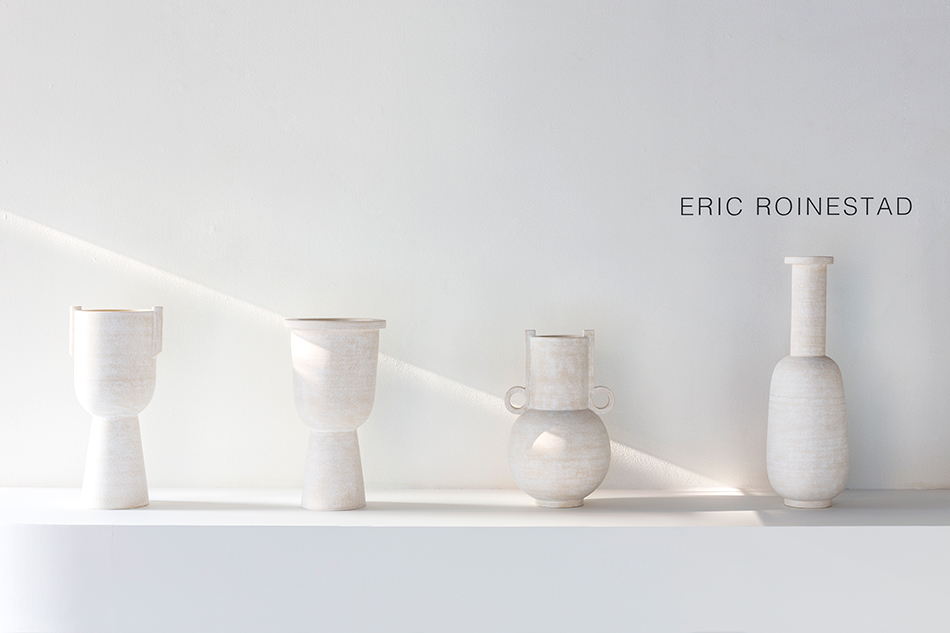 In searching for talent, Alhadeff also combs through design schools and fairs, both locally and abroad, and reviews work emailed to him by aspiring creatives. Five years ago, he came upon Dylan Davis and Jean Lee, the young designers behind the now-bicoastal, Seattle- and Brooklyn-based studio Ladies & Gentlemen, and began showing their simple yet poetic lighting pendants and home accessories.
With Alhadeff's guidance, they have graduated to far bolder work, as  exemplified by Equalizer, a customizable lighting system of metal pendants and LED-encased smoky-glass spheres that change hue when lit. These are currently on exhibit in the New York shop (through July 15).
Equalizer was produced in collaboration with John Hogan, a masterful young glass artist from Seattle who created the unique-looking spheres by burning color directly into the glass and then coating and diluting it with a clear vitreous layer. A selection of his small sculptures, notable for their striking colors and exceptional luminosity, are also on display.
On view, too, is Christopher Stuart's debut exhibition, "Constructs and Glitches." Interested in exploring design distortion, the Indiana native used CAD to produce a series of furniture-like forms with anomalous geometries. On occasion, the illogic of his programming requests, like taking the radius of a rectangle, would cause the software to produce errors. Finding these "glitches" intriguing, he decided to produce three of them along with three of his successful constructs, in polished bronze, blackened steel and aluminum. The works are as provocative and wonky as they are sophisticated and cerebral.
Alhadeff considers his presentation of distinctive works like these, as well as an earlier exhibition of megalithic-looking tables and benches in rough-hewn bluestone by the Belgian designer Lex Pott, as emblematic of where the Future Perfect is heading. Describing his business as "a slow moving battleship," Alhadeff explains that he's had to navigate between his vision and the economy.
"Now that the business has matured, the focus is more on furniture and lighting, rather than small objects and gifts. The Future Perfect has become more specialized, more gallery-like," he says. As much a brass-tacks businessman as a design impresario, Alhadeff feels buoyed in this shift because "it's working. The market is appreciative of it." And in the end that's the ultimate mark of success.
---
TALKING POINTS
David Alhadeff shares his thoughts on a few choice pieces.