Tom Dixon is one of Great Britain's most celebrated creators of furniture, lighting and accessories. Yet despite his stature — or perhaps because of it — he refuses to play within the bounds of a conventional design studio.
"I never set out to become a designer and never wanted to be strictly categorized as a designer," says Dixon, 60, whose eponymous London-based brand, which he founded in 2002, produces more than 600 products ranging from towering Wingback chairs and Mirror Ball pendant lamps to perforated brass bookmarks and scented dish soap. "I've tried to build something where I can just create my own world, and that means working on anything that might interest me. The whole point of creating my own label is that I can go off in any direction I please."
One direction Dixon's taken is exemplified by the Manzoni, the chic Milan eatery he launched during this year's Salone del Mobile, which also serves as a hybrid showroom and shop. The Manzoni followed on the heels of the Coal Office restaurant, developed with chef Assaf Granit last year at Dixon's London headquarters, which also has a purpose beyond serving food, functioning as a testing ground for new products.
Dixon says the Manzoni grew out of his desire to not only offer his clients and fans an immersive experience but also stand out from the hundreds of brands that try to outdo each other with elaborate installations every April during Salone.
"We're no longer competing against other furniture companies" for attention at Salone, he explains. "We're now competing against the giants of American tech and German motorcars: BMW, Airbnb, Samsung — billion-dollar companies that can drop a couple of million on Milan just for fun. We thought: Let's invest in a permanent space rather than a five-day marketing bonanza."
Visitors to the Manzoni dine among some of Dixon's greatest hits, such as his Melt pendant lamps, which have reflective, freeform spherical shades, as well as recent introductions, like his bulbous upholstered Fat chairs and barstools. If they fall in love with any piece over antipasto, they can order their own.
The restaurants were created by Design Research Studio. The interior design arm of Dixon's operation, the studio has conceived a breathtaking range of spaces, from residential developments to parks like London's Peninsula Gardens and hotels like Sea Containers London to cruise ships for Virgin Voyages. It also collaborates with such brands as Audi, Adidas and Hennessey on special products and installations.
Dixon's influence in the design world is so powerful, and far reaching, that he has even attracted IKEA as a partner. Working with the Swedish furniture giant, he introduced Delaktig, a "hackable" furniture system that transforms into pieces serving a variety of functions — a bed that with different add-ons can become a sofa or a workstation or an entertainment space. IKEA and Dixon are now in the early stages of developing products for urban farming. And this past May, they collaborated on an installation for London's prestigious Chelsea Flower Show: an architectural two-level armature of planters — some equipped with hydroponic systems and grow lights — filled with edible and medicinal plants.
"It's an oddity of the furniture and interior product business that it's all very siloed," says Dixon. "The people who sell home fragrances are not the same people who sell beds, and the people who sell beds do not sell lights. And then there are specialists in upholstery and specialists in tables and chairs. That has always seemed strange to me. I feel that the way we do stuff here is a lot more reflective of how people live, where you mix music, fashion, home fragrance and furniture" in a broader lifestyle.
Dixon's slightly brash, rule-breaking approach is, at least in part, a result of his background. He never formally studied design and dropped out of the Chelsea College of Arts after six months to focus on making music. In the early 1980s, he played bass for the band Funkapolitan, which opened for the Clash and appeared on the BBC show "Top of the Pops." He launched clubs with friends, taught himself how to weld and began crafting sculptures on stage as performance.
When a motorcycle accident shattered his leg and put his music career on hold (he still plays and sometimes performs at design festivals), Dixon dove into welding full-time, producing furniture and sculpture that eventually got him labeled as a designer.
Among his early admirers were the fashion designer Paul Smith, who became a longtime client and friend, and Giulio Cappellini, founder of the cutting-edge Italian furniture brand Cappellini. The latter was smitten with the furniture Dixon was creating out of salvaged metal skillets, ladles, pipes, fencing and car parts. He zeroed in on the S chair — a svelte serpentine piece sporting a tubular-steel frame wrapped with rubber inner tubes sprouting from a steering-wheel base.
Look inside the Manzoni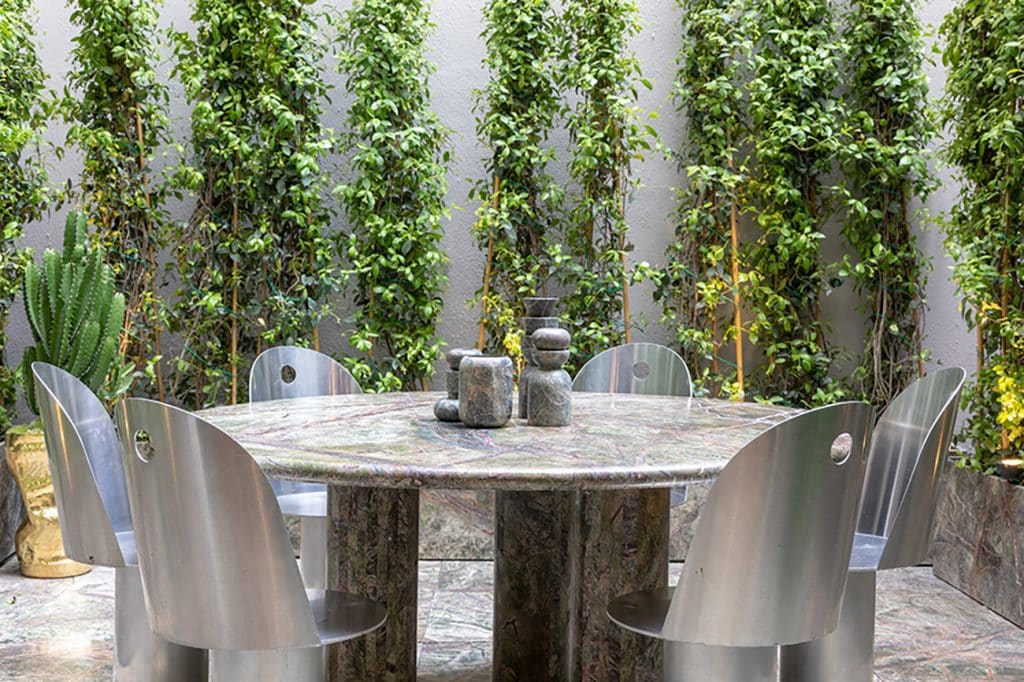 Dixon and Cappellini translated the piece into a more refined version that could be mass-produced, and Cappellini introduced it in 1991. The S chair, which became an icon of late-20th-century design, served notice to the international design community that a new talent had arrived. Today, it is in the permanent collections of New York's Museum of Modern Art and London's Victoria and Albert Museum, among other institutions, and remains in production, too.
Dixon's profile continued to rise, and by 1998, the housewares chain Habitat, founded by Terence Conran, had recruited him as its head of design and creative director. Over the next decade, while helping make Habitat a go-to resource for design-savvy homeowners, he learned from the genius of Conran's concept. Like Dixon, Conran has colored far outside the lines of a traditional studio, developing retail stores, restaurants, hotels and consumer-friendly books that have made him a full-blown tastemaker and lifestyle guru.
At this September's London Design Festival, after three decades of innovating, Dixon was awarded the London Design Medal, an honor previously given to such celebrated names as Zaha Hadid, Marc Newson and Paul Smith. While pleased, Dixon also seems slightly unnerved that it might peg him as part of the establishment at a time when he feels he is still just getting started.
"I haven't gotten involved in town planning, bridge building, electronics or transport yet, so there are lots of things that I'm very, very interested in that I haven't turned my mind to yet," he says. "For me, the whole point of doing this is the joy of discovering new environments I can work with. I still feel fresh."