Lost histories require a special kind of patience. With his new book, Trousdale Estates: Midcentury to Modern in Beverly Hills (Regan Arts), author Steven M. Price has diligently strung together the stories of a hillside community whose ring-a-ding Los Angeles legacy had quietly faded as a result of changing aesthetics, demolition and overzealous renovation. It's quite an achievement. House by house, Price has uncovered the stories behind hundreds of iconic buildings by such important architects as Wallace Neff, Paul Williams, Cliff May, Lloyd Wright, Harold Levitt, A. Quincy Jones, Edward Fickett and John Elgin Woolf. In words and pictures, this glossy compendium brings to life a remarkable array of residences — many of them never before published.
In 1954, Paul Whitney Trousdale, the owner of a prolific Los Angeles construction company, negotiated a complex deal to buy a 410-acre ranch from the Doheny family, whose Greystone Mansion sat just adjacent to the property. After acquiring the land, Trousdale set about carefully crafting a colony of exclusive extravagance. He hired a quintet of top modernist architects to design model homes that would give potential residents a vision of what could be built on the lots, and he employed clever advertising to solicit a fabulous social set.
The building codes of the time required that all plans for the project be approved by a master architect. Allen Siple was assigned to fill that role and helmed the development's original design review board, which intended to keep the houses at a minimum of 3,000 square feet but no higher than one story. He wanted the estates' impressive city views to remain pristine.
As Trousdale had hoped, the wealthy purchasers of the plots turned to the best architects of the period to create their dream houses. When they were finally completed, these houses embodied the spare-no-expense good life that defined much of Southern California at the time. They also represented a pastiche of architectural styles that included everything from Greco-Roman to ranch to Hawaiian modern. Today, Trousdale Estates' 535 houses on 539 parcels provide the most complete snapshot you'll find of Los Angeles's residential architecture from the 1950s and '60s.
Here, postwar conspicuous consumption emerged in all its Technicolor glory. Motor courts showing off the shiniest of rides? Very Trousdale. Entrances over water features? Very Trousdale. Low-slung, sprawling layouts, imposing double doors with circular knobs leading to courtyards with unobstructed skyline views? Very, very Trousdale. And behind nearly every home, a sparkling blue pool.
When mid-century modernism began to fall out of favor in the 1980s and an even broader mishmash of styles crept into Beverly Hills, focus shifted away from Trousdale and building restrictions loosened. A stunning city view never goes out of style, however, so the lots themselves continued to grow in value, sometimes by huge leaps and bounds. Over the past 30 years, the homes of Trousdale have been variously preserved, modestly altered, renovated beyond recognition and demolished and rebuilt. This book shows them all living side by side.
The development's star residents have included Elvis Presley, Richard Nixon, Dinah Shore, Dean Martin, Groucho Marx, Danny Thomas, Michael Caine, Ray Charles, Swifty Lazar, Freddie and Janet DeCordova, Warren Beatty and both Tina and Frank Sinatra. (Sinatra père's house, designed by Paul Williams and demolished in 2006, was not technically in Trousdale, one learns from the book, despite usually being located there by the press and even by Williams himself.) More recently, Steven Meisel, Elton John, Jennifer Aniston, Hedi Slimane, Kelly Wearstler and Ellen DeGeneres have called the neighborhood home. Some of them, including Ringo Starr, still live there.
An architectural historian and a member of the board of the Palm Springs Preservation Foundation, Price is eminently qualified to pen the definitive account of the neighborhood. Introspective recently sat down with him at architect Ed Fickett's mid-century-meets-tropical-modern Trousdale abode — owned today by entrepreneur Michael Rosen, who has worked to reclaim the home's original character after it took a design detour in the 1990s. Price ebulliently discussed the rise and fall and rise again of Trousdale Estates.
Do you have a personal connection to Trousdale?
When I was a boy, maybe six or seven years old, I remember we'd drive up here with family friends, and my dad would say, "This is California. This is why I'm never going back to the Bronx." We lived in Tarzana, and Brentwood and Malibu, but my dad thought Trousdale was the apogee.
In the 1980s and '90s, my interest in Trousdale was often met with withering dismissal. That's before I really got to researching the lineage of houses that had previously been found not worthy of any serious study. The last Historic Resources Survey [by L.A. and its Architectural Commission, to identify the city's architectural heritage] of Beverly Hills, prior to the one I worked on as a consultant two years ago, was in 1986. At that time, they said Trousdale Estates was "too new" to be included-slash-surveyed and only had two notable structures [by James Dolena and Casper Ehmcke]. As Trousdale became fashionable again, I thought somebody would write a book. And nobody did. So, in 2008, I said, "You know what? I'll do it."
Is the description in the book of Trousdale as "a concentration of A-list residential work unmatched anywhere else in the city," an exaggeration?
In 2014, the survey I was involved with identified more than a hundred houses by notable-name architects in just one part of Trousdale, the area known as Section Six. That doesn't even count the ones that had been torn down or whose integrity had been entirely compromised. It's undoubtedly the greatest concentration in Los Angeles of work by A-list architects of the period.
What sources did you use in researching the book?
Talking to people who lived there. Old real estate brochures. Libraries. Vintage issues of Architectural Digest from the 1950s and 1960s were a huge thing, too. Because it was an L.A.-based publication, it featured Trousdale more than anybody else ever would have. Back then, it was black-and-white photos, minimal description and floor plans. But those helped me figure out where something was. A house I'd been driving by all my life, now I knew who the architect was, which helped me then visit archives at USC, or UCSB or UCLA. I built a website in 2009, and people contacted me through that with plans and photos.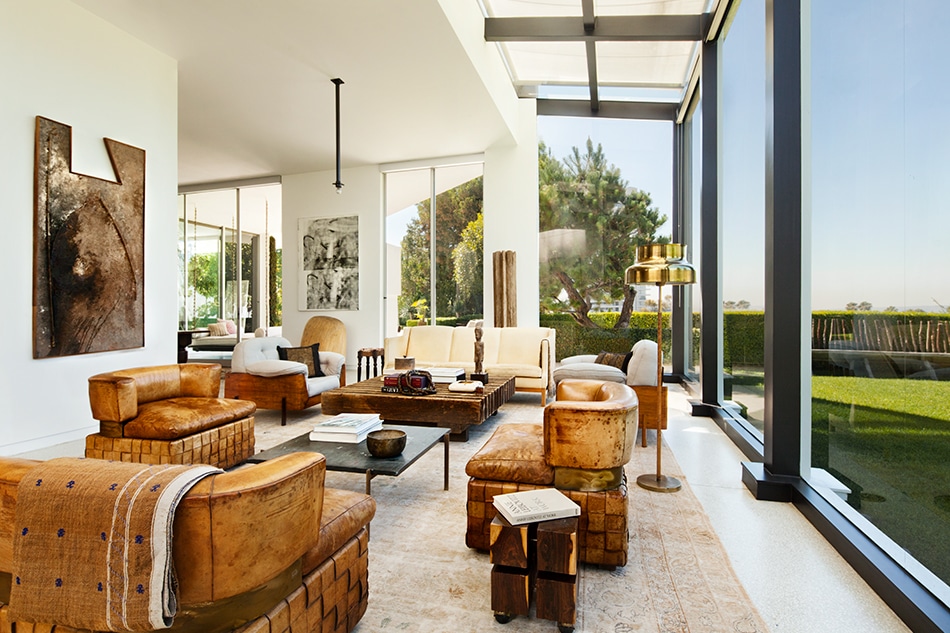 Were any of the original architects alive to interview?
Robert Earl is alive. He designed those swoopy, loopy, columned houses with the round dining rooms. I looked him up in an old Architectural Digest and called him. I thought I was talking to his son. He said, "No, it's me! Back then, I was twenty-three and just starting out." He's the one who said I should talk to Ron Waranch, who started in 1958 as a bookkeeper and left in '72 as the president of the Trousdale Corporation. During the last year of Ron's life, I was able to record it all. The history. The stories. Some of the scandals I can't even tell.
When was Trousdale rediscovered?
Trousdale was underpriced in 2000, even 2003. So passé, people thought. But then Steven Meisel bought [in 2002, after shooting a Versace campaign there in 2000], and other fashionable people started to bring it back. By the time Hedi Slimane moved in, in 2009, that was like the final seal of approval.
What do you think of all the demolition going on there right now?
Normally, when houses are taken down I resent it. Not resent it — lament it. Since the 2015 declawing of the City Council's 2012 preservation ordinance, the odds are now far higher that a significant Trousdale house will be at risk. ​
Is there a difference between today's spec houses and the model houses that Trousdale built in 1965?
I think so. Every home here has always been a custom home. The model homes were meant to be jumping-off points, conceptuals to show what you could have. Hopefully, your architect could be up to the standards of a Rex Lotery or Ed Fickett or A. Quincy Jones.
How do new buyers deal with owning such iconic homes?
Interior designer Carole Katleman has a great philosophy about this. She has the old Helen Rose house, by Buff, Straub & Hensman. She had architecture firm Marmol Radziner redo it after a year of living there. She said, "I wanted to see how the light worked. I wanted to see what the house wanted." She listened to the architects. She wanted marble in the master bathroom surrounding the shower, and I believe it was Leo Marmol who said, "How about brick, to match the outside of the house?" The result is one of the happiest houses in Trousdale. The minute people see it, they all want to move in.
What's the connection between Trousdale and Hollywood Regency?
Regency is a completely California-born style. It came from the set designers [of the 1920s through the '50s]. And John Woolf was the hottest architect for the look. There are four Woolfs here. Paul Trousdale had Woolf build a house for him, which was really an idea that came from his wife, Jean.
What was the appeal of Trousdale's social scene?
For all its celebrity stardust, there were always people like the guy who built the oxygen gear for the Mercury spacecrafts. Still showoff-y but less establishment. That was the whole appeal. That's why Groucho moved here from the flats [of Beverly Hills]. He didn't want to have to go to the right parties with the right hostess and all that. Here was a way for people who could never be establishment enough to show they'd made it. It was very social. But you know the one thing I could never find? A picture of a party in Trousdale. You'd think there'd be some glamorous Frank Sinatra thing, but no.
Maybe not establishment but most certainly image conscious.
The snobby ads in magazines like the New Yorker had the "you have to be very rich to live here" kind of attitude. Take Homer and Gloria Harvey, who were heirs to the Harvey Aluminum fortune. Gloria Harvey told me, "We got off the cruise ship and went right to the sales office, and they looked at us as if we were not ready to go forward with Trousdale Estates." She says salespeople's attitude changed when they asked if they could see some bigger lots. They ended up buying two parcels and built that massive Hal Levitt, which Jennifer Aniston later bought. It's still beautiful. Gloria gave me her pictures for the book. I worked hard to source things that no one else had ever seen, or that would be next to impossible to find again.
---
Steven Price's Quick Picks for Getting ​the Trousdale L​ook
---
or support your local bookstore.